How Tos & Tips
Last updated on June 13th, 2023. Originally published on June 22nd, 2020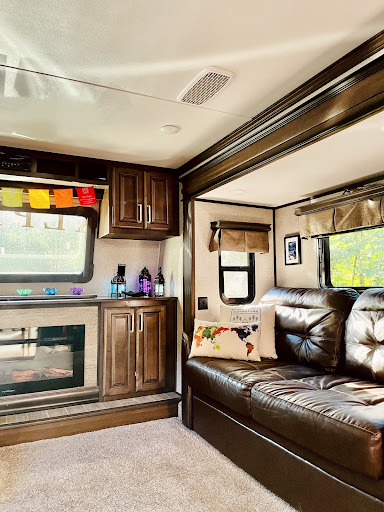 Let's face it – new RVs tend to have pretty drab interiors. The colors are neutral. The fixtures are standard. They look very nice, but they don't have much pizazz. This makes sense, because manufacturers are trying to offer something standard for everyone who buys an RV. But you may want to make yours more personal! Here are a few RV decorating ideas to spruce up your RV and make it home.
RV Decorating Ideas – How to Get Started
Let's start by discussing some of our favorite travel trailer and motorhome decorating ideas. Looking for super simple touches, inexpensive fixes, and unique decorating ideas? Want to do a complete makeover and unsure where to begin? This is the place!
Pick and choose a few of the following suggestions. Your home-on-wheels will have a completely different feel in no time at all!
1- Go with a Theme
Many RVers like to pick a theme for their tiny home-on-wheels. Because the space is so tiny, this look can easily be carried throughout the RV with themed accessories. Try fun throw pillows, kitchen towels, or other items!
You could go for something like a beach or camping theme. You can purchase themed throw pillows, bedspreads, shower curtains, and a few small knick-knacks to tie it all together. If you aren't sure where to begin with your makeover, choosing a theme might be an excellent starting place.
2- Add a Splash of Color
Something as simple as a throw blanket over the couch or new covers on the dinette cushions can add character. A colorful rug over a stained floor can work wonders for a place. New pillows added to the bed can also add a pop of color to an otherwise dull-looking space.
Plants are also a great way to bring a little color into your space. Not only do they provide a tranquil and aesthetically pleasing look, they also provide you with natural air purification. Some plants that are particularly good at holding up to travel include air plants, aloe, and edible herbs or greens.
3- Hang Some Decor
In the vast majority of rigs, the walls are a plain, boring brown or gray color. This is fine, but pretty monotonous.
Why not break things up a bit by adding some decor to the walls? There are quite a few options when it comes to wall decor! Many of them are simple and inexpensive DIY projects, and you may enjoy trying several of them!
When it comes to hanging wall art and decor, you're not going to want to start nailing things into your RV's walls like you would in your house. A complex network of wires and other gadgetry is likely running just beneath the surface. You may also puncture the wall all the way to the exterior and create space for a water leak. Yikes!
Use ouch-free wall mounting solutions, like Velcro Command strips. These are great for paintings, photos, and other lightweight, framed fixtures. You can also secure art objects like vases and fruit bowls to counter spaces and tabletops using museum putty. This saves you from having to continually put those things in storage when it's time to get underway.
Some of our favorite RV decorating ideas include:
4- Show Off Souvenirs
Collecting souvenirs during your travels is tons of fun. Unfortunately, most souvenirs end up being set aside and forgotten, eventually turning into more clutter. Instead of purchasing knick-knacks that will sit and gather dust, why not purchase souvenirs that can double as RV decor?
Both stickers and magnets work for this, but we prefer magnets. They can be taken with you if you decide to trade your current RV for another. Simply hang a magnetic board on an empty wall and use it to display your magnet treasures.
Not only will these add a fun personal touch to your RV, they'll also remind you of all the fun memories you've collected on your travels.
5- Spruce Up the Bathroom
If you're going to be updating your camper living area, you might as well give the bathroom a makeover as well. In fact, sprucing up the bathroom might just be one of the easiest things you can do to give your RV a new look.
So what do you need to do to give your RV bathroom a fresh feel? Simply replace the shower curtain, throw down a matching rug, and add a cute soap dispenser and/or toothbrush holder. It'll make a world of difference and doesn't require much of an investment in terms of time or money.
If you're feeling crafty, you can even add a backsplash behind the sink using peel-and-stick wallpaper (this can also be done in the kitchen) or purchase some peel-and-stick tiles to put over your existing bathroom flooring.
6- Change Up the Bedroom
Of course, the bedroom shouldn't be left out when it comes to RV decorating ideas. There are some super simple ways to change the look of your RV bedroom, including the simple act of changing the bedspread.
Considering that many RV beds don't have headboards, you could also consider adding a faux headboard. Below are our favorite methods for doing this:
Wallpaper Headboard — This adorable headboard is super quick to install and doesn't have to cost much at all.
Placemat Headboard — Even easier and much lighter in weight, this placemat headboard is surprisingly lovely to look at.
Tapestry Headboard — If you happen to own a tapestry, quilt, or even a pretty blanket you really like, hang it at the head of your bed to act as a headboard.
Fabric Headboard — For a comfy, finished look, this easy DIY fabric headboard is much lighter than it looks and can add color to your space.
7- Switch Window Treatments
Your window treatments can make or break the look of your tiny home. Unfortunately, most RV manufacturers don't put a lot of thought into them, leading to some seriously ugly window coverings.
Fortunately, changing your window treatments is easy enough. For an easy DIY option, try this no-sew curtain idea by Ditching Suburbia. Prefer something premade? We highly recommend the HOPPVALS cellular blinds by IKEA.
8- Turn On Some Lights
Sure, all RVs come equipped with lights. While these are functional, most RV lights aren't exactly the prettiest things. Why not shed some decorative light on the situation?
There are several decorative light options out there. Some of our favorites include:
Firefly or Fairy Lights — These delicate lights are perfect for adding a magical twinkle to a place. Hang them over the head of the bed for a pretty bit of light that will help calm you at the end of a busy day.
Battery Candles — Another wonderful, calming light option is a collection of battery-operated candles. These are perfect for giving your home that warm glow a candle would without the danger added by actual fire.
Rope Lights — We love rope lights for adding light to the insides of cabinets. Simply string the lights along the back wall of the cabinet and turn them on anytime you need to see the back corners of your storage space.
9- Change the Furniture
If your RV is on the older side, it might be time to switch out the furniture. This might seem like a daunting task, but it doesn't have to be.
Most RV furniture is relatively easy to remove, requiring only a couple of basic tools. From there, you can add pretty much any furniture as long as you measure to make sure it will fit. That said, you will need to find a way to bolt your new furniture down so it doesn't slide while you're driving.
Some of our favorite brands of furniture for RVs include:
10- Deck the Walls
Perhaps the most effective of all the RV decorating ideas is also one of the most obvious: painting the walls. If you really want to give your RV a new look, a few coats of paint will definitely do the job. You can lighten the place up, add color, show your style, and clean things up, all in one fell swoop.
That said, painting RV walls can be tricky. The walls in motorhomes and travel trailers are very slick, making sanding 100% necessary no matter what primer or paint you choose. Once you sand everything well, you will want to use a coat or two of primer before applying two or three coats of paint.
A quicker and more temporary solution would be to install peel and stick wallpaper. Just make sure your wall surface is clean and dry before applying. If you get sick of the color or design, it's super easy to peel off and put something new up!
Quick and Easy DIY Crafts to Make Your RV Feel Like Home
Although you likely want to personalize your RV decor, you probably also have a budget to work around! Here are a few items you can make yourself to use in decorating for a true hands-on touch!
How to Make a Macrame Plant Hanger
RVers often think they have to leave houseplants behind during their trips. But just like at home, having a few well-placed ferns and greenery in your rig can make it more inviting, and even improve air quality!
There are plenty of plants that fare well in low-light scenarios, and adding a few to your RV's interior can help you feel at home as well as breathe more easily. Of course, if you have tabletop plants, they're liable to slip and slide when your rig is underway — which is why we love the idea of creating homemade macrame plant hangers. It's surprisingly simple to put together a good-looking plant hanger, and the materials you need are cheap. With just a few pieces of cotton cord and a brass ring, you'll have a beautiful planter set up in no time — and some shiny new knot-tying skills, too. Check out a step-by-step written tutorial here to get started making your own!
Psst — wondering which plants will fare well with minimal light and maintenance? Check out this post on the most RV-friendly species available, and prepare to have a much greener RV interior!
Mason Jar Crafts Worth Trying
Mason jars have a reputation as the hipster drinking vessel of choice, but they're also useful for a variety of fun DIY camper decor. This post alone has more than 30 fun and easy crafts you can do with mason jars — and there are hundreds more if you browse around online!
One of our very favorite simple mason jar decorations is to simply coil a string of fairy lights inside one and use it as a desk lamp or nightlight. It's a charming, low-energy way to illuminate the inside of your camper, and it brings that rustic-chic feel to any RV interior.
Battery-operated fairy lights work well for campers, especially if you're boondocking and trying to avoid using the house electricity. They'll also keep you from having a dangling string running from your mason jar light to the nearest outlet — although that can be pretty, too, depending on your placement!
You can also make mason jars into terrariums, hanging planters, vases, and more. Or, of course, you could use them for their originally-intended purpose: to actually can your own food items, or at least store dry goods! Buying things like rice and nuts in bulk is one of the best ways to avoid food waste while also enjoying fresh, healthy meals on the road, and mason jars make amazing reusable food storage containers.
… And, yes, of course, you can also drink out of them. In fact, some are manufactured with handles specifically for that purpose. Whether it's lemonade, beer, or plain old water, you'll up your Instagram game while also staying hydrated!
Wine Cork Crafts To Reuse That Spent Bottle
Let's face it: at the end of a long day of driving, there's nothing quite like a nice glass of wine to help you wind down.
But if you find yourself amassing spent corks and bottles, don't just toss 'em — even into the recycling bin! There are plenty of cute crafts and DIY home projects you can do with the "evidence."
Corks can be used for a variety of DIY decor projects from creating mini succulent planters to crafting a fun and useful jewelry organizer. (This idea is an especially camper-friendly one, given the space limitations of even the most generous travel trailers and motorhomes. You could even hang it inside your bathroom cabinet, which will keep your jewelry well-organized and stationary while you're on the road!)
Corks can also be repurposed into fun tic-tac-toe pieces, which are great for rainy day games. Not only will you and the kids enjoy creating the pieces in the first place, but you'll then have something you can use in the future when Mother Nature dashes your otherwise carefully laid plans. Win-win!
Wine bottles, too, can be used for a variety of DIY decor options, from simply repurposing the bottle as-is for a vase or using one of those fun melting drip candles to make it into a colorful art object. You can also turn them into fun bird feeders, or flatten them to make a charcuterie board! (Hey, you know you're going to drink more wine, and the best thing to pair it with is definitely cheese and salami.
Looking for Even More Fun DIY Crafts?
Crafting is a fun way to take ownership of your RV's interior design scheme while saving money and finding a fun way to pass a few hours all at the same time. Crafts are as fun for adults as they are for kids, and it's always rewarding to look around your camper and see decor items you've actually spent time and energy making!
There are plenty of other cool crafts to consider for your RV, from DIY wall art (turn that paint-by-numbers project into bathroom decor!) to clever storage solutions.
By the way, all of these crafts can be implemented in your sticks-and-bricks home, too!
Home Decor to Buy for RVs
You may also want to purchase some items to spruce up your home on wheels! Here are some great fun accessories we found for RV decor that you can purchase for your rig.
RV Decorating Tips For Small Spaces
Even if you have just a small area to work with, you can still decorate it to suit your tastes! Here are a few tips from Wander Free and Queer on how to make the most out of a small amount of space.
Prioritize Function and Comfort
Allie and I aren't very handy (even though we wish we were). When shopping for our RV, we knew the floorplan and function of our future home on wheels would likely stay the same. We admire people who can renovate their spaces, but we knew that we wouldn't be heading down that road ourselves.
We ended up with our 2019 Keystone Alpine 3711KP because we loved the floor plan and the storage options. We had a pretty good idea of what we needed after living on the road in a smaller motorhome for a year prior to purchasing our fifth-wheel. We needed to have separate spaces for separate parts of our day-to-day lives and lots of storage to run our small business. We also needed to feel like we could move around comfortably. When we were shopping for a new RV, we would do a 30-minute rapid run through our day in the different models we were considering to see how daily tasks would work for us. We knew that life would continue to shift and change, but the basics would stay the same.
Pops of Color and Lighting
After deciding on and purchasing our new full-time home on wheels, we began thinking about ways to make it more bright and colorful. A lot of RVs are beige, beige, beige so we began by trying to find ways to add pops of color to each room. We hung some small tapestries and art pieces on the walls and across our living room windows. We also added colorful lanterns with LED lights in them. We love putting on our fireplace and lanterns while watching a movie or crocheting to some music. You can find ways to incorporate color through painting or by adding some art to your walls with velcro. Selecting bolder and brighter colors will really give that beige some contrast!
Decorating makes your space uniquely yours. In darker spaces, think about candles or small LED lights that might give some soft light to those corners and crevices. If you aren't adding color through painting or wallpaper, think about ways to add colorful art to your space. Maybe postcards from your favorite travel spots? A scratch-off map of the places you have been? Perhaps a small collection of tiny pieces from local shops during your adventures? We feel like showcasing our National Park postcards and our scratch-off map reminds us of why we choose to live in a mobile home.
Permanent Versus Temporary Decor
If you move frequently, you might want to use command hooks to put items on the walls. For dishes, candle holders, and any knick knacks you can use velcro strips or double-sided tape to keep them in place. We use a small piece of double-sided tape to keep our candles from falling off our valance while we are hauling our fifth-wheel.
Choosing lightweight decorations, or ones that have multiple uses (perhaps a decorative basket that both looks good and holds your keys) are also good options for small spaces. If you have decor that you really enjoy having out but that doesn't seem mobile-friendly, you can have a small bin that you use to collect items as part of your drive day checklist. When you get to your new location, you just take that bin around your tiny home and place your items back out. If you choose that last option, then you can even change up where you put things each time you move.
Decorate Your Campsite
When we pull up to a campground spot, we usually have some outdoor space to make our own. Most campgrounds come with a picnic table and fire ring, and some offer small grassy areas or even a cement pad. Many RVers we know have some outdoor items, including a rug, flags, plants, etc. One of the reasons a lot of us enjoy RV living is because we want to spend more time outside, so it might be important to have some things in your outdoor space that make you feel more at home!
Allie and I have a rug under our chairs as well as a small table with one of our favorite Buddha statues on it. We also proudly fly our rainbow flag at every campsite we have been to during our four years of full-time travel. Other things we suggest for outside setup are citronella candles, a tablecloth for your picnic table, lights for hanging outside in the evening, and your favorite coffee mug that you can bring out to sip your morning brew.
Holiday Decor for RVs
You might think that people in tiny homes don't decorate for holidays or seasons. I mean, where do we keep all of those items when they aren't in use? We are here to tell you that we DO decorate, and we DO store our seasonal decorations inside of our RV. Allie and I decorate for a few major holidays including Christmas, Valentine's Day, and Halloween. We also deck our RV out with extra rainbows during LGBTQ+ Pride Month.
We have one small bin for each holiday and choose our decor wisely. For Christmas, we have some wood trees that come apart and lay flat, a small ceramic light-up tree, and some festive plates and candles. Halloween decor includes a pillow case, a few small signs, and a skull candle holder. For Pride, we generally add some rainbow flags, candles, and knick-knacks, but let's be honest and just say that we already have several rainbows out all year long in our RV.
Make It Your Own
Decorating a small space doesn't have to be complicated, and we may not have bins and bins of knick-knacks or extra candles to put out, but most people like to make their space cozy. We decorated right after getting settled into our fifth wheel, and it makes us feel like we are at home with our rainbows and postcards and throw pillows.
RV Decorating Ideas FAQ
Still have questions? We've got answers. Below we've compiled a list of the most frequently asked questions about RV decor, along with our camper decor ideas. Hopefully, this section will help clear up any confusion so you can get started on your RV makeover and start enjoying your newly remodeled home-on-wheels.
How can I decorate my RV?
All the ideas above are a great start. That said, they are far from the only options. When it comes to decorating your spot, do what you love, and don't let the opinions of others hold you back. We love the idea of DIY wall decor, colorful additions, and personal touches scattered throughout.
How do you decorate a small camper?
Decorating a smaller camper can feel a bit tricky. After all, you don't have a lot of space to add decor. In these cases, we recommend focusing on replacing rather than adding.
For instance, you might replace the bedspreads, window coverings, and shower curtain but skip adding wall decor, pillows, or extra lighting that could clutter the space.
How do I brighten my RV?
As we already mentioned, many RVs are pretty dark and drab. Try a lighter paint color, or simple swaps like a light-colored slipcover for the couch and light curtains.
How can I decorate on a budget?
Most people will be working on a budget when decorating their RVs. Therefore, it's important that any RV decor ideas you choose be inexpensive ones, while still being effective. Fortunately, this is easy enough to do:
If shopping for items such as bedspreads and shower curtains, consider discount stores like Ross and TJ Maxx.
When it comes to wall hangings, go the DIY route. There are plenty of fun decor items you can make without spending much at all.
If you're working with old furniture, you might choose to recover what you have rather than shopping for new items.
Want to paint the walls? Consider looking for discounted paint. Often, hardware stores will have mis-tinted paints available at a very low price. Another option is to check out Habitat for Humanity for super cheap paint.
This post contains affiliate links. RVshare may receive compensation if you make a purchase after clicking on a product link.