16 Tiny, Small & Mini RVs You Must See to Believe!
RV Decor & Unusual RVs
Last updated on July 19th, 2022. Originally published on June 22nd, 2020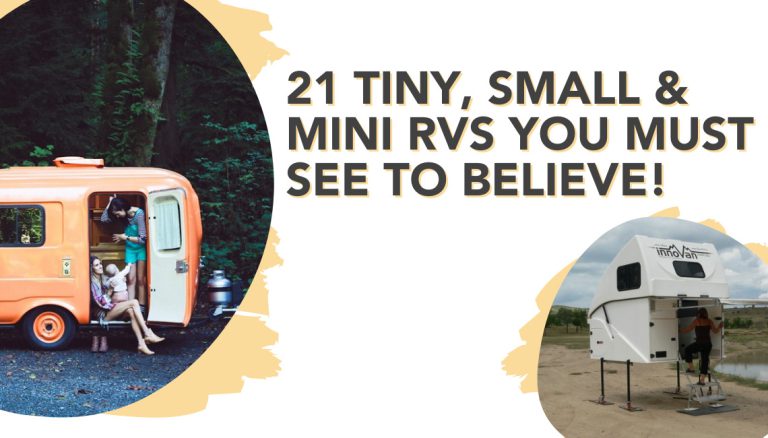 Take a look at 21 of the most adorable tiny RVs. Some are so tiny and cute that you can't help but go "Awww!"
Tiny RVs come in all forms. There are tiny trailers, three-wheeled drivable RVs, and even miniature RVs that can be towed with a bicycle! Many of these tiny RVs include all the comforts of home, from fold down beds to teeny, tiny kitchens. And you know what the best part is? You can park them anywhere!
By far, the smallest RV types are Class B RVs, teardrop campers, and pop-up campers.
What do you think? Could you travel or camp in one of these tiny RVs? Personally I like # 8 for style, and #20 for practicality. Let us know what ones are your favorite in the comments below. Did you know you can rent Tiny RV Rentals directly on RVshare? Sort by Size, Price, Brand & more!
Tiny RV #1
Tiny RV #2
Tiny RV #3
Tiny RV #4
Tiny RV #5
Tiny RV #6
Tiny RV #7
Tiny RV #8
Tiny RV #9
Tiny RV #10
Tiny RV #11
Tiny RV #12
Tiny RV #14
Tiny RV #15
Tiny RV #16
The Tiny RV Conclusion!
So what did you think! Leave us a comment below on what your favorite small RV was! Rent a small or tiny RV on RVshare and visit popular places like Phoenix, Houston, Los Angeles & more!