Renting an RV
Last updated on August 22nd, 2023. Originally published on March 31st, 2022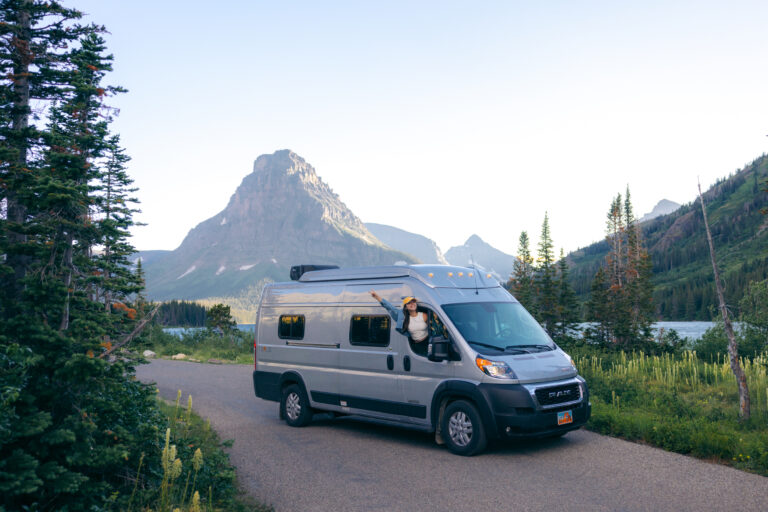 Whether you're planning a quick weekend getaway or a summer-long, cross-country road trip with the fam, renting an RV can be a serious boon to your budget. With baller discount clubs like Passport America, affordable RV rentals available through RVshare's peer-to-peer market, and the opportunity to camp off the grid (with the added benefit of reconnecting with nature!), there are all sorts of ways to make RVing a budget-friendly mode of travel.
RVshare's extensive list of RV rentals offers something out there for every need or budget, no matter where in the country you're headed.
In this blog post, we'll provide you with the top ways (plus some bonus tips) to reduce RV rental costs. From travel budgeting to taking advantage of discounts and clubs, we've got tons of tips and tricks to make your dream road trip a reality without blowing your savings account.
Renting an RV: How Much Does it Cost?
RV rental per day costs are all over the board – they vary depending on the class and the age of the RV. Typically, you can expect to see the average price RV rentals in these ranges:
Class A: $150-$250/night (10+ years or older); $350-$450/night (newer)
Class B: $100-$200/night (10+ years or older); $200-$350/night (newer)
Class C: $100-$200/night (10+ years or older); $225-$400/night (newer)
Travel Trailer: $50-$125/night (10+ years or older); $125-$200/night (newer)
Fifth Wheel: $60-$150/night (10+ years or older); $150-$300/night (newer)
How Rental RV Pricing Works
RVshare has more competitive pricing than traditional rental services. That's because owners don't have to pay fees to list with us and can set their own prices. However, owners also set limitations for their rigs. So while there are no "hidden" fees like with some rental sites, there are some disclosed ones you need to take into consideration. For example:
The price to rent an RV depends on the RV type, size, and age. An older Class B is going to cost a lot less than a diesel pusher Class A.
Owners will often list a daily base rate, a minimum rental (in days), a weekly rate, and a monthly rate. The nightly rate may fluctuate based on season or location.
There will be a tax on the amount, depending on your state.
Most owners set limits on generator use and mileage. If you go over these amounts, you'll be charged per hour of generator use or per mile.
Usually, there's a security deposit, which you'll get back when you return the RV clean and unscathed.
There might be optional fees, like fees for outdoor furniture or a fully stocked kitchen.
Top ways to save on an RV rental with RVshare
So, since each RV available on the RVshare platform is owned by an individual and the fees can vary from listing to listing, how do you save money on an RV rental? Here at RVshare, we know that keeping costs down is an important factor in planning a vacation. That's why we provide a few features to ensure that you never pay more than you have to. These include a 24/7 support team, secure payments backed by a $10,000 peace of mind guarantee, and a rewards program that gives you 5% cash back towards your next vacation every time you rent with us.
In addition to the savings offered by RVshare, there are many other ways renters can cut down on RV rental costs. Here are some of our best tips to save money when renting an RV:
1. Read the RV Listing Description Carefully
Each RVshare rental listing has a section called "Rates & Availability" that lists rental fees and any available optional upgrades. This area will describe any fees required such as security deposits, cleaning fees, and late fees. The Optional Upgrades section will detail any options the renter might offer that you can choose as upgrades such as tank dumping, delivery or drop-off fees, extra linens or dishes, or anything else a renter wants to provide for guests.
Some RV rental listings only have a few fees while others may have more extensive fee requirements.
Be sure to carefully read the RV listing before booking, ensuring you have a full understanding of any rental costs involved. And if you have any questions, it's best to clarify with the owner before renting the RV.
2. Dump the Tanks
Many listings offer tank dumping as an optional upgrade. If you're looking to save some money on costs, dumping the tanks yourself is a great option. Check with the RV owner you're renting from to understand how to dump the tanks on your particular rental. The owner may offer instructions or an orientation to help you understand exactly what needs to be done to dump the tanks. And if you've never dumped tanks in an RV before, don't worry — it's not that difficult! We have some great articles that can help.
3. Clean the RV Before you Return It/Leave it How you Found It
In some cases, if you return your RV rental without cleaning it, you may incur additional fees. Avoid paying any extra cleaning charges by ensuring that you leave the RV in the same condition as when you first rented it. Listings will clearly state any included cleaning fees for general cleaning and sanitization, as well as any potential additional cleaning fees. Be proactive in maintaining the RV's cleanliness to avoid any unnecessary expenses.
4. Only Drive When You Have To
Depending on the listing, some RV rentals may charge extra fees for mileage driven. Take a look at the listing to see if mileage is included in the rental fee. Some listings have unlimited mileage included while others only have a certain amount of miles that are included and then charge for anything additional. By staying close to where you rented the RV or by exploring fewer destinations, you may be able to save money on mileage fees.
Week-long and month-long campground site rentals also tend to be much cheaper than per-night prices, and you'll have a better opportunity to actually see and experience the place you're visiting. And if you rent an RV for longer periods of time, like a week instead of a weekend, you can save up to 50% on the daily rental rate by keeping the rig for longer.
5. Be Aware of Generator Fees
Similar to mileage fees, some listings have generator fees. RV rental listings might include a few hours of generator use for free and then start charging for additional run time. Other listings charge for all generator use, and some rentals might not charge at all. Generator usage and fees will also be listed under the Rates & Availability section of the listing, so take a good look to see what you're signing up for.
6. Other Fees
Other fees to look for when checking listings on RVshare include refundable security deposits, solar setup, propane refills, fire pit rentals, pet fees, and additional linen fees among others. Many listings also offer delivery/drop for a fee if you want the owner to bring the RV to a campground and set it up for you. They're great upgrades but may be worth skipping if you're looking to save some cash.
You really can personalize your experience with RV rentals and pay as little or as much as you'd like for extras. As long as you take a look at the costs described on the listing and ask the owner any questions you have, you'll be able to save money on your RV rental and not deal with any fee surprises.
7. Choose the Right Destination
It's a simple fact of life: New York City costs more than Mobile, Alabama, whether you're there to visit or to stay.
Of course, if your dream destination happens to be expensive, you should still go; it's unlikely that an alternative trip will satisfy your craving for that particular experience.
But if you're at all flexible or still figuring out your route, take each potential destination's general overall costs into consideration. You can look up area campground fees ahead of time, and also check out the cost of grocery staples and everyday purchases and activities (like grabbing a beer or a latte or seeing a movie) on sites like Expatistan and Numbeo.
In general, you'd do well to stay away from big cities and coastal areas, though there are some exceptions to the rule and when you go does matter. Even National Parks can get surprisingly pricey in the crowded summertime, so make sure you know what you're getting into. If seeing National Parks is top on your list, consider visiting a place where there are several national parks clumped together and have a park-hopping vacation. By purchasing an "America the Beautiful" National Parks Annual Pass, you'll pay under $100 for the whole year which covers all of your park entrance and standard amenity fees. Utah and California are both great options for this.
8. Take Advantage of Shoulder Season.
Shoulder season, if you're unfamiliar, is a given area's "off" season, or the time when it draws the fewest number of tourists. Which means prices are lower for almost everything and you'll deal with fewer and smaller crowds. Total win, right?
Of course, these seasons generally are when they are for a reason; perhaps the weather isn't at its best or it isn't a convenient time of year for most families to travel. But if you're not afraid of a little rain, have wiggle room in your itinerary, and aren't governed by your children's school schedule, consider taking advantage of an area's lapse in tourism and letting your dollars stimulate their dormant economy. They'll thank you by not asking for quite so many of them!
9. When it comes to fuel, you'd better shop around.
Anyone who's traveled by RV for even a few miles knows that one of the biggest expenses is what goes into your gas tank. Even modestly-sized motorhomes can be guzzlers, getting as little as 6 miles to the gallon, and the largest Class As sometimes see as few as 4.
When you're talking about putting hundreds, or even thousands, of dollars into your tank, every spare cent counts. That's why we always check GasBuddy to be sure there's not a station that's significantly cheaper within an easy drive. You'd be surprised how often you can save a full quarter per gallon, or even more, just by going an extra block or two. Just make sure to give yourself a couple of good options — not every station is set up for a big RV to get into and out of easily, and you don't want to get stuck! 
And believe it or not, under-filled or over-filled tires will cost you more in fuel. Pressure can change due to the weather so make a habit of checking them daily when traveling.  In addition, be sure the RV isn't overburdened, as excess weight will eat up your fuel supply (and it's not good for the RV).
RV-friendly navigation apps such as COPILOT and RV LIFE can help you avoid extra distance and also save you on fuel costs. These apps are designed to only take you on roads appropriate for your size of rig.
Lastly, try to drive 55-60 miles an hour. At this speed, most RVs will get their very best mileage. Avoid driving in high winds whenever possible, as driving against the wind will also drastically lower your fuel mileage.
10. Get a Credit Card with Good Travel Rewards
Shop around for the best possible credit card points program and use that card for all your fuel and grocery supplies for your RV trip. In no time you will be gaining free gift cards, cash back, or travel discounts. Some cards can be directly exchanged for groceries or fuel.
Whatever you choose, be sure you are getting some form of perk for your dollars spent (and of course, always pay off the card in full every month).
Some of the best travel perk credit cards are the US Bank Altitude Connect Visa Signature card, Citi Premier card, and the American Express Blue Cash Preferred card.
11. You brought a kitchen… so use it!
Can you think of even one other form of travel that lets you literally bring the kitchen sink along for the ride? The convenience of having a kitchen on your road trip is part of the reason many people are drawn to RVing in the first place. Why wouldn't you take advantage of it?
Just like at home, it's basically always cheaper to make meals from scratch than it is to eat out at restaurants. Yes, even fast food these days! Plus, you have full control over exactly what goes into your food, allowing you to eat more healthfully. Fresh food is always best. Shop at farmer's markets whenever possible to save on fruits and veggies.
Cook in batches and double your volume. Separate the extra and freeze meals ahead. If you are limited on freezer space, store the food flat in ziplock bags. This simple suggestion will save your budget, time and time again. If you've had a long day on the road, it's tempting to skip cooking and go for fast food. Instead, head to your freezer. You'll eat a whole lot quicker, and your wallet will thank you!
Plan to make lunch before you head out for your daily adventures. A few sandwiches and a bag of chips will save you a quick $20.
Do you like to stop at local coffee shops each morning to grab a cup of joe? If so, break this habit now to cut costs and brew up some coffee at camp. You can always buy syrups and creamers to make it special. Plus, who doesn't love waking up to the smell of a fresh pot? (Just check to be sure your RV rental comes with a coffee maker. If not, consider bringing a French press!)
The Dollar Tree is a great resource for things like paper products, cleaning supplies, and generic food staples. Stock up on paper towels, napkins, laundry soap, condiments, and a whole lot more. The Dollar Tree often stocks smaller-sized products too, perfect for tiny kitchens in an RV!
12. Join the Club
If you're a newbie RVer, you might be shocked to learn exactly how many discount clubs and memberships you can join. Once you're in a camper, it goes way beyond AAA.
Check out Good Sam and Escapees membership clubs, which offer discounts at parks and campgrounds across the country, and extended support and social networks. There are also memberships that grant you access to cheap and unique camping experiences, like Harvest Hosts — which matches its members with hosts from wineries, breweries, farms, and attractions that invite you to spend a night or two on their property. Sure, you may end up buying a bottle… but it's a much tastier way to spend that $30 than sinking it into hookup fees at a KOA! With the annual membership, you'll have unlimited access to stay overnight at any of the 4,444+ Harvest Host locations.
The Thousand Trails membership gives you access to camp for free at campgrounds in your desired "zone". If you camp frequently throughout the year, use this pass right and you can save a boatload of money.
13. Be Adventurous and Try Boondocking
Although camping fees might seem paltry when compared to hotel costs, even $15 per night can add up more quickly and easily than you think.
"Dry camping," "dispersed camping," "boondocking" — no matter what you call it, it all amounts to the same thing: camping on public lands without hookups. Sure, it's a little bit more rugged than hanging out at the resort campground that comes complete with a swimming pool and rec room… but I mean, you do still have a mattress, so it's not exactly roughing it!
Boondocking is an art in itself, from finding camping spots to learning how to maximize your time by conserving power and water. You won't have electricity unless you've got solar panels or a generator, and you'll have to pack your water in. But with most sites allowing you to camp for up to 14 days for little to nothing, it's definitely a surefire way to save money on the road. Sites may cost just a few dollars per night, but many boondocking spots are absolutely free! Not all RVshare rentals are equipped for boondocking, so that's another thing to keep in mind when shopping for your rig. The best options for boondocking are going to be Class B campervans, small travel trailers, or teardrop campers.
That said, if you're used to the amenities of a modern, developed campground, you could find boondocking to be lacking in the luxury department. And no matter what kind of camping style you're accustomed to, it does take some skills to become a boondocking pro. Check out this guide to boondocking if you're a first-timer!
Overnight Stops:
For overnight stops try places such as Walmart, Lowe's, Cabela's, Home Depot, or Cracker Barrel. For longer camping, try national forests and BLM lands. Always check ahead of time to determine if it's legal to park overnight in the place you want to stay. Use the Truckster app to find rest-stop rules, truck stops, diesel prices, and overnight Walmart locations for big rigs. If a big rig will fit, you know your RV will too.
You can also camp at many Casinos for free up to 3 nights. Grab more info at casinocamper.com.
14. If living in the lap of luxury is non-negotiable, grab a Passport America membership.
Now, some of you are probably thinking, "Boondocking is all well and good for a weekend. But most days, I need electricity to function. And I don't want to have to think hard about every last drop of water I use."
Well, in that case, we have an alternative suggestion: how would you like to stay in some of the nicest campgrounds in America, all for a full 50% off the price advertised to the masses?
With a Passport America membership, that's exactly what you'll get. And in case you're worried you'll only have a limited selection of participating campgrounds, think again. There are almost 1900 campgrounds across the U.S. that honor the deal, including some locations in Mexico and Canada. In short, there's probably one where you're going!
What's more, a Passport America membership costs less than $50 per year… and since it immediately knocks a full 50% off the price of resort-style campgrounds, that cost can pay for itself in a single weekend. We know there are lots of discount camping clubs out there to choose from and it's easy to become overwhelmed, but we have to admit that Passport America is one of our favorites!
15. Be Mindful of Water & Energy Usage
If you are staying at a park with showers, use them. You won't have to pay for the energy used to heat the water in your RV rental.
If you plan to do laundry on the road, use color catcher sheets together with multi-load washers and dryers. This will enable you to wash all your clothes together at once and save money at the laundromat.
When it's hot, take advantage of battery-powered fans to circulate the air conditioning in your RV. This will allow you to set the air conditioning at a higher temperature and use less energy.
16. Find Free Activities & Entertainment
When it comes to traveling on a budget (especially as a family), one of the easiest line items on which to spend way more than you anticipated is entertainment. I mean, if you're passing the world's largest ball of twine or a meteor crater, it's hard to tell yourself it's not worth the entry fee — even if it's $17.95 per person.
Fortunately, most places do have free things to do if you look for them.
You could pay admission to a National Park once, then camp there and explore for days — on foot or by bicycle or kayak. Drive a scenic byway, go to the local visitor's center, take a hike, visit a historical site, find geocaches, or go chasing waterfalls!
Heck, just lay back, pour yourself a glass of wine, and maybe even sneak in a nap while taking in the gorgeous view of a new place.
Additionally, reciprocal memberships to museums, zoos, and even amusement parks can be extremely helpful.
17. Choose your Campsites Wisely
Not all campgrounds are created equal!
At some private, resort-style campgrounds in popular areas, you might pay as much as $100 per night for a site with full electrical, water, and sewer hookups. Granted, you may also get perks like free WiFi or access to a pool or clubhouse… but that's still as much as many midgrade hotels, and it's not counting the per-day RV rental price or the gas you used to get there.
So look for public campgrounds or state parks, which frequently have campsites with hookups available for well under $30 nightly. Plus, who needs a rec room and an ice cream social when you have hiking trails and a sweet RV setup to grill and chill at?
Budgeting for RV Travel
It's easy to take a reckless, YOLO approach when it comes to your finances, especially while you're on vacation… but there's nothing more sobering than facing sticker shock — and the realization that your next trip is now consequently even further off in the distance — as soon as you roll on home.
If you put just a little bit of forethought into your travel expenses and exercise a modicum of self-control, you can have your adventure and actually experience it, too.
From fuel to food to accommodations, it costs money to get where you're going. But if you save up a travel budget and learn how to spend it wisely, it's totally possible to see the world without blowing your savings account.
Get a Little Type A and Plan Ahead!
Obviously, spontaneity is a huge part of what makes road-tripping so attractive. If you decide to take that intriguing-looking left turn at the last minute, nothing's stopping you.
But last-minute accommodations and extra miles can add up when it comes to expenses. So go ahead and let yourself become a little bit of a planner. Map out your basic trip route and figure out some specific campsites, restaurants, and attractions you want to visit ahead of time. 
Plan your fuel budget. KOA has a super convenient gas calculator to help you estimate how much you'll be spending on your trip. (Always budget for more though, as you never know when you'll miss an exit or come across ungodly fuel prices.)
Then, you can set aside the exact amount of money you know you'll need, rather than winging it and finding your wallet running dry halfway through your travels. Getting caught short without a place to stay, enough food for dinner, or enough gas in your tank can make for some expensive scrambling.
Plus, having a sense of your itinerary also allows you to reserve campgrounds ahead of time, which is especially important if you want to take advantage of your Passport America discount.
Do enough planning to avoid having to make an unexpected and pricey purchase, whether it be for the top-of-the-line campground that happens to be the only one with a spot available, or an impromptu delivery dinner when you could have cooked your own. This will allow you to maintain a healthy travel budget.
Frugality works on the road just as it does in every other part of life. It might not be easy to stick to your travel budget, but it's definitely simple: Keep track of your finances and don't spend more than you can afford.
Finding the Right RV Rental for Your Budget
If you don't have an RV to use for your getaway, you will need to rent one. Fortunately, RVShare has hundreds of RVs to choose from. This means there is something in every shape and size, and something to suit every budget.
Ready to find your perfect rental? Click here for a step-by-step guide!
Additional Resources:
Want more tips, tricks, and tools to help you save on your next RV adventure?
RVing is one of the best ways to travel America on a budget. So, while you're driving around this beautiful country with your family, take some time to enjoy all the little things.
After all, s'mores only cost a few bucks — and smiles are 100% free of charge! 😉
What are your best tips for saving money while you travel? Let us know in the comments!
This post contains affiliate links. RVshare may receive compensation if you make a purchase after clicking on a product or service link.