Storage
September 10th, 2019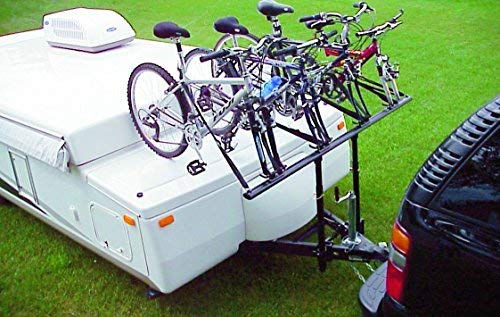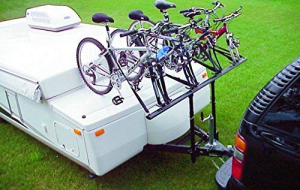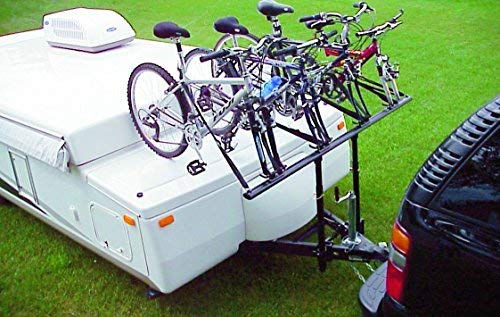 We've spoken about the ease of using ladder bike racks on your RV, but what if you've got a pop up camper? Thankfully, even though your vehicle's trailer hitch is occupied while towing your pop-up camper, there are still other ways to carry your bicycles. We're going to reveal these below!
How Does a Pop Up Camper Bike Rack Work?
Rather than carrying your bikes on a ladder bike rack, a pop up camper bike rack works by attaching them to another, more convenient place on your towing vehicle or pop up camper. Just some of these include a hitch mounted bike rack, front mount hitch bike rack, tow vehicle roof bike rack, towing bike rack, or camper roof bike rack.
Pop Up Camper Bike Rack Hitch
Of all the types of pop up camper bike racks, the hitch mounted version is the most popular. The hitch receiver can either be mounted to the trailer bumper or installed on the trailer frame, depending on the size, strength, and model. The biggest benefit to using a pop up camper bike rack hitch is that it can then also be used on your tow vehicle when the trailer isn't attached, allowing you to take your bikes anywhere!
Choosing the Right Bike Racks For Pop Up Campers
Before you purchase a pop up camper bike rack, you'll want to determine which type is best for you. We recommend you consider the following:
What types of bikes do you want to bring and how many?
What accessibility do you need?
What is your preferred method of mounting your bikes to your camper?
What models would be compatible with your type of pop up camper?
The Advantages of Pop Up Camper Bike Racks
We've mentioned some of the benefits of pop up camper bike racks already, but here's the full list of advantages to help you decide if a pop up camper bike carrier is right for you.
They can carry up to 4 bikes at a time (like this one)
Loading and unloading your bikes can be quick and simple
They're strong and durable
Bike carriers which are behind the vehicle and out of the way have little to no impact on main airflow or fuel consumption
They're often affordable to purchase and install
They're easy to maintain and are quite resistant to wear and tear
How to Install Your Bike Rack on Pop Up Camper
Installation of the bike rack on your pop up camper will largely depend on the type of rack, as well as the model of your vehicle or camper, and where it will be placed. Many pop up camper bike racks should come with instructions from the manufacturer, but if in doubt, be sure to consult an RV or roof rack specialist.
Just because you don't have a conventional RV, doesn't mean you have to miss out. Next time you head out in your pop up camper, be sure to take your bike with you!
This post may contain affiliate links.