Travel Inspiration
Last updated on January 11th, 2023. Originally published on October 30th, 2018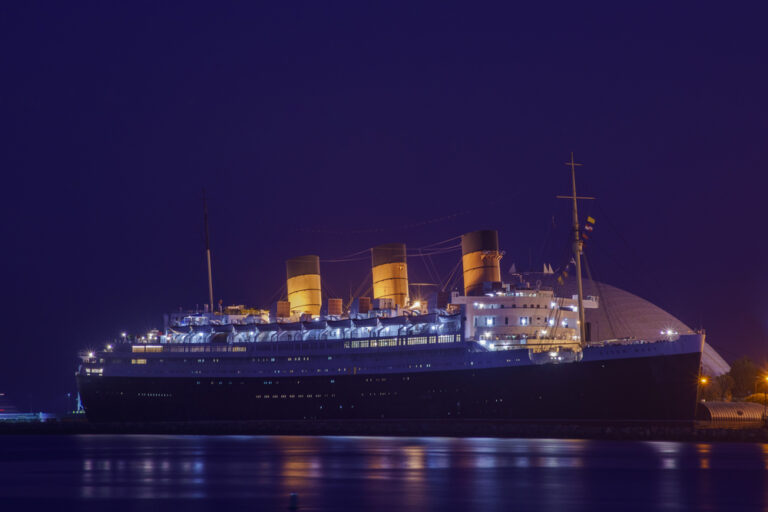 It's one thing to take advantage of haunted house attractions… and a whole 'nother to create a road trip focused on real hauntings and seriously scary places.
But no one ever accused RVers of being scaredy-cats. You're used to taking on big adventures and challenges, right? So why should your fall road trip be any different?
Why You Should Take a Haunted Road Trip This Year
Here at RVshare, we're already huge proponents of fall travel. It's a great way to enjoy quality family time over the holidays, or simply to see some of the beautiful changing foliage that annually bedazzles our nation.
But Halloween travel has its own particular brand of fun, whether you're headed to an organized, family-oriented event like Mickey's Not-So-Scary Halloween Party, or hoping to get a little bit wilder with an adult-friendly haunted attraction.
But if you really want to test your resolve and bravery this year, we have an even better idea: Why not head to some of the most haunted cities, sites, and spaces in our nation?
Haunted road trips are a fun way to familiarize yourself with history in a way that's anything but boring… and they might just help you open your mind and consider spiritual possibilities in a way you haven't since you were a kid. And, hey, when you're traveling in your very own private bungalow on wheels, even the scariest place in the world isn't so bad. You always have your own nice, warm, cozy bed to come home to… and if worst comes to worst, you can always pick up camp and get yourself the heck out of there!
So we put together this post naming some of the most paranormally active places in the country, as well as pointing out some other stuff to do in the area — you know, just in case you wimp out on the whole ghost thing.
But you're totally not going to, right?
Right. So to get started on your spooky adventure, keep reading.
The Most Haunted Places in America
From haunted hotels to abandoned asylums, here are some haunted locations and buildings that are absolutely worth building your road trip around.
Athens Lunatic Asylum, Athens, Ohio
Known today by the seemingly-innocuous moniker "The Ridges," the Athens Lunatic Asylum was an operating mental institution from 1874 all the way until 1993 — and it was especially well-known for its lobotomies. Although the property is owned by Ohio University today (and its main building houses the school's Kennedy Museum of Art), many visitors report disembodied screams and ghostly apparitions. There's even a horrifying, body-shaped stain, reportedly left behind by Margaret Schilling, an inmate who went missing for more than a month. When the search party finally found her dead, naked body, it was in such a state of decomposition that the floor beneath her would never recover.
Even if you're not in for that serious of a scare, the hiking trails around The Ridges are beautiful in the fall, with the red and yellow leaves littering your path. And if you're feeling rowdy, you'll be in the right place: Athens is well-known for its legendary Halloween block party, which has rocked the town annually since its inception back in 1974.
Click here to see RVshare rentals near Athens, Ohio.
Eastern State Penitentiary, Philadelphia, Pennsylvania
From cheesesteaks to the Liberty Bell, Philly is already a town well-worth visiting — especially if you're into haunted buildings. As one of our nation's oldest cities (and our first capital), it's chock-full of history… which means it's chock-full of ghosts, too.
Perhaps the most haunted building in the city is the Eastern State Penitentiary, a Gothic-style prison that first opened its doors in 1829. It held criminals as notorious as Al Capone and Willie Sutton in its time, and also was one of the first in the country to implement solitary confinement. Prisoners each had a small exercise yard, but their excursions were timed so no two would be out simultaneously so as to avoid inmate-to-inmate contact; they were also forced to wear a dark hood when moved in order to obfuscate their identities and keep them from communicating.
ESP continued operating as a working prison until 1971, and today, it's open for both daytime tours and terrifying nighttime adventures. Almost 220,000 people visit the structure each year… though not all are brave enough to take on its spooky, Halloween-themed haunted house event.
Click here to see RVshare rentals near Philadelphia, Pennsylvania.
Hotel Monte Vista, Flagstaff, Arizona
With almost a dozen different commonly-reported ghosts, Flagstaff's Hotel Monte Vista is a well-known hotbed for paranormal activity — and some of these are pretty unique haunts. For instance, one long-term border earned the nickname of "Meat Man" because of his strange habit of hanging steaks from the chandelier in room 220, where he was staying. Guests who sleep in that room today often find the TV turning off and on of its own accord, and sometimes even feel ghostly hands touching them in their sleep. And that's just one room in this haunted hostel, which is frequented by so many spirits, it's kind of like one of those choose-your-own-adventure Goosebumps books from the 90s.
Once you're done having the wits scared out of you, you can explore Flagstaff's happening downtown; its status as a college city means it's got its fair share of good eats and high culture. It's also just an hour south of one of the most bucket-listed RV travel destinations on the map: the Grand Canyon.
Click here to see RVshare rentals near Flagstaff, Arizona.
R.M.S. Queen Mary, Long Beach, California
Starting out as a luxurious ocean liner carrying celebs like Elizabeth Taylor and Audrey Hepburn in the 1930s, the Queen Mary also took on a lesser-known second life as the Grey Ghost, a WWII troopship. Once the war ended, she went right back to her indulgent duties, continuing to cross the Atlantic in style until 1967.
With such a long and storied history, it's no surprise that some spirits are still aboard the ship, which today makes its home in Long Beach, California. Among the most commonly-sighted ghosts are an unfortunate young sailor who was reportedly crushed to death by an engine room door, as well as a crew member who was murdered in cabin B340. You can learn more about their stories, as well as those of the boat's other bogies, on one of the many night tours offered onboard, including real-time paranormal investigations as well as an opportunity to "dine with the spirits" — and not the kind that come in bottles!
Click here to see RVshare rentals near Long Beach, California.
Stanley Hotel, Estes Park, Colorado
It's October, which means it's time to break out a classic horror film: Stephen King's The Shining. But if you really want to up your fear factor game, head to this Colorado hotel — which was actually the inspiration for King's most terrifying tome.
Although the Stanley Kubrick film wasn't actually shot on the property, King himself did stay here back in 1973 with his wife, Tabitha. By happenstance, they were the hotel's only guests that night, and the experience creeped him out so much he ended up churning out one of the world's most well-loved horror novels. (The couple reportedly stayed in room 217, a suite which is, a bit unsurprisingly, often requested by guests today.)
The Stanley has been well-known to exhibit paranormal activity, and has been featured on investigative shows like Ghost Hunters and Ghost Adventures. RV travelers can get a taste of the site's spookery on the Night Spirit Tour… and then return to the safety of their motorhome aafterward Best of both worlds!
Oh, did we mention that Estes Park is a gateway town to none other than Rocky Mountain National Park? As if you needed more reason to visit.
Click here to see RVshare rentals near Estes Park, Colorado.
Trans-Allegheny Lunatic Asylum, Weston, West Virginia
Opened all the way back in 1864, this mental institution was one of the most populated in the state of West Virginia — to a fault. By the 1950s, the Trans-Allegheny Lunatic Asylum was home to more than 2,400 patients. It had been originally designed to house 250.
Electroshock therapy and lobotomies were common, as were physical restraints and other treatments that today would be seen as inhumane. In fact, reforms in mental health treatment were part of what forced the institution to close its doors in 1994.
Today, visitors can choose from a wide array of tours of the facility, including both daytime history and heritage tours and spookier nighttime ghost hunting ventures. Weston is also home to the Mountaineer Military Museum and the Museum of American Glass — just in case you need to give your amygdala a break.
Click here to see RVshare rentals in Weston, West Virginia.
Haunted Towns Across America
Looking for a more immersive experience than you might get in a single building? You'll find plenty of scary stories and ghost tours when you visit these, the most haunted cities in America.
Saint Augustine, Florida
It stands to reason: the older a place is, the more ghosts might be there. After all, it's had a longer time for people to live — and die — in its boundaries.
And if that's true, Saint Augustine's got to be close to number one on your list of potentially spooky places. Because it's the oldest continually-run European settlement not just in Florida, but in the entire United States.
Since its foundation back in 1565, Saint Augustine has been governed by the Spanish, the British, and finally the Americans, and it's seen a whole lot of history along the way. Its birthday puts it 55 years before Plymouth Rock and 42 years before Jamestown, and 450 years is a long time to build up a population of poltergeists.
Some of the most purportedly-haunted buildings in town include the Old Jail, the military fort Castillo de San Marcos, as well as several of its quaint and romantic bed and breakfasts. Even Harry's, the bayfront cajun seafood joint, is said to be haunted by the ghost of Catalina, a woman who once called the building home. (Today, she likes to throw around the paper towels in the second-story ladies' bathroom.)
Click here to see RVshare rentals near Saint Augustine, Florida.
New Orleans, Louisiana
A town as well-known for its labyrinthine graveyards and voodoo-filled history as it is for its delicious eats and party atmosphere, NOLA is absolutely filled with ghosts — a fact the city takes full advantage of each October. From walking tours of the town that feature as many haunted stories as they do history lessons to some of the scariest haunted house events in the county, if you're looking to get the full fright night experience, you can't go wrong with a trip to the Big Easy.
One spot not to miss on your spooky tour of this southern gem: the so-called "Sultan's Palace," a house at 716 Dauphine Street in the town's bustling French Quarter. With its classic New Orleans architecture, it's lovely to look at now — but in the 1800s, it was home to a wealthy man known as the Sultan, whose depraved lifestyle included keeping a harem of women and having wild, opium-fueled parties. Legend has it that an unknown killer hacked the Sultan's harem to death one fateful evening, and buried the man himself alive in the courtyard. Today, visitors report strange sounds including loud music (just like those party days), as well as some rather… inappropriate advances by ghostly hands, especially amongst female visitors.
Click here to see RVshare rentals near New Orleans, Louisiana.
Salem, Massachusetts
Given its history, the word "Salem" is basically synonymous with "spooky" at this point. With attractions like the Salem Witch Museum and the Witch House, the town is a popular destination amongst fear-seekers year round — but they really double down during the year's creepiest holiday.
Films, shows, and walking tours are just the beginning of Salem's all-out Halloween bash, which also includes a host of not-so-scary, family-friendly adventures. And if you get sick of learning all about the famous witch trials, you can get a different kind of fright at the Salem Wax Museum, which transforms itself each October into the town's best-voted haunted house, Frankenstein's Castle.
Click here to see RVshare rentals near Salem, Massachusetts.
Galveston, Texas
When you're thinking of haunted American cities, Galveston might not be the first one to come to mind. But in 1900, the Galveston Hurricane took some 8,000 local lives. That's more than four times the number of New Orleans casualties claimed by Hurricane Katrina.
It goes without saying that several of those unlucky victims had unfinished business — and ghost hunters have found evidence of their presence in the town's famous harbor and hulking Victorian mansions. Plus, the city's oldest home, known as the Menard House, was the site of regular seances back in the 1800s.
Click here to see RVshare rentals near Galveston, Texas.
Gettysburg, Pennsylvania
Even if you're not from Pennsylvania, chances are the name of the town Gettysburg rings a bell. That's because it was the site of one of the most brutal battles in the Civil War — wherein about 51,000 soldiers were killed or injured. Legend has it that so much blood was spilled in of the schools and churches being used as makeshift med tents that drainage holes had to be drilled in the floors. Plus, there are plenty of ghost-hunting outfits in town that can help you find your own evidence of Pennsylvania's paranormal presence.
Click here to see RVshare rentals near Gettysburg, Pennsylvania.
Portland, Oregon
Sometimes it seems like all the best haunts are in the northeast — but the west coast has its own sordid history. For instance, Portland's system of underground walkways, known as the shanghai tunnels, were used as subterranean speakeasies in the 1920s Prohibition era. Today, they're said to be haunted by the ghosts of those rebellious revelers — as is the Bagdad Theater, which showed vaudeville acts back in the day. A young maintenance worker allegedly committed suicide in the building in the 1930s, and he's still hanging around today, if you catch our meaning.
Click here to see RVshare rentals near Portland, Oregon.
Haunted Campgrounds
What better place to share ghost stories around the campfire than at a real-life haunted campground? We searched high and low for some of the most scary campsites in America, and here's what we found.
Anza-Borrego Desert State Park, Borrego Springs, California
If you're looking for a journey into some haunted woods, look no further than California's Anza-Borrego Desert State Park, which has been known for unexplained phenomena before it even held park status. Back in the mid-1800s, Butterfield Stage drivers reported seeing mysterious "ghost lights" dancing around the landscape, and those spooky sparkles have continued to be reported by all sorts of visitors throughout the years, including today's campers. Fireballs and orbs have also been seen near the park's Oriflamme Mountain. Hang out at the entrance to Grapevine Canyon's Narrows for your best chance of seeing some for yourself — if you dare.
Of course, modern-day science explains away these phantom lights by suggesting they're caused by dust and sand striking the landscape's quartz outcroppings, creating a buildup of static electricity. But they could just as easily be the departed souls of the Kumeyaay people, who lived on this land long before it was called California.
Click here to see RVshare rentals in southeastern California.
Crystal Lake Campgrounds, Los Angeles National Forest, California
You don't have to venture far from civilization to have a haunted camping experience. This Los-Angeles-area campground is considered one of the state's most haunted, thanks to the story of a 1930s laborer named Stephen Major.
Back then, Major was working on the campground's amphitheater, coming home to his tent each day to enjoy off time with his wife and two children, Markus and Susan. Unfortunately, while he and his wife took their daily exercise, a grizzly bear attacked the tent. Although Major tried to intercede and save them, every member of the family was mutilated.
Today, the ghosts of all four Majors can be seen meandering in the woods along Crystal Lake. But we haven't mentioned the really creepy part of the story: California's last grizzly bear was supposedly killed in 1922, a full decade before the tragic story. Although a large search party was gathered to look for the beast, no bear was ever found.
Click here to see RVshare rentals near Los Angeles, California.
Fernwood RV Resort, Big Sur, California
If you're like most campers, chances are Big Sur is already on your travel bucket list — but as it turns out, it's a must-see for ghost enthusiasts, too. Supposedly situated atop a sacred Indian burial ground, The Fernwood RV Resort and Campground has had its fair share of strange sightings over the years, including a Native American man in a corn mask running among the rented cabins.
As far as haunted RV parks go, Fernwood is a pretty luxurious one, featuring a general store with an espresso bar as well as an on-site tavern. And the good news is, none of the property's haunts have been known to mess with motorhomes and travel trailers… at least, not yet.
Click here to see RVshare rentals near Big Sur, California.
Holy Ghost Campground, Santa Fe National Forest, New Mexico
Not only does the Santa Fe National Forest offer some of the most beautiful and accessible hiking and skiing in the country — it's also a haunted hot spot. (Which isn't surprising, considering the only American city older than Santa Fe is the already-mentioned Saint Augustine.)
The Holy Ghost Campground in particular is aptly named; it's said to be home to the spirit of a priest who was killed there in the 1680s by a Pueblo Native. If you're brave enough to stay during Halloween, be sure to venture into town once the clock strikes November; thanks to its Mexican roots, Santa Fe puts on one heck of a Day of the Dead celebration.
Click here to see RVshare rentals near Santa Fe, New Mexico.
How to Take an Affordable Halloween Road Trip
As much fun as fall travel is, it can be a little difficult to squeeze in, especially if you've already taken an epic summer road trip — or have holiday travels planned for later on in the winter. Most of us only have so many days off each year to work with… not to mention our travel budgets, which can only be stretched to accommodate so much wanderlust.
But one of the best things about RVing is that it can be an incredible affordable way to get around comfortably. (And, hey, if your work is done online, chances are you can even find ways to make money from the road! You might be surprised how many employers are allowing their workers to get their duties done remotely these days, especially if you can prove you'll stay productive.)
Obviously, one of our best pieces of advice for affordable fall travel is to rent a rig through RVshare, where the peer-to-peer market means you'll likely spend a fraction of the per-night price you would on a commercial rental. But even if you own your own RV (or are planning on taking your trip a different way entirely) there are plenty of ways to save money while still seeing the world — and all its spooky corners.
For example, if you're camping, investing in a Passport America membership is one of the very best moves you can make to maximize your travel budget. For less than $50 per year, you'll get a full 50% off your campsite accomodation fees at almost 1900 campgrounds across the country, including locations in Mexico and Canada. That deal can pay for itself in as little as a weekend!
We've written lots of other posts about the best tips and tricks for saving money while you travel. For more information, check out the following RVshare articles:
How to Find Haunted Places Near Me
Psst — even if none of the spooky spots mentioned above are in your travel plans this fall, you can still have an eerie Halloween experience. Run a quick web search for "haunted houses near me" or "haunted trails near me," and chances are you'll turn up a long list of both organized events and actual ghost sightings. After all, this whole big country of ours is full of history, and not all of it is pretty. No matter what corner of the U.S. you call home, someone called it home before you… and they might just still be hanging around.
Happy Halloween, campers! No matter where you end up this October, stay safe out there — and don't forget to bring extra flashlights. You know… just in case.
This post may contain affiliate links.