Travel Inspiration
October 2nd, 2019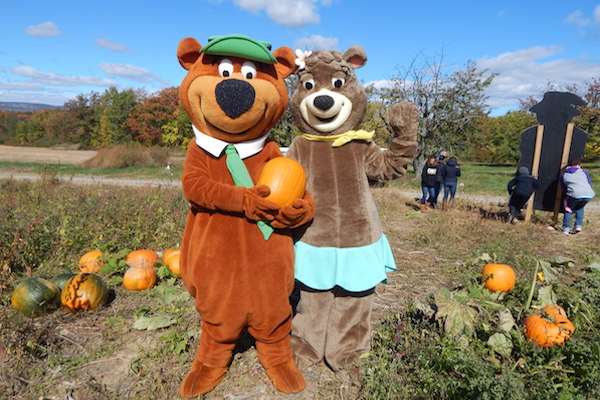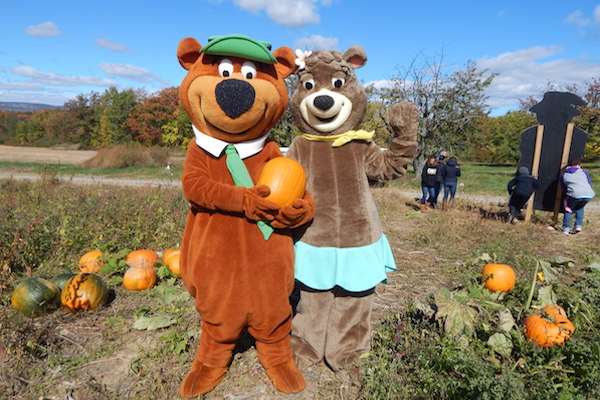 Planning for a fall camping trip?
Although summer break may get the majority of the glory, there's something about camping in October that just can't be beat — especially if you and your family are serious about All Hallow's Eve. Halloween camping is an excellent opportunity to make life-long memories you just can't emulate with any at-home trick-or-treat or house party, and if you have kids, it's hard to beat a Jellystone Park to make for a wholesome, exciting experience.
If you've been reading the RVshare blog for a while, chances are good you've heard us wax poetic about Jellystone Parks before. We've joined with them in partnership to bring you two of the most important components for a great vacation, no matter when you take it: a comfortable, affordable rental vehicle and killer campground accommodations that come complete with all the amenities you need to enjoy a refreshing and fun-filled vacation. No matter when you're camping, Jellystone is a solid choice, but during this spooky season, it's even better. Here's why, and what you need to know to enjoy your own Jellystone Halloween camping extravaganza!
Why Halloween is Awesome at Jellystone Park
Let's start from the top. Why are we such Jellystone fans in the first place?
Well, for one thing, Jellystone RV parks are some of the most well-appointed, accommodating campgrounds available on the market for RVers. They feature generously-sized campsites with full hookups, concrete pads, and a wealth of on-site amenities like fully-stocked campground stores and laundry facilities… but all that is stuff you could find at a variety of resort-style campgrounds. Yogi Bear's Jellystone Park family of camp-resorts is different.
Because at Jellystone, camping really is just the beginning. Along with bringing you top-of-the-line accommodations to make chilling in your travel trailer or motorhome that much more cozy, at Jellystone parks, there's so much to do outside of your rig that chances are you'll be spending minimal time inside anyhow. These parks really know their stuff when it comes to creating the kind of wholesome, family-fun environment that will ensure everyone gets a good night's sleep after a full day of adventures.
For instance, Jellystone parks tend to feature some sort of major water attraction, be it a large heated swimming pool or a Splash Zone complete with waterslides, rainshowers, and tippable buckets. Many of the parks are also adjacent to lakes and rivers that allow a more natural swimming experience, not to mention boating and fishing.
But even if you don't want to get wet and wild — or if Mother Nature forces the issue by calling for rain — you'll be able to stay plenty busy thanks to the other fun organized activities and things to do at your local Jellystone. Game rooms make for a great indoorsy diversion, and most parks also feature sports courts, playgrounds, jumping pillows, and gem mining, as well as on-site theaters and screens showing both the latest releases and beloved family favorites.
Aside from all this self-directed fun, visitors also have the opportunity to take advantage of pre-organized, family-friendly events and activities, including character tuck-ins from big names like Yogi himself, as well as arts and crafts, outdoor explorations, and themed weekends.
And that last one is exactly why enjoying Halloween at Jellystone is such a special, unique opportunity: many of the parks go all in when it comes to creating a spooky-yet-satisfying, kid-friendly All Hallow's Eve adventure.
Jellystone Park Locations
Here's the thing. Although Jellystone Parks have many features in common, they are still all individually owned and franchised, meaning that each park offers a totally unique experience to its visitors. And when it comes to Halloween festivities, what you'll get to enjoy depends a bit on which park you venture to, and may include anything from campground-wide trick-or-treating to hay rides, costume celebrations and more.
With dozens of Jellystone parks to choose from, there's a good chance you'll find a location near your favorite destination… but if you're looking for somewhere new to go, we recommend checking out this list of parks participating in Halloween theme weekends. Availability as well as specific activities will vary depending on location, but no matter which park you choose, you're sure to have a swell fall camping experience.
Best Places to Travel in October
So, which of these Jellystone locations are near to some of the best places to visit in October, whether you're in the mood for leaf peeping or ghoul creeping?
Here are some activities and options near participating Jellystone parks who are offering Halloween themed weekends.
Haunted Trail: Normal, Illinois
If you're looking for a getaway in the greater Bloomington area, Lake Monroe Jellystone is offering a wide array of Halloweeny events, including a pumpkin patch, carving and decorating, general fall arts and crafts, trick or treating, costume contests and more. But this location also has another something special that makes it stand out: it's in close proximity to Haunted Trail, a Normal, Illinois tradition that brings visitors from across the area and even further afield.
Haunted Trail participants can anticipate spooky sounds and lighting effects on this one-of-a-kind Halloween adventure, but if you're traveling with kids (or the faint of heart), never fear — literally. There's a not-so-scary version alongside the full-fear version to choose from.
No matter which Haunted Trail experience strikes your fancy, do be sure to snag your tickets early. This attraction sells out nearly every year, and it's strictly limited in its allowed number of participants!
Town of Terror: Foley, Alabama
Looking for a sultry, southern excursion this fall? If you're headed to the Gulf Shores area, there are plenty of haunted attractions to choose from, but we highly recommend you scope out Town of Terror, an attraction that takes the Alabama gulf cost by the roots of its hair each year to bring thrills and chills to visitors and locals alike.
But even if you just want to kick back and enjoy the sandy beach and thaw out in the gentle southern breezes, there will be plenty to do at the Elberta Jellystone location, which is offering not just one, but two Halloween weekends jam-packed with family-friendly activities, as well as two fall fun weekends with less-spooky (but just-as-fun!) diversions and experiences to choose from.
Lodi, California
Although not particularly well-known for its spooky factor, Lodi has an extra benefit for mom and dad: it's one of the best wine regions in the country, producing punchy Cab Sauvs and Chardonnays that easily equal the better-known stuff coming out of Napa, and often at a fraction of the price.
And while you're sipping on a glass of red or white, the kids will enjoy a fall experience that isn't so frightening. That's because the Lodi Jellystone location is offering four full weekends of Halloween excitement, as well as a pumpkin party weekend preceding all the madness at the end of September.
October Vacations
Even if none of the Jellystone Park locations listed above — or any of them at all — are on your itinerary for this fall, that doesn't mean you can't enjoy a fun October camping trip, whether you'd rather be meandering through fallen leaves or wandering into abandoned, haunted buildings. In fact, fall is one of our very favorite travel seasons here at RVshare HQ, and we've written a ton of helpful content to help you find great fall destinations and pack the right way to enjoy them.
Here are some RVshare blog posts to check out to get you started on your fall fun frenzy:
And don't forget, if you're looking to upgrade your current travel experience, an RVshare vehicle may just be the perfect way to do so. With our unique combination of low prices and well-kept, cozily-appointed motorhomes and travel trailers, renting on the peer-to-peer market gives you the opportunity to experience the RV life the way it's supposed to be: authentic and versatile, and without ever having to deal with an anonymous customer service team. All of your monetary and communicative transactions will take place through our secure system, and you'll be dealing directly with the private owners: regular adventurers, just like you. Heck, they might even have some candy laid out… after all, it is Halloween we're talking about!
This post may contain affiliate links.