Travel Inspiration
June 24th, 2020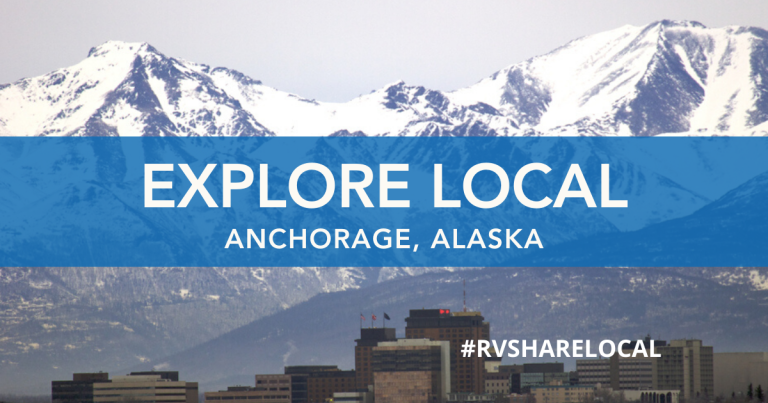 Earning its nickname as the "last frontier" in America, Alaska is a truly special place: home to the lowest population density in the country and the highest proportion of serious wilderness spaces, this is a state where the opportunity for adventure both beckons and intimidates.
But you don't have to have an Into the Wild experience to have a wild experience in Alaska. And although it's not the capital, Anchorage is the state's epicenter of urban culture and exploration. With a population that still falls shy of 300,000, it's certainly not what you'd call a "big city" — but by Alaskan standards, it's just about as big as you probably want. Besides, there are plenty of amazing things to see, do, and explore in Anchorage, so let's dive into the details!
Why We Love to Travel
From meeting new people to experiencing new sights, sounds, and smells – is there anything more exciting or rejuvenating than a break from the day-to-day mundanity? Traveling is an excellent way to immerse yourself in a new culture, setting, or way-of-life, but the best part is this: you don't have to venture far from home to enjoy what this world has to offer.
Whether your journey takes you across your own city, to an unexplored part of your state, or even to the other side of the world, there's no doubt you will still learn a lot about your surroundings – and yourself – along the way.
Benefits of Traveling Locally
While the culture an hour away from your home might not be drastically different from what you're used to, you can still gain a deepened sense of appreciation for where you've laid your roots. Plus, traveling locally has a lot of benefits:
More cost-effective. Local travel is certainly a budget-friendly way to explore! Many activities and local parks are free or have a low cost of entry. For day trips, you can also pack your own meals to save.
Eco-friendly way to travel. Travel is hard on the environment, but putzing around your area is more sustainable than air travel.
Quick trips. Getting out locally means you can do it more often! Long weekend trips are a lot easier to take when the destination is a short drive away.
Easy to plan. Preparing your itinerary for a local getaway will likely save you some time and stress.
More convenient. Especially if you have little ones, sticking close to home may be much more convenient than far-off destinations. If you forget something, have an emergency, or need to cut the trip short, being close by definitely has its benefits.
Explore Local: Anchorage, Alaska
Even if you've called Anchorage home for years, it can be easy to forget how much there is to see and do in your own backyard — especially if you count the whole state as your backyard (which you should!). The perfect place to set down roots for eager explorers, Anchorage is chock-full of delicious restaurants, interesting museums, and more, not to mention the various preserved wildernesses and natural areas in the vicinity.
Read on to learn more about our favorite ways to explore Anchorage.
State Parks in Anchorage
Alaska — as you well know if you've spent any time there — is nothing if it's not wide-open spaces. Along with a variety of state parks, there are also a whopping eight national parks in the state of AK. Here are some of the best state and national parks to check out while you're making a home base in Anchorage.
This park is comprised of a sprawling 495,000+ acres of Alaskan countryside, including some famous destination sites like Eklutna Lake and Eagle River. The landscape is punctuated by glaciers and snow-capped mountains and is home to animals like moose, red foxes, porcupines, hares, ground squirrels, ermines, pikas, and less frequently, wolves and Canadian lynx.
Denali State Park is named for the stunning peak that looms over this area, which, at a height of more than 20,000 feet, is the tallest in North America. The park is bordered by ocean on its south end and mountains on the north, meaning it offers a wide diversity of outdoor recreational opportunities.
National Parks in Alaska Near Anchorage
Denali National Park is one of the most classic Alaskan destinations and experiences, tucked far enough into the Alaskan interior to experience endless daylight in the summertime and only a sliver of it come winter. You can also see the northern lights at Denali if you visit when the sky is dark and clear (which is to say, not at the height of summer).
One of Alaska's most serious wildernesses, Gates of the Arctic is a full twelve-hour drive from Anchorage. With no roads leading into the park, you'll have to hire a charter plane or hike in, and you definitely want to know what you're doing beforehand.
Glacier Bay is located in the southeastern quadrant of the state, amongst the islands and peninsulas that run adjacent to BC, Canada. The nearby ocean currents mean this part of the state experiences relatively mild winters, making it a great getaway once Jack Frost moves in.
Katmai is an active volcanic area that's also home to over 9,000 years of human history. Most of the park is wild and the main ways to get in are by boat or air taxi. Brooks Camp, the park's most popular destination, offers lodging and accommodations.
Home to nearly 40 glaciers which flow from Harding Icefield, Kenai Fjords National Park is a 7,000-square-mile expanse of frozen tundra. This otherworldly landscape is only a two-and-a-half hour drive from Anchorage, and many local tour operations offer guided excursions.
Kobuk Valley is tucked 25 miles north of the Arctic Circle, which is to say it's definitely in the middle of nowhere. But if you make the journey, you'll be rewarded for your effort: this landscape is home to nearly half a million caribou as well as a unique and surreal 25-square-mile field of sand dunes. One again, your only way in is by air taxi!
Lake Clark is another wilderness you'll only be able to access by plane or train, and there's no infrastructure for interior travel once you get there, either — so be sure to bring your hiking boots and your kayak. If you've got the guts to visit, though, you'll experience some of the wildest landscape around, including volcanoes, glaciers, and the incredible 40-mile-long lake the park gets its name from.
This park holds the distinction of being the largest national park in America at about 13.2 million acres — the same size as Yellowstone, Yosemite, and the country of Switzerland combined. Although it's still no walk in the park to get to, it is at least possible to drive into this park on one of the two state-maintained dirt roads that lead into it, Nabesna Road and McCarthy Road.
Best Hiking Trails
Even if you don't venture all the way out to one of Alaska's national parks — or even a state park — there's no shortage of incredible outdoor beauty to enjoy. Here are some of the best hiking trails in and around Anchorage.
Flattop Mountain Trail
A moderate loop of only 3.3 miles altogether, Flattop Mountain Trail is a great excursion when you want serious views without a serious and time-intensive expedition. At 1,400 feet of elevation gain, it's certainly no walk in the park, but it won't topple you, either. It's a bit of a scramble toward the top, so be sure to watch your footing!
Rabbit Lake Trail
This Chugach State Park trail offers visitors the opportunity to meander along the lakeside in the summer, and it's a great opportunity for snowshoeing and cross-country skiing come wintertime. Rabbit Lake Trail is about nine miles round trip and sees about 1,400 feet of elevation gain.
Rendezvous Peak Trail
Rendezvous Peak Trail is tucked into the Chugach National Forest and features stunning wildflowers which make it a popular go-to. At about three miles in length and, again, 1,400 feet of elevation gain, this trek isn't for the faint of heart, but it's not impossible, either.
Tony Knowles Coastal Path
Looking for something just a little bit easier than these peaks and valleys? The Tony Knowles Coastal Path winds along 20 miles of Alaskan waterfront, but it's relatively flat the whole way. Take on as much or as little as you want, and enjoy paved sections that are good for those pushing strollers or wheelchairs. The path is also open to bikers and cross-country skiers!
McHugh Peak
A 5.4-mile journey with more than 2,300 feet of elevation gain, McHugh Peak is a toughie… but the views are well worth it. Keep in mind that the ridge can get cold and windy, so be sure to bring a second or third layer — and wear your boots and bring your poles, because the path back down is steep and slippery!
Best Restaurants in Anchorage
All of those outdoor excursions are sure to work up an appetite! Here are some of the best restaurants in Anchorage, whether you're looking for Asian, Mexican, Italian, or just a plain old burger.
El Green-Go's
If you're looking for the best Mexican restaurants in Anchorage, you might be well suited to look for something on wheels. El Green-Go's has been voted the best food truck not only in the city but in the entire state of Alaska, serving up everything from breakfast burritos to nachos to street tacos.
Muldoon Pizza
Serving up much more than a delicious pie (but don't underestimate that, either!), Muldoon Pizza is an Italian eatery that's worth your attention. Choose one of the house specials or craft your own — or grab a plate of ravioli, lasagne, or even fried chicken!
OEC Revolving Sushi Bar
One of the best Asian restaurants in Anchorage, OEC Revolving Sushi Bar isn't just a place to eat — it's a dining experience. Sit back and enjoy some of the freshest fish dishes around in an upscale environment featuring polished granite tables.
Tommy's Burger Stop
It doesn't have to be fancy to be unforgettable — and you definitely won't forget a trip to Tommy's Burger Stop. These classic burgers are the size of your head and come in a wide variety of, well, varieties. Grab an order of onion rings on the side and an old-fashioned shake to wash it down!
Middle Way Cafe
Part coffee house, part airy eatery, Middle Way Cafe is the perfect place to sit down with a cup of joe and your laptop or grab a bite of delicious, earth-conscious food. With a variety of plant-based menu options, this is the perfect spot if you've been searching for a vegetarian or vegan restaurant in Anchorage.
Fun Things to Do in Anchorage
Here are some of the top things to do in Anchorage this weekend — or whenever — whether you're with your kids, your sweetheart, or traveling solo.
For Kids and Families
If you've got a family with you, there are plenty of adventures in store. Here are some of the best things to do with kids in Anchorage.
Visit the Alaska Wildlife Conservation Center
This nonprofit wildlife sanctuary protects and displays local animals like brown bears, wood bison, caribou, coyotes, and more. Special tours and events at the Alaska Wildlife Conservation Center allow visitors to engage with the animals up close and personal and learn more about these furry Alaskan friends of theirs.
Enjoy the Alaska Aviation Museum
What kid isn't mystified and delighted by air travel? What adult, for that matter? Allow yourselves to nerd out at the Alaska Aviation Museum, which will shed some light on the unique history of aircraft, including the opportunity to see several real-life vintage models.
At Night
Alaska may be home to endless daylight, but there's stuff to do at night, too. Here are our favorite things to do at day's end in Anchorage.
See a Show at the Alaska Center for the Performing Arts
It may be about as far off Broadway as it gets, but the Alaska Center for the Performing Arts still brings in some incredible talent. Grab a ticket to a musical, concert, or other event and settle in for an evening of entertainment!
Get Dirty at Clay Owen Studios
Ever wanted to try your hand at pottery? Whether you've seen Ghost one too many times or just have a hankering to put your hands in the clay, taking an evening class at Clay Owen Studios is a great way to enjoy yourself after sunset in Anchorage… if you're there at a time when the sun is setting at a reasonable hour, that is.
Cheap and Free Things to Do in Anchorage
Yes, you can explore Anchorage without spending an arm and a leg — or anything! Here are the best free and cheap things to do in Anchorage.
See the Salmon at Ship Creek
Tucked into the industrial section of town, Ship Creek is a great spot to watch the salmon run, and it's frequented by lots of local birdlife as well. The nearby William Jack Hernandez Sport Fish Hatchery offers a closer look at the fish themselves, and there's no charge to visit.
Attend First Friday Art Walk
Lots of towns have an art walk, and Anchorage's version is on the first Friday of each month. Hobnob with local artists while traipsing through the coffee shops and galleries, enjoying light refreshments, live music, and a generally festive atmosphere.
Spas in Anchorage
Who couldn't use some pampering and indulgence, especially after a long, hard Alaskan winter — or an equally taxing summer filled with outdoor excursions? Here are some of the best day spas and salons in Anchorage.
Adagio Day Spa
Whether you're in need of a relaxing massage, rejuvenating facial, or a mani/pedi that will leave you looking and feeling your best, Adagio Day Spa has a "ritual" that will suit your needs, including several spa packages and also services for him!
Ravens Nest Spa
Sometimes, a trip to the spa is as much about the setting as it is the service and experience. Ravens Nest Spa is nestled into a beautiful cedar building that will make you feel like you've escaped to an intimate log cabin retreat. Inside, you'll be treated by competent professionals ready to offer the best massage, wax, or body treatment you've ever experienced, or enjoy a trip into the infrared sauna!
Best Gyms & Yoga Studios
If you want to be ready to tackle any adventure, you've got to take care of your body. Here are some of the best places to get sweaty, strong, and prepared in Anchorage, Alaska.
Alaska Fitness
An all-inclusive gym offering a mind-boggling array of equipment, not to mention classes and personal training, you'll find everything you need to become a stronger, fitter version of yourself at Alaska Fitness.
Southside Strength and Fitness
Sometimes, fitness is as simple as picking up a heavy thing and putting it back down again — and repeating the action a few times, of course. Southside Strength and Fitness is a no-frills Anchorage gym that can help you meet your goals and get stronger without any extra expense or effort. Just show up and get to work, because that's what it's all about.
Anchorage Yoga and Cycle
Whether you want to spin or work towards your splits, Anchorage Yoga and Cycle offers a bevvy of opportunities to increase your fitness. Along with its multiple studios and host of friendly and professional instructors, the studio also offers boutique fitness-related retail items for sale and complimentary towel service.
Studio
If you like your yoga hot, Studio has you covered, offering a variety of heated classes to help you strengthen, meditate, increase flexibility, get stronger and more. They even offer a special Moonlight Bliss class to help you wind down at the end of a long day of exploring.
Day Trips in Anchorage
While you could easily keep yourself occupied in Anchorage for days, weeks, months, and years, there are also some great day-trippable destinations in the area.
Homer
You may know it as "the end of the road" if you've read Tom Bodett. But even if you've never heard of it before, Homer is well worth coming "home" to, even if just for a weekend. This seaside village lives in the bowl of stunning mountains and is filled with galleries, restaurants, and boutiques — not to mention all the outdoor adventures it's in proximity to. You could even try your hand at salmon fishing on a charter boat!
National Parks and Preserves
As listed above, there's just about an endless opportunity for wilderness exploration and outdoor recreation in Alaska — so if you're gonna hop in your car, you might as well make your way to one of the many national parks, preserves, and other adventuresome landscapes!
As a final reminder, some of these activities may need to wait until businesses fully reopen from coronavirus closures. However, there is still much to see and experience in Anchorage that you can enjoy today! What are your favorite spots in Anchorage? Send them our way to [email protected] or by tagging us on Instagram @rvshare and using the hashtag #rvsharelocal.
Enjoy yourself in Anchorage — and farther afield in Alaska, too! We can't wait to hear all about your adventures.