Travel Inspiration
February 8th, 2021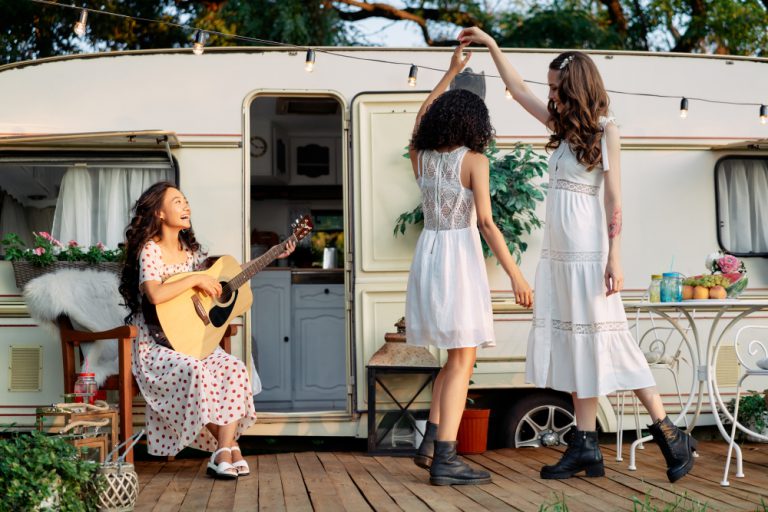 February 14th may be all about romance and hearts and Valentine's Day, but February 13th? Why, that's Galentine's Day!
The (admittedly fake) holiday was made popular by the sitcom Parks and Rec, where Leslie Knope informs everyone that she always sets aside that day to hang with her best friends, leaving husbands and boyfriends at home. It's girls' day…or weekend. And what better way to enjoy some time with your BFFs than in an RV?
Celebrate Galentine's Day in an RV With Your Besties
There are a few reasons why RVing with your besties is a great way to spend Galentine's Day.
1.) You can tailor your experience to your group
Are you outdoor lovers? Take the RV to a national or state park and do some hiking, kayaking, horseback riding, or fishing during the day, then chill with a campfire back at your RV that night. Is everyone desperately in need of a spa day? Well, actually, there's even a national park for that, but you can also plan your trip around visiting any one of a number of spas or resorts. The options are endless for planning your trip around what your group enjoys – foodies could take a road trip to a world-class restaurant, book club members could find an indie bookstore in another town, amusement park lovers could head to Disney World or another park – and then spend the day exploring the area you've chosen.
2.) You have time to catch up
There's nothing like a good road trip to give everyone time to talk! You'll have plenty of time to get caught up on each others' lives and to see how everyone else is doing while you're on the road. Of course, many RVshare owners also offer to set up their campers or RVs at the campground for you – if you opt for that instead, you'll have plenty of time each night for chatting around a campfire, or inside with a glass of wine and a few good snacks.
3.) You can do as much, or as little, as your group wants
You can plan activities all day long if your group likes to get out and go. But often, the beauty of a girls' trip is to just get away and not do anything for a while! RV campgrounds often have plenty to do on-site if you want to stay put. At the very least, you can take a walk around the area, or set up a chair outside, take in the scenery, and sit and relax in companionable silence with your friends. You could also plan things to do at your RV – many Paint & Sip places have to-go kits so you and your friends could try your hand at creating some artwork (with or without some wine close at hand). Grab s'mores supplies, or even try some gourmet campfire cooking as a group. If you're a book club, pick a book to read on your trip that you can talk about as you read. You could even do your own homemade spa treatments at your RV!
Where to go for a Galentine's Day Trip
Depending on your group's interests, here are some suggestions for Galentine's Day trips!
Grown-up Girl Scouts
If your group is full of outdoor lovers, and their idea of a mud pack is one you ride through rather than put on your face, try an adventure weekend in Moab. The Utah town has a variety of outdoor adventure options including hiking, rock climbing, horseback riding, and mountain biking. Depending on the season, you can go whitewater rafting on the Colorado River, or try stand-up paddleboarding. For a unique adventure, try a Jeep or ATV Tour. Then head back to your RV for a well-deserved night's rest.
Adrenaline Junkies
If you and your friends like the thrill of a twisty, turny rollercoaster head to Disney World, where just about anyone can find a ride to suit them. Nearby Universal Studios also has great rides and fun attractions – either park would make an excellent destination for amusement park lovers!
Sun Goddesses
If your idea of a perfect vacation is some uninterrupted beach time, head to a Florida beach. The Gulf Coast has some gorgeous beaches, and the Florida Keys are a unique destination that no one will forget! If you're on the other coast, RV camping in Malibu or at Crystal Cove in Laguna Beach, California offer beautiful scenery and miles of California beaches. There are plenty of shops, restaurants, bars, and other places to visit nearby.
Luxury Lovers
If your group enjoys great food and wine, luxury shopping, and spa pampering consider heading to a town like Jackson Hole, Wyoming. Jackson Hole attracts visitors from around the world, and you can spend the day hiking, skiing, or exploring the town. Jackson Hole has world-class cuisine, and several resort-hotels offer spa services. If you're looking for warmer weather, Sedona, Arizona has delicious restaurants, spa resorts, and unique shopping along with hiking and plenty of outdoor activities.
There are, of course, as many options for a Galentine's Day trip as there are unique women in this world! So grab your besties and get to planning. And remember, in the words of patron Galentine's Day saint Leslie Knope, "You're a beautiful, talented, brilliant, powerful musk ox."