Travel Inspiration
November 16th, 2021
If you've never been to Virginia, you're definitely missing out. This gorgeous state has a little bit of everything, and we absolutely adore spending time there. All that said, planning your first visit to Virginia can be a little bit overwhelming, thanks to the sheer number of things there are to see and do. That's why we think making a Virginia bucket list is a good idea.
A Virginia bucket list will help you keep track of the things you want to experience most during your visit. It allows you to see all of your options quickly and easily, making it easy to make the best decisions for your family and situation. Additionally, keeping a running travel bucket list will help you plan further trips to the same place.
Ready to start making a Virginia bucket list of your own? Today is your lucky day, because we've included our Virginia travel list to help you get started. Use some of these bucket list ideas, tack on some places to visit that you find on your own, and you'll have an amazing to-do list that is sure to help you plan and enjoy your time in the state. 
What is a Bucket List?
Obviously, if you're going to be making a bucket list, you'll want to know what exactly that is—and if you've never heard the term before, you may be left wondering. The term "bucket list" comes from the term "kick the bucket." It's a collection of experiences you'd like to have before you pass away.
Generally, people like to keep a single running list that includes all of the things they'd like to see and do in their lifetime. However, we have found it much easier to keep smaller lists for each individual state. Not only does this feel less overwhelming, it also makes planning trips a whole lot simpler.
The Virginia bucket list below is a perfect example of one of these state travel lists. Why not take a peek before you start to create one of your own?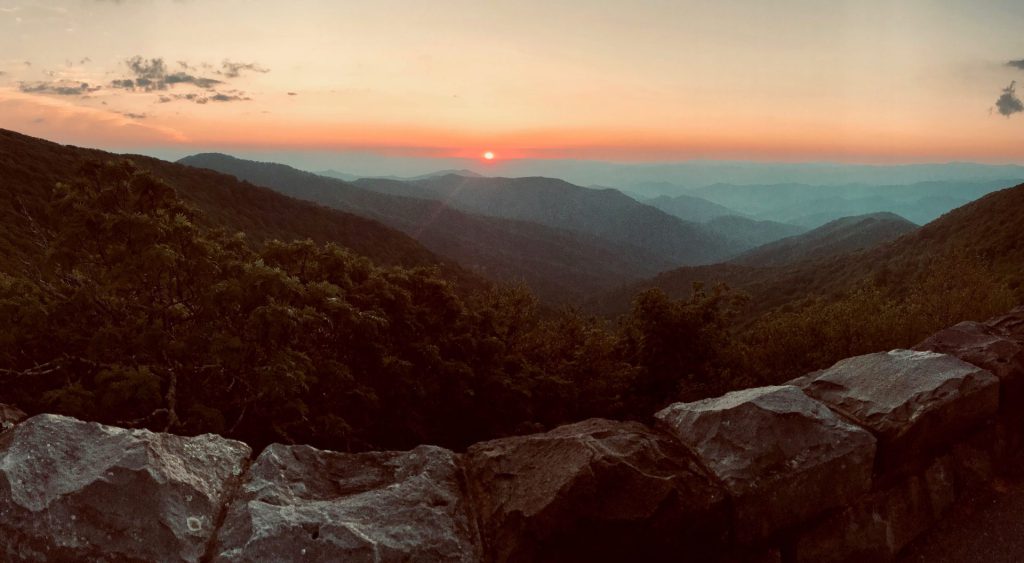 — Bucket List Vacations: Virginia's National Parks —
National parks are always wonderful additions to state bucket lists, and the NPS sites in Virginia are no exception. Whether you want to learn about our nation's history or see some gorgeous Virginia nature, there is a park for you. Be sure to consider them when creating your Virginia bucket list.
#1. Appomattox Court House National Historical Park
The location of the surrender that ended the Civil War, Appomattox Court House is an important place, to say the least. Visit this national historical park to learn more about the events that happened on that fateful day in 1865.
#2. Assateague Island National Seashore
Sandy beaches, salt marshes, forests, and bays are all found at the beautiful Assateague Island National Seashore. Explore these areas, see wildlife (including wild horses!) up close, and escape into the beauty of this amazing park.
#3. Blue Ridge Parkway
No trip to the east coast is complete without a drive along the gorgeous Blue Ridge Parkway. Whether you visit during the green, green summer or choose to admire the fall foliage instead, you're sure to enjoy the wonderful views found along this famous road.
#4. Booker T. Washington National Monument
Born a slave, Booker T. Washington led an incredible life. After the Civil War, this man became the first principal of Tuskegee Normal and Industrial School, which we know today as Tuskegee University. Later in life, Washington became an advisor, author, and philosopher, and is now known as the most influential African American of that time. Visit his birthplace to learn more.
#5. Cedar Creek and Belle Grove National Historical Park
Shenandoah Valley has a rich and amazing history. Learn about the native Americans who first called the land home, the pioneers who settled here to farm, and the many wars and other events that took place in this place at the Cedar Creek and Belle Grove National Historical Park.
#6. Colonial National Historical Park
If you've ever wanted to learn more about the colonial era, the Colonial National Historical Park is the place for you. Here, you can explore historic sites such as Historic Jamestown and the Yorktown Battlefield to immerse yourself in history and gather new information.
#7. Cumberland Gap National Historical Park
Cumberland Gap is considered the first gateway to the west. This amazing place was traversed by an enormous number of people for a variety of reasons. Come walk the park yourself to get a feel for the majesty these early pioneers encountered on their way to the western side of the country.
#8. Fort Monroe National Monument
Fort Monroe has served an enormous number of purposes since it was first built. It saw Native American presence, served as a stop for Captain John Smith, and even saw the first arrival of enslaved Africans. It also served as a haven for those seeking freedom during the Civil War and has been a bastion of defense for the Chesapeake Bay. Visit the fort to learn more.
#9. Fredericksburg and Spotsylvania National Military Park
The battlefield where the Civil War roared to a climax, Fredericksburg, Spotsylvania, and the surrounding towns have some tragic and important stories to tell. Visit Fredericksburg and Spotsylvania National Military Park to learn about these incredible stories.
#10. George Washington Birthplace National Monument
Like all people, even the important George Washington was a child once. Visit the place where this incredible man was born to learn more about his family, his upbringing, and his background. See the family's home as well as the lovely land and many outbuildings that completed their estate.
#11. Harpers Ferry National Historical Park
Offering beautiful nature and a good bit of history, Harpers Ferry National Historical Park is a wonderful place to visit. See beautiful historic buildings, hike a lovely nature trail, and have a great time exploring this amazing part of Virginia, West Virginia, and Maryland.
#12. Maggie L. Walker National Historic Site
If you've never heard of Maggie Lena Walker, it's high time you learned about this incredible woman. Walker devoted her entire life to the advancement of civil rights, helping to create economic empowerment and educational opportunities for African American women during the Jim Crow era. Visit the Maggie L. Walker National Historic Site to learn more.
#13. Manassas National Battlefield Park
The plains of Manassas saw not one but two Civil War battles. In July of 1861, this was the location of the first battle of the war. Then, in August of 1862, the armies fought in this place again. Learn about both of these battles at Manassas National Battlefield Park.
#14. Petersburg National Battlefield
The site of the longest siege in American warfare, Petersburg was the location of a series of battles between June of 1864 and March of 1865. The events that happened here changed the course of history. Learn about them at the Petersburg National Battlefield.
#15. Richmond National Battlefield Park
Serving as the capital of the Confederate States of America for most of the Civil War, Richmond is home to all kinds of important historic sites. Explore 13 of these sites when you visit the Richmond National Battlefield Park.
#16. Shenandoah National Park
Easily one of the most beautiful places on the east side of the country, Shenandoah National Park is the perfect place to escape the hustle and bustle of modern life and explore nature. Explore beautiful hiking trails, admire beautiful views, and watch for local wildlife at this lovely park.
#17. Wolf Trap National Park for the Performing Arts
Are you a fan of the performing arts? If so, be sure to visit Wolf Trap National Park for the Performing Arts. Here, multiple amphitheaters present performances throughout the summer months. From musicals and dance performances to opera and jazz concerts, you're sure to find a show that suits your tastes.
#18. National Trails
Virginia is also home to a large number of amazing national trails. These have important stories to share and gorgeous views to offer and should definitely be visited:
Washington-Rochambeau Revolutionary Route
Star-Spangled Banner National Historic Trail
Potomac Heritage National Scenic Trail
Overmountain Victory National Historic Trail
Captain John Smith Chesapeake National Historic Trail
Appalachian National Scenic Trail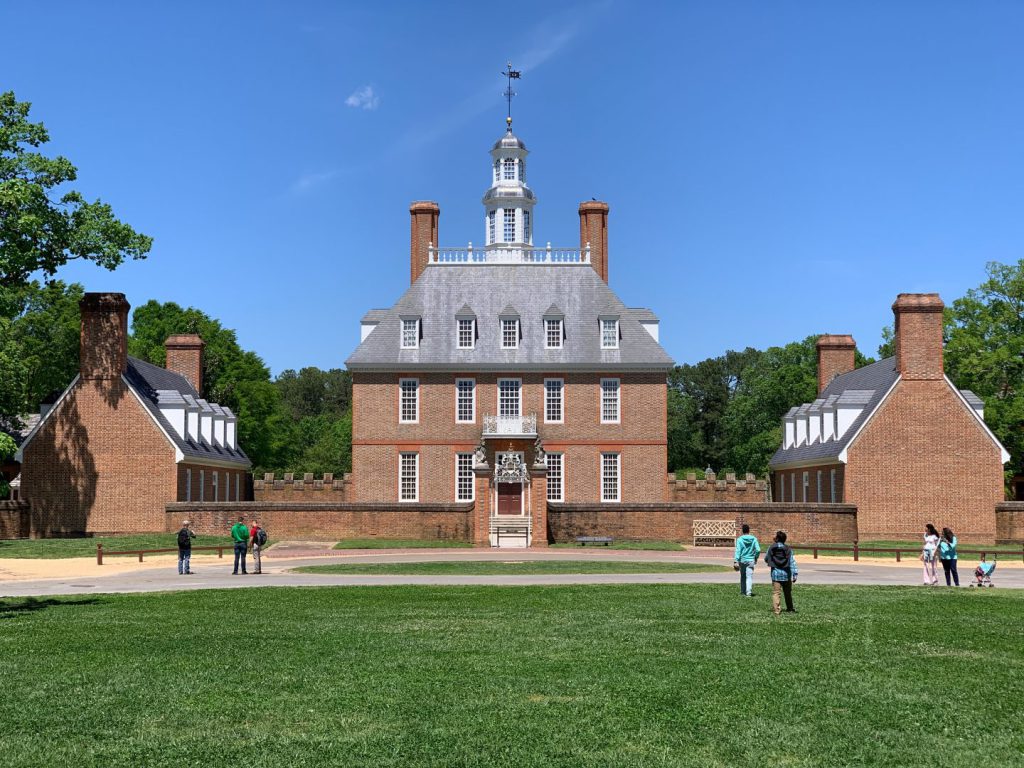 — More Virginia Bucket List Experiences —
Yes, Virginia's national parks are awesome, but they are not the only amazing things to see in the state. If you're hoping to expand your Virginia bucket list even more, be sure to consider the super cool attractions listed below.
#19. Step Back in Time at Colonial Williamsburg
Definitely one of the best living history museums in the country, Colonial Williamsburg is a history lover's dream come true. Here, you can wander through a town straight out of Colonial times, entering the various shops and homes and even chatting with the people who live and work in the town.
#20. Time Travel at Historic Jamestowne
Another fantastic place where you can step back in time is Historic Jamestowne. This living history experience puts you in the Jamestown settlement in the early 1600s. Learn about the people that lived here and the events that helped shape America as we know it today.
#21. Learn at the American Revolution Museum at Yorktown
The Battle of Yorktown was an incredibly important one in American history. Visiting the battlefield itself is an excellent way to learn about these events, but another excellent opportunity is found at the American Revolution Museum at Yorktown. This attraction is part traditional museum (with some impressive and engaging exhibits) and part living history museum, and it definitely makes learning about history fun.
#22. Relax at Virginia Beach
No trip to a coastal state is complete without a visit to the beach. We mentioned the beautiful Assateague Island above, but another wonderful beach is Virginia Beach. Here, you'll find a gorgeous sandy beach and all kinds of things to do.
#23. Explore Thomas Jefferson's Monticello
Yet another fantastic way to learn about early American history while in Virginia is to visit Thomas Jefferson's Monticello. Here, you can tour Jefferson's home, see the slaves' quarters, wander the grounds, and ask as many questions as you wish.
#24. See George Washington's Mount Vernon
George Washington's Mount Vernon is another excellent place to dive into the past. This lovely estate is well marked for visitors, and the audio tour of the grounds is superb. Visitors can also tour the house, and the guides for these tours are incredibly knowledgeable and excited to share that knowledge.
#25. Visit Arlington National Cemetery and Arlington House
Overlooking Washington, D.C., Arlington National Cemetery is the final resting place of a number of famous individuals. These include people like John F. Kennedy and William Howard Taft. You can also find the well-guarded Tomb of the Unknown Soldiers here, as well as the Arlington House, a memorial built by George Washington to commemorate his step-grandfather.
#26. Admire the Natural Bridge of Virginia
Natural bridges are always a fascinating thing, and the Natural Bridge of Virginia is no exception. This natural wonder stands over 200 feet tall and is a full 90 feet wide. It is one of the oldest tourist attractions in the country and is now a part of a state park that is well worth exploring while you're visiting.
#27. Get Your Thrills at Busch Gardens
Looking for some thrills? Look no further than the well known and loved Busch Gardens theme park in Williamsburg. This awesome place has a number of excellent roller coasters, as well as some top-notch family rides and kiddie attractions. You could easily fill an entire day here and still find more things to do the next time you visit.
#28. Shop in Carytown
Some of the best shopping and dining in the state can be found in Richmond's Carytown. Often named the "home of culture" in the city and even the state, this is a must-visit place if you're a fan of food and cool shops.
#29. Cross the Boulevard Bridge
Once known as the "nickel bridge" because of the 5-cent toll charged to cross it, the Boulevard Bridge offers some incredible views of Richmond's skyline, as well as the Rocky River that runs under it. The fee to cross might now be 35 cents, but these views are worth much more than that.
#30. Photograph Church Hill
More great views of Richmond can be found on the popular Church Hill. Drive to the top of the hill and look down to take in a good chunk of the downtown area. Be sure to take a camera so you can snap a photo while you're there.
#31. Wander the Virginia Museum of Fine Arts
Art enthusiasts will appreciate the Virginia Museum of Fine Arts. This museum is widely regarded as one of the best in the state, and since its opening it has hosted works by many famous artists, including Picasso. The collection here is large and includes a variety of art styles from many different time periods.
#32. Check Out the Virginia Aquarium and Marine Science Center
One of the best aquariums in the United States, the Virginia Aquarium and Marine Science Center is a must-see for many visitors. This place is home to an enormous number of fish and other sea animals, and offers awesome experiences like swimming with seals and feeding sea turtles.
#33. Stroll Maymont Park
The 100-acre Maymont Park was once a private estate. These days, the grounds are open to the public and the beautiful historic Maymont House is fully furnished and operated as a museum. Besides the house, the grounds are also home to an adorable little zoo and Italian and Japanese gardens. All are wonderful to explore.
#34. Discover Luray Caverns
Discovered way back in 1878, the Luray Caverns are absolutely breathtaking. They are the largest caverns in the country and easily the awesome state in the state of Virginia. On top of that, the amazing "Stalacpipe Organ" in the cavern museum is touted as the world's largest musical instrument.
#35. Gather Info at the Military Aviation Museum
The history of aviation is incredibly interesting, and the history of military aviation might be even more so. At the Military Aviation Museum you can learn all about this subject while viewing an amazing collection of military aircraft, with some planes dating back to the First World War.
#36. Look Up at the Cape Henry Lighthouse
The first lighthouse to be federally funded, Cape Henry Lighthouse was completed in 1792. The lighthouse is one of the oldest standing in the US and has played an incredibly important role, helping thousands of vessels traveling to Chesapeake Bay.
Visitors can tour the lighthouse and snap photos with it.
#37. Dive Deep at Nauticus
As the name suggests, Nauticus is a marine museum with a specific focus on marine science. The attraction was first opened in 1994 and is home to a number of exhibits which help visitors better understand the maritime history of Virginia. It's a great spot to learn more about a fascinating subject that many don't know much about.
#38. Meander through the Lewis Ginter Botanical Gardens
Looking for a place for an afternoon stroll? Lewis Ginter Botanical Gardens is the place to go. This gorgeous place covers 50 acres of land, meaning there are plenty of places to wander and explore. The gardens were recently voted some of the best in the US, and when you visit, you'll understand why.
There's no denying the fact that Virginia has plenty to see and do. With so many bucket list items to check off, you might even have a hard time squeezing everything in. The solution? A Virginia RV rental!
By taking your Virginia trip in an RV, you will be able to move from one place to another with freedom, making it much easier to check off every item off your Virginia bucket list. We have plenty of amazing rentals to choose from, so why not book one today so you can go adventuring as soon as possible?