Travel Inspiration
Last updated on July 12th, 2022. Originally published on November 9th, 2020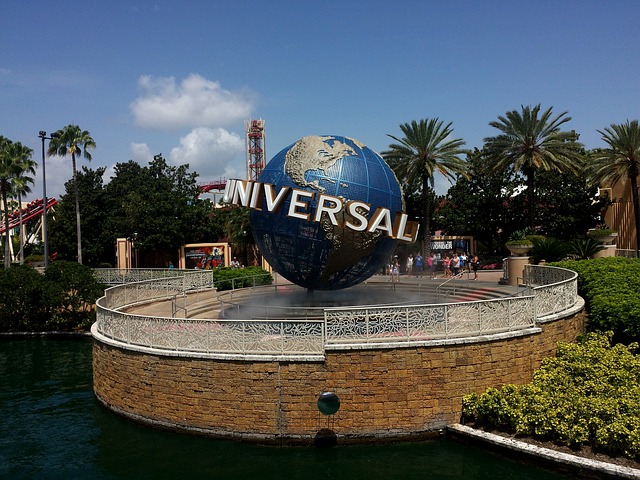 A family RV road trip to Universal Studios is an exciting prospect! There's so much to do at the park, and so many exciting things to see. If you have a Harry Potter fan, or a movie buff, or just people in your family who love thrilling rides and amusement parks, your family will have a blast.
Giant Guide To All Things Universal Studios
But for those same reasons, the idea of a Universal Studios vacation can also seem daunting. There's so much to do! How do you know what to plan? Where do you even start?
This guide aims to answer all those questions so you can plan the ultimate Universal Studios motorhome vacation for you and your family. Regardless of what you decide to do while you're there, your family is sure to have a vacation that will make lifelong memories!
What's At Universal Studios?
There are three theme parks that make up the Universal Orlando Resort – Universal Studios, Islands of Adventure, and Volcano Bay Water Park.
Within Universal Studios itself, visitors can ride attractions including Revenge of the Mummy, the Men in Black Alien Attack, the Simpsons Ride, and – of course – Harry Potter and the Escape from Gringotts. This thrill ride where you work with Harry and his friends to escape Voldemort and Bellatrix Lestrange is perhaps the best-known ride in the park.
Finally, Despicable Me Minion Mayhem and E.T.'s Adventure are slightly calmer rides for those who don't want to get their adrenaline going quite so far off the charts.
There are also plenty of things to experience when you're not on a ride. Diagon Alley, inside the park, is an immersive experience that makes you feel like you're right inside the movie. If you're a serious Harry Potter fan, you'll want to purchase park hopper tickets, which allow you to ride the Hogwarts Express and visit both Diagon Alley in Universal Studios and Hogsmeade inside the Islands of Adventure park.
You can see a complete list of rides and attractions at Universal Studios Florida here.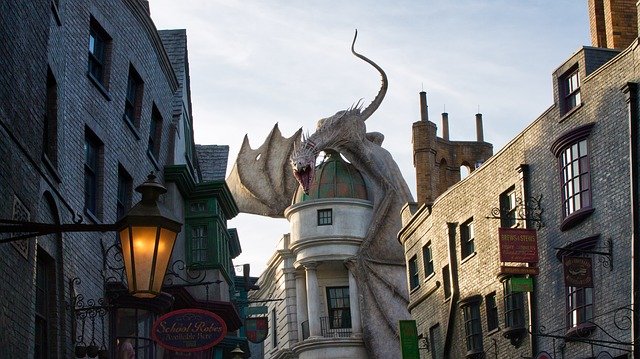 When Should You Visit The Park?
As with many family travel destinations, Universal Studios Florida is more crowded when the kids are out of school. Spring break and summer are the busiest times at the park. While it's never slow, the fall after kids have gone back to school but before special Halloween and holiday events begin can be less busy than other times. Weekends year-round are busy!
Tips for avoiding long lines
1.) Purchase your admission in advance
You can save time and money by purchasing your tickets to the park ahead of time online. Skip the ticket line that morning and head straight to the park entrance!
2.) Get there early
If you do visit during a busy time, there are a few things you can do to try and beat the crowds. The simplest, and probably easiest to do if you have small children who are early risers anyway, is to get there early! Plan to arrive half an hour before the park opens so you can get to the gate.
3.) Make a plan
Once you're inside, head straight to The Wizarding World of Harry Potter, since that's the most popular area. Make a beeline for Harry Potter and the Escape from Gringotts, then afterward you can spend some time looking around the area. Wander around the lagoon and stop off at other areas and rides that interest you, like the Men in Black and Simpsons rides. Kids can then play at KidZone while you decide on lunch.
Also, if you're hitting the park with several other people, talk to each person about their One Ride. The one ride that they're dying to try, that would disappoint them if they aren't able to try it before you leave. Rather than trying to tackle the entire park in a day, focus on those rides first so that each person – especially each child – gets to ride the attraction that they really want to. If you have time after that, you can choose other rides depending on their wait times and how much walking you need to do. If everyone agrees on the same ride as the one they really want to do – head there first!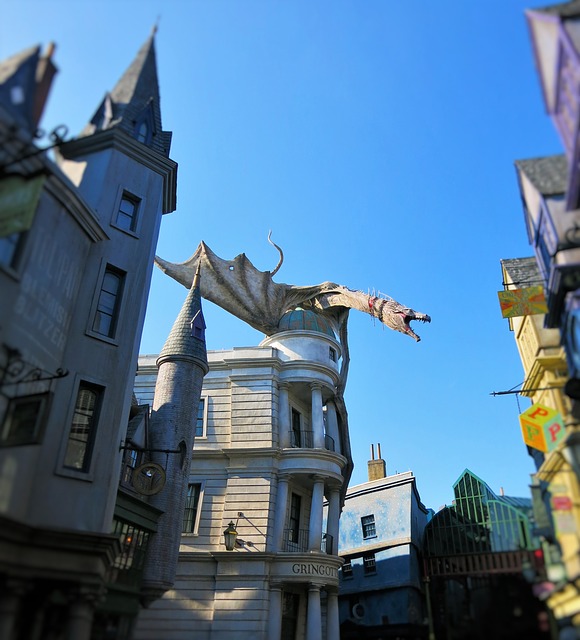 4.) Ride while others are busy
You can take advantage of shorter lines if the weather is bad, or during lunch and dinner periods when others may be eating, or during shows like the Hogwarts Castle sound and light show. You may want to watch the show, but you can also use that time to hit the rides while others are watching.
5.) Use the app
Get the Universal Studios app, which is free and helps you track wait times on various rides. You can also get a Virtual Line Return Time for certain rides, so you can try other attractions and be in line at your assigned time for that ride. Finally, you can order food and drinks ahead of time from certain restaurants in the park and at CityWalk, saving you time when you arrive at the restaurant to eat.
6.) Splurge on Universal Express
Universal Express access is a perk you can get with an added fee on top of your park admission. It allows you to skip regular lines on many of the most popular rides and attractions. If you want to cram more rides and experiences into your day, you may find that it's worth the extra fee in order to get to the rides faster.
Tips for saving money
1.) Buy passes online
As we mentioned above, you can save time the morning of your visit by purchasing your admission ahead of time. This can also save you money! If you're purchasing multi-day tickets, you can get $20 off the gate price on those tickets by buying them ahead of time. You also get a Coupon Book when you purchase online, with discounts at certain restaurants, shops, hotels, and more.
2.) Consider various admission options
Depending on how many days you want to spend at the park, you may want a package with multi-day tickets, or you may even want an annual pass. There are also online deals – at the time of this writing, Universal is advertising three days free when you buy two days at the park. Poke around and see what the best option for your family is. And if you're not 100% certain which pass is best for you, purchase the cheapest ticket and upgrade when you get to the park. You always have the option to add more after you arrive.
3.) Don't expect refunds
Although you can always upgrade later, Universal Studios passes are non-refundable and non-transferable. Make sure you're certain of the days you'll be at the park and that you're certain of the people who will be using the passes. Although purchasing tickets in advance is cheaper, you don't have to purchase them that far in advance – you can even do it the day of your visit before you arrive. That way you can be sure you'll actually be going to the park and not missing the day for an illness or other last-minute wrench in the works.
Also, make sure to purchase passes from an official vendor – sketchy people may try to sell non-transferable or partially used passes that won't be valid when you try to use them at the park.
4.) Bring backpacks
Have each person bring a backpack with a sweatshirt, water bottle, and snacks. You also have the option of renting a locker at the park for around $14 a day. Bringing your own sweatshirts will save you from having to purchase one at the park for a shivering child if the temperature drops in the evening! There are drinking fountains throughout the park, so you can save money by bringing a water bottle and refilling it over the course of the day.
Finally, while giant rolling coolers are not allowed, snacks are. You can save quite a bit of money by avoiding paying for park snacks and bringing your own. You may even be able to bring enough snacks to avoid having to pay for meals as well.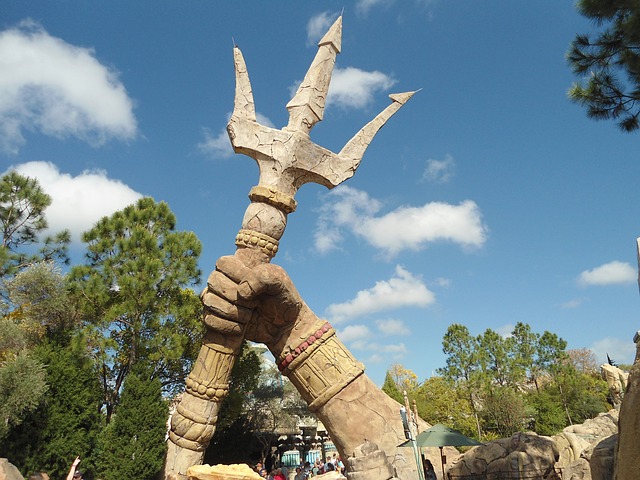 5.) Consider meals at CityWalk
If you're planning to purchase meals, you may find more inexpensive options at Universal CityWalk just outside the park, rather than at restaurants inside the grounds. Places like Panda Express are quick and less expensive than nicer, sit-down restaurants.
6.) Remember to check AAA and any credit card perks
AAA offers discounts at many shops and restaurants and may get you further discounts on your trip! Also, American Express is the official credit card of Universal Studios and cardholders get certain perks regarding the park throughout the year. American Express cardholders also get private access to the American Express Lounge if you purchase multi-day tickets or an annual pass using your AmEx card. Guests can relax inside, where there are complimentary snacks and drinks and a concierge available.
Where to camp near Universal Studios Florida
One other way to cut down on costs when taking a Universal Studios Florida trip is to camp! You can prepare and eat meals in your own space, saving money over dining out for every meal. You can also bring many things from home that can help you save at parks, like strollers. Also, paying for camping can be significantly cheaper than paying for resort hotels. You can cut that cost even more by looking for campgrounds at city and state parks that are even less expensive than privately-owned campgrounds.
If you're traveling with children, RVs and motorhomes provide many other benefits as well. You can bring items from home that make them feel comfortable on the road, so that when they're exhausted at the end of a long, fun-filled day, they aren't sleeping in an unfamiliar bed but a familiar space with their bedding or stuffed animals and other comfort items from home. Also, after a day of different experiences and environments, you can have familiar foods and favorite meals for kids who may want some consistency during a lot of exciting new things.
Although there is not a campground right on-site at Universal Studios, there is RV parking while the park is open for the day. There are also plenty of nearby campgrounds so you have plenty of options!
This central Florida campground is near Universal Studios, Walt Disney World, and SeaWorld, so if you have plans to visit several theme parks this is a great location! It also has the amenities that people have come to expect from KOAs – a swimming pool, hot tub, basketball court, bike rentals, and more.
After the hustle and bustle of a day at Universal Studios, relaxing next to Lake Fairview at a quiet campsite is a great way to unwind! The lake has fishing, with a boat ramp so you can get out on the water, and guests can swim and kayak or canoe as well.
This campground just west of Orlando has a pond with fishing, two swimming pools, and basketball and shuffleboard courts. The campground also has activities available for guests, including line dancing, organized card games, spaghetti dinners, and more.
This park next to Turkey Lake is a serene space to relax, play disc golf, walk, or cycle. Kids can visit the small farm zoo and play on the nearby playground, and it can be a great pause during an adventure-packed trip to amusement parks and other sightseeing.
Planning a trip to Universal Studios Florida can seem daunting, and you may worry that you'll need a vacation from your vacation! However, with a little careful research and by following these time- and money-saving tips, you can be sure you're creating the memories of a lifetime for you and for those you love who are traveling with you.
Looking for more options? Check out our list of top campgrounds near Orlando, Florida and our guide to planning an RV trip to Disney World!