Travel Inspiration
Last updated on January 5th, 2023. Originally published on April 6th, 2018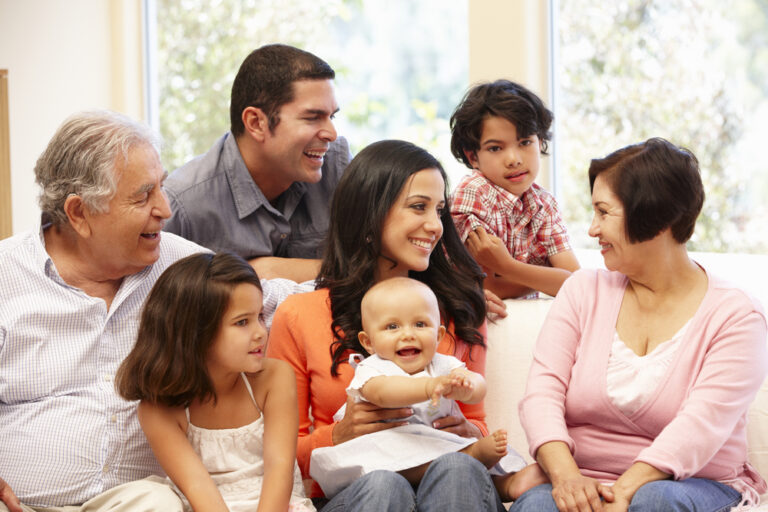 Maybe you haven't seen your Great Aunt Marge since the late 90s, or the cousin you remember holding as an infant has somehow magically morphed into a full-fledged adult.
It's official: time for a family reunion!
Of course, one of the things that can keep families away from each other for extended periods of time is — you guessed it — distance. With a big family and an even bigger country (just look at all the roads in your favorite map atlas!), it can be difficult to gather everyone together in one state, let alone under one roof. It can also be pretty darn expensive.
But when you're traveling by RV, it's a whole lot easier to get where you're going in comfort… and it's not too hard to save some money along the way, either. For example, you can save 50% on your campsite accommodation fees at almost 1900 campgrounds across the country with your valid Passport America membership.
Renting an RV (or several) is also a great way to ensure your family reunion is fun and exciting for every member of the family, from the youngest all the way up to those who've been around the sun a time or two. Campgrounds like Jellystone Park resort group make it easy to keep everyone entertained and occupied, from bouncing their way to oblivion on the parks' jumping pillows to participating in organized, themed family events.
We've got plenty of other family reunion ideas headed your way, so you'd better dig out your address book and give Aunt Marge a ring. It's time to get together!
Planning a Family Reunion
As anybody who's tried to knows, planning a family reunion can be a huge hassle. Even just getting the dates nailed down takes time — you have to align a whole lot of schedules!
Once you figure out the perfect time when everyone's free at once, there are still a lot of logistics to take care of. From planning meals to suggesting activities, you'll be responsible for making sure everyone's in agreement.
One of the touchiest parts of planning a family reunion can be deciding where to have it. After all, no matter which of the many family reunion locations you're considering ends up being the one, it's likely that some family members will have to travel a lot further than others. That's why one of our favorite ideas is to hold your family reunion at a vacation destination, which means everyone has to travel!
Places for Family Reunions
RV camping can be a great way to hold a family reunion, and campgrounds make for some of the best family reunion venues out there. Here's why.
When you travel by RV, getting there is half the fun. No need to hear the repetitive chorus of "Are we there yet?" when you're road tripping in a motorhome. After all, you've brought all the comforts of home along with you!
An RV reunion means everyone gets to have some privacy. Sure, it's great to reconnect with loved ones from years and years ago… but after a long day of walking down memory lane, it can be comforting to have your own space to retreat to.
If each smaller family group within your large party has their own RV or camper, you can caravan together and enjoy interacting in your joint outdoor space while still having the luxury of private sleeping quarters. And don't worry, it's totally possible to feed and entertain a large group from a tiny RV kitchen — here are some of our best tips for doing so. (Don't forget to invest in a quality ground tarp and some comfy folding camping chairs for good measure!)
Family-friendly campgrounds are some of the best family reunion destinations. Where else can dad sit back and relax with a beer at the exact same time as mom and the kids enjoy a once-in-a-lifetime hiking excursion? Campgrounds ensure that there's something to do for everyone.
Family Reunion Travel
When it comes to group travel ideas for your family reunion, it's hard to beat camping at a Jellystone Park location. And with 85 locations spread across some of the best spots in North America (including Canada!), there's bound to be one convenient to your reunion destination.
Jellystone Parks not only offer premium hookup sites for RV camping, but also comfortable cabin rentals and tent camping too. (Psst: tent camping is a great way to increase the number of sleeping sites in your camping arrangement without shelling out for another, or larger, vehicle, and the kids will love sleeping under the stars — so long as they've got a quality sleeping bag and ground mat to keep them cozy.) There's tons to do at each campground, including thrilling splashgrounds with water slides and pools as well as appearances and photo opps with your family's favorite Yogi Bear characters. For older kids and rainy days, many locations also offer a game room — hey, it's more interactive than having their faces glued to their cell phone screens the whole time, right?
Large Vacation Rentals for Family Reunions
Finding a large RV rental for your upcoming family reunion doesn't have to be a drag. At RVshare, RVs of all different shapes, sizes, and makes are listed for rent no matter where you are in the country — including the big, Class A diesel pushers and fifth-wheel travel trailers that can sleep up to 8 passengers or more.
RVing can be a fun and unique way to create a family reunion everyone in the group will always remember. In fact, you may end up enjoying it so much you make it into a more regular event, like an annual family camping trip. Goodness knows there are a whole lot of amazing sites to see out there; with over 50 designated so far, you'll be busy for a lifetime with the National Parks alone!
RV family reunions can help your whole group get reconnected both to each other and to nature, all while having a whole lot of fun and seeing something new. What more can you ask of your travels?
This post may contain affiliate links.