Hot Springs National Park
Arkansas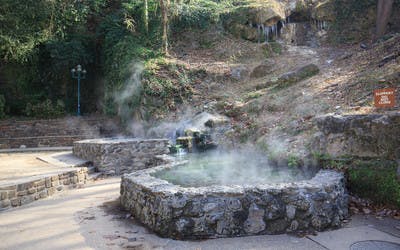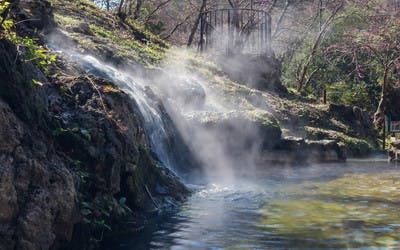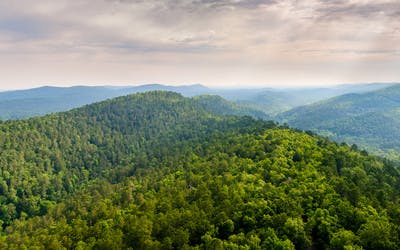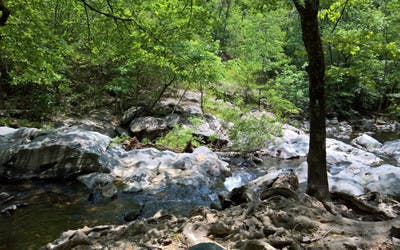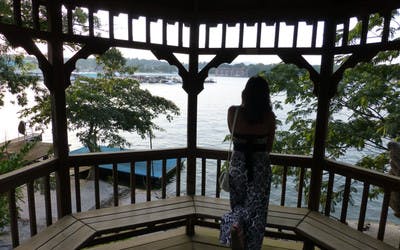 >

Hot Springs National Park
It's a national park...in the middle of a city. Hot Springs National Park in Arkansas began as a place of healing and relaxation where people flocked to the warm thermal waters of "The American Spa," and eventually a city was built up around the hot springs. Today, the park surrounds the north end of the city of Hot Springs - and people still visit to relax in the soothing thermal baths and learn about the wild history of the area. But although these historic bathhouses, first built in the 20th century, have created a developed place to enjoy these ancient natural geothermal pools, the history of this landscape stretches back much further beyond the history of western settlement in this part of the United States. Learn about the indigenous history of the park here.
The weather in the Hot Springs area can vary, depending on the season. Summer temperatures can climb above 100°F and the days are often hot and humid. During the winter, temps can fall below 20°F and the wind chill can make it feel even colder. Be sure to check the forecast before your visit, especially if you're planning on doing some hiking in the area, so you can be prepared.
The town of Hot Springs offers a lot to do besides soaking in the baths and hiking around the park. Visit a mountain tower to get a panoramic view of the area, learn about the gangsters of the Roaring Twenties who used to frequent the town, or pet an alligator if you dare.
Inside the grounds, indulge in what might be the most pampering available at a national park - lounge in a warm bath and experience the onsite spa. You can also hike the trails and get a better look at the trees and mountains surrounding the area. There are scheduled events as well, which you can find here. Learn more about the bathhouses, become a tree sleuth, or chat with a ranger while you're at the hot springs.
Weather
Spring 65-80 F
Summer 88-95 F
Fall 75-85 F
Winter 50-55 F
Nearby Cities
Hotsprings, AR
Trip Planner
Use our FREE RV trip planner to begin customizing the perfect RV trip.
Continue
RV Resorts & Campsites in Hot Springs National Park
There's only one campground in the park, but there are plenty nearby at state rec areas and private campgrounds. The Hot Springs National Park campground is first-come, first-served, but if you're headed to other campgrounds, make sure to reserve your spot.
Hot Springs National Park Public Campgrounds
Hot Springs National Park Private Campgrounds
RV Rentals Near Hot Springs National Park
Nearby RV Rentals
Hit the Trails
There are plenty of places to hike around the park. Check out the mountains nearby, walk by running streams, or find the wacky looking tufa deposits in the area.
Hot Springs and North Mountain Trails
Arlington
Distance: 0.2 miles round trip
Terrain: This easy trail begins at the seventh-floor pool area of the Arlington Hotel and ascends slowly to the Lower Dogwood Trail. You can return from there or choose another trail to extend your hike.
Carriage Road
Distance: 0.2 miles round trip
Terrain: The gravel path once took carriage parties from the Army-Navy Hospital grounds to the summit of Hot Springs Mountain.
Tufa Terrace
Distance: 0.4 miles round trip
Terrain: A short trail, named for the giant tufa (calcium carbonate) deposits that are all around.
Floral
Distance: 0.8 miles round trip
Terrain: Floral Trail connects the Dogwood and Honeysuckle Trails. A mortared stone staircase climbs to a gravel path lined with dogwoods.
Lower Dogwood
Distance: 1.4 miles round trip
Terrain: A smooth but steep gravel path climbs North Mountain. Several water bars cross the path and going can be slippery.
Dead Chief
Distance: 2.8 miles round trip
Terrain: A route that begins with a steep trail, but then levels off and continues across the south slope of Hot Springs Mountain towards Gulpha Gorge.
Hot Springs Mountain
Distance: 3.4 miles round trip
Terrain: A sometimes steep trail descends through hardwood and pine forest and offers beautiful views.
West Mountain Trails
Canyon
Distance: 1.4 miles round trip
Terrain: The trail begins as a 150-yard winding path that was once part of the old carriage road, then leads to views of the Medical Arts Building and the Arlington Hotel.
Mountain Top
Distance: 3 miles round trip
Terrain: A steep, smooth-surfaced gravel path leads up a climb, smooth with novaculite rocks, to the peak.
Oak
Distance: 2 miles round trip
Terrain: The trail begins as a steep, concrete ramp for the first 100 yards, across steel drainage grates, loose rocks, and seed pods that can be tricky.
What to Do at
Hot Springs National Park
Restaurants
While there's plenty to do in the park, there are also some exciting things to try nearby. Grab some mouth-watering barbeque, visit the Star Wars museum, or see if you can find a local ghost.
Type: Latin American
Location: Hot Springs
Type: Steakhouse
Location: Hot Springs
Type: Pub
Location: Hot Springs
Type: American
Location: Hot Springs
Type: Barbeque
Location: Hot Springs
Kringle's In The Park
Nab a souvenir ornament to commemorate your trip! If ornaments aren't your thing, the store stocks every kind of Christmas decor you can imagine...along with items for other holidays as well.
Location: Hot Springs
State & Pride Provisions Company
Have pride in your state? Show it with a shirt! State & Pride stocks not only unique Arkansas t-shirts, but those from other states as well. Also browse their other apparent, gifts, and home goods.
Location: Hot Springs
Bathhouse Soapery
Treat yourself! Bathhouse Soapery has cascading mounds of bath bombs, shelves of bath gels, and towering cakes of soaps in every scent you can imagine. They also have lesser known items like muscle jelly - great after a day of walking around town.
Location: Hot Springs
Bathhouse Row Antiques
Over 3,000 square feet of space is dedicated to a variety of personally selected antiques including period furniture from the 18th-20th centuries, original oil and watercolor paintings, primitive crockery and baskets, writing accessories, art glass, and so many more collectible items.
Location: Hot Springs
This private collection of Star Wars and superhero memorabilia is open to the public. If you're traveling with pop culture fans, stop in and take photos with Star Wars characters and other fearless heroes and villains.
Quaint, small town Hot Springs used to be home to quite a few gangsters in the 1920's-40's, drawn to the area by the mineral baths...and the gambling and bootlegging that also went on. Find out how some of the country's most notorious criminals co-existed with the staid people of Hot Springs, play in the antique casino, and hear the historian recount stories of those times.
The Mid-America Science Museum has more than 100 hands-on science exhibits throughout the museum - even outside. Visit the Marvelous Motion Gallery, the Light Bridge, the Bob Wheeler Science Skywalk, and the Oaklawn Foundation Digital Dome Theater for exhibits you can touch, play, and learn from.
Hot Springs has a thriving arts community with plenty of galleries, music and film festivals, and arts and crafts shows. Many of the area's historic buildings have been transformed into art galleries and studios, and they stay open late on the first Friday of each month for Gallery Walk. Browse the local art and take home a one-of-a-kind souvenir.
Known one hundred years ago as the best bathhouse in Hot Springs, The Fordyce is now open to tours where guests can see its splendor. You'll get personal insight into the most luxurious bathhouse on the row. The building also serves as Hot Springs National Park's Visitor Center and Historical Museum.
Hot Springs Mountain Tower
The tower elevator brings guests 216 feet up to the observation decks where they can see panoramic views of the Ouachita Mountains, Hot Springs Mountain, and the Diamond Lakes area.
Garvan Woodland Gardens
The botanical garden of the University of Arkansas is home to a variety of flowers, plants, and trees. Travel the wooded shoreline and see the rocky inclines where the greenery grows in the Ouachita Mountains. Also, visit the picturesque Anthony Chapel on the grounds.
Lake Ouachita
Visitors to Arkansas's largest lake can swim, waterski, scuba dive, boat, and fish. There is also hiking around the lake, and the historic Three Sisters' Springs is in the park as well. Stop by the visitor center for exhibits on the area and a gift shop.  
Arkansas Alligator Farm & Petting Zoo
Hold a baby gator, feed and pet mini goats, and see wolves, mountain lions, monkeys, raccoons and more. Guests also have the chance to feed baby alligators and see live gator feeding shows.
How to Get to
Hot Springs National Park
There are plenty of options to get to Hot Springs National Park. You can fly, drive your car or RV, or even take a bus into town. There is an airport in Hot Springs that has commercial flights, and a larger airport in Little Rock, about an hour's drive from the park.
If you're headed to Hot Springs from Little Rock, take Interstate 30W to US 70W toward Hot Springs. Make a right on Spring Street, and a right on Central Ave. The visitor center is located at 369 Central Ave. It's important to note that while the visitor center is on Central Ave., parking is limited and only on one side of the street. There is a free city parking garage on Exchange St. you can use as well.
You can also travel to Hot Springs National Park by renting an RV. Traveling by RV allows you to stop when you wish and be comfortable the entire time. If you don't own an RV, you can rent one in your hometown to drive to the park, or you can fly in and rent an RV closer to your destination.
There is one campground in park grounds and several more nearby. You'll probably want to make reservations in advance to ensure you have a spot.
Entering Hot Springs National Park
There are no fees to enter Hot Springs National Park.
Visiting Hot Springs National Park can be a relaxing, invigorating experience! The park's rich history and beautiful landscape, combined with the thermal baths, mean there's something for everyone. At RVshare, we love helping people get outside with their friends and family. RVing is a wonderful way to explore new places and create special memories with your loved ones. Whether you visit Hot Springs in an RV rental from us or on your own, we want to know all about your trip! Share your photos at [email protected] and tag us on social media to share tips about your visit and you could be featured on our blog or social media channels.