Travel Inspiration
November 22nd, 2021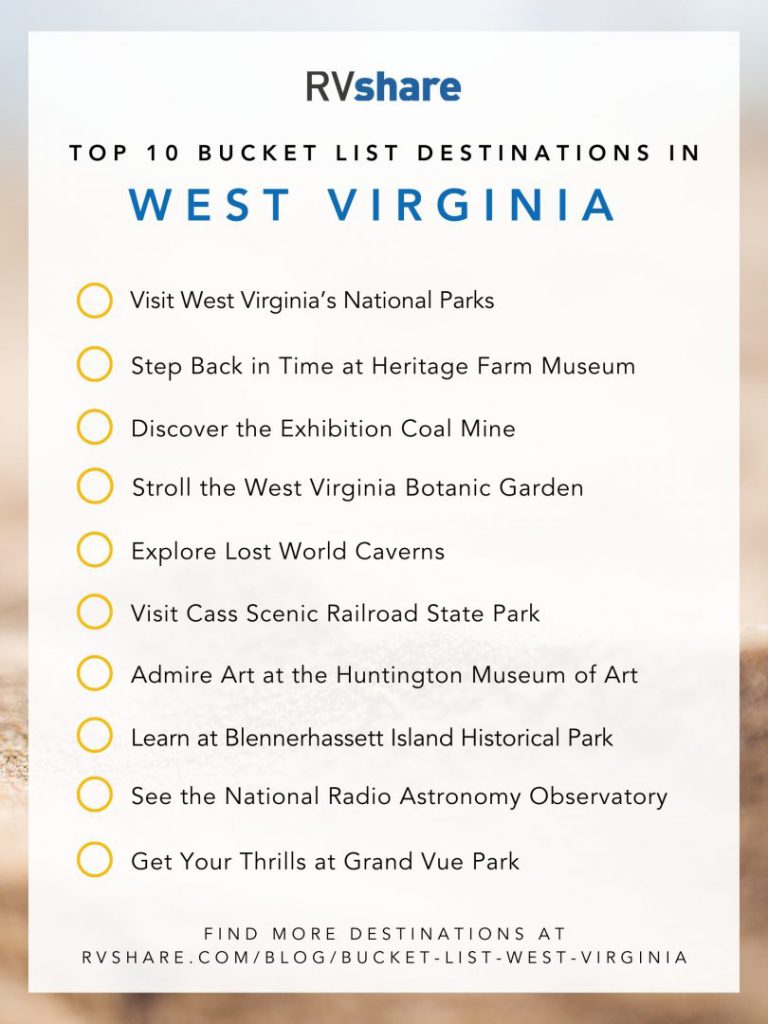 West Virginia might not be the first place that comes to mind when you think "vacation," but maybe it should be. This place is home to gorgeous natural areas, some seriously cool history, and much, much more. In fact, we'd go out of our way to do some exploring in this state, and to that end we've even created an awesome West Virginia bucket list.
If you're planning a trip to this wonderful state, we recommend you make a West Virginia bucket list of your own. Why? Because doing so will help you keep track of the things you want to do the most, helping to ensure you have an amazing time while you're there.
Not sure where to start when making a West Virginia bucket list? You've come to the right place. In this article, we share our own travel bucket list for the state so you can get some bucket list ideas and start your own travel list of places to visit and things to see.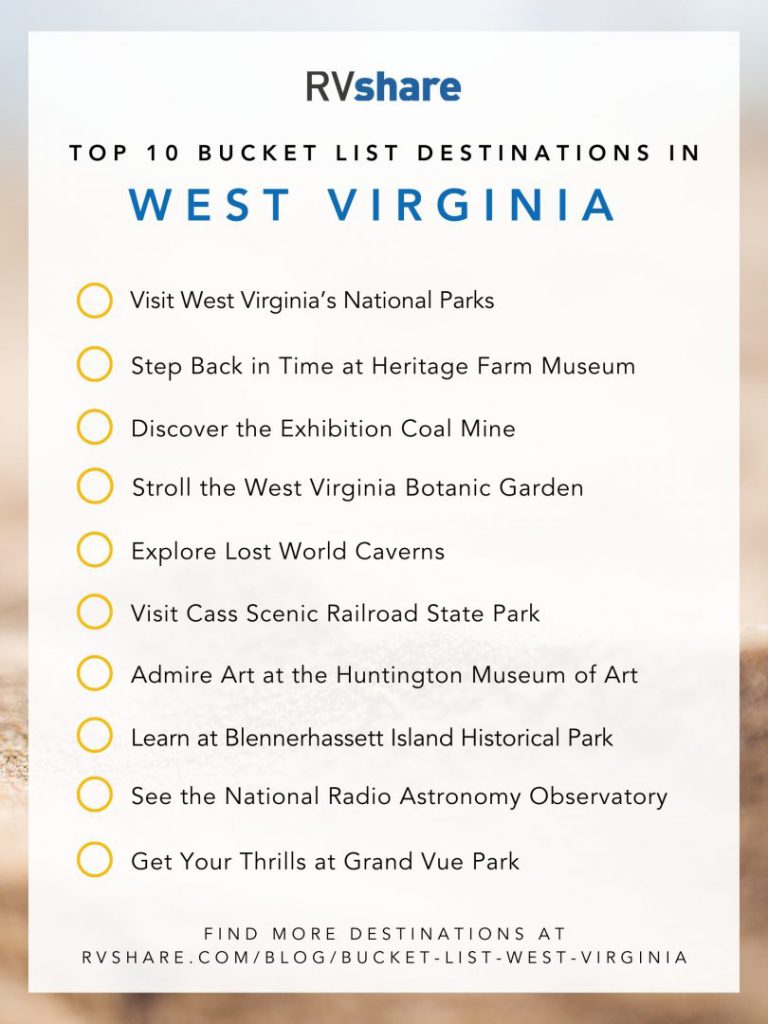 What is a Bucket List?
At this point you might be wondering what a bucket list is, so let's pause for a moment to explain. A bucket list is basically just a list of things you want to do and see before you die, or "kick the bucket." This might include foods to try, people to meet, experiences to have, or places to visit.
Now if you're like most people, you might just keep one long bucket list. That said, we find that keeping a single list doesn't work out so well when you do a lot of traveling. Instead, we like to keep several smaller bucket lists, one for each state we hope to visit.
The West Virginia bucket list below is a great example of this!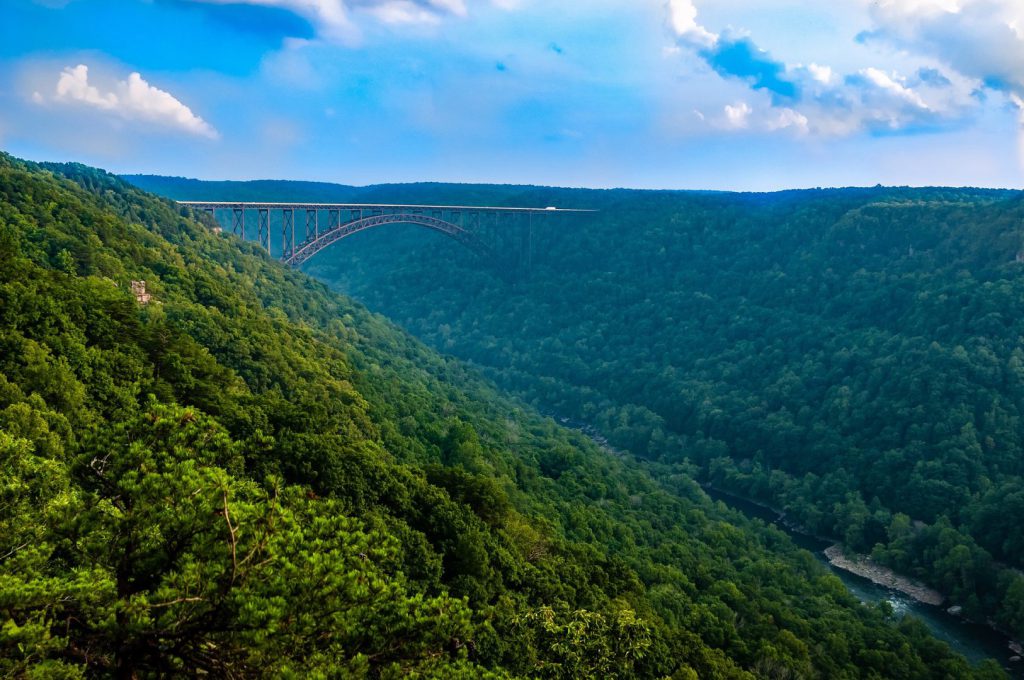 — Bucket List Vacations: West Virginia's National Parks —
Some of the best bucket list ideas out there are national park sites. Why? Because the National Park Service does an excellent job of maintaining these parks and ensuring visitors can get the most out of them. For this reason, we highly recommend adding these NPS sites to your West Virginia bucket list.
#1. Bluestone National Scenic River
A beautifully rugged gorge, the Bluestone River is diverse, scenic, and full of amazing history. Located in the southern Appalachians, the river provides an amazing opportunity to escape into nature and experience an unspoiled West Virginia that you're sure to fall in love with.
#2. Chesapeake and Ohio Canal National Historical Park
The C&O Canal was once a lifeline for communities along the Potomac River. On this canal, cargo boats carrying coal, lumber, and agricultural products floated to market, ensuring the people of the area had the things they needed to thrive. Visit this park to learn the amazing history behind this waterway.
#3. Gauley River National Recreation Area
Check out scenic gorges and valleys, admire lovely natural features, and examine interesting cultural features as you explore the Gauley River National Recreation Area. If you're feeling brave, you can even head out onto the water to experience some of the most adventurous whitewater boating on the east side of the country.
#4. Harpers Ferry National Historical Park
Want to learn about the history of our nation while admiring the beauty of the Blue Ridge Mountains and the Shenandoah and Potomac Rivers? You can do all of this and more in the amazing community of Harpers Ferry, where history and nature come together and something interesting is around every corner.
#5. New River Gorge National Park
Among the oldest rivers in North America, the oddly named New River is a spectacular whitewater river that has, over time, carved incredible, deep canyons. Come witness this amazing river and the gorge it created at the lovely New River Gorge National Park.
#6. National Trails
Of course, there are also some national trails that make their way through West Virginia. Make sure to check these out as well while you're in the state:
Appalachian National Scenic Trail
Lewis and Clark National Historic Trail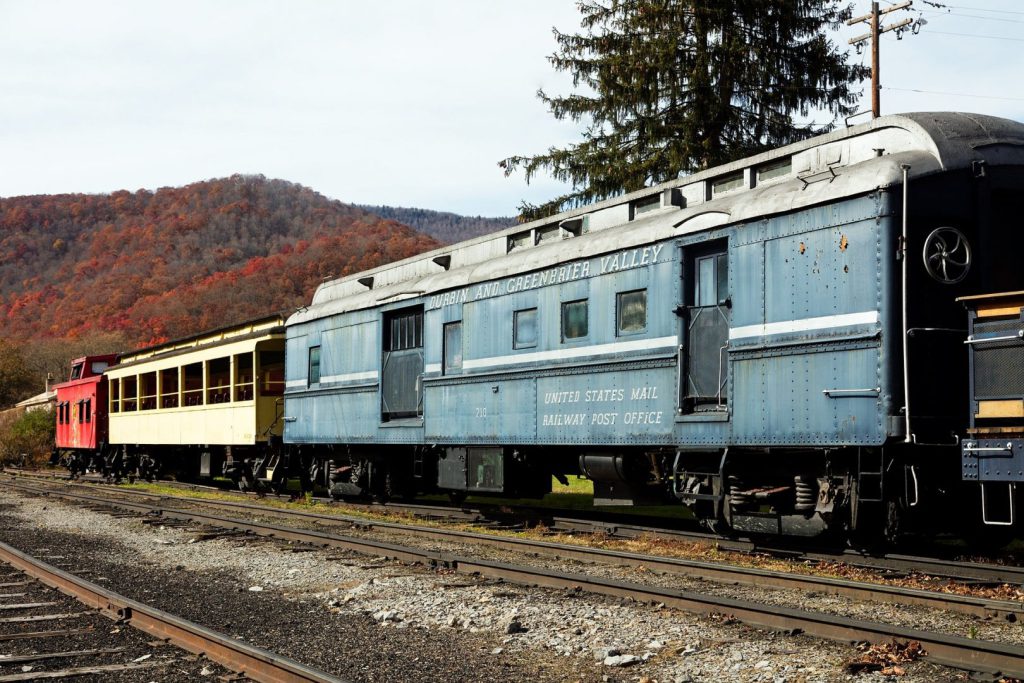 — More West Virginia Bucket List Experiences —
West Virginia's national parks are amazing, but they are far from the only things to see and do in the state. Be sure to consider some of these ideas for your West Virginia bucket list as well. You'll be glad you did!
#7. Step Back in Time at Heritage Farm Museum and Village
An open-air living history museum, Heritage Farm Museum and Village presents the perfect opportunity to step back in time. Here, you can explore a blacksmith shop, a log church, a homestead site, and more. Be immersed in history and discover what life was once like as you learn about the interesting and unique history of Appalachia.
#8. Discover the Exhibition Coal Mine
Another great way to learn about the history of West Virginia, Exhibition Coal Mine gives guests an opportunity to ride through an underground coal mine. During their ride, visitors will learn about the history of coal mining from a veteran miner. In addition to the mine tour, those who visit this attraction can also see a coal camp, explore a museum on the subject, and browse the gift shop.
#9. Stroll the West Virginia Botanic Garden
Looking for a wonderful place to take an afternoon stroll? West Virginia Botanic Garden is the ideal spot. This gorgeous garden is home to a large variety of regional ornamental plants, and the landscapes created by these plants are beautiful, to say the least. Those with a special interest in plants can take a guided walk or attend a workshop onsite, but a leisurely self-guided tour can be just as nice.
#10. Explore Lost World Caverns
Like the coal mine listed above, Lost World Caverns gives guests another awesome opportunity to go underground. The difference? Lost World Caverns is a cave, meaning formations such as stalagmites and stalactites make the place feel especially otherworldly. Be sure to look for the Snowy Chandelier, the War Club, and the Bridal Veil. When you're done in the caverns, make time to see the onsite museum.
#11. Visit Cass Scenic Railroad State Park
Have a train fan in your travel party? If so, Cass Scenic Railroad State Park is a must-see. This awesome park is actually an incredibly well preserved historic mountain town that features old railroad company housing, a company store, a restored train depot, and more. Learn about the logging history of this railroad and then hop aboard a train for a scenic tour.
#12. Admire Art at the Huntington Museum of Art
An enormous museum that is perfect for the art fanatic, Huntington Museum of Art is an excellent addition to any West Virginia vacation. This beautiful museum has a magnificent collection of fine art. It also plays host to some groundbreaking exhibitions that have been recognized nationally. While you're there, make sure to head outside and explore the hiking trails that meander around the museum's property, and pay a visit to the Steelman Butterfly Garden, as well as the C. Fred Edwards Conservatory.
#13. Learn at Blennerhassett Island Historical Park
Blennerhassett Island Historical Park presents yet another great opportunity to learn about the history of the area. Start at the museum, which features an orientation video discussing the lives of the Blennerhassets. After that, you can explore a full three floors of exhibits. Finish the day by riding over to Blennerhassett Island to tour the Blennerhassett Mansion, ride in a horse-drawn carriage, rent bikes, and more.
#14. Gather Info at the National Radio Astronomy Observatory
Founded in 1956, the National Radio Astronomy Observatory operates the world's most versatile radio telescopes. Additionally, this place is home to the world's largest moving telescope. Pay the observatory a visit and take a tour of the enormous facility, including the "Catching the Wave" exhibit hall, as well as the auditorium. Also available are educational programs, planetarium sessions, and hands-on activities.
#15. Get Your Thrills at Grand Vue Park
Looking to get outside while also getting some thrills? A visit to Grand Vue Park is an awesome opportunity to do just that. A zipline canopy tour gives you a fast-paced bird's-eye view of the area. Meanwhile, a 40-foot rope course lets you slow down while exploring things above the ground. Hiking and biking are also options, as are disc golf, paintball, swimming, and other outdoor activities.
#16. Wander the West Virginia State Museum
Those who want to know more about the history of the state of West Virginia needn't look further than the West Virginia State Museum. This Charleston museum offers free admission and contains a huge collection of artifacts that help tell the story of the past. In addition to these permanent exhibits, be sure to look for rotating exhibits that change regularly and really help mix things up.
#17. Ride Mountain Rail Adventures
Another great attraction for train enthusiasts, Mountain Rail Adventures offers a number of locomotive adventures. From April through December, guests can board a train in Elkins, Durban, or Cass. From there, they are taken on a ride through the beautiful West Virginia countryside. Want something even more interesting? Consider an overnight excursion or a dinner train ride!
#18. Shop Charleston Capitol Market
Charleston Capitol Market is a unique shopping spot that shouldn't be missed. The building was created using the bones of the Kanawha and Michigan Railroad rail yard that dates back to the 1800s. It is now used as a year-round outdoor market and plays host to a number of small shops. The market and shops offer shoppers a variety of local goodies such as books, fruits and veggies, wine, coffee, meat, chocolates, and flowers.
#19. Have Fun at Mothman Museum
Mothman is a creepy West Virginia legend that all visitors should make a point of learning about. The best way to learn about Mothman? By paying a visit to the Mothman Museum, of course. This museum is very unique in that it focuses entirely on preserving the unexplained Mothman experience and sharing it with others.
#20. See the Glass Museum
Glass is a beautiful thing, and the art that can be created using glass is astounding. Visit the Glass Museum to see over 3,000 objects that were created between 1829 and 1939 using Wheeling glass. From Victorian art glass to peachblow glass, there is such a variety on display here that you're sure to find some pieces you love.
Want to learn even more about glass? Consider attending a workshop at this museum to witness live glasswork and maybe even make something of your own.
#21. Meet Ghosts at the Trans-Allegheny Lunatic Asylum
Constructed in the mid-1800s, Trans-Allegheny Lunatic Asylum is now a national landmark. It is the second largest hand-cut stone masonry building on earth, and has quite the history behind it. Originally, the asylum was built to house 250, but it was almost always extremely overcrowded, sometimes holding as many as 2,400 patients. Today, the asylum operates as an attraction, offering both heritage and ghostly tours to curious guests.
#22. Dive into the Past at the West Virginia Mine Wars Museum
Do you know about the West Virginia Mine Wars? Many people don't, which is why the West Virginia Mine Wars Museum is an important attraction. This unique and interesting museum tells the story of this early-20th-century event which brought coal miners of the state together to fight for workers' rights. Learn about the Matewan Massacre and the Battle of Blair Mountain—as well as important figures such as Mother Jones and Sid Hatfield—as you wander this super cool museum.
#23. Get Outside at Cranberry Mountain Nature Center
Cranberry Mountain Nature Center presents visitors with the opportunity to get up close and personal with a number of plants and animals. Attend the live snake show, wander through gardens, check out the hummingbirds, and hike the two interpretive nature trails. No matter what you do, you're sure to love your time connecting with nature at this awesome center.
As you can probably tell, there is no shortage of amazing things to experience in the state of West Virginia. That said, trying to fit all of this in when staying in a hotel room might be tricky. For this reason, we recommend staying in an RV. Doing this allows you to move around the state freely so you can complete your West Virginia bucket list while staying in complete comfort wherever you roam.
Don't have an RV of your own? Not to worry, RVshare has a whole collection of amazing West Virginia RV rentals to choose from. Book one today and get ready to have an amazing road trip adventure in a beautiful state!