RV Owners
Last updated on September 12th, 2023. Originally published on September 13th, 2020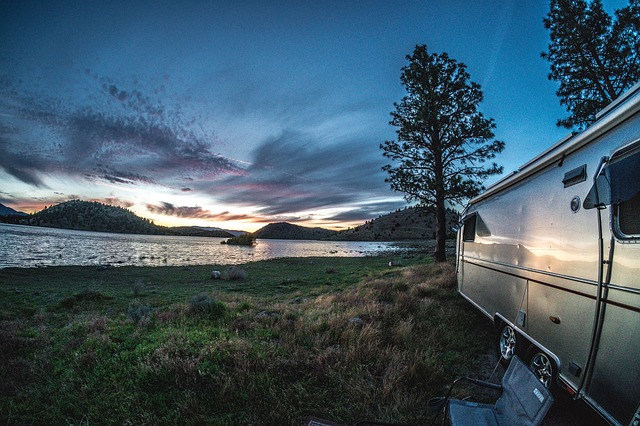 As a parent of four children (making us a family of six), I know the considerations that have to be made for larger families! Some arrangements that work great for a family of four don't always fit a family of six. Along with considering the size of your family when choosing the best RV for a family of 6, you also have to think about the ages of the kids, what kinds of things you do for fun, and your schedule as a family.
Does everyone go to bed around the same time, or will you need to put kids to bed before the night owls? Will you need to plan outings for a baby and a toddler, or do you have older children? Most parents of large families make these decisions constantly, sometimes without even realizing it. But when you're planning a family RV trip, it's good to think about these things ahead of time.
What's the Best RV for a Family of Six or More?
When you're looking at RVs for larger families, you'll need to begin by making sure everyone has a place to sleep! This can depend on your children's ages – younger kids can sometimes share a bed, or snuggle up in smaller spaces. But a 6-foot teenager will need more space! Having two bedrooms in the RV is even better! Once you have sleeping space for everyone, you'll want to look at a few other amenities as well. It is possible to survive on the road with six people and one bathroom, but if you have the option to have two, that will help a lot! You'll also want to look at seating in the dining and entertainment areas. Definitely take advantage of picnic tables and outdoor spaces when you're set up to camp, but you'll want space inside in case of rainy, hot, or otherwise unpleasant weather.
Renting an RV for Six or More People
If you're planning an RV trip for a large group, then you're in luck! Though not all RVs are necessarily designed to sleep lots of passengers, there is a variety of excellent RVs equipped to comfortably sleep a large group. What you choose will largely depend on your priorities – if you're on a limited budget, you may want to rent a less-expensive travel trailer or Class C motorhome with fewer luxury amenities. Of course, on the RVshare platform, it's not unlikely to find significantly discounted rates on some full-featured RVs. It's certainly possible to "have your cake and eat it, too" – some owners will put up listings at deep discounts to incentivize rentals.
Suitable RVs to Sleep 6 or More People
When renting an RV for 6 or more people, bear in mind that many RVs can be modified to sleep a family of that size. Generally speaking, you'll want to avoid renting an RV that is too small for your group. If you are on a limited budget, you can take other cost-cutting measures rather than sacrificing space.
Motorized RVs
Among motorized RVs, there are two classes of vehicles that are naturally well-suited for sleeping 6 or more passengers: Class A and Class C motorhomes.
Class A Motorhome
Class A motorhomes are the largest type of motorized RV available, and they generally feature luxurious interiors and amenities. They tend to be expensive (and don't have great fuel economy!), but if you're willing to spend and would like to have more room and amenities, this is a great choice for a large family.
Keep in mind that the large size of Class A motorhomes makes them less maneuverable than other options. It may also limit your campground and RV parking options. Make sure you research and plan your trip ahead of time so that you are able to navigate accordingly.
Class C Motorhome
Class C motorhomes are a great mid-sized option, and most are well-equipped. Many models allow you and your family to enjoy a full-sized bathroom, flatscreen televisions, kitchen equipment, and quality furnishings. You can sleep 6 people fairly comfortably in a Class C motorhome, though there will be less space and privacy than in a Class A motorhome.
Class C motorhomes are an excellent option if don't want to spend more on a Class A RV, or if you're looking for something a bit smaller and more maneuverable and convenient.
Towable Trailers
Towable trailers do not have an engine or driving controls built into the same space as the living area – they are towed behind a separate vehicle. They also tend to be cheaper to rent than similarly equipped motorized RVs. However, you'll have to consider the towing capabilities of your existing vehicle (or be willing to rent a tow vehicle). There are two classes of trailers that are naturally well-suited for sleeping 6 or more passengers: Fifth Wheel Trailers and Travel Trailers.
Fifth Wheel Trailer
Fifth-wheel towable trailers are the non-motorized equivalent of Class A motorhomes. They are the largest of their category, are generally well-equipped with luxury amenities, and have poor fuel economy because of their size. They tend to be more expensive than other towable trailer types.
Bear in mind that a fifth-wheel trailer requires a pickup truck with sufficient towing capacity. As such, you may have to rent a truck to pull it.
One benefit of a fifth-wheel trailer is that they are very stable when hitched to a proper tow vehicle. This means that it can be more comfortable to travel in the trailer while in motion, as it will not sway too much.
Travel Trailer
Travel trailers are available in a wide range of configurations, from 14 feet in length to as much as 40 feet. Budget-conscious RVers will be able to find lower-end travel trailers with minimal amenities and furnishings.
Thanks to their conventional shape and smaller size, you do not necessarily need a pickup truck to pull a travel trailer. Be sure to check your vehicle owner's manual to see if your vehicle is capable of towing it.
Consider a Slideout
Some RVs you'll find on the RVshare marketplace will be equipped with slideout portions. These sections of the RV can be expanded to widen the living area of the RV, opening up sleeping berths and making the entire space more comfortable for everyone.
If you are looking for a more spacious experience, we recommend that you rent an RV with slideouts. Slideouts are occasionally maligned by RV owners as they increase the mechanical complexity of the vehicle, but if you're renting for a short time, these mechanical issues are less likely to be a problem for you.
Large RV layouts
If you search for RVs that are 30-40 feet, you'll likely see some interesting layouts. These may include:
Two-bedroom floorplans, often with a queen bedroom in the rear and a bunk bedroom off the living area.
Loft floorplans, which have a loft sleeping area separate from the main bedroom.
Garage areas that convert into an extra bedroom. They're perfect if you're traveling with kids who want their own space!
Layouts that have two entry/exit doors – another way to give everyone privacy.
Custom floor plans that feature rows of bunks in the back or living area. Usually, these are bus conversions that bands rent out when they're on tour.
Large RVs will also have some interesting features that make traveling in large groups more comfortable. They have convertible sleeping spaces that are not only versatile; they're just plain cool. Dinettes and sofas that turn into beds are commonplace. Nowadays, you'll also see convertible entertainment centers, bunk beds, over-cab beds, and even beds that drop down from the ceiling! Large RV rentals also tend to have luxurious extra features, like outdoor kitchens and entertainment centers. These are great for tailgating or having a scary movie night while sitting around a campfire.
Great RVs for Large Families
Whether you're looking for a towable or motorized RV, it's a good idea to search for RVs that are 30 feet or more in length. Also, look for floor plans that make good use of the extra square footage. Your companions will thank you for having their own private space, and you'll all sleep a lot more soundly!
Here are a few RVs that work well for larger families. If you're considering purchasing one, you may want to rent using RVshare first to see if it suits your family.
With seven different floor plans to choose from, and models that sleep up to 8 people, you're sure to find a motorhome model that suits your family's size and lifestyle. You can have up to three slideouts to provide even more room for your family. The Bay Stars doesn't compromise luxury for space, either – it comes with vinyl ceiling panels, wall art, a soundbar system, and more entertainment options and decor choices. You can choose to have a fireplace and other amenities, and there's a spacious kitchen for cooking indoors.
The Miramar offers five different floorplans and sleeps up to 10 people. Several of the floorplans include outdoor entertainment or kitchens, which can free up space indoors while you're working outside. A stowaway coffee table offers you the option of more space when you're not using it. Solid surface kitchen counters and vinyl ceilings give the motorhome a classy look to accompany it's room.
This RV has five different floor plans and sleeps up to nine people. It's an affordable motorhome for families, and some models offer outdoor entertainment so you can move some of your activities outside and free up space indoors. The kitchen has great storage and a large fridge so you have plenty of space for cooking for a big family.
The Mountain Aire has nine floorplans and sleeps up to six people. The spacious interior gives everyone plenty of room to spread out, and the three slideouts mean even more space. Design features include maple cabinets, feature ceilings, tile flooring, and hardwood window frames.
Can a family of 6 live in an RV?
A family of six can definitely live in an RV! You'll want to plan some things out ahead of time – do you have young children who need a daily nap? If you have kids of a variety of ages, what will the older ones do during that time and where will they be? If this will be your permanent living situation (at least for a month or more), you'll also want to divide up chores and establish ground rules. It will be more important than ever to have everyone pick up after themselves in a small space, and kids are capable of helping with a lot of the daily procedures that need to be done in order to keep things humming on the road.
You may also want to include them in travel and other decisions. Kids are often much more interested in activities when they've had a hand in the planning, and it helps them build valuable skills as well.
For tips on homeschooling while on the road (also called "roadschooling") check out our "Roadschooling 101" article to help you get started. For more tips on RVing full-time with a family, check out our helpful article here.
Parents of large families know that it can be a lot of work to take their crew on the road – but it's a rewarding and exhilarating experience when you do!
What's the Best Large Group RV Rental?
There are several types of RVs that are suitable for large families or groups traveling together. Among them are bus conversions, travel trailers, fifth-wheels, and Class A and Class C motorhomes. The price tag for many of these options can be somewhat steep, which is why many people opt to rent an RV if they only plan to take one or two trips per year.
The rental cost for an RV can be substantially lower than buying one outright. Furthermore, renting an RV is a great option if this will be your first trip. You can discover whether you enjoy traveling in an RV before you invest in purchasing one. Renting an RV can also be a good way to try out different options to find the type of RV that's most suitable for your needs before investing in one.
Factors to Consider
In considering which option is best for your specific needs, think about if you wish to have access to the RV while you're traveling. If you plan to take multiple vehicles to accommodate a large traveling group and you don't need access to the vehicle while traveling, then a travel trailer with lots of sleeping space might be just fine. If you prefer to have access to the RV on the road, then a large motorhome, like a diesel pusher, would be more suitable.
Also remember that the more sleeping berths a motorhome or travel trailer has, the more restricted storage space may be. This means you'll need to carefully consider the amount of luggage and other items each person can bring on your adventures. You may also need to make more frequent stops during your travels to stock up on supplies, as you'll have less storage space in the RV for items like groceries and toiletries.
The great thing about a large motorhome rental is that it makes it easy for life to go on while you drive. Passengers can get up to fix a snack, comfortably sit while working on arts and crafts projects, go to the bathroom, or do school work. In addition, kids can remain safely in seat belts while the RV is in motion. It's also much easier to keep the routine of life going when you use an RV than it is to constantly stop for the night to stay at hotels. Packing and unpacking every time you arrive at or leave a hotel can be a real hassle that steals valuable time from your vacation. The stress of trying to stay organized and not leave anything behind when you're dealing with a large number of travelers can be quite overwhelming.
Tips for Renting a Large RV
Traveling on its own can be tricky; traveling with a large group is a daunting challenge. Keep these tips in mind before and during your adventure:
When searching for rentals, look for RVs that have slide-outs. They'll give you extra space when you set up camp. Most large RVs will have at least one slide-out; some may even have three or four!
You'll need to plan everything, and we mean everything. When you're on the road, every mile counts and every penny counts. Always call ahead to campgrounds to make sure they can accommodate you. Plan out your gas stops/driving breaks, plan your meals, and most importantly, plan your route!
Since you're traveling with so many people, you might want to think about towing a car (if you're in a motorized RV). That way, when you stop to camp, you'll be able to take the car into town for groceries or whatever you need. It's a lot easier than running errands in a motorhome filled with people.
Watch your distance and energy usage. Since you're renting, you'll have to abide by the generator and mileage limits (if there are any) on the RV. When you're planning your route, make sure you won't be driving for more than a handful of hours in a day. When you're camping, try to use your generator as little as possible – you may want to cut back on your blow dryer, microwave, AC, or anything else that runs off the generator.
Cost of a Large RV
You should also keep in mind that the larger the RV, the worse the fuel economy will be. Take this into consideration when you're budgeting for your trip, as you'll need to plan to spend more on fuel than you might expect!
As is the case when renting any other type of recreational vehicle, it's also important to consider the cost. One of the great advantages of traveling with a large group is that everyone may be able to pitch in to help lower the cost of the trip. Naturally, the larger the RV, the more the rental will cost. But, you can often find one for under $200 a night, and if you split the cost equally, RVing can be a bargain for you and your friends. What's more, the cost of trying to find overnight accommodations for a large number of people at hotels gets expensive very quickly. Most hotels have strict rules regarding how many guests can stay in a room, which makes it hard to try and save money by sharing rooms and beds.
There are some things you can do to help lower the cost of renting a larger RV, however. Many times, you can find excellent deals on RV rentals by renting during the off-season. You might be surprised at just how inexpensive it can be to rent even a larger motorhome with lots of amenities when you travel during a less popular time of the year.
Use RVshare to Secure a Competitive Rate
RVshare is a peer-to-peer platform that connects RV owners with renters directly. Owners post their RVs for rent on the platform, and renters are able to browse through and compare listings at their leisure. Because owners have their own varied reasons for putting their RV up for rent, you'll find that some owners will significantly discount their RVs – you can find some amazing deals if you look hard enough!
Further, as renters on the RVshare platform are able to easily compare RVs, you'll also find that the rental rates tend to be more competitive in general. You may also find that by connecting to an owner directly, you are able to negotiate a better overall deal.
Good luck!
Looking for more tips and information for your next RV trip or purchase? Check out these articles: