How Tos & Tips
Last updated on May 6th, 2023. Originally published on June 12th, 2020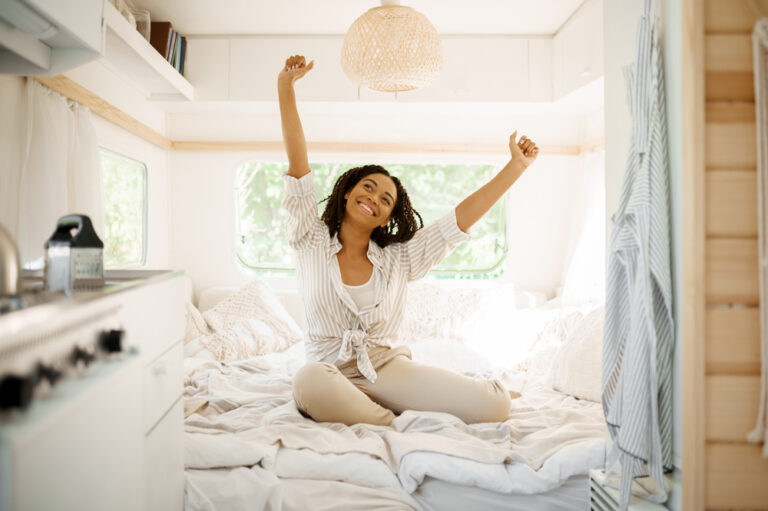 RVing is amazing fun for people of all ages. Unfortunately, many people are wary of camping because of a lack of privacy.
These people might feel uncomfortable sleeping with friends nearby, or perhaps they just want a little break from their kids at the end of the day. In many cases, staying in RV makes putting little ones to bed difficult, as there is no place for parents to hang out after bedtime. Additionally, those who wish to have privacy when changing clothes might be subjected to changing in the tiny RV bathroom in a traditional travel trailer layout.
2-Bedroom Travel Trailers
These issues leave many people wondering, "Is there an RV with 2 bedrooms?" Fortunately, the answer is yes.
2 bedroom campers are the perfect solution because they offer two distinct sleeping spaces as well as a common living area. True 2-bedroom travel trailers come equipped with doors between each room, meaning added privacy for everyone staying in the RV.
Even though they are becoming more popular, finding a travel trailer with 2 bedrooms can still be tricky, especially if there is a particular feature you're looking for in addition to those two bedrooms.
If you're on the hunt for a 2-bedroom RV, you're in luck. In this article, we will discuss our favorite two-bedroom travel trailers.
These include:
Jayco Jay Flight Bungalow 40BHTS
Jayco Jay Flight Bungalow 40LOFT
Crossroads Sunset Trail SS331BH
Forest River Wildwood 37BHSSS2Q
Winnebago Minnie Plus 31BHDS
Open Range Ultralight UT2510BH
Jayco Jay Flight SLX
Renting a Two Bedroom RV
The RV industry has seen tremendous growth over the last several years. RV traveling is no longer just for retirees and family vacations. Many young people have taken to the mobile life and hit the road. Whether it's getting back to a simpler way of life, or living a more adventurous one, it's undeniable that the RV lifestyle has appeal. For those of you who are unsure and want to "try before you buy," renting an RV is the perfect way to do it.
Two-bedroom RVs offer the most space and privacy out of all the RV types. Floor plans will vary, but you're bound to see some pretty imaginative layouts. If ample space is what you're looking for, a 2 bedroom RV Class A like the Challenger will come equipped with plenty of slideouts.
Class A's aren't the only option for two-bedroom RVs. Towable trailers tend to have a lot more room because there's no cab for driving. Several new models by Riverside have two-bedroom floorplans. Whether you're looking for two masters, or a master and a set of bunk beds, they have it!
The Best Two-Bedroom Travel Trailers
What makes these two-bedroom travel trailers the best? Well, we appreciate the commitment to the quality each of these brands offers. All of these are reputable brands with a solid history, fan following, and good customer service.
The other things that make these particular 2-bedroom travel trailers stand out? Unique floor plans and options. Below we will discuss the unique features that inspired us to put each of these 2-bedroom campers on our list. Two-bedroom RV rentals are great for families with kids, or for a group of friends all traveling together. With two separate bedrooms, you all get your own space (and peace and quiet!) at the end of a long day on the road.
Winnebago Minnie Plus 31BHDS
Length: 35.5'
GVWR: 9,995 lbs
Hitch Weight: 860 lbs
Fresh Tank: 50 gal
Gray Tank: 69 gal
Black Tank: 28 gal
The first on our list of two-bedroom RV trailers is a very traditional bunkhouse trailer. It features a queen bedroom in the front and a bunk room in the back, with a kitchen and living area in the middle.
So why does this trailer make our list? Because it is made by Winnebago. In our opinion, Winnebago is one of the very best travel trailer manufacturers out there, and the Minnie Plus is right up there with the rest of their RVs in terms of quality.
On top of that, we love that this trailer comes in various colors, meaning you can customize the outside to suit your personality. We also love the outdoor kitchen and sofa in the bunk room.
Jayco Jay Flight Bungalow 40BHTS
Length: 41'
GVWR: 13,000 lbs
Hitch Weight: 1,660 lbs
Fresh Tank: 38 gal
Gray Tank: 39 gal
Black Tank: 39 gal
This awesome travel trailer is unique in that it offers a mid-bunkroom rather than a room in the front of the trailer and a room in back. We love the desk in the bunk room, as it allows for this space to be used as an office.
In addition to the unusual bedroom layout, we also appreciate the ceiling fans in the master bedroom and the front living area.
Jayco Jay Flight Bungalow 40LOFT
Length: 40.92'
GVWR: 13,250 lbs
Hitch Weight: 1,585 lbs
Fresh Tank: 38 gal
Gray Tank: 32.5 gal
Black Tank: 39 gal
Another in the Bungalow series, we adore this unique floor plan because it builds up rather than out. The two bedrooms are stacked on top of one another, with the master bedroom on the ground floor, and a loft-style second bedroom above it. Check out more RVs with lofts here.
This rig comes with a washer and dryer ready and features a ceiling fan in the front living area.
Jayco Jay Flight SLX
Length: 29'
GVWR: 6,500 lbs
Hitch Weight: 485 lbs
Fresh Tank: 42 gal
Gray Tank: 39 gal
Black Tank: 39 gal
Yes, this is another Jayco. What can we say, the company has some awesome floor plans.
This particular floor plan sleeps up to 8 people and features a front master bedroom with a queen bed and a back bunk room. The queen bed has an upgraded memory foam mattress and two closets with an overhead shelf for added storage. The bunk room holds two memory foam full-size mattresses. The dining table turns into a full-size bed along as does the couch. The dining table seats 4 people for eating.
CrossRoads Sunset Trail SS331BH
Length: 37.5'
GVWR: 9,735 lbs
Hitch Weight: 936 lbs
Fresh Tank: 45 gal
Gray Tank: 60 gal
Black Tank: 60 gal
The CrossRoads Sunset Trail SS331BH offers several unusual features that we really appreciate. It has the standard front main bedroom and back bunk room. However, the main bedroom offers a king bed, which is quite sought after in the RV world.
The bunk room has a nice couch and flip-up bunk on one side and a nice entertainment center and storage area under a top bunk on the opposite side. There is a slide in this room, making it feel much more open.
Other features that should be mentioned are the extra half-bath in the bunk room area and the awesome kitchen island. All in all, this is a 2 bedroom RV we can get behind.
Forest River Wildwood 37BHSS2Q
Length: 39'
GVWR: 9930 lbs
Hitch Weight: 970 lbs
Fresh Tank: 39 gal
Gray Tank: 30 gal
Black Tank: 27 gal
Need a camper with two bedrooms that will sleep multiple adults? This Wildwood trailer features two large queen bedrooms, meaning nobody will need to fight over the bigger bed.
Both queen bedrooms offer plenty of storage, meaning there is a place for everything. We love the large bathroom in this rig, and the faux fireplace is fantastic.
Open Range Ultra Lite UT2510BH
Length: 29.25'
GVWR: 7,400 lbs
Hitch Weight: 555 lbs
Fresh Tank: 51 gal
Gray Tank: 29 gal
Black Tank: 29 gal
Last but not least is the Open Range Ultra Lite UT2510BH. Unfortunately, 2019 was the last year this trailer was made. However, we feel like it deserves a place on this list due to its unusual offerings.
You see, this is the smallest true two-bedroom travel trailer we've ever seen. It has a queen main bedroom at the front, a dinette and kitchen, a large bathroom, and a small bunk room at the very back of the rig. All of this fits into only 29 feet of space, something we'd love to see more often.
If you are looking for a smaller, lighter 2-bedroom camper, this is for you!
Tips for Renting a Two-Bedroom RV
Looking for an RV to rent is an exciting process because there's just so much out there. Each RV will have its own pros and cons, so it might be helpful to make a checklist of what you need. Here are a few tips for renting:
If you're looking for a 2-bedroom RV for rent, look for bigger sizes. Most 2-bedroom RVs will be at least 35 feet long, usually more.
You should get insurance that covers you while you're renting the RV. Large RVs are more prone to dings and dents, especially if you've never driven one before.
With an RV that large, you may have to do a little extra planning for your trip. Some campgrounds won't allow rigs larger than 30 feet. Always call ahead to make sure they can accommodate you.
Driving or towing a large RV is no easy feat, either. They're both vastly different experiences, each with their own challenges. This article has some helpful tips for towing a large trailer. If you've never driven a motorized RV before, there are plenty of online resources to help you get an idea of what it's like. 
3 Bedroom Luxury Bunkhouse RV
If you want to experience the best and most luxurious RV money can buy, you're probably looking for a Class A RV or a fifth wheel with a loft bunkhouse.
To give you a little bit of an idea of what you can expect, here's a quick rundown of the two kinds of RV.
Class A RVs are giant rigs that look like tour buses. They're pretty easy to drive on the highway and their elevated driver's position gives you plenty of visibility for a safe trip. Driving and living compartments are connected, so there's no need to be stopped if there's anything the passenger needs access to. These RVs are typically considered to be the most luxurious because not only do they come with all the bells and whistles, but they're also motorized, which of course means there's no tow vehicle required. The only downside to a Class A unit is that they're not as efficient at fuel economy.
Fifth wheels are a lot like the Class A RVs we described, except they're not motorized. They still come with all of the comfort and all of the luxury. Fifth wheels are actually considered to be safer than travel trailers because of the way the weight is distributed by their design.
Both of these classes of RV are huge and come with multiple "bedrooms." Unlike the travel trailers, however, these RVs can sleep not just nine, but upwards of 12 or more travelers!
3 Bedroom RV Floor Plan
Although floor plans vary from unit to unit, many large RVs have similar features. You've got spacious cabins (in motorized RVs), with compartments for storage and areas for sleeping hovering over them. Making your way down the rig, you'll find what almost feels like an entire world.
They'll have two or more sofas that turn into beds, large dining areas, and a gourmet kitchen that looks like a miniature version of something out of HGTV. Keep walking down and you'll find the other bedrooms and the bunkhouses perfect for families with lots of kids, but large enough for full-grown adults.
In the back of some of these RVs, there are even full-blown master bedrooms, complete with massive TVs, full showers, and Sleep Number beds.
Luxury RVs don't only have more amenities, they're also made with higher-end materials. Luxury three-bedroom motorhomes have options like maple gloss floors, granite in the kitchens and bathrooms, backsplashes, stainless steel appliances, solid oak cabinets, top grain leather seats, and designer bedspreads and pillows.
Closing Thoughts
Two-bedroom RVs are the behemoths of the RV world. They offer the most in the way of space and amenities. If you want to travel in comfort and luxury, a two-bedroom RV certainly offers both. Searching for a 2-bedroom RV to rent may take a little extra work, but it's possible.
By renting a two-bedroom travel trailer through RVshare, you can try it before you buy. Why not run a search for an RV rental right now to see what you can find?