Top RVs Nearby
VW Camper Rental Deals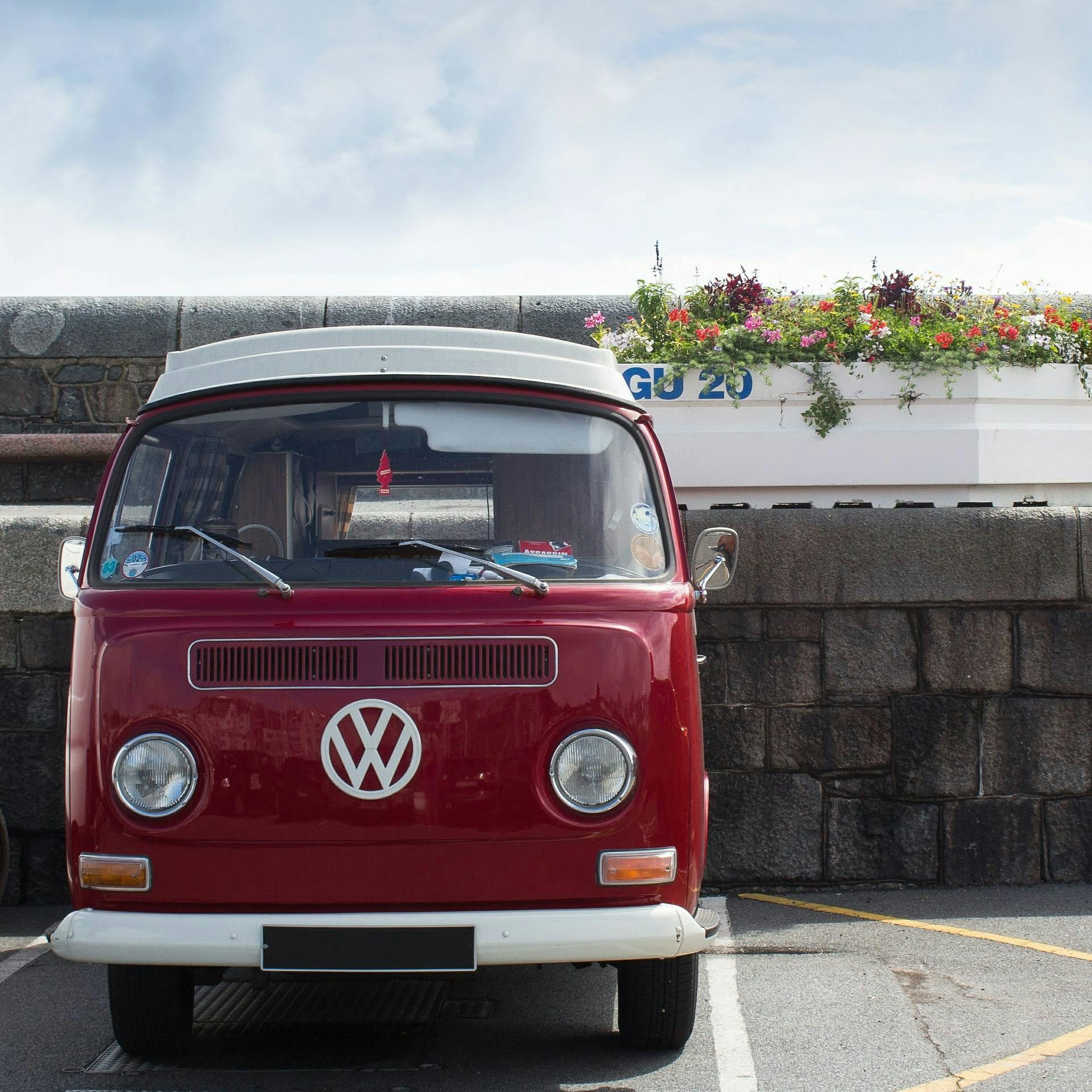 The Volkswagen (VW) Type II campervan -- including its various modified conversion models -- is perhaps the most iconic RV ever made. Also known as the "hippie van," the VW campervan was popularized by counterculture celebrities on both sides of the Atlantic in the post-WWII period. Despite its association with beatniks, hippies, and other nontraditional groups, the VW campervan also endeared itself to millions of families thanks to its industry-leading design, focus on comfort, and the availability of budget-friendly options.
Though the last production run of the VW Type II ended in December 2013, there continues to be significant global demand for various VW campervan models among the community of prospective RV renters -- driven, perhaps, by a desire to go on a road trip that recalls the famed road-tripping era of the postwar era. Looks certainly play a part, too. All VW campervan models, from combi vans to microbuses to Westfalia campers, feature a similar retro styling inspired by the early luxury trams of Europe.
Of course, there are a number of disadvantages that follow the rental of a VW Type II campervan.
Gas mileage tends to be on the lower-end of the spectrum, due to both the age of classic VW campervans (as the engine technology is outdated) and the drag created by the boxy shape of the vehicle.
VW campervans do not include front airbags and cannot be customized or otherwise outfitted to include them. As such, there is a heightened safety risk for the driver and front passenger when compared to other similarly-sized RVs.
There is limited availability of VW campervans, as they are no longer produced. As such, not only can it be difficult to find one available for rent, but the rental rate for a well-maintained unit may be set at a premium.
Many models come with no toilet or shower facilities, whereas more modern RVs with similar size profiles tend to include such facilities -- albeit in a limited fashion.
Still, many prospective renters find that the unique allure of a VW campervan justifies its various disadvantages.
Westfalia Camper Rentals
In the 1950s, VW subcontracted out a modified camper version of their original Type II van to another company, Westfalia. The modified campervan -- which came to be known as the Westfalia camper -- quickly caught on with the general buying public.
Westfalia added a wide variety of modifications, some default and some optional, that made the van much better suited for camping and longer road trips.
Default Modifications
Westfalia campers were somewhat more premium than standard Type II campervans. As such, the campers featured luxury wood finishes on the interior paneling and furniture and came with a few added appliances and amenities (i.e., refrigerator and sink, among other items). Westfalia also modified the campervans in such a way to promote more efficient use of space for camping. For example, seats were foldable into sleeping berths, and some of the furniture could be folded into space-saving configurations. Further, default Westfalia configurations included important utility hookups (i.e., electricity, water, etc.).
Extra Modifications
Much of the modern day value proposition of the Westfalia camper is tied into the suite of optional modifications. Without these additional modifications, the camper would likely not be comfortable for the modern RVers, given decades of changing tastes and expectations.
Modifications include but are not limited to: a) stovetop with utility hookup; b) toilet facilities; c) attachable awning for setting up a protected picnic area adjacent to the van; d) attachable tent configurations so that passengers can sleep more comfortably, as opposed to squeezing into the foldable sleeping berths in the van; and e) a popup top for additional space inside the vehicle.
If you're planning on renting a VW campervan for your next trip, then it's a good idea to take a look at some Westfalia-modified campers, which offer a more premium and full-featured RV experience.
Rent a VW Bus Camper for a Wedding or Special Event
In both Europe and North America, the classic looks of the VW campervan have led to newfound popularity as short-term wedding and corporate event rentals.
At weddings, for example, the couple might enter the reception venue driving a colorful VW campervan, decorated with celebratory streamers and paint. The newlyweds and their guests will then spend some time taking photos around the campervan, making it a decorative centerpiece of sorts.
If you intend to rent a VW campervan for a wedding or other short-term event, you should make sure to shop around for a good deal. You're more likely to get a lower rental rate for light-use events like weddings, especially when compared to a camping or road trip rental.
How Much Does It Cost To Rent a Hippie Van?
Rental rates vary significantly depending on location, availability, seasonal demand, model, modifications, and how well-maintained the campervan is. Generally, however, you can expect your VW campervan rental to cost from $120-$200 per night (some variation beyond this range is to be expected, of course).
Classic-era campervans (i.e., 1970s and earlier) may come at an extra premium given their age and the cost of maintaining such RVs for continued use.
If you've decided that the costs are worth it and you're interested in renting a VW campervan, it's important that you understand your rental options so that you can secure the best vehicle for your needs.
VW Bus Rental - Where to Rent One
Despite the limited availability of VW camper bus and van models, prospective renters have a number of options when it comes to renting a VW Eurovan. These options are perhaps best broken down into two categories.
Traditional Rental Dealership
Traditional RV rental dealerships work in a fairly straightforward manner. The dealership purchases a fleet of RVs, which it then rents out to customers. There are a number of problems inherent to the dealership model, but perhaps most egregious is the cost of renting from a traditional dealership. Dealerships rely on the lack of local competition and the lack of information so that the prospective renter cannot easily compare prices. This drives up the rental rate.
There are very large RV rental companies that operate branch rental dealerships throughout North America, but as a rule of thumb, you're unlikely to find many classic VW campervans for rent through a generic rental company. As VW campervans are popular enough to have their own market of renters, there are specialized VW campervan rental companies. Like other traditional dealership models, however, rates tend to be quite high.
Peer-to-Peer Marketplace
Online peer-to-peer rental marketplaces like RVshare change the rental process completely. With RVshare, owners and renters are directly connected via the online platform. An owner can post their VW campervan for rent, and interested renters can search the platform (filtering by model, price, and location, among other things). Because pricing information is widely available and easily compared, rates tend to be significantly lower than dealership rates. Once the prospective renter is connected with the owner, further negotiation may be possible.
Renting from a peer-to-peer marketplace like RVshare also gives you more options when it comes to rental location. With a specialized VW campervan rental company, there may be limited branch locations to rent from. With RVshare, you have access to thousands of VW campervans located throughout North America, Europe, and the world at-large.