RV Owners
Last updated on July 27th, 2022. Originally published on June 26th, 2020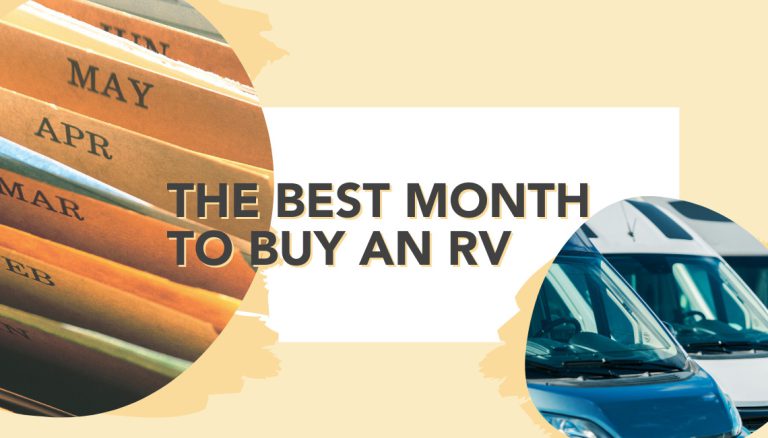 If you're in the market for an RV, there's a lot to think about. You'll need to decide which type of motorhome or travel trailer best suits your needs, what kinds of features and floorplan you want, and—if you choose a towable RV—whether you'll need a new truck to get your RV from one place to another. Also, what is the best time to buy?
Of course, budget is also a factor, and you're sure to be looking for the best deal out there. Obviously, you can find a budget-friendly rig by looking for a used RV. You can also watch for sales and special promotional deals. However, one of the very best things you can do to save on an RV is know the best time to buy a travel trailer or motorhome, and then shop during that time.
In this article we will discuss the best time to buy RV motorhomes and travel trailers, as well as some extra tips and tricks to save even more money.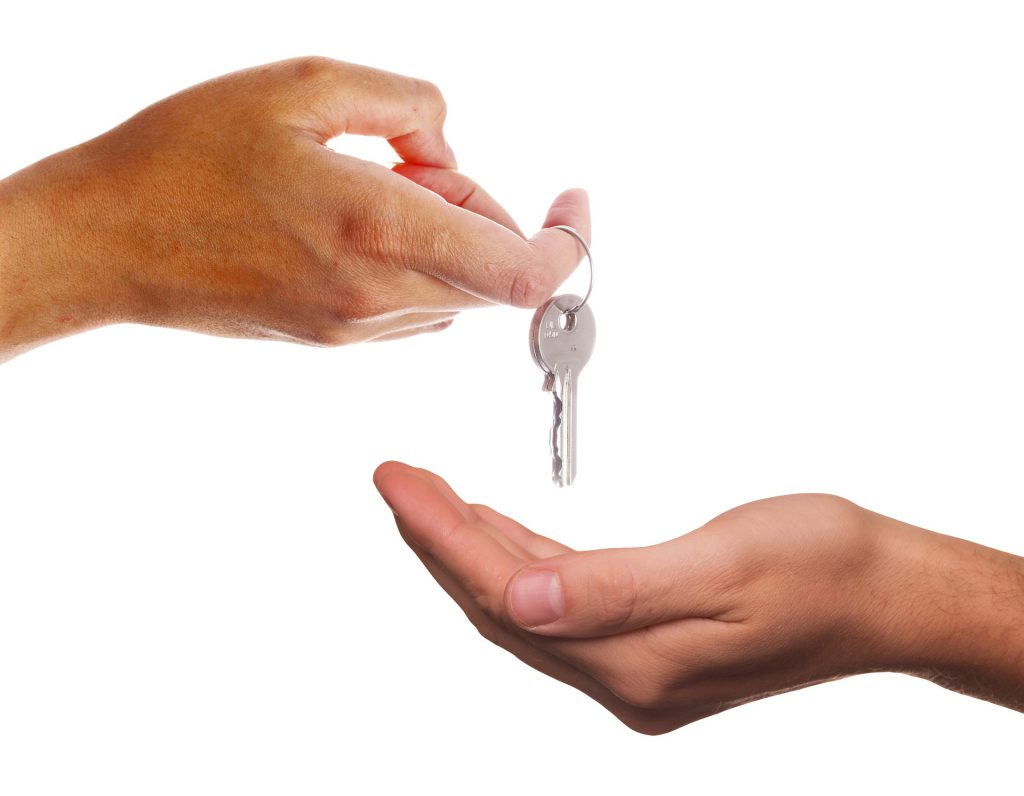 What is the Best Time to Buy an RV?
When is the best time to buy an RV? Many people would assume it wouldn't make much difference at all, thinking the best time to go RV shopping is whenever they feel ready to buy one. However, it simply isn't that simple.
You see, RVs are seasonal items, meaning the demand fluctuates throughout the year. During the spring and summer months, people want to go camping. They feel good about investing in a motorhome or travel trailer during this time because they know they can use it for the entire season ahead.
Warmer or Colder Months?
Because RV dealerships are so busy during these warmer months, they are much less likely to offer discounts, and you may even be left waiting for a salesperson to help you out.
Fall and winter, on the other hand, are much slower months for RV dealerships. People don't tend to go camping during these cooler months, and even if they do, they know they'll only go once or twice before the coldest season hits and the RV has to be put away into storage.
Most people aren't even thinking about purchasing motorhomes and travel trailers during this time, meaning the dealerships, salespeople, and even private sellers are looking for ways to get rigs off their hands, offering deep discounts and incentives to buy.
So what is the best time of year to buy an RV? As you can see, fall and winter are definitely ideal.
However, what if you take things even further and ask what is the best month to buy and RV? Well, the slow season for RV sales begins at the end of September. That said, we recommend waiting until at least October.
During October and November, sales nosedive, leading to some pretty good discounts. December and January are even slower, making them the best months for RV shopping.
Things are still fairly slow in February too, but tend to pick back up sometime in March.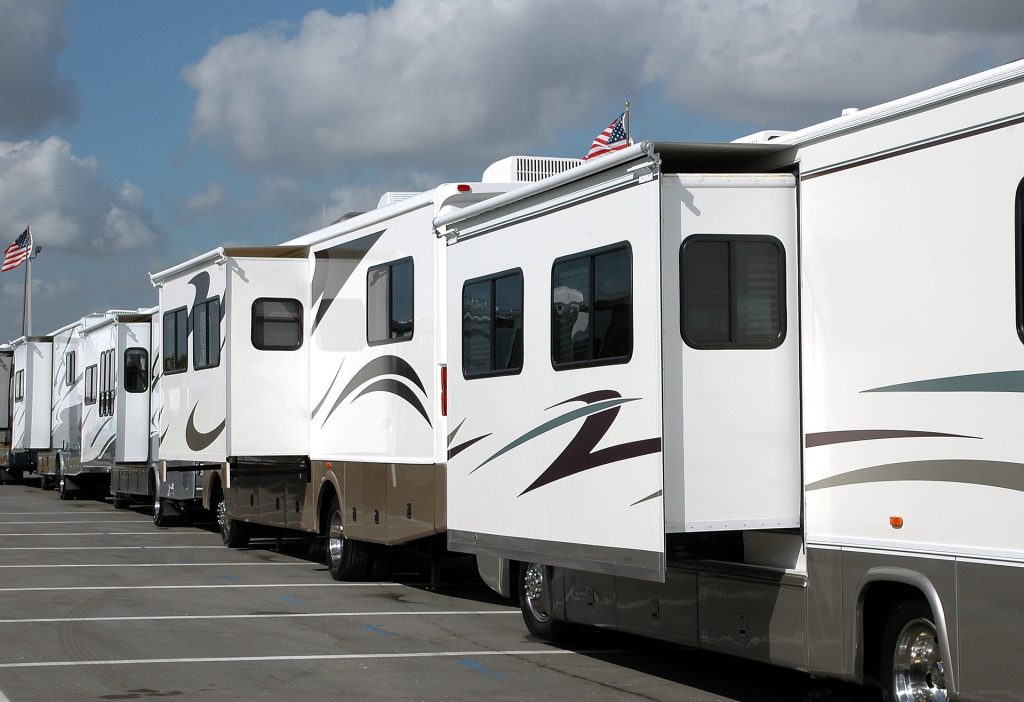 Best Time to Buy an RV: Tips and Tricks
Now that we've answered the frequently asked question, "When is the best time to buy an RV trailer or motorhome?", it's time to give a few more money-saving tips.
Dealerships vs Private Sellers
If you're trying to decide between purchasing from a dealership or from a private seller, just know that there isn't a right answer. Dealerships are great because they offer warranties and opportunities for financing. Private sellers, on the other hand, tend to offer better cash prices. Refer to the RV value before buying.
Head North
While prices will dip everywhere in the fall and winter months, the price drops are deepest in the north where the weather gets too cold for camping. Therefore, if you live in a warm place like Florida or Texas, we recommend heading north in the winter to pick up a new RV if at all possible.
Avoid Weekends
Just as summer is the busiest time of year to buy an RV, the weekends are the busiest time of the week at RV dealerships. For this reason, it's much better to shop during a weekday, when you're sure to get a salesperson's full attention—plus, they will be more eager to sell, making them more likely to offer a low price.
Look for RV Shows
Lastly, if you're new to the RV world—and sometimes even if you're not—we recommend checking out an RV show. This will give you and opportunity to see a lot of different rigs, so you can get a feel for what you want.
When you find a few different RVs that you like (take notes along the way!), wait until the end of the show and ask the salesperson for their best price. The dealerships don't want to move these rigs back to their lots, and will often offer incredibly good deals to last-minute buyers.
Avoid Lemons
Of course, even though knowing when the best month is to buy a travel trailer or motorhome will save you money in the short term, it can't save you from a lemon. Because ending up with a bad rig will only cost more money in the long run, avoid bad RVs by knowing what red flags to look for.
Once you find the best deal possible on the ideal RV for you, why not list it here for rent on RVshare? You won't be camping every single day, and there's no reason to let your home-on-wheels sit around unused while you're busy with other things.
Not only will renting your RV ensure your investment gets plenty of use, it'll also give you a bit of extra income!
Looking for even more RVing tips and tricks — both during the purchase process and for your first camping excursion?
Here are just a few RVshare blog posts to help you out.