RV Owners
Last updated on June 29th, 2022. Originally published on September 29th, 2019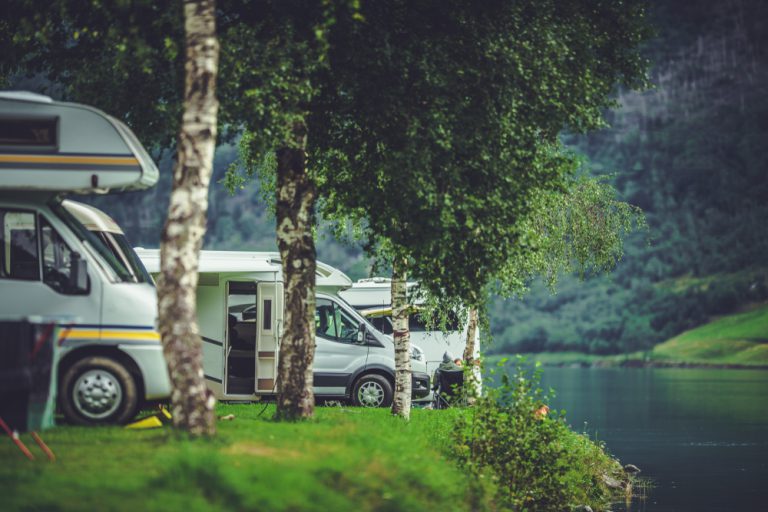 Buying your first car comes with an undeniable surge of freedom, and buying your first house can make you feel like a real adult. But what about buying an RV? When done right, this special purchase gives you the best of both worlds: all the comfort and privacy of your very own home, alongside the liberation and excitement of the open road. You'll be able to travel anywhere you want, anytime you want, in style and luxury. Honestly, it's a pretty awesome way to marry your wanderlust and your need to nest.
And for some in the market to buy an RV of their own, it's an even more serious lifestyle change: they're looking to ditch their sticks-and-bricks home and workaday routine in favor of a life of freedom and adventure by becoming full-time RV dwellers.
Either way, it's no small feat to buy an RV. For one thing, it's a major monetary investment — even a relatively modest rig will likely run you thousands of dollars, and high-end motorhomes can easily cost as much (or more than) as your "regular" home. Any kind of serious investment like this requires a good deal of research, and since RVs come in so many shapes, sizes, and footprints, there's even more to learn and understand.
Along with figuring out what kind of RV you want to buy, there's also the process of actually finding your dream rig once you decide on it. Should you go new or used? Browse Craigslist or head straight to the dealership? And what about RV shows and other sales events?
We get it: it can definitely be overwhelming! But don't worry, we've got your back.
In this post, we'll walk you through all the ins and outs to consider before buying an RV, from financing the purchase to finding the travel trailer or motorhome your dreams are made of.
Preparing for Your RV Purchase
Before you actually buy the rig — or even get serious about figuring out which rig you want to buy — you've got a little bit of foundational work to do to ensure you're ready for the big purchase! Here are some steps to put on your to-do list well above the line that reads, "Buy RV."
Make Sure You Actually Like It
This one may seem like a no-brainer, but hear us out — because as awesome as RVing is, it isn't for everyone. (And even amongst those who do adore the lifestyle, kicking it in the wrong kind of rig can be a major downer!)
For instance, if you're the type who's looking into RVing as an alternative to tent camping, who's mostly interested in reconnecting with nature, and who would be satisfied with even minor upgrades from literally sleeping on the ground, a more rugged rig might work for you. For instance, a pop-up trailer's canvas walls still let you feel close to nature, but you'll get to sleep with real pillows and a mattress that might not match the one at home, but still puts even the best inflatable camping pad to shame. A 40-foot Class A diesel pusher, on the other hand, might feel totally unwieldy and wasteful… unless you're the type of camper hoping for a luxury experience more akin to a rolling resort hotel room on wheels, in which case the diesel pusher is where it's at and a pop-up camper probably isn't going to satisfy you.
That's the thing about RVing: it's all about personalization, customization, and innovation. No matter what kind of travel experience you're after, you can find a vehicle that'll make it a reality! But you definitely want to make sure you know what this type of travel is like on a basic level — from finding campsites to learning about working basic RV equipment. In short, it's a really good idea to spend at least a little bit of time in a camper rental before you commit to actually buying one.
Try Before You Buy!
We'll talk more about this in forthcoming sections. But suffice to say, the peer-to-peer market at RVshare is a great way to achieve this goal without breaking the bank — and while making sure you have access to the wide range of RV types and styles you need to figure out what exactly you're after! Check out the RVshare listings in your area to get started, and remember, you'll probably want to go on a couple of different camping trips with different sorts of RVs. Think of it as the best homework assignment ever!
Figure Out Financing
Even the least expensive RVs are still a significant investment — and once you lay down the cash for the vehicle itself, you still have maintenance and gas to consider. There's also the challenge of finding affordable campsites, not to mention the food, fun, and other various expenses that go into any successful travel adventure.
While many dealerships offer financing on new RVs, when it comes to used RVs (which can often be a sounder move financially), funding can be harder to come by. You may have to seek out a secured loan through your personal bank or a company that works specifically with those making large recreational purchases, including travel trailers, motorhomes, and yachts.
Whenever possible, we recommend sticking to a purchase you can fund in cash, or at the very least avoiding unsecured personal loans, which carry higher interest rates and can quickly leave you owing more on the RV than it's worth if you decide to sell it. Bottom line: while RVing can be an affordable style of travel, it still takes some pretty serious dough when you're getting started, and it's worth waiting until you can actually afford it (rather than stretching your day-to-day budget crazy thin!).
Going Full-Time? You Need to Downsize!
If you're planning on using your new RV as a permanent, rolling home, you've got a whole 'nother set of challenges to deal with — the biggest one, perhaps, being downsizing. After all, the average American home tops 2,500 square feet in living space, whereas even the biggest RVs usually offer less than 500. That's less than a quarter of the space you're used to!
Even if you live in a smaller home, chances are you've got a lot of stuff, much of which may not be put to good use. In fact, it may be the case that a minimalist lifestyle incentivized you to get serious about tiny living or full-time RVing in the first place. But no matter how motivated you are, the fact remains that making a major lifestyle change isn't easy, and you're going to want to tackle this part of the process sooner than later.
Although we don't have time to dive deeply into all the necessary steps to downsize in this post, we have written extensively about this topic before! Check out the following posts for those considering making the big leap to full-timing, including steps on how to downsize without driving yourself crazy.
How to Buy an RV
Alright. You've gone on several camping trips and know that RVing is right for you. You've shuffled your budget to save up for the big purchase. If you're making the full-timing leap, you've gotten serious about choosing which possessions get the right to stick around for the long term.
You're totally ready to get out there and go shopping, right?
Well, sort of… if you emphasize the "shopping" part. At this point in the journey, it's all about getting serious about what you really want, and that involves a whole lot of research (both online and first-hand).
One of the most important parts of getting ready to buy an RV is to have a firm understanding of the different types of RVs out there. Obviously, you can get some clarity on this front through your RV rental experience… but unless you've taken a whole heap of RV rentals, chances are you've missed at least a few different types of rigs! There are a whole lot of options out there, and they each have their own drawbacks and benefits. Here are some basic facts on the ones you're most likely to find on the market.
Related: How Many Miles Do RVs Last?
Class A Motorhomes
Depending on how experienced you are with camping, this may be what you think of when you first hear the word "RV" — the big, bus-shaped rigs that movie stars and singers travel in.
One thing's for sure: if you're looking for luxury and ease of use, these rigs are the primo option. Although they're large, they're pretty much plug-and-play when it comes to actually driving them, and they're usually stocked with every modern convenience in the book, sometimes including bathtubs, washing machines, and full-sized kitchen appliances. They also often sleep up to eight adult passengers and offer slide-outs to increase living room. Of course, they also get a measly 4-6 miles to the gallon and can be incredibly expensive, with certain top-of-the-line models going for up to half a million dollars or more.
That said, you can certainly find Class A motorhomes more affordable, especially if you're willing to buy used. And if you're looking to full-time or travel extensively, these RVs can be accommodating in ways that smaller rigs simply can't keep up with.
Want to learn even more about these big, beautiful RVs? Here's our deep dive into Class A motorhomes.
Class C Motorhomes
"But what about Class B?" you may be thinking. Hang on — we'll circle back to them!
But for most people, the next type of RV you probably think of after a Class A bus is a Class C rig, which shares a lot in common with its Class A brethren at a lower price point and usually smaller footprint. They also have an iconic "attic" space over the cockpit, which is built into a plain old one-ton truck chassis, making them seem less intimidating for new RV drivers.
Despite their reputation for being more affordable and approachable, Class Cs are also seriously luxurious, often sleeping up to 6 adult passengers and offering the perfect private space for families traveling with older children. Modern Class C rigs come with multiple slide-outs, full-sized bathroom and kitchen amenities, surround-sound entertainment systems and more, and they get a slightly less ghastly 8-10 miles to the gallon.
Want to learn even more about these Goldilocks rigs? Here's our deep dive into Class C motorhomes.
Class B Motorhomes (Sleeper Vans)
Although they may come before Class C in name, Class B motorhomes aren't quite as recognizable as Class As and Class Cs, so we left them for third in our list. That doesn't make them third-class citizens, however — in fact, these rigs are some of our favorite solutions for campers who are looking for a rugged, flexible option that'll take them into wilderness, off-grid spaces.
Class B motorhomes are often built into standard Sprinter van chassis, which may have elevated rooftops in order to make it possible for tall passengers to stand all the way up in time. Some Class Bs are custom built and shockingly luxurious… in fact, we've seen certain models for sale for over $100,000!
That said, there's a lot of variety in this sub-class, ranging from modified Westfalia and VW vans to the spendy rigs customized by motorhome manufacturers. Either way, they certainly get better gas mileage than their bigger cousins… and they're a perfect option for a couple or solo adventurer who's willing to sacrifice space to get out into the wild, while still feeling like you're doing anything but "roughing it."
Want to learn even more about these adventure-ready vehicles? Here's our deep dive in to Class B motorhomes.
Travel Trailers
Okay, this category is definitely cheating a little bit, because it could easily be broken out into a variety of smaller categories on its own. From tiny folding campers to big, beautiful fifth wheels, towable vehicles are a whole 'nother can of worms… and one that may just have the perfect solution to your camping needs. (You can easily read up on the differences with this blog post on travel trailer basics!)
For instance, if you're hoping to bring along your ATV or motorcycle for your trip, toy haulers may be the answer. These large and luxurious travel trailers come with a built in "garage" that allows you to stash your extra set of wheels without giving up any of the interior comforts you're looking for.
Or if you're just trying to get on the road as quickly and affordably as possible, a tiny trailer, like a Casita, could be the answer. These little fiberglass RVs offer all the comforts of home in an abbreviated footprint, and they're light enough to be towed even by smaller SUVs.
On the other end of the spectrum, fifth-wheel trailers are some of the most generous and luxurious rigs available. In fact, a fully-stocked modern fifth wheel with multiple slide-outs may offer as much as 500 square feet of living space, which is pretty much unheard of in any motorhome footprint. (After all, they don't have to save any space for a cockpit!)
Of course, the thing about a towable rig is that you might not just have an RV to buy — you also need an actual motor that's powerful enough to pull that thing around with. The good news is, these rigs are way more affordable than motorhomes, but if you don't already have a capable tow vehicle, you'll need to add one to your list of RV investments. (But it also means you'll always have access to an auxiliary vehicle with which to explore your destination, so it can definitely be a blessing as well as an annoyance!)
Want to learn more about the wide world of towable rigs? Here's our deep dive into travel trailers.
RV-Buying Guide
Once you've read up on the different types of RVs — and experienced more than a few — you're a lot closer to being ready to actually pull the trigger and buy one of your own. Exciting! However, now you face the basic challenge of actually finding your dream rig, which is a lot like dating. You're probably going to have to kiss a few frogs before you find The One.
New or Used?
Before figuring out where to look for your Sprinter camper or Airstream for sale, you should decide whether or not you're looking for a new vehicle or a used one. Although you may have a gut reaction to this set of choices, there are actually pretty solid arguments on both sides.
Buying a new RV is attractive to many campers on a gut level: a brand new rig, all for you! Of course, even though they may be priced and financed in a fashion more similar to houses than cars, the fact remains that RV means recreational vehicle… which means these investments depreciate. (And new ones depreciate precipitously as soon as you drive them off the lot, just like cars do.)
Along with what some might see as a waste of money, new RVs have an additional problem: they often come with quirks and "bugs" right off the factory floor. It's surprising to some, but in many instances, a slightly used RV might actually be in better repair than a brand new one, because its previous owners had the chance to work out the little kinks and maybe install some fun and functional customizations.
However, if you can handle the financial implications of buying new, and you don't mind figuring out your RV's little weirdnesses yourself, you may be motivated by the fact that many new RVs come with warranties, which are hard to find in the used world. They may also be easier to finance directly through the dealership, whereas you may have to seek out a loan on your own terms if you're buying a used rig.
Used RVs are often considered more financially savvy, and as we mentioned, they may actually be easier to just "plug and play" than their brand-new counterparts. That said, again, it can be difficult to find exactly what you want when you're limited by what's available on the market, and you probably won't be getting any guarantees.
Keep in mind also that when it comes to buying really old rigs, you may face trouble when it comes time to buy insurance or even just get a camping spot. Some campgrounds have age restrictions on the RVs they allow onto the property, usually capping out between 10 and 20 years old.
Where to Look for RVs
Figuring out whether you'll be buying new or used can help shed some light on where best to look for your new baby. If you're going brand-new, you might want to head straight for the dealership — though many dealerships also offer used vehicles as well.
It's a little trickier to buy a used RV, but you can still find what you're looking for if you're diligent. One of our favorite resources is RV Trader, which catalogs both new and used vehicles and allows you to sort results by a variety of filters. Whether you're looking for Class B rigs, Mercedes camper vans, pop-up campers, teardrop campers, or other types of RVs and travel trailers for sale, searching the used market can help you buy a camper for cheap without sacrificing any of your specific desires. Of course, the rig of your dreams may not be in your immediate area, so in some cases, people end up traveling to buy the used RV that best fits their needs. It's a big investment, so in most cases, it's worth it!
Another great option to check out: RV shows, which bring together a wide range of vehicles from a number of different dealerships all under one roof, giving you the chance to walk through and experience a broad array of different RV options. Plus, since the dealerships are all competing for your business, you can often score stellar prices… though RV shows are worth attending even if you're only looking to do some walk-throughs! Keep an eye on our list of annual RV shows by state.
When you buy may also be a factor. Seasonality can affect the availability or price of the RV you have your eye one, so be sure to consider what time of the year you'll be shopping. (We just so happen to have a guide to help with timing!)
How RV Rental Can Help You Decide
No matter what your timeline is or which way you're leaning when it comes to deciding what type of vehicle to buy, experiencing a motorhome or travel trailer rental can go a long way toward helping you decide when you're getting ready to buy an RV. You'll get to experience a wide range of different types of vehicles without spending all the money you need to save for the actual purchase… and hopefully, you'll have more than a little fun while you're at it!
Wondering, "How do I find the best RV rental near me?" Check out the RV rental listings on the peer-to-peer market at RVshare today! From camper vans to luxurious Class As, you can experience it all before you make a purchasing decision. And once you do count yourself the proud owner of a new rig, who knows? Maybe you'll help some other new camper by listing your own rig on RVshare!
Looking for even more RVing tips and tricks — both during the purchase process and for your first camping excursion?
Here are just a few RVshare blog posts to help you out.