Furniture
Last updated on September 20th, 2023. Originally published on September 4th, 2019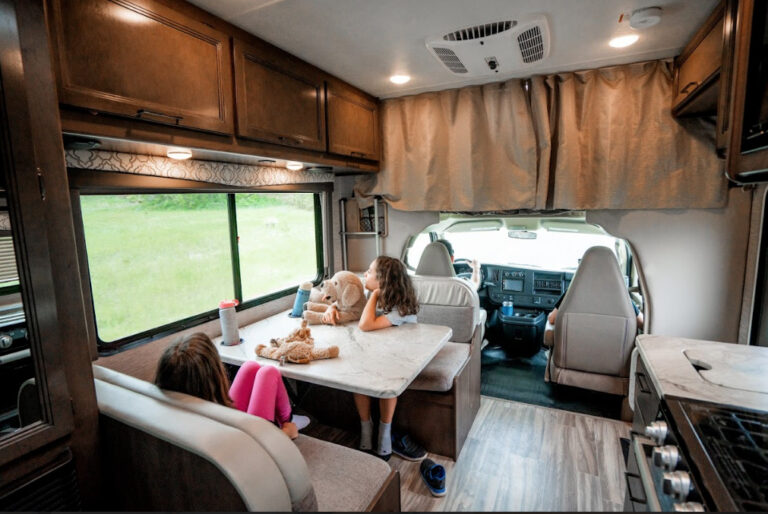 When you travel in an RV, home is where you park it. But the comforts of home — those depend on your RV furniture choices.
From your dinette set to your RV mattress and everything in between, your rig's furnishings can keep you comfy no matter where the road takes you. If your RV has a few miles under its belt, or you're looking for an upgrade, you may be in the market for some new furniture.
Just like selecting furniture for your sticks-and-bricks home, choosing RV furniture can exciting! But it can also be overwhelming — not to mention expensive. The quality of your camping trips depends on how comfortably your motorhome is appointed, so it's a pretty high-stakes situation!
But that's okay. We're here to walk you through your RV furniture choices. We'll provide tips and tricks on what to look and share ways to find great pieces on a tight budget.
So — ready to start renovating? Here's our ultimate guide to finding, purchasing, and enjoying the best RV furniture on the market.
RV Furniture
Before we dive into what to look for when shopping, let's talk about RV furniture as a general concept. While your RV's chairs, sofas, and other furniture might seem straightforward, they're totally customizable!
After all, the whole point of a motorhome is to travel in a way that is comfortable and convenient. If you're considering some interior renovations or furniture replacements, don't forget that you can overhaul the original layout.
This is especially helpful if you're planning on taking to the road for long-term trips or living in your rig full time. You want your home away from home to feel… well, homey. And that means taking design matters into your own hands.
Check out how Chris Dunphy and Cherie Ve Ard of Technomadia transformed the interior of their vintage bus, Zephyr. Since they live (and work!) on the road full-time, they had to take their specific lifestyle needs into consideration. The couple installed a custom, computer-friendly workspace and tackled upgrades like reupholstering the pull-out sofa and replacing the bathroom countertop.
What does all this mean for you?
Don't be afraid to get creative!
Maybe you're traveling with a big family, and that pull-out dinette set just isn't cutting it. Why not install another sleeper sofa or even a set of bunk beds? On the other hand, if you're traveling solo, all those additional sleeping surfaces might be totally extraneous. You could easily trade them for furniture that features extra storage space, which might suit your needs better.
Always remember that your RV's furnishings and overall layout are totally within your control — and totally changeable. Makes the prospect of those renovations even more exciting, right?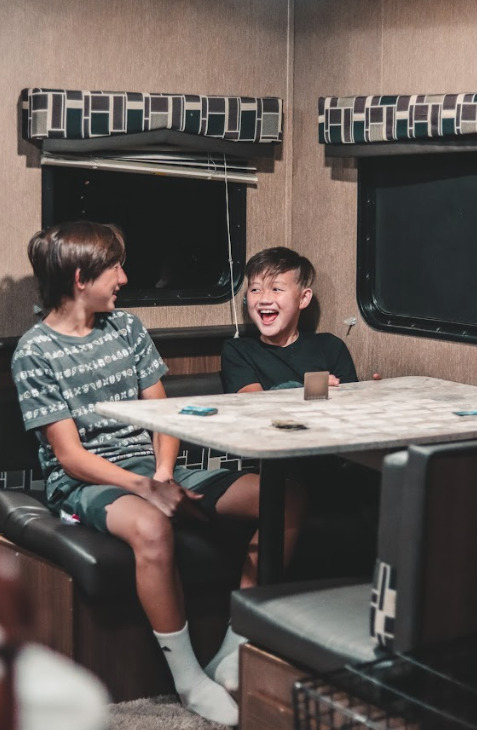 Score the Best RV Furniture with Time (and Research!)
No matter what pieces of RV furniture you include in your final design, finding pieces is important but time-consuming. Even if you get a good deal on a new set of RV recliners, it's a waste of money if the furniture is uncomfortable or doesn't function the way you need it to.
So here are some general tips to ensure you get the very best RV furniture for your money.
1. Take your time.
It's definitely easy to get swept up in the excitement of your renovation project. We totally understand wanting everything in your RV to look absolutely perfect and ready to go… right now.
But nobody makes their best decisions when they're rushed. If you're hurrying through your shopping, you're a lot more likely to end up wasting money on an overpriced product. You may even end up with buyer's remorse when you see something you like better after you make your investment.
We recommend taking your time when you're making upgrades to your RV. It's better to wait and end up with a rig full of pieces you love rather than to get everything done right now and have regrets. Even if you're planning on taking a trip in the interim, you can make your upgrades piecemeal — you don't need everything at once.
2. If you're totally remodeling, have a plan before you start.
Just like you wouldn't remodel your home without a plan, you shouldn't start removing and buying furniture for your RV without considering how it will all work together. Remember, your RV is your home away from home. It deserves the same renovation care and attention that you would give to a more permanent residence.
3. You can extend the life of upholstered RV furniture.
If pieces like sofas and soft chairs are okay structurally but have stained, torn, worn out or flattened cushions, reupholstering RV furniture may be best. It's sometimes easier than buying new and it's considerably less expensive. If the cushions are in good shape, but the fabric is showing its age, RV furniture covers can update the look of your interior and save you even more money.
4. Shop around to compare pieces and prices.
My momma told me… you'd better shop around.
This is true in love…and La-Z-Boys — or any piece of RV furniture you're considering.
Every once in a while, the very first chair, sofa, or mattress you find might actually be The One. But in general, you want to check out different options before making a decision. That way, you'll have a point of comparison to make you feel more confident about your purchase.
In addition to putting your mind at ease about whether you found the most comfortable sleeper sofa, shopping around allows you to compare prices. Once you find a piece you really like, check other RV furniture dealers or online retailers like Amazon, to see if you can find the same item for less. After all, all's fair in love, war, and shopping! (What, isn't that how the saying goes?)
5. Pick it out in person, if at all possible.
This may be the golden age of online shopping, but there are still some items you've just got to try before you buy.
High on that list, in our opinion: jeans, shoes, and definitely furniture!
If you can, it's worth visiting vendors in person to give those chairs a sit and those mattresses a lie-down. No amount of online research can replace the knowledge you'll glean by actually experiencing the furniture first-hand. And don't worry – you can still go home and buy online after you know exactly what you want.
Depending on where you call home, you may not have lots of furniture options within driving distance. Many furniture vendors offer a return policy or trial period, so you can ensure that your new mattress is actually comfy-cozy. But if you can, try before you buy, and avoid having to deal with the headache of the pickup and refund.
6. Think convertible!
No, not an RV with the top rolled back—convertible RV furniture. This is multi-tasking furniture that can convert into something else, saving you space and allowing you to buy fewer but more functional pieces. Whether it's for the bedroom, kitchen, dinette, or anywhere in your RV, convertible furniture is immensely helpful. For example, a bed could fold into a sofa or be covered with a hard top to become a table. Similarly, benches with storage beneath them are incredible space savers, as are pieces that pull out or hide away, such as seats that flip down or tables that fold up.
7. Go for savings: look for clearance and package deals and consider used RV furniture.
If you're buying new from an RV furniture outlet, be sure to consider the pieces they have on sale and clearance. These typically include any surplus inventory they have, especially if they're from the previous year's lines, as retailers will mark them down in an effort to move them out. Your other option for spending less is buying used, either from RV furniture stores that have accepted quality trade-ins, eBay, or other retailers. Whenever you're not buying in person, though, you'll want to be precise about measurements to make sure the piece you're purchasing will fit the space you have for it.
8. Read reviews.
As much as we love using camping as an opportunity to disconnect in the Digital Age, there's a lot to be said for the magic of the internet.
That's because all sorts of retailers now include customer reviews to help future customers gain a better understanding of the product before they click "add to cart." Even if you're shopping in person, you can still take the opportunity to scope out the item online before you actually hand over the money.
Who knows? That mattress might feel comfy now, but maybe its cushy memory foam is destined to go limp and lumpy in a few months. That cool-looking dinette set with the under-bench storage might seem absolutely perfect… until you learn that the hinges have a reputation for rusting out. User reviews can give you insight into all sorts of issues you'd otherwise have no idea were coming. Just don't forget that the people most likely to leave reviews are either the super-happy customers or the super-bummed-out ones… so read a decent number of reviews across the spectrum before you dismiss or decide on an item!
9. If you buy it, who will install the RV furniture?
When you're buying new RV furniture, the price will often include installation, but ask to be sure. If it doesn't or if you're buying used furniture, you'll probably have to either install it yourself or hire professional help to get it put in. Installation for smaller pieces is typically not all that difficult, but for larger pieces, it can turn into a huge hassle. Remember, the door of an RV is only so big, so to get larger replacement RV furniture inside, you may have to remove a window or even the windshield. That will definitely add a considerable amount of time to the job.
10. What happens to the old RV furniture?
If the furniture you're removing from your motorhome is in decent shape, it's a good idea to ask about trading it in when you buy your new furniture; many RV furniture centers will refurbish older pieces, and trading items in may help you get a discount. Otherwise, there is a market for used RV furniture if you're up for some wheeling and dealing.
11. Keep your purpose in mind.
Ultimately, you want your RV to be functional—you want to take it out on the road and have lots of fun adventures with the people you love most. It's okay to spend some time picking out the right pieces, but if your RV isn't your permanent home, take it in stride and don't break the bank outfitting it exactly to your ideal specifications. If it is your permanent home, you may want to invest a little more in it. Either way, it's always wise to take the long view and realize that what makes an RV truly beautiful isn't the furniture within its frame—it's the people using it.
Types of RV Furniture
Now that we've covered the basics to help you shop for the best pieces, let's talk about what kinds of camper furniture options are out there. We'll go over what to look for, where to shop for those pieces, and how to find affordable ones.
Driving Chairs and RV Recliners
The chairs in your cockpit are really important. They often perform double duty, serving as the safe and stable seats you'll sit in while you're underway by day and then swiveling around to moonlight as cozy lounge chairs by night.
If you're planning on replacing the RV chairs at the front of your motorcoach, you'll want something that combines functionality with comfort. Seatbelts are a must — safety first! Butyou'll also want to ensure the chair is plush (for relaxing) and supportive (for long days navigating those highways).
Another factor to keep in mind when shopping for new RV seats is the upholstery. Leather is beautiful and easy to clean, but if you camp in areas with hot weather, you may find yourself sticking to your seat. Fabric, on the other hand, can attract pet hair and other debris, though it may be more affordable.
Along with the front seats, you might also want to replace your RV recliners or wall huggers — or install them instead of your existing dinette or sofa set. Many of the same concerns apply here, too; the best seating has both support and softness. However, the specific design that most appeals to you will depend on your lounging type. If you like to cuddle up, for instance, you may want to stick with a loveseat or sofa; if you'd rather have room to stretch out and maybe even stash your favorite snacks, a double recliner with cup holders or a tray table might be the better option.
Class A Captain Chairs:
These seats are usually level with the main floor of your RV. They will normally swivel around and can be used as dining room chairs, or to view the TV or another focal point in your living room such as a fireplace. Class A seats may even recline, or have additional options such as built-in heat or a remote-controlled massage feature.
Class C Captain Chairs:
These are the "little brothers" to the Class A chairs. One major difference is that these chairs don't usually recline. Unlike the Class A chairs that are on the same level as the interior, the captain chairs in a Class C motorhome are located in the step-down cab of the interior. It is still very important to choose one that meets your needs and level of comfort.
Material Options:
Both Class A and Class C chairs can be covered in your choice of material. Options include vinyl, fabric, a durable polyurethane in either Halo leather or Ultraleather, and a top-of-the-line Kashmira fabric which is super soft and classed but wears exceptionally well.
Extra Options:
Adjustable arms
Manual or power lumbar
Remote swivel
Remote slide and swivel
Heated seats
Build in massage
Price:
As you can see, there are a wide variety of options for captain chairs which leads to a wide variety of prices. You can expect to pay at least $350 – $500 for economy, $500-$900 for middle class, and $900 and up for top-of-the-line captain chairs.
Both Class A and Class C captain chairs should meet the federal and industry safety standards, which you will find with any reputable company.
One important factor is to make sure the seats you purchase are designed specifically for your RV. Did you know that your insurance company can deny coverage in an accident if your seats are not approved for the vehicle you have? Most companies that sell RV seats clearly state which options are for which specific class of motorhome.
RV Recliners
Just like RV Sofa Beds, RV Recliners come in all different shapes, sizes, and materials to fit your needs.
Some even come as double recliners with a fold-down drink holder or storage compartment in the middle. This type could be used to replace a sofa. Some also come with a remote massage feature – just think how great that'll feel after a long day of driving!
If you're concerned about space, RV recliners are a great choice because they come in some really narrow sizes. Some are small enough to fit in a 29-inch wide opening, and they also break down to fit through the door of your RV.
RV Sofas and Sleepers
When it comes to your RV couch, it's all about comfort and functionality. Do you need it to slide out into a sofa bed, or will a wall-hugger-style set of recliners work? Cupholders: yes or no?
This piece of RV furniture is replaced more often than other pieces of furniture. The sofa is a lot like the kitchen in your home, a general place for people to congregate. The first place most people go to when they come into your RV is your sofa.
Again, keep upholstery choices in mind when shopping for this piece of RV furniture. Leather is lovely… until you're trying to Netflix in pajama shorts during the high summer months.
In addition to a comfy place to sit, RV sofas usually convert into a bed. Now if it's just two people traveling in an RV this may not be an important factor. But if you're traveling with two kids and one of them always wants to bring a friend, you'll need all the extra sleeping space you can get! Let's take a look at some of the different types of RV sofas.
Easy Bed
This type of RV sofa lifts up and pulls out to form a bed. You sleep lengthwise. These are best for occasional use only.
Magic Bed
This type converts by lifting the seat base and pulling it out towards you while the legs support the bed. You also sleep lengthwise, and it fits standard double bed sheets providing more room than the Easy bed.
Sofa Sleeper
This type of sofa converts into a full-size bed with a slightly shorter width. The added size takes up more room in your RV. Usually, 86 inches of clearance is required for a sofa sleeper. They also use standard mattress sheets up to a queen size.
Jackknife Sofa
The jackknife sofa is commonly found in Class C Motorhomes or travel trailers and pulls out like the Easy beds.
Fold and Tumble Sofa Sleeper
This sofa provides the advantage of a larger bed with a built-in inflatable mattress. Queen sheets will fit this bed, and it requires about 10 inches less space than the standard sofa sleeper.
Custom Lounges and Sectionals
Really the sky's the limit here, or your pocketbook, since these can get pretty fancy!
RV Tables and Dinettes
RV dining areas come in a couple of different configurations. You might have a table with separate, individual chairs, or a booth-style dinette with plush, upholstered benches.
Those benches might open up to reveal under-bench storage, or fold down to create an additional sleeping space. The bottom line is you'll need to figure out which of these different styles of dinette is best for you.
If you're traveling with a big family, for instance, having an extra bed might be of vital importance. But if you've got a lot of adventure gear in a relatively small rig, that under-seat storage could be a life saver. You'll also want to take the size of the table itself into consideration; some RVs feature a folding table that has a leaf to extend the surface for extra place settings.
RV Beds and Mattresses
If there's one piece of RV furniture you'll want to replace ASAP, it's likely your mattress. Fortunately, it's one of the easiest replacements to make — all you have to do is pick up the old one and pull it out of the rig.
However, you need to pay close attention to your existing mattress measurements. RV mattresses aren't sized the same as their standard counterparts, and they usually have a few inches of length or width shaved off to make more room.
Additionally, if you have slide-outs in your bedroom, you may need to look for a mattress that's foldable to ensure those mechanisms will work. Keep in mind any additional bedroom furniture, like your nightstands or RV end tables, which will impose additional limitations on your mattress size. The same goes for non-traditional configurations, like bunkhouses.
(If a brand-new mattress isn't in the budget, you might also consider investing in a quality mattress topper. Not only is this option generally more affordable, but you can also cut many mattress toppers to size, so you won't have to worry about accidentally purchasing something with the wrong measurements.)
Non-Traditional RV Furniture
Many RVers are leaning towards using household furniture instead of RV-specific furniture.
If you do your homework, this can work in many cases. You'll want to make sure you measure the space you have and keep in mind that most traditional furniture does not break down to fit through the door of your RV. Before making modifications to your RV make sure there are no pipes, ducts, or electrical wires under the floor that you may damage.
How to Find RV Furniture Replacements
Now that you know what you're looking for, let's tackle the next problem — where to look! We'll also recap what you need to keep in mind while you're shopping to ensure you find quality furniture that'll keep you a happy camper for many years to come.
Where Should You Buy New RV Furniture?
RV furniture is available from a wide array of retailers. Along with general camping and motorhome suppliers, like Camping World, there are also plenty of specialized RV furniture dealers out there. A few to check out are RV Furniture Center, RV Parts Nation, and Factory RV Surplus.
If you live near any of these dealers or other locally-owned RV furniture vendors, they offer a valuable opportunity to go and try out the pieces in person. But these days, RV furniture is also av available online, either through Amazon (like everything else!) or generalized furniture dealers like Wayfair.
If you do make a purchase online without trying the item out first, make sure you understand the return policy before you commit to buying. You definitely want to have the option to return the product if it doesn't end up working out for your needs.
RV Furniture Manufacturers
One of the most popular and well-reviewed RV furniture brands out there is Villa International. The Villa line is high-quality and some consider it a luxury brand. Options include couches, recliners, and other upholstered pieces, and all pieces are built by hand, meaning you can place a custom order for any size, style, or color furniture you may require.
Obviously, with such high standards, Villa RV furniture prices are on the higher side. That said, the durability and functionality of these items make the higher cost understandable. Custom orders for Villa furniture for an RV must be placed through their website. However, many off-the-shelf pieces are also available and can be purchased through dealers such as Glastop RV Furniture.
Some other well-liked brands include Mastercraft RV Furniture and Lippert (formerly Flair RV Furniture).
Both of these companies offer pieces that are perfect for RV use. Mastercraft will allow you to tour their facility, and they offer affordable, comfortable furniture that fits in small spaces. Meanwhile, Lippert creates some Keystone RV furniture, as well as the furniture for a number of other RV manufacturers. While their pieces are not as luxurious, they get the job done at an unbeatable price.
What to Keep in Mind While You Shop
We've already talked through most of the features and benefits of different types of RV furniture — but for your convenience, we thought we'd give you a quick little cheat sheet of items to keep in mind while you're on your search.
Measurement and fit
You'll want to ensure that chairs, recliners, and other RV furniture will fit in the particular spaces allotted for them in your vehicle — they'll be of no use to you if they take up a whole hallway!
Here are a few tips for accurately measuring RV furniture:
Captains Chairs/ Bucket Seats: Measure the height of the pedestal from the floor to the top plate where the captain's chair is mounted. Then, from the pedestal, measure to the top of the chair. The seat height + the pedestal height = your overall chair height. For width, measure from the outside of the left chair arm to the outside of the right chair arm.
Sofas: Measure from the floor up to the ceiling to get the height of the area your sofa will occupy. Then measure the area from left to right to get the width and from the back wall to the edge to get the depth.
Recliners: To find the depth, always measure from the very back of the recliner to the front of the seat cushion.
Regardless of any other factor about a prospective piece of furniture, if it doesn't fit in your RV, it won't work. Make sure you have accurate measurements!
Upholstery and style
Along with deciding whether leather or fabric works better for your needs, you'll also want to consider colors and general style and how everything fits together inside your RV's interior. Not everything has to match, but sticking to the same general color palette and design style can help your rig's interior feel cohesive and enjoyable.
Storage capacity/multi-utility
Every single square inch of space in an RV or trailer matters! Finding furniture that doubles as extra storage, a desk, or additional sleeping space can help ensure you're making the most of your rig's limited footprint.
Cost — including Shipping, Delivery, & Installation
For most of us, budget is one of the foremost factors in any purchase decision. But with heavy furniture, you're likely to run into expensive delivery or installation charges.
Will the seller provide installation of the new furniture and removal of the old? If not, figure out if you have the tools and the know-how to successfully install a new piece of furniture yourself. If you're buying from someone local, you can probably use your vehicle or camper to haul whatever RV furniture you need. However, if you're purchasing from an online service, or if you can't haul the furniture from a local address, you'll almost certainly pay a hefty price to have it all delivered to your door.
Be sure you find out the total of your prospective purchase including these extras before you sign anything. Otherwise, that great-sounding deal can quickly look a lot more like a rip-off!
Cheap RV Furniture is Out There
Remember furnishing your first apartment? Chances are your decor decisions were made based on what used furniture was available rather than on what was in some fancy lookbook. But even for more mature and established campers and homeowners, buying secondhand furniture can be a great way to save money… and maybe even get some unique, vintage pieces into your camper!
Many people take one look at the usual RV furniture for sale out there and feel immediately discouraged. Brand-new RV-specific furniture can be pricey, and campers who are unaware that there are other options may feel they will be stuck with their current RV furniture forever.
Discount RV furniture can be found with a little creativity and digging, which means anyone can afford to upgrade their home-on-wheels.
Wondering where on earth you can find discount RV furniture? There are three options that we know of:
1.) Salvage RV Furniture
The first option is to seek out furniture that has been salvaged from older, repossessed, or damaged RVs. These pieces can be found in pristine condition, meaning your upgrade will actually look like an upgrade, but saving you a pretty penny in the end.
In the case of an accident or breakdown, when the RV owner walks away from the vehicle or sells it to a salvage dealer, the salvage dealer will go through and pull out all of the items that are in excellent condition and are still valuable. Many of these items are also fairly new.
2.) Surplus RV Furniture
Another option is to get your hands on surplus RV furniture. These items were made to be put in RVs at the factory but never got used. They're the leftovers—but honestly, most RVers are more than happy to take the scraps for the right price.
3.) Used RV Furniture
Finally, you can purchase used RV furniture from someone else. This is probably the cheapest option, but it does require some patience because what you're looking for won't always be available right away.
Some owners decide to upgrade particular items in their motorhome even after only a year or two. The items pulled out of their mobile camper are considered used even though they still have plenty of life left. Some owners accidentally damage the upholstery and opt to replace the entire piece of furniture. Often, the repair is fairly easy, and afterwards the item is as good as new.
Where Should You Buy Discount RV Furniture?
Finding surplus, salvage, or used RV furniture for sale may seem difficult, but once you know where to look, it's a breeze.
Sales Pages: To find the best product, you need to know where to look. The first place many people think to look is on Craigslist. From their homepage, navigate to your local directory and search for relevant items for sale under the furniture and auto parts tabs for the best results. Similarly, it's worth checking eBay or Facebook Marketplace for anything you need.
The results, of course, might be limited depending on how specific the RV furniture is that you're looking for.
RV Retailers: For a more extensive selection, you can call or visit local RV retailers. Often RV owners will upgrade their furniture when purchasing a new model, leaving the retailers with RV furniture for sale far below its normal asking price. They don't want to hold onto all that RV furniture surplus, after all. Best of all, this surplus RV furniture may come with hardly any use.
Local Businesses: On top of those options, salvage furniture can also be found at local RV salvage shops and possibly even a local junkyard if you're willing to dig.
Other Online Sellers: The website Vehq.com has a list of retailers selling used RV furniture that might be worth a look. There are also many smaller websites that sell used RV furniture. They may require some sifting through search results, but they are out there. To name (and link) a few: Factory RV surplus, RV Parts Nation, Discount Van Truck, Visone RV and Bradd and Hall.
Buying Used or Salvage RV Furniture: Know Before You Go
Unlike RV furniture that you buy brand-new off the factory floor, when you buy used or salvaged furniture you don't know exactly where it's been — or what it's been through. And in some cases, that could lead to disaster.
It's easy to get caught up in a good deal and forget about the tiny asterisks of your purchase. Here are a few things worth remembering before shelling out your hard-earned cash for that perfect piece of RV furniture:
1.) First things first: always check for bed bugs
So this with any piece of used upholstered furniture! Introducing these pests into an otherwise immaculate RV interior can become a total nightmare. An infestation is very easy to get started and very difficult to get rid of!
2.) Wooden furniture can also be pest-ridden
Look for the tiny holes and sawdust that signify the presence of common furniture beetles. It's also a good idea to ask the owners if pets have ever been allowed in the RV or on the furniture — fleas can lie dormant for months, quickly spawning a new infestation at the first opportunity.
3.) Even if used furniture looks clean, always give it a thorough cleansing before bringing it into your RV.
Machine wash any slipcovers or fabrics in hot water, and use a disinfectant cleanser to ensure hard surfaces are free of dust, debris, and germs.
4.) Pro tip: when you're buying used or salvaged, negotiate!
One of the best parts about buying used or salvaged furniture is the flexibility of the pricing. Check the furniture for any nicks, dings, scratches, or tears, which can help your argument for a lower price point… but even if everything's ship-shape, don't be afraid to offer a slightly lower number. The worst thing the seller can say is no!
5.) Finally, as with new furniture, you'll want to ensure the items will fit in your available space and that seat belts will work properly with the new pieces.
Of course, if you'll be purchasing used or salvaged RV furniture, you will want to carefully inspect each piece. You should always check that the furniture is well-made and sturdy. If possible, sit and stand on the furniture and give it a few bounces. 
Things to Consider Before Removing Existing Furniture
How much does the new furniture weigh? — This is a crucial piece of information to ensure that the weight of your trailer stays balanced on both sides. Too much weight on one side can pose a safety threat. Plus, the more weight in your rig, the more you'll spend on gas.
Will the new furniture go in a slide-out? — If you answered yes, then you'll want to be sure you go with something fairly lightweight. Slide-outs can easily be damaged if too much weight is added.
How will the new furniture stay secure? — Your rig will encounter lots of bumps along the way, so it's important to make sure the items inside are secure. Secure your furniture by bolting it down for a permanent solution, or by using bungee cords for a more temporary solution. Velcro also works great for cushions.
Is there anything underneath the existing furniture? — There could be electrical wires, water tanks, or other parts under there if the furniture was factory-installed. Take a peak before you decide to do a full replacement.
Does my RV have a warranty? — Keep in mind that modifying your RV's original structure may void your warranty if you have one!
Outdoor Furniture
Indoor furniture for your RV is a much more serious purchase than outdoor furniture! Pieces cost much more, and last much longer so your decisions are weightier.
Outdoor furniture, on the other hand, is less expensive and since it's more easily replaceable, can be a fun way to show off your style.
Before we dive into some of the many options available on today's market, keep in mind that how much stuff you'll be able to put out will vary depending on where you're staying. Some campgrounds include wrought-iron chairs and outdoor tables as part of their premium campsites, while other spots may not offer the space you need to lay out everything you've brought along.
If you're going to be emphasizing outdoor entertainment, we recommend choosing campsites that boast large patio spaces, preferably with concrete slabs or gravel to help keep you and your furniture dry and comfortable.
But with the right tools, you can create a relaxing front porch experience even when you're boondocking off-grid. Here's what you need to make it happen!
with the right tools, you can create a relaxing front porch experience even when you're boondocking off-grid. Here's what you need to make it happen!
1. A high-quality ground mat
Your RV's canopy transforms the side of your rig into a living space by providing shelter from the sun and the elements. But your feet — and the feet of your furniture — need protecting, too!
A high-quality ground mat is a must-have item for any group that wants to spend significant amounts of time outdoors. After all, some of the campgrounds you stay in might have fancy concrete slab footing… but it's unlikely you'll find it at every single one.
Plus, a ground mat will make it a lot less likely that everybody will track dirt and mud into the RV when they go inside to grab a snack or use the bathroom. It's a small investment for all the utility it'll provide!
2. Tablecloths — and tablecloth clamps
We don't know about you, but one of the things we most value on vacation is not spending our time doing chores. Outdoor tablecloths can make for easy cleanup once you're done with a meal, since they can be easily thrown in the washer for next time — or in the case of disposables, just thrown away and replaced entirely.
Of course, you don't want those tablecloths to come off before you're done with dinner, and depending on where you're camping, the breeze could have other plans. So invest in a package of reusable tablecloth clips to complete your outdoor picnic set!
3. Lighting
If you're doing this party the right way, you're not heading inside just because the sun's gone down. If anything, you'll just be getting started!
Purchasing some cute and effective outdoor lighting will make your entertainment space much more inviting for guests staying after hours… not to mention keeping people from accidentally tripping when they move around. We've written before about some great LED camping lights to consider, which have longer-lasting batteries and don't get as hot as traditional lighting. But this is definitely an area where you can get a little bit creative. Tabletop lanterns are great, but what about these clever staked torches for your walkway, or these whimsical fairy string lights to bring a touch of wonder to your patio?
4. Bug zappers or citronella candles
Getting covered in sticky bug spray may be a camping tradition… but it's okay for some traditions to run their course. If you're going to be sitting outside for any length of time in a place like Savannah or the Great Smoky Mountains, you're going to encounter bugs — and let's be honest, they're just not invited to the party.
Today's technology has unlocked a whole world of options for campers, and one of them is the electronic insect killer, or "bug zapper," which lures in unsuspecting mosquitos and flies with its UV light. Once they get there, they're electrocuted instantly, meaning they won't be able to interrupt your outdoor time.
Although bug-zapping machines like these are available at shockingly affordable prices, there is also an analog equivalent: citronella candles! These affordable and all-natural candles have been used as an insect repellent for years, and they add a touch of aromatherapy to your outdoor experience.
Patio Chairs
When it comes to outdoor patio furniture, this is where the rubber meets the road. Chances are your campground will provide a flat surface, like a picnic table — but unless you want to be sitting on those rock-hard wooden benches all night, you're going to need some alternative options.
Camp seating has come a long way, and you're no longer limited to those cheap fold-outs that fall apart if you so much as sneeze! Here are some patio chair options that'll keep you and your guests happy to hang out even into the wee hours. (Just be sure you keep it down if you've got sleeping campground neighbors!)
5. Upgraded folding camp chairs
Just because something's a classic doesn't mean it can't be improved upon! Unlike the cheapo chairs you find in just about every camp store, these Homall "zero gravity" chairs are well-padded and sturdy — and they even recline if you need a little siesta. The designers have thought of everything, including convenient tray tables and cup holders to keep all of your favorite items close at hand. And they still fold down small, which makes for super easy storage.
6. Baby camp chair
Little campers need a comfy place to sit, too! This infant-sized folding chair is good for both indoor and outdoor use, and it converts for sitting and standing. It also includes a removable snack tray and sun canopy, and folds down small for easy storage and portability. Plus, it comes in seven colors, including fun bright shades like lime green and pink — so your kid will be coolin' it in style!
7. Inflatable canopy lounge
Sometimes, a camp chair just isn't enough.
Enter the inflatable canopy lounge, which upgrades the idea of the pool raft to a whole new level. The wide base can easily seat two, and two built-in cup holders ensure your drink is close at hand. The sunshade is detachable, so you can choose how much exposure you want, and it's just as comfortable in or out of the water. (Psst — don't forget an electric air pump if you want to fill it up easily and quickly!)
8. Outdoor lounge chair with ottoman
Who says uber-comfy lounge seating has to be limited to the indoors? This inflatable lounge chair comes complete with an ottoman, so you can literally kick your feet up — no matter where those feet happen to have taken you. What's more, the chair is equally good both indoors and outdoors, so you can use it as extra seating if you're holding an indoor soiree.
Outdoor Camping Accessories
You've got the chairs and table covered. You've even got the bugs zapped and the mood lighting on.
But before you call your outdoor entertainment area "complete," check out these fun gadgets and accessories that can really catapult your outdoor entertainment game to the next level.
9. High-quality picnic set and tote bag
A classic picnic basket has some charm, to be sure… but it's hard to argue with an all-inclusive, insulated picnic bag complete with a detachable wine bottle holder, plates, cutlery, and a fleece blanket. You have literally everything you need, all in a convenient, normal-looking backpack. Perfect for those times you want to take the party a little further afield than your RV patio!
This set comes with service for four people, so it's perfect for a family venture or double date. The cooler compartment ensures your goodies stay fresh until you find the perfect picnic spot, and it's big enough to hold not one but two bottles of wine.
10. Outdoor wine tote
Speaking of wine…
Maybe you don't need the entire picnic setup. You're planning on grilling or you already have a set of outdoor cutlery and plates.
But a bag meant just to handle the wine part of the picture? That could still be very helpful!
This EVA molded 3-bottle wine bag is insulated to keep your vino chilled, whether it's a frosty chardonnay or a just-slightly-below-room-temperature pinot noir. The bag comes complete with four shatter-resistant wine glasses, an all-in-one wooden corkscrew, a wine bottle stopper, and even a cheese set… just in case you decide you want a little snack. The board even has spots for the wine glasses and legs to keep it up off the ground, which means you can take your mini-picnic right at your patio or somewhere else in the park… like the pool, perhaps? This set also makes an amazing gift for a birthday or anniversary, especially when you fill it with wine and cheese before you hand it over!
11. Shatterproof plates and glasses
For many campers, "outdoor dinnerware" means one slightly sad thing: disposable paper or plastic plates that frequently bend if you overload them. Along with being bad for the planet (and a stinky garbage-can stuffer), these plates are expensive over time and not that much fun to eat off of.
But you can dine outdoors without resigning yourself to sad disposables! All you need to do is purchase some shatter-proof dishware, like this Wheat Straw Dinnerware set. It's shatter- and chip-resistant, and eating off it won't make you feel like you're being punished.
Also, don't overlook your cutlery! You can use a regular-old metal set like you'd purchase for your home or RV interior, but there's also something to be said about the specially-made camping cutlery sets, which are lightweight and sturdy. Some of them even come complete with chopsticks and straws for when you're feeling fancy!
12. A portable grill
One of the best things about camping is outdoor cooking — and not all RV parks and campgrounds offer an outdoor fire pit or grill.
To ensure your outside kitchen stays functional no matter where you set up, our best advice is to invest in a portable grill of your own. You can decide between a table-top charcoal grill or something more advanced (like this portable stand-up propane grill by Coleman), but no matter what you do, you want to make sure you can keep on cookin'!
Although classics like hot dogs and burgers are a must, a properly manned grill can serve up all sorts of unexpected delights, including desserts. You can even make it work as an outdoor pizza oven — especially if you purchase a grill-safe pizza stone! For lots more information about how to become the official campground grillmaster, check out our advice for RV grillers.
13. A campfire grill grate
Want to get really old school the next time you whip up one of your favorite grilled treats during a camping trip?
Consider ditching the modern grill for a campfire grill grate, which turns any open flame into a cooking area.
There's nothing quite like the experience of starting a fire and cooking a fresh meal over it! Camping at its very best, not to mention a way to feel a little bit more connected to, and grateful for, your food.
14. Grill accessories
You're all set on the grill front… but unless you're a superhero, you can't manhandle that delicious, charring food with your bare hands! That means a quality set of grill accessories is an absolute must-have — and today's cooking technology means you can do way better than a set of tongs and a scraper. (Although, yes, you need those, too.)
We recommend starting out with a standard grill accessory set, especially since you can purchase an all-inclusive kit for less than $50. Most, like this one on Amazon, come with a neat carrying case and have you covered for the basics: spatula, tongs, brush, and scraper.
Then you can start adding in some more creative extras, like a grill basket, which makes barbecuing smaller items, like vegetables, or shrimp, a whole lot easier. Into Mediterranean eats — or just ones that offer fork-free simplicity? Consider investing in a metal kebab set, for a waste-free, reusable answer to those annoying wooden skewers.
You can also put together your own set of grill accessories a la carte, purchasing essential items like grill brushes and spatulas at your leisure from your favorite vendors and makers. And whatever you do, don't forget a meat thermometer! You certainly won't garner any grillmaster points by inadvertently giving someone food poisoning.
Looking for Even More RV Renovation Ideas?
We hope this guide to RV furniture has given you new ideas for your RV's interior and shown you how to shop for RV furniture without stress.
However, there's way more to a full RV renovation than purchasing a new sofa. Even if you're not ready for a total overhaul, there are ways to make your interior feel fresh and new. It can be as simple as adding a coat of paint to your RV cabinets or investing in some fun RV accessories.
From affordable camper decor to RV bedding ideas, we've written a ton about how to make easy and effective RV upgrades here at the RVshare blog.
So if you're looking for even more ideas for an upcoming renovation project (or just want to brainstorm and drool over some creative campers' remodels), check out the following RVshare blog posts.
Camping is all about staying comfortable while heeding your sense of adventure and exploration, and outfitting your rig with the right furnishings and decor can help you bring that sense of comfort with you no matter where you're headed.
Happy (and comfy) travels, campers!