RV Owners
Last updated on February 21st, 2023. Originally published on June 4th, 2015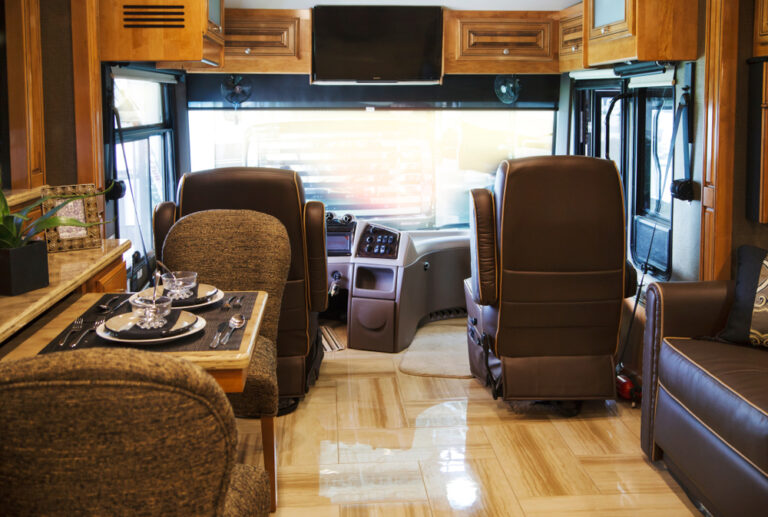 With everything else that goes on in your RV, one thing you may not have given much thought to is the place where you give your feet a rest — the seats. If you have ever driven for eight, ten, or even twelve hours in an uncomfortable driver's seat, you will appreciate the importance of a good supportive captain chair. If you've watched a Netflix marathon of movies, you know the importance of a nice recliner. If you have ever been a guest in an RV, you know the importance of having a nice comfortable sofa that converts into a bed.
With limited space in your RV, each and every item needs to have more than one purpose. After all, you are taking the bare minimum amount of space and making it your comfortable home away from home, or in some cases your only home.
If you find yourself needing to replace your RV seats, look no further than this article.
Seats for your RV are just like any other type of furniture — they come in all different shapes, sizes, décor and price ranges.
Captain Chairs
First let's take a look at Captain Chairs. When you think of RV seats, these may be the first that come to mind. These are the seats that can make or break a long day of driving for both the driver and co-pilot. When making the decision to purchase a set of captain chairs, this is not the place to cut corners. You will want good quality, comfortable chairs that fit your personal shape and size.
Class A Captain Chairs:
These seats are usually level with the main floor of your RV. They will normally swivel around and can be used as dining room chairs, or to view the TV or another focal point in your living room such as a fireplace. Class A seats may even recline, or have additional options such as built in heat or a remote controlled massage feature.
Class C Captain Chairs:
These are the "little brothers" to the Class A chairs and one major difference is these chairs don't usually recline. Unlike the Class A type that are on the same level as the interior, the Captain chairs in a Class C motorhome are located in the step down cab of the interior. It is still very important to choose one that meets your needs and level of comfort.
Material Options:
Both Class A and Class C chairs can be covered in your choice of material. Some of the options are vinyl, fabric, a durable polyurethane in either haloleather or ultraleather, and a top of the line kashmira fabric which is super soft and classed as heavy for duty wear.
Extra Options:
Adjustable arms
Manual or power lumbar
Remote swivel
Remote slide and swivel
Heated seats
Build in massage
Price:
As you can see, there are a wide variety of options for captain chairs which leads to a wide variety of prices. You can expect to pay at least $350 – $500 for economy, $500-$900 for middle class, and $900 and up for top of the line captain chairs.
Both Class A and Class C captain chairs should meet the federal and industry safety standards, which you will find with any reputable company.
One important factor is to make sure the seats you purchase are designed specifically for your RV. Did you know that your insurance company can deny coverage in an accident if your seats are not approved for the vehicle you have? Most companies that sell RV seats clearly state which options are for which specific class of motorhome.
RV Sofa
Now let's talk about another seat in your RV – the sofa. This piece of RV furniture is replaced more often than other pieces of furniture. The sofa is a lot like the kitchen in your home, a general place for people to congregate. The first place most people go to when they come into your RV is your sofa.
In addition to a comfy place to sit, RV sofas usually convert into a bed. Now if it's just two people traveling in an RV this may not be an important factor. But if you are like me, with two kids and one of them who always wants to bring a friend, you'll agree that we need all the extra sleeping space we can get! Let's take a look at some of the different types of RV sofas.
Easy Bed
This type of RV sofa lifts up and pulls out to form a bed. You sleep lengthwise. These are best for occasional use only.
Magic Bed
This type converts by lifting the seat base and pulling it out towards you while the legs support the bed. You also sleep lengthwise, and it fits standard double bed sheets providing more room than the Easy bed.
Sofa Sleeper
This type of sofa converts into a full size bed, with a slightly shorter width. The added size takes up more room in your RV. Usually 86-inches of clearance is required for a sofa sleeper. They also use standard mattress sheets up to a queen size.
Jackknife Sofa
The jackknife sofa is commonly found in Class C Motorhomes or travel trailers and pulls out like the Easy beds.
Fold and Tumble Sofa Sleeper
This sofa provides the advantage of a larger bed with a built-in inflatable mattress. Queen sheets will fit this bed, and it requires about 10-inches less space than the standard sofa sleeper.
Custom Lounges and Sectionals
Really the sky's the limit here, or your pocket book, whichever way you want to look at it.
RV Recliners
Just like RV Sofa Beds, RV Recliners come in all different shapes, sizes, and materials to fit your needs.
Some even come as double recliners with a fold down drink holder or storage compartment in the middle. This type could be used to replace a sofa. Some also come with a remote massage feature – just think how great that'll feel after a long day of driving!
RV recliners come in many shapes and styles as well. If you're concerned about space, RV recliners are a great choice because they come in some really narrow sizes. Some are small enough to fit in a 29-inch wide opening, and they also break down to fit through the door of your RV.
Non-Traditional RV Furniture
Many RVers are leaning towards using household furniture instead of RV specific made furniture.
If you do your homework, this can work in many cases. Things to think about are making sure you measure the space you have. Keep in mind that most traditional furniture does not break down to fit through the door of your RV. Before making modifications to your RV make sure there are not pipes, ducts and electrical wires under the floor that you may damage.
RV Furniture Manufacturers
One of the most popular and well-reviewed RV furniture brands out there is Villa International. The Villa line is of the highest quality, and some may even consider it a luxury brand. Options include couches, recliners, and other upholstered pieces, and all pieces are built by hand, meaning you can place a custom order for any size, style, or color furniture you may require.
Obviously, with such high standards, Villa RV furniture prices are on the higher side. That said, the durability and functionality of these items make the higher cost understandable. Custom orders for Villa furniture for an RV must be placed through their website. However, many off-the-shelf pieces are also available and can be purchased through dealers such as Glastop RV Furniture.
Some other well-liked brands include Mastercraft RV Furniture and Lippert (formerly Flair RV Furniture).
Both of these companies offer nice pieces that are perfect for RV use. Mastercraft will allow you to tour their facility, and they offer affordable, comfortable furniture that fits right into small spaces. Meanwhile, Lippert creates some Keystone RV furniture, as well as the furniture for a number of other RV manufacturers. While their pieces are not as luxurious, they get the job done and at an unbeatable price.
More Tips:
Sometimes all you need to spruce up your RV furniture is a change in the covers. If your furniture is in good condition you may want to go this route. Any upholstery shop can reupholster your furniture.
Or maybe a simple change in color scheme is what you need to update your RV? Modern colored and patterned throw pillows and curtains are an easy and inexpensive way to create an updated look.
Another tip for updating your RV is a fresh coat of paint! Yes, don't be afraid to paint your walls and furniture. With the right prep, good materials and do-it-yourself videos and guides, even an inexperienced painter can look like a pro.
One last thing you could do is to replace old light fixtures with residential fixtures to make your RV feel more like home. Install under the cabinet LED lights or even rope lights.
Remember to let your style flow into your RV. It will make it more like a home and an extension of your personality.
If you enjoyed this article and think it was helpful to please share. As always, Happy Camping!