Furniture
September 17th, 2019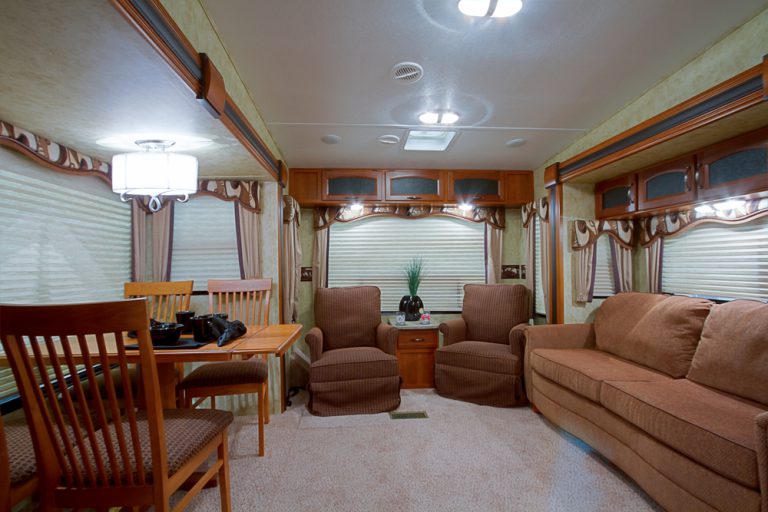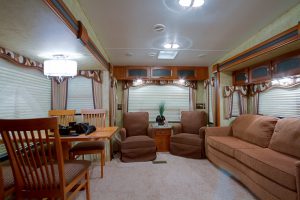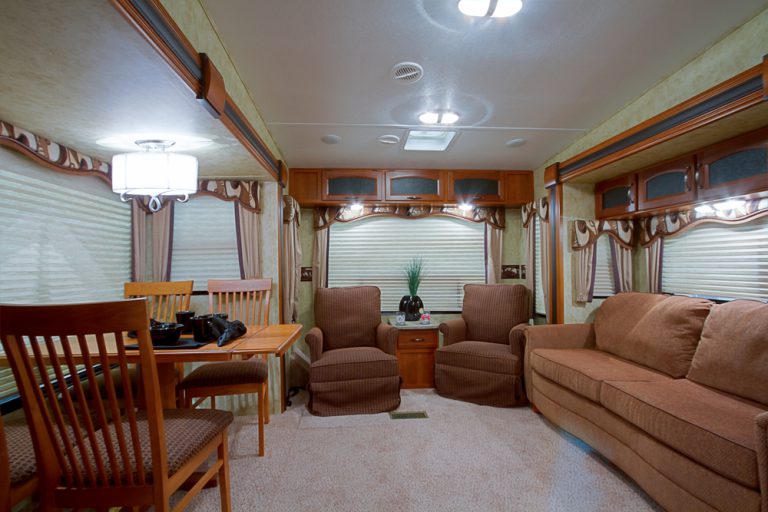 One of the best ways to give life to an old, drab RV is by replacing—or at least touching up—the RV appliances and furniture. RV furniture, in particular, tends to wear out over time, and older designs can make the whole place look dated. Luckily, there are plenty of ways to acquire replacement furniture for RVs or, if you prefer, simply spruce up what you currently have.
RV Furniture Cover
The easiest and least expensive way to give your RV a new look is through the use of RV furniture slipcovers. RV dinette furniture—as well as sofas—tend to benefit from simple covers made especially for furniture for RV campers. Because replacement RV furniture can be quite pricey, this is by far the best option for those on a budget.
Reupholstering RV Furniture
Some people like the look of their current RV interior furniture and would like a new look without purchasing entirely new RV furniture sets. For these RVers, reupholstering can negate the need for RV replacement furniture.
Reupholstering is not a simple process, however, and it's best to find a professional to do the job. Furniture for RV motorhomes is very similar to traditional furniture as far as the upholstery goes, meaning most upholstery shops can handle the job. That said, you will want to order RV-specific fabric for the sake of durability. Because ordering the fabric requires extra effort and communication, many people opt to go to a shop that focuses on upholstery for furniture for RVs. This helps ensure the proper fabric will be used and everything will fit properly.
RV Furniture Stores
Campers who prefer RV furniture replacement over re-covering should head to one of the many stores that sells RV supplies and furniture as well as RV furniture parts if a simple repair needs to be made. Most of these stores sell online as well as onsite, meaning you can purchase exactly what you want no matter where you happen to be.
One such store is the RV Furniture Center. The people at this furniture company are beyond helpful and know exactly what they're doing. They sell and install RV furniture, cabinets, and more.
Another great option for online shopping is Amazon, where you can find RV mattresses and couches, among other things.
Frugal shoppers may also like to check out an RV furniture outlet. Outlet stores are great because they sell RV furniture packages and individual pieces at super low prices. Some of our favorite RV furniture outlets include RV Outlet USA in Ringgold, VA and Factory RV Surplus in Elkhart, IN.
Custom RV Furniture
Occasionally, finding the right furniture for an RV is difficult. Unusual floor plans or very specific needs can mean furniture off the floor just isn't right. This is where custom RV furniture steps in.
Many RVers choose to build their own custom furniture. However, there are options if you decide you prefer to leave the furniture building to the professionals. Glastop is one of those options. Whether you need an oddly sized RV furniture dinette or a hard-to-find sofa color, this company has you covered.
With so many great options, you should be able to liven up your RV in a way that fits your budget, style, and the needs of your floor plan quite nicely. Get started today so your RV can look fabulous for your next big trip!
This post may contain affiliate links.