RV Decor & Unusual RVs
September 10th, 2015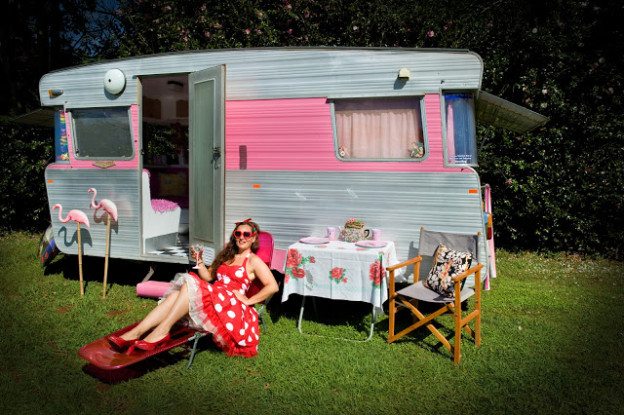 Some people have the unique talent to take a small space and convert it into a comfortable and attractive home on wheels.
From cozy kitchens, bright fabrics, high end finishes, and all those touches that make space home, these twenty-three incredible renovated trailer are sure to impress.
1. Stylish & Functional
Clearly the owner of this Airstream knows her way around the ole' RV cookstove. Her table is set like a five star restaurant and her tiny galley hasn't stopped her from turning out gourmet meals. Check out her blog, Just Five More Minutes, and you will see what I mean! Notice how she manages to make the space cozy with touches of cozy white fur, a colorful throw rug and splashes of red accents.
2. Bright White
Notice how the use of white makes this space look much larger? The dark brown wood floor is picked up in the accents on the compact stools. This space is serviceable and easy to maintain.
3. Colorful & Cozy
In contrast, this living space is full of color and liveliness with the addition of the afghan and the brightly colored chairs. It has a homey lived in look. Believe it or not, this trailer accommodates six people!
4. Wood & Aluminum
Talk about attention getting! This stuffed animal (a giant squid perhaps) in bright orange provides interesting color and tactile contrast to the light wood and sleek aluminum space, while the emphasis on white and light colors makes the space seem larger.
5. Splashes of Color
The white walls and neat organization prevent this very busy space from looking cramped. Note the brightly colored accents provided by the chair, file boxes and those awesome yellow lamps!
6. White on White
White on white is the order of the day in this small space made to look and feel much larger. The wood floor provides warms up the space.
7. Like a Cabin on Wheels
It's amazing how the rustic wood wall brings warmth and a sense of coziness to this tiny trailer. Combined with the warm pillows and throw rug, this is one inviting space.
8. A Retro Dream
Doesn't this trailer have "I Love Lucy" meets "The Barbie van" written all over it? Whimsical flamingoes and accents in hot pink and red combine to make this cute little retro trailer both fun and functional. Peek inside and note the black and white tile floor and the fuzzy pink cushions.
9. Grandmother Meets Funk
This busy space is just full of visual contrasts and harmonious colors and textures. The chalk-coloured walls and floor space pull the whole eclectic look together. Does this not feel like a trip to Grandma's house right down to the dishes and the cookies?
10. A Nautical Theme
Anchors away! The nautical themed motif is strong in this land locked trailer. Perfect for when you can't decided between a boat and a trailer.
11. Hip & Chic
This space is alive with textures and patterns of all sorts, yet the look is homey and rustic. Who would have thought that gingham, crochet and lace would blend so well?
12. The Diner Look
Here's another space full of patterns and colors. The red steals the day and contrasts perfectly with the pale turquoise, white trim and light counter top. Note the attention to detail with the yellow trim on the lampshade and the floral motif on the glasses.
13. Dark & Stormy
In contrast, this rental seems dark and mysterious with its moody blue and splashes of red. White cabinets and open window space keep the look from being drab or depressing.
14. Retro Green
Here is another quirky retro trailer that makes good use of the outside space. Note the conversation pieces like the British flag, wicker chairs, crocheted throw and bright red accents.
15. Dotted
The neat monochromatic walls, covers and furniture lightened by the soft pink polka dots on everything from floor to ceiling create a calming yet whimsical feel.
16. Old Car or Trailer?
How clever! This pop up trailer has been made to look like a retro car.Wood, paint and wicker blend nicely to please the eye.
17. Vintage Surprise
Small but mighty. This tiny space is all about character. Note the repetition of turquoise, white and red both inside and outside the trailer.
18. A Coral Dream
If the inside is as adorable as these soft coral scallops, Barbie could live here!
19. Cool Tones
Soft colors with a variety of textures and white accent pieces provide a soothing, cool atmosphere. The color choice of white and blonde wood make the space seem larger.
20. The Lean Green Machine
The two tone green appliances, splash board and colors picked up in the bedroom make this a restful home away from home fit for three.
21. Pretty in Pink
Variety in shape, shade and texture keep this space from looking like a Sultan's bedroom, or the inside of a PeptoBismol bottle.
22. Gypsy Love
No need to read the credits. Clearly the designer had gypsy caravan in mind when he created this trailer's unique look. I keep waiting for the appearance of the crystal ball, tarot cards, and the fortune teller.
Each of these small trailers has a unique and pleasing design. Whether built as a rental trailer, a travel vehicle or a "cottage", each renovation shows the designer's keen attention to detail.
These trailers prove that you don't need a large amount of space to employ a clever design. Dated old travel trailers have been given a second life thanks to creative designers and all those who love to create!