RV Owners
Last updated on August 21st, 2023. Originally published on June 25th, 2020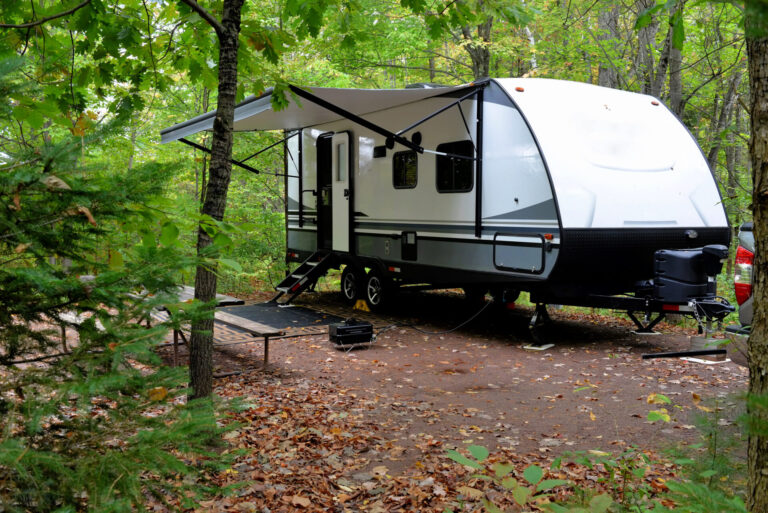 One of the best parts of RVing is the fact that people at any age can participate. Head out to a campground or RV park and you're just as likely to encounter a newlywed couple in an adorable teardrop camper as you are to meet a retired pair spending months in their motorhome – or even living there full-time. Somewhere in between, of course, you have families who enjoy camping and vacationing together and making lifelong memories.
One of the best RV layouts for families – especially those with more than one child – is the quad bunk travel trailer. A quad bunk trailer allows enough room for several kids to sleep comfortably, along with a larger sleeping area for their parents. The term bunkhouse indicates a setup – usually bunk beds – that uses the vertical space in your RV, leaving you more floor space for other living areas. A quad bunk travel trailer has, as the name implies, four bunks along with the aforementioned master bedroom sleeping space as well.


Best Quad Bunk Travel Trailer
The best quad bunk travel trailer for your family – or for a group of friends who like to travel together – is going to depend on your unique needs. There are many travel trailer quad bunkhouse options to choose from and you'll likely want to check out a few before making a decision.
Quad bunk travel trailers
Here are 5 bunkhouse travel trailers to consider when looking for one.
Specifications:
Sleeps 6
Gross Vehicle Weight Rating: 11,500 lb
Overall Length: 33 feet, 6 inches
4 slideouts
Fresh Water Tank (gallons): 50
Black Water Tank (gallons): 31
Grey Water Tank (gallons): 62
The Highland Ridge Roamer gets high marks for its generous storage space – there's a large closet in the master bedroom and storage drawers in the bunkhouse. There's also a second A/C unit with a digital thermostat. Luxury touches include hardwood cabinet doors and LED ceiling lights, and there are no carpets in the living and kitchen areas which makes traveling with kids and pets much easier. Four slideouts give you room for the dining area and master bedroom and an outdoor cooking area has a sink, mini-fridge, and three-burner pullout cooktop.
Specifications (depending on floor plan):
Sleeps 4-8
Weight: 7090 – 8605 lbs
Overall Length: 28 ft 8 in – 36 ft 2 inches
35,000 BTU output furnace
2-3 slideouts
Jayco is knowns for their RVs, and the Eagle HT has floorplans and options for a variety of families. Luxurious touches include wood floors, an outdoor TV, LED lights in rooms, porcelain fixtures in the bathroom, and a queen-sized mattress in the master bedroom.
Specifications:
Sleeps 6-10
Gross Vehicle Weight Rating: 10,950 lb
Overall Length: 36 feet, 2 inches
Fresh Water Tank (gallons): 80
Black Water Tank (gallons): 39
Grey Water Tank (gallons): 41
3 slideouts
Another great Jayco possibility is the Jay Flight, which is perfect for families and allows everyone plenty of room. This quad bunkhouse fifth wheel has three slideouts – two to accommodate the bunks in the back of the motorhome and one to enlarge the living area. There are four bunk beds, and one 80-inch Simmons mattress so the adults can sleep very comfortably. The kitchen features a fridge, double sink, cooktop with a hood, and plenty of cabinets and drawers for storage. There's also an outdoor kitchen with a sink, fridge, pull-out two-burner cooktop, and more cabinet space.
Specifications:
Sleeps 10
Weight: 8,705 lbs
Overall Length: 22 ft, 6 in – 29 ft, 11 in
Fresh Water Tank (gallons): 45
Black Water Tank (gallons): 30
Grey Water Tank (gallons): 30
The Sunset Trail trailers are another great family option and a lighter trailer than many of the others. The trailers have an Extreme Weather package, aluminum construction, and LED lights for the interior. There is a king-sized bed in the master bedroom, a sleeper sofa, and a 42-in dinette. The kitchen has a cooktop with cover, microwave, and 6 or 7 cu. foot fridge. There is also an outdoor kitchen with a mini-fridge and pull-out two-burner cooktop and sink. A dinette in the bunkhouse converts into a sleeping space, and a wardrobe in the bunkhouse has TV hookups so it could be turned into an entertainment center.
Specifications:
Sleeps 4
Weight: 3,400 lbs
Overall Length: 20 ft, 7.5 in
Fresh Water Tank (gallons): 31
Black Water Tank (gallons): 25
Grey Water Tank (gallons): 25
18,000 BTU output furnace
This tiny bunkhouse travel trailer still feels special, with its stylish light wood interior and quality furnishings. Front storage allows you to store things like batteries, LP tanks, or fun toys, and you can also attach bikes, kayaks, and other adventure gear to the exoskeleton of the trailer. The kitchen has a fridge, 2-burner cooktop, and a microwave, and an LED TV, AV sound system, and WiFi prep mean you can enjoy state-of-the-art entertainment in your trailer as well.
Bunkhouse Travel Trailer FAQs
What is a bunkhouse travel trailer?
A bunkhouse travel trailer is a trailer that maximizes sleeping space by having sets of bunks, usually together in a bunkhouse area. The sleeping space can be just for that purpose, or in some cases, can also feature room for an entertainment center, a wardrobe, or other items usually found in a bedroom. Bunkhouse travel trailers often also have a larger bedroom with a queen bed or larger, and can also have a dinette that folds into a bed, or other convertible sleep spaces as well.
What is the shortest bunkhouse travel trailer?
Of the bunkhouse travel trailers we featured here, the Winnebago Hike is the shortest at just over 20 1/2 ft. It's also very lightweight. There are many bunkhouse travel trailers for rent on RVshare and if you're partial to a smaller travel trailer quad bunkhouse, be sure to search the site!
What should I look for when buying a bunkhouse travel trailer?
Because every family or travel group is unique, you'll want to make sure your bunkhouse travel trailer is laid out in a way that suits your group best. If you have kids who are sensitive to noise or who like sleeping near their parents, you'll want to consider those things when looking for a bunkhouse trailer. You'll also want to make sure your quad bunkhouse has enough space for everyone, beds for each person to sleep in, and space for any pets who travel with you as well.
You'll also want to consider the price of the trailer you're interested in. There are quad bunkhouse trailers for many price ranges, and there are some great budget-friendly options to investigate. You can also consider buying a used quad bunkhouse trailer. If you're interested in a particular travel trailer, it helps to try it out ahead of time! Why not rent one for a short trip using RVshare? You'll get to know what you want in a trailer and what's important to you and your family when you travel.
Finally, consider the quality of trailer you're buying. Well-known brands like Winnebago and Jayco consistently deliver quality products you know will last a long time. If you're unsure about the trailer you're looking at, you can read online reviews and ask questions in RV forums online to get advice from people who have actually owned one.
A quad bunkhouse travel trailer can be the perfect solution for a larger family or group of people who want to camp together! With a little research ahead of time, you can be sure to settle on the perfect bunkhouse travel trailer for you.
Looking for more tips and tricks for your next RV excursion or purchase?
See these helpful articles: