RV Owners
Last updated on May 6th, 2023. Originally published on June 23rd, 2020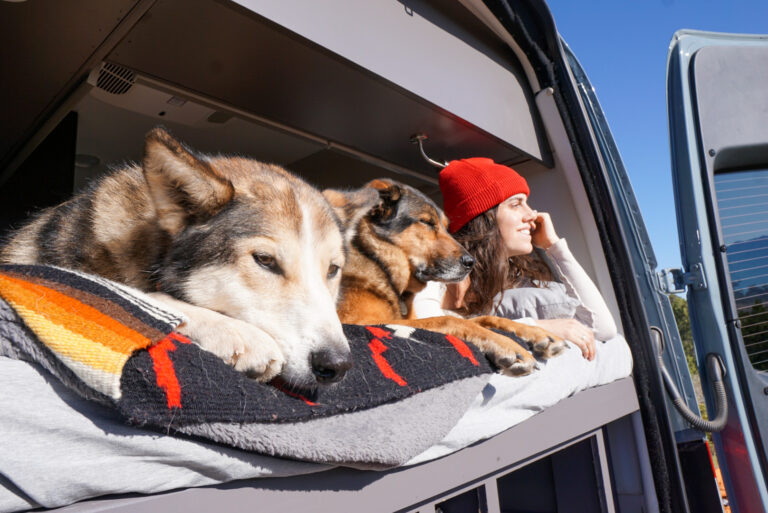 One of the most fun parts of investigating RVs and travel trailers is seeing the ingenious ways designers have built these vehicles to squeeze every inch of usable space out of them. Bedroom furnishings fold up to reveal dining areas, storage cabinets and closets are tucked into the most improbable places, and entire sides of the RV open and close to make more or less space depending on your needs. When you think about it, it's kind of mind-boggling.
Two of the best ways designers have discovered to make the most of an RV's living space is with an RV loft or murphy bed.
RVs with Lofts
Let's face it – lofts are just fun!
Maybe it's because they remind us of being kids, making secret hideouts and book nooks where we could sneak away. Maybe it's because clambering up into a loft is like getting up in a bunkbed or a treehouse. Beds are usually on the ground…and when they aren't, it's kind of exciting.
An RV loft is a magical multipurpose space in an RV that is elevated and often accessed by a ladder or stairs.
They can be a great option for friends traveling together, families road-tripping with children, or even couples who may be traveling long-term and want some additional room for storage.
The design of loft-style RVs is also super practical and smart. Because RVs are small and floor space is at a premium, it makes sense to build up instead of out. Space that would otherwise be wasted can be put to good use with a loft as an extra sleeping space, hangout spot, or storage area.
There are plenty of choices when it comes to finding RVs with lofts. You will want to look at your options in person of course to decide which one fits your travel style best – some will be more comfortable for adults, while others are perfectly suited for families with children.
Whether you're thinking about renting a loft-style RV for your next family vacation or looking into purchasing your own, we've rounded up a list of our favorite RVs with lofts to help you make your decision.
The Forest River Cedar Creek Cottage was specifically designed with sleep space in mind. The sleeping area is located in the rear of the trailer and includes a bright white king bedroom with a bunkhouse loft upstairs. The loft is perfectly suited for kids, and adults who don't mind crawling up into a tight spot will be okay with the arrangement as well. The spacious loft provides sleeping space for three, plus room for storage, several USB outlets, a fan, and black-out shades. The beds are bunk mats – not as thick as an actual bed mattress, but still comfy with plenty of padding to sleep.
This RV also boasts a large bathroom with a residential shower, as well as a decked-out kitchen with an island and a hide-a-bed sofa for even more sleeping space.
Specs
Sleep Capacity: 7
Dry Weight: 11,954 lbs.
GVWR: 13,615 lbs.Length: 40.5 ft.
Length: 40.5 ft.
MSRP: $112,189
With the Forest River Sabre, you might just forget you're staying in an RV! The unique design of this rig separates the different spaces, allowing it to feel more like a home than a tiny hideaway. The small hallway in the rear of the RV leads to a large king bedroom. Outside of the bedroom is a small set of stairs, bringing you to a double-sided loft that works perfectly as a bunkhouse or extra storage space. The loft has windows that let in lots of natural light to make the space feel even more like a "real" bedroom, as well as safety rails to ensure no one goes overboard in the middle of the night.
The Sabre 37FLL also comes equipped with a massive living area (we're talking 3 couches!), a kitchen with a deep farm-style sink and double-door fridge, and a bathroom with a residential-sized shower.
Specs
Sleep Capacity: 8
Dry Weight: 11,918 lbs.
Length: 42 ft. 9 in.
MSRP: $108,299
The Alliance Paradigm has a unique open-concept design and there's one thing we particularly love about it — the multipurpose room! In the center of the rig, you will find a room with a sofa that converts to a bed, a desk, windows, and cabinets. This makes it a perfect space for kids to play, for adults to work on the road, or for hosting an extra guest. Above this room is a small RV loft that can, again, be used for storage or sleeping space.
The Alliance Paradigm 390MP also features a king bedroom with a huge closet, a beautiful kitchen with an island, and a cozy living space with a fireplace, reclining loveseat, and another sleeper sofa.
Specs
Sleep Capacity: 8
Dry Weight: 13,546 lbs.
GWVR: 16,800 lbs
Length: 41 ft. 11 in.
MSRP: $123,479
Jayco packs a ton of great features into the North Point trailer. This RV comes in a modern farmhouse or classic cottage design and boasts a bedroom with a walk-in closet and washer/dryer prep, a large bathroom with a walk-in shower, a bonus room (with a flip-up bunk, sleeper sofa, desk, and closet!), and a loft area with bunk mats. Like the Alliance, the bonus room works perfectly as an extra bedroom, playroom, or office.
The North Point also offers a large kitchen with flip-up butcher block countertops, as well as a shoe garage below the interior steps to keep your entryway clear of clutter.
Specs
Sleep Capacity: 11
Dry Weight: 14,410 lbs.
GWVR: 16,995 lbs
Length: 42 ft. 11 in.MSRP: $132,983
The Bighorn Traveler is incredibly sleek, open, and airy, with a true farmhouse feel. If you're traveling as a family or with a large group and value your privacy, the Bighorn Traveler should be at the top of your list. This RV is equipped with not one, but TWO bathrooms and bedrooms/ sleeping areas! The best part? They're at totally opposite ends of the rig, meaning if you're traveling with kids and they want to watch a movie, play a game, or get a little rowdy, they will have their own designated space to do so. The back area features double bunks, a sofa, a TV, several cabinets, and a loft above the bathroom. And since they'll have their own bathroom, you won't have to worry about fighting for sink space in the morning!
The Bighorn Traveler also boasts several other impressive features like a floor-to-ceiling pantry, "barefoot friendly" flooring, an outdoor kitchen, and a "store-more" basement with a triple access door.
Specs
Sleep Capacity: 9
Dry Weight: 12,994 lbs
GWVR: 15,500 lbs
Length: 42 ft. 7-⅜ in.
MSRP: $117,216
The Jay Flight Bungalow 40LOFT is ideal for seasonal living and destination camping. It's designed for extended stays with residential features throughout and extremely tall ceilings, so you won't ever have to feel cramped. The sleeping area is located at the back of the RV and features a master bedroom with a separate loft space above it. The spacious loft comes with two comfy bunk mats and plenty of room to sprawl out. If you don't plan to use this as a sleeping space, you could use it for storage, or since the room is separated, use one half for sleeping and the other half for storage. It comes equipped with safety rails to allow you to view the living space from the loft, but if you want some darkness and/or privacy, they have blackout curtains that can be pulled around to enclose the space.
The Jay Flight Bungalow also features a large kitchen and living area with a four-burner cooktop and oven, a residential refrigerator, dual-sliding tinted entrance doors, a central vacuum system (extra convenient for crumbs if you have littles!), and linoleum flooring throughout. 
Specs
Sleep Capacity: 8
Dry Weight: 11,345 lbs
GWVR: 13,350 lbs
Length: 41 ft.  
MSRP: $75,435
Campers with Lofts
Along with Class A RVs, travel trailers, and 5th wheels with lofts, you can also consider Class C campers with lofts. Class C campers, by definition, have a loft area above the cab of the truck which adds lots of usable space to a tiny area.
This camper comes in several different floorplans and offers great features like an outdoor camp kitchen and outdoor entertainment center with an LCD TV, stereo, and more. It has a power awning (important if you're going to be spending all that time outside!) and a roomy bunk loft area above the cab. You will also find a bedroom with a full-size king or queen bed, a small but well-equipped kitchen, and a sofa with optional recliners.
Winnebagos are synonymous with RVing, and for good reason. The company has been in business for a good long time and is known for making long-lasting, reliable motorhomes year after year. The Minnie Winnie is ideal for families of all shapes and sizes with 6 floorplans available. Each floorplan offers an over-the-cab bunk bed,  a rear bedroom, and a sofa bed. The Minnie Winnies are some of the smaller Class Cs, but specific floorplans can sleep up to 8 people and they still pack in a shower and toilet, a kitchen, and a dining area. 
The Prestige is a larger Class C camper with plenty of space and comes in 4 different floorplans. This top-of-the-line camper is incredibly roomy, sleeping up to 7 people with a spacious loft area above the cab up front. The 2023 bunk model even has built-in tablet holders which the kids will thank you for! The Jayco Greyhawks are also equipped with a master bedroom and bathroom, a kitchen with a countertop extension, a double-door refrigerator, and a jackknife sofa.
The Wayfarer is the perfect combo of luxurious and practical, perfect for couples traveling with a friend or for small families. With 4 floorplans to choose from, each offers a spacious interior with leather seats and a sofa, an over-the-cab loft bed, and luxury touches like hardwood cabinets, a memory foam mattress, and a skylight in the shower to let in natural light.
This Class C camper is on the bigger side, with plenty of room for people and a garage in the back for carrying extras like bikes, kayaks, and other fun toys (hence, the name). And if you like to camp off-grid, this one's definitely for you!
In addition to the cab over bunk in the front, it offers a queen-sized murphy bed in the garage area that folds up to make better use of the space during the day. The loft area has a tv in the corner that can be viewed from the living area, as well as a cargo net with USB charging ports for phones or other devices. It also has an outdoor patio that folds off the back, with the garage door serving as a roof to cover your deck. The kitchen has everything you could need including a pantry, countertops that extend, a large sink, and a 3-burner cooktop.
RVs with Murphy Beds
Murphy beds are brilliant, because when you're not using them they simply fold away either into the wall or into a sofa or dinette, revealing more living space for you to use during the day. An RV with a Murphy bed could be the solution you need for even more space when you travel.
The Lance 2185 features a super slide dinette that seats 5 and sleeps 2 comfortably, and three bunks that fit either children or adults. It's a great travel trailer for a family, or for a group of friends headed out on a road trip together. The Lance also has a convertible sofa/Murphy bed, or you can order it with a walk-around queen bed instead. Storage is tucked under bench seats, and the kitchen has a 3-burner stove, an oven, a fridge, a microwave, and plenty of counter space.
Here's one example of a Gulf Stream Cruiser on RVshare – it's vintage styling makes it such a fun travel trailer to take out on the road! It sleeps quite a lot of people for a small-looking trailer, thanks to the Murphy bed and the slideout that give you a lot more room. The trailer has a bathroom, bunk beds, and a dinette with a Murphy bed that folds over the top. You can even remove the table and eat outside once you've set up camp!
The Rockwood Mini Lite 2104S features a roomy kitchen with an oven, a pantry, and plenty of counter space. The dinette slides out to afford even more room and converts to a bed. The bedroom doubles as a living room, and the sofa has a Murphy bed behind it. You'll also find an incredibly spacious bathroom with a glass door shower and a linen closet.
This travel trailer is also a toy hauler with a back ramp that can serve as a patio. The garage area has flip-down sofas that can serve as extra sleeping space at night. The trailer has a pass-through bathroom with a shower, toilet, and sink, and the kitchen area has a slide-out dinette. The front of the trailer has a sofa with a Murphy bed that conveniently folds out and over the sofa.
Murphy Bed Pros and Cons
Murphy beds are a wonderful solution but may not be for everyone. Here are a few pros and cons of RVs with Murphy beds:
Pros
The biggest advantage of purchasing or renting an RV with a Murphy bed is that you'll be using space that would otherwise go to waste. Murphy beds free up a lot of living space and can potentially allow you to get a smaller RV since you won't need as much floor space.
Also, unlike a convertible bed that folds into a dinette or other usable space, you don't need to unmake your Murphy bed. You'll need to remove blankets and fluffy comforters, but you can leave the sheets on and fold the whole thing up into the wall until you need it again that night.
Cons
The biggest disadvantage to a Murphy bed is that you lose your sleeping space during the day. If you like to nap, or relax and read on your bed during the afternoon, you may want to consider a different solution. Some people also find that a Murphy bed mattress is uncomfortable, and any solution to fix the mattress will either involve a topper you need to store separately during the day or will involve changing the mechanism that fastens your bed to the wall.
Other Ways to Upgrade Sleeping Space
Aside from lofts and murphy beds, there are also a few other creative ways you can upgrade your sleeping space including sofas, dinettes, and bed lifts. 
RV Sofa & RV Sofa Sleepers
Your RV sofa could possibly be one of the most-used pieces of furniture in your vehicle. When people come in to visit, they'll plop down on it. If you're RVing with kids, they'll sprawl out on it. And someone may even wind up sleeping on it!
Jackknife Sofa
The jackknife sofa bed was once the most popular of the RV couch bed options. This style of sofa bed looks much like an upholstered bench when in the upright position, but can be laid flat with the seat and the seat back lying side by side to create a sleeping surface.
These beds are the least space-consuming in both positions, and they weigh less than traditional couches, but can also be fairly uncomfortable in both positions because of the bars that make up the frame.
Traditional Hide-a-Bed
Another RV couch option is the traditional hide-a-bed. These feature an RV-style mattress that folds out to a bed and then back to an otherwise ordinary RV couch.
This is a bit more space-consuming than the jackknife option, especially when in the bed position. It is also a much heavier couch than the jackknife option. However, the couch part tends to be much more comfortable, and depending on the mattress used (like this one with memory foam), the bed can be as well.
Inflatable Hide-a-Bed
More recently, we've seen air mattress hide-a-bed sofa options hit the market. This RV sleeper sofa with an air mattress works very much like a traditional RV hide-a-bed, but includes an air mattress rather than a traditional mattress, making it much more lightweight.
The issue with this type of RV couch bed is the fact that the air mattress can develop holes, making it unusable.
What to Look for When Buying an RV Sofa Bed
Here are a few other important things to consider if you're looking to purchase a new RV sofa bed:
Durability
Size
Weight
Comfort
Appearance
Ease of clean up
Storage options (if any)
Price
Warranty
Custom Couches
Since they're custom, you can obviously have them built to any size or dimension you wish. You could even get an RV sectional sofa or a custom-length RV sofa bed to accommodate individual needs.
I know custom sounds expensive, but it doesn't have to be!
Hello, DIY project! Building your own custom pull-out couch sounds scary but with all the tutorials + videos you can find these days, it is not that much harder than building Ikea furniture (which is another, easier + quicker, alternative to the traditional factory brown RV couches out there). And don't ever underestimate the power of a quick DIY, reupholstering your old couch or snagging a new to your couch from sites like Facebook Marketplace are budget-friendly and effective ways to make big changes while adding your own spark.
RV Dinette Bed
There are other clever ways to disguise an RV bed as well – you can have an RV dinette bed, where your table would fold away and your bed would be right where your meal was.
An RV table bed is an ingenious way to use all your available space. During the day, use the table for working or eating or for extra seating. At night, transform it into a bed. There are a number of RV table beds on the market, and they allow you to choose everything from the style and color of your cushions to the color and materials in the tabletop. But don't forget, you can DIY this setup too!
RV Bed Lift 
Another one of our favorite hacks is to have to be an RV bed lift, which either allows you to use the area underneath your bed for additional storage, or hoist your entire bed completely out of the way to use the space in other ways.
The 2 Types of RV Bed Lift Systems
The first type of RV bed lift uses a system that attaches to your bed frame, allowing it to mechanically lift the mattress in the air, revealing storage space beneath. This is perfect for those who don't mind the bed to remain permanently in that position, but require a larger, extra space to store clothing, recreational equipment, toys, etc.
The second RV bed lift system is rather cool, as it uses a motorized or pulley system to physically lift your entire bed off the floor, suspending it closer to the roof of your RV. While we're sure it would be very fun to sleep in a position like this (unless you're afraid of height), the aim of this contraption is simply to move the bed out of the way when it isn't being used, giving you access to the space in your RV below. Many RV owners tend to lower their mattress onto their dinette, for example, when it's time to hit the hay.
If an RV bed lift sounds like a cool contraption that you need in your RV, then there are plenty of places from which you can buy one. Just some of the more well-known companies and retailers which come to mind are Lippert Components, HappiJac, Hatch Lift, and Camping World.
You can also search for RV bed lift systems on websites such as Amazon, where you're sure to pick up a great deal (like this Hatchlift Bedlift Kit for just under $70).
Temporary Solutions
If you're looking for a solution that's a little less permanent than adding more RV beds, try adding a foldable camp cot or hammock. A double bunk cot helps maximize your sleeping arrangements by using the vertical space in your RV, allowing you to sleep two people in a relatively compact area, such as the kitchen or doorway. For a cheaper option, you can even hang a hammock inside your RV (or outdoors, if you're feeling extra adventurous!). There are several YouTube videos that can show you how to do this.
Storing your RV Bedding
With more beds, you'll need somewhere to keep your extra RV bedding, pillows, and blankets. That's why staying organized — and limiting yourself to just the essentials — is key.
Large spacesaver vacuum bags are a must-have for storing bulky bedding in a tiny RV closet or cabinet. All you have to do is put your blankets or sheets in the bag and suction out the air. Just like that, you can reduce the size of your bedding by up to 80 percent!
Final Thoughts
Whether you're looking to rent an RV with max sleeping space for your next adventure or are thinking about buying one for yourself, we hope this guide has given you some ideas and helped you narrow down your decision. If you find the perfect RV or come up with a creative solution, let us know by tagging us on social media so we can see!
And if you're in the buying process, consider renting from RVshare to see how you like it first.
You can find a wide selection of motorhomes, campers, and travel trailers right here on RVshare.com or by downloading the mobile app. You can filter your search by location, size, and a lot more, so no matter your needs or budget, you're sure to find the perfect RV for your travels.
For RVs with even more space, check out the best two-bedroom travel trailers and the best front-living fifth wheels.
Find RV rentals with Bunkbeds here
Find Pet-Friendly RV Rentals here
This post contains affiliate links. RVshare may receive compensation if you make a purchase after clicking on a product or service link.