Landmarks
April 29th, 2021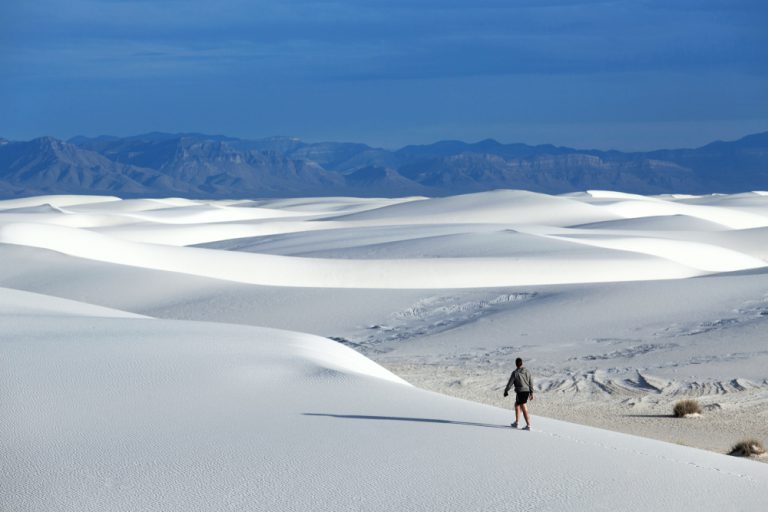 What is a Landmark?
The definition of a hidden gem, the state that's aptly known as the Land of Enchantment is absolutely chock-full of must-see landmarks — including both popular destinations and ones you may not have heard of before. Here's our top-10 list for those visiting New Mexico.
What are Some Famous Landmarks in New Mexico?
1. Shiprock
2. Earthship Biotecture
3. Georgia O'Keeffe Home & Studio
4. Bandelier National Monument
5. Palace of the Governors
6. Meow Wolf
7. Walter White's House
8. Truth or Consequences
9. White Sands National Park
10. Carlsbad Caverns National Park
New Mexico Landmarks
From ones you've definitely heard of (or seen on TV) to ones you're about to stick on your travel bucket list for the very first time, here are a few natural and historical landmarks in New Mexico to add to your itinerary.
1. Shiprock
If you look up Shiprock, New Mexico, you'll see that it's a small town with a population hovering just under 10,000 — and while it's a nice enough place, that's not why this word is on our list. We're talking about Shiprock Peak, the one-of-a-kind geological formation the town was named after, which looms about 15 miles southwest of its namesake settlement. Shiprock Peak is a volcanic structure that has long served as a navigational aid to Native Americans and the settlers who displaced them. As this place is still sacred to the Navajo people, climbing or hiking on and around it is forbidden — as is driving the dirt road to its base. But it sure makes for a fantastic photo opp from the paved road.
Things to do near Shiprock: Northwest New Mexico is nothing if not remote, so take in those endless desert vistas and only-in-the-southwest skies. One of the best ways to get around? A local RVshare rental vehicle!
2. Earthship Biotecture
Have you heard of Earthships? They're a marvel of engineering: sustainable houses that use recycled and natural materials to create off-grid, eco-friendly, yet comfortable living accommodations that harness geothermal energy for heating, sun for power, and precipitation for the home water supply. A vision that started in the 1960s by architect Michael Reynolds, these one-of-a-kind dwellings have actually gained a lot of popularity and can today be found around the world, but the whole thing started right here in New Mexico. You can see for yourself, and learn lots more about this unique way of living, at Earthship Biotecture, which is kind of the headquarters of the operation. Tour sprawling earthships and see how they're made to help humans live in communion with the land. You can even take a class to learn to build your own!
Things to do near Earthship Biotecture: Located just outside of the town of Taos, a drive to Earthship Biotecture basically requires that you cross the Rio Grande Gorge Bridge — and we recommend you take the time to stop and walk across, so long as you're not afraid of heights (and maybe even if you are). Eagle Nest Lake State Park or Heron Lake State Park make excellent places to stay; here are some nearby RVshare rentals for the adventure.
3. Georgia O'Keeffe Home & Studio
Having certainly earned her title as the mother of American modernism, Georgia O'Keeffe was famed for her paintings of flowers, doors, and desert landscapes — which makes a lot of sense, since she called New Mexico home for much of her life. "Those hills — our waste land — I think our most beautiful country," she said about her adopted homelands, and you can see what inspired her so thoroughly when you visit her historic home and studio in the town of Abiquiu. On the guided tour of her home, you'll see the place where she spent her days living and working, and learn more about her unique lifestyle — as well as her penchant for collecting rocks. It's organized by the same society that maintains the Georgia O'Keeffe Museum down in Santa Fe, which is another spot that's well worth stopping by.
Things to do near the Georgia O'Keeffe Home & Studio: Abiquiu is a popular weekend getaway spot for Santa Fe and even Albuquerque locals, who take long dips in the lake or lay out in the sun on its small sandy beaches. O'Keeffe fans will also want to drop by nearby Ghost Ranch, which is still a working resort made famous by the painter. Here are some local RVshare rentals to consider for your journey!
4. Bandelier National Monument
We'll be frank: New Mexico is home to so many national monuments and other important historical, cultural, and natural preserves, we had to be choosy about which ones we included. But Bandelier National Monument is a sight to see that's simply too often overlooked: more than 33,000 acres of rugged yet colorful and thriving landscape, characterized by canyons and mesas, with preserved evidence of human inhabitants as long as 11,000 years ago. See the technologically impressive cave dwellings carved into the soft rock of the area and keep your eyes peeled for petroglyphs. Keep in mind that on some hikes, you may be faced with intimidating-yet-fun ladder climbs. Either way, you'll gain a whole new appreciation for this desert, which has actually been thriving with life, including human life, since time immemorial.
Things to do near Bandelier National Monument: Another (literal) hot spot worth visiting in this area? Valles Caldera National Preserve, which is characterized by an enormous geothermal surface — think of it as the southwestern answer to Yellowstone. The prairie dogs are cute, but look, don't touch; they actually carry bubonic plague! Here are some local RVshare rentals.
5. Palace of the Governors
The city of Santa Fe is well known for its scenic and exciting plaza, where events like the annual Fourth of July Pancake Breakfast and the International Folk Art Market are held. But no matter when you visit, you'll see the Palace of the Governors standing stalwart there along the northeastern side of the block, today operating as the New Mexico History Museum. While the museum offers a fascinating look at the history of the state, the building is a historical artifact in its own right. Dating back to 1610, it's the oldest continuously occupied public building in the United States, and served as the seat of the state's government for not decades, but centuries.
Things to do near the Palace of the Governors: The Plaza is always alive with something to see and do, and in front of the Palace of the Governors in particular, you'll see local Native craftspeople selling their wares. The prices are a lot better and the deal's a lot fairer than the ones you make with the folks who keep their goods in jewel cases — but even just browsing is fun. Here are some nearby RVshare rentals to check out and campgrounds to drive them to.
6. Meow Wolf
Weird name — and honestly, a pretty weird experience, too. But a great one! Meow Wolf is a one-of-a-kind immersive art experience that started in Santa Fe but has quickly been taking the country by storm, with new locations opening in Las Vegas and Denver. Along with the simple joy of wandering around The House of Eternal Return and trying to piece together the narrative, this place is also a beloved music venue drawing artists both local and world-famous. Plus, the mission running in the background is a great one: to harness the power of creativity to change the world. Hard to argue with that!
Things to do near Meow Wolf: Located a little further off the beaten path in Santa Fe, visiting Meow Wolf gives you the opportunity to see a side of town many tourists skip over entirely. We recommend, for example, popping by the Second Street Brewery Rufina Taproom for a pint or three, and maybe a friendly board game. Here are some local RVshare rentals and nearby campgrounds to stay in.
7. Walter White's House
Die-hard Breaking Bad fans don't need to be told that the show is set in the beautiful and unique town of Albuquerque — and there's a whole cottage industry that's sprung up in the city around giving people insider tours. One of the most popular stops? The house that featured as Walter White's home in the smash-hit TV series… but do be respectful and bear in mind that someone (who is not Walter White or Bryan Cranston) does actually live here, and they probably don't want to be gawked at at all hours. They definitely don't want you to throw a pizza onto their roof!
Things to do near Walter White's House: There are plenty of other Breaking Bad hotspots to see in and around Albuquerque, from the car wash to the hot dog stand where so many illicit deals went down. And, of course, Albuquerque is also home to Petroglyph National Monument and is surrounded by stunning wildernesses like the Sevilleta National Wildlife Refuge. Here are some local RVshare rentals and nearby Albuquerque campgrounds!
8. Truth or Consequences
It's not often that an entire city ends up on one of our landmark lists, but what can we say? Truth or Consequences is a special place — as you can tell from the name. It got that name, by the way, for airing an NBC radio quiz show of the same name, and officially changed from Hotspring to Truth or Consequences in the year 1950. However, its old name was no less accurate, and indeed this place is well-known for its incredible hot spring soaking opportunities. It's the perfect spot to head after a long journey of hiking, climbing, and enjoying the general outdoor adventure opportunities found across the rest of the state.
Things to do near Truth or Consequences: Head a short way out of town to visit the historic Old Cuchillo Bar & Hotel, which still operates today. Or continue south to the town of Hatch to learn where, exactly, all those famous chile comes from. Here are some nearby RVshare rentals for the journey.
9. White Sands National Park
It might not be the most famous national park in New Mexico (more on that in just a second), but it's certainly one of the most historically significant: White Sands National Park preserves what can only be called one of the natural wonders of the world, the largest dune field of white gypsum sand anywhere on the planet. Additionally, this is the place the United States government has used to test missiles and weapons as part of its defense efforts. It makes for a unique juxtaposition: a family-friendly place where you can run up the dunes only to sled down with your kids, but which also occasionally closes down so they can fire deadly technology into the wastes. Either way, one thing is for certain: it's a landmark you have to see to believe.
Things to do near White Sands National Park: Located in the southern part of the state between Las Cruces and Roswell, White Sands National Park is thoroughly remote but within easy reach of urban resources. Here are some nearby RVshare rentals to consider, and Leasburg Dam State Park is one nearby option worth scoping out for camping and exploration purposes.
10. Carlsbad Caverns National Park
Featuring more than 100 caves and widely considered to be a must-visit stop on any great American road trip, Carlsbad Caverns National Park lives up to its reputation, offering stunningly-decorated underground rooms so vast, they'll take your breath away. Listen to the drip-drip of the living structures of this cave that are still being shaped today, and see the power of what water and stone can do over stretches of time unimaginable to human beings. There are plenty of hiking trails up top for those who feel less than awesome about going underground, too!
Things to do near Carlsbad Caverns National Park: We'll be frank; Carlsbad Caverns is truly in the middle of nowhere, which is kind of the whole point! But you'll be comfortable regardless when you travel in one of our cozy RVshare rentals.
Planning an RV Trip to New Mexico
Given its vast desert landscape, New Mexico practically begs to be explored by RV — and we've got all the information and resources you need to make that epic RV trip happen!
For one thing, we've got you covered on the RV rental itself, of course, but we've also penned guides to the best campgrounds in the state, the top state parks worth staying in, and even its coolest urban landscapes like Albuquerque and Rio Rancho.
We hope you enjoy your New Mexico road trip — and we're sure by the time you leave, you'll count yourself enchanted, too.