Landmarks
April 8th, 2021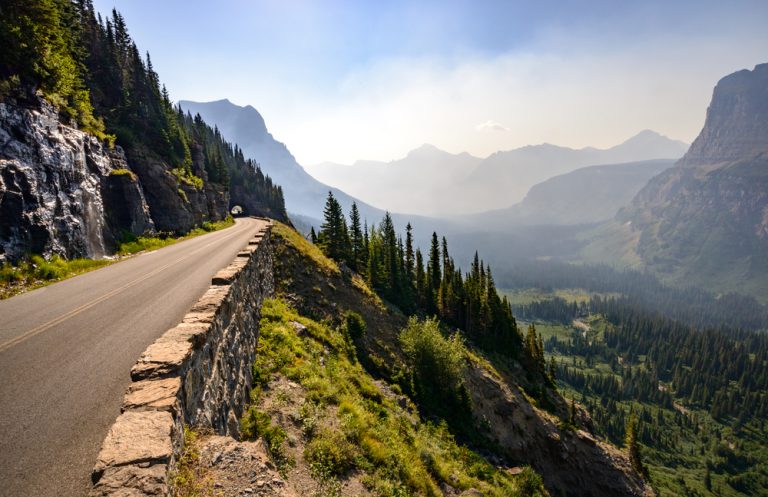 What is a Landmark?
Montana lives up to its mountainous name, filled to the brim with incredible natural land formations as well as important cultural and historical destinations that just can't be found anywhere else. Although there are dozens of landmarks to see while you make your way across the Big Sky State, we've compiled our list of the top ten not to be missed by any means for anyone visiting Montana.
What are Some Famous Landmarks in Montana?
1. Going-to-the-Sun Road
2. Great Northern Railway Buildings
3. Lake McDonald Lodge
4. First Peoples Buffalo Jump
5. Lewis & Clark Pass
6. Grant-Kohrs Ranch National Historic Site
7. Brennan's Wave
8. Virginia City
9. Pictograph Cave
10. Pompey's Pillar
Montana Landmarks
From north to south, from epic mountain sunrise to equally epic sunset, here are the Montana landmarks you don't want to miss.
1. Going-to-the-Sun Road
The main thoroughfare running through Glacier National Park, driving along Going-to-the-Sun Road really does feel like you're about to touch the sky. And the destinations it does actually lead you to are almost as incredible. Also sometimes abbreviated to simply "The Sun Road," this incredible highway is the first to bear all three of these distinctions: it's a National Historic Landmark, National Historic Place and a Historic Civil Engineering Landmark. Although only about 50 miles long and driveable in just a couple of hours (so long as you're there during the short window of the year when it's not snowed over), you could easily spend a week, month, or lifetime diving into all of the incredible adventures to be found in the wilds surrounding this stretch of asphalt. It's also one of the most difficult roads to snowplow each spring, which at this northerly clime often doesn't peek its head out until mid-June or so — it's often topped with as much as 80 feet of snow on top of Logan's Pass, and in some places, even deeper.
Things to do near Going-to-the-Sun Road: Glacier National Park is one of the most pristine wildernesses left in the world, filled with every kind of outdoor adventure opportunity your heart could desire. It's also surrounded by cute gateway towns, top-tier campgrounds and plenty of RVshare rentals.
2. Great Northern Railway Buildings
Another important Glacier National Park landmark that Going-to-the-Sun Road can lead you to: the Great Northern Railway Buildings, a collection of five separate park structures dating back to the early 20th century (circa 1913-1915) and which are each separately listed on the National Register of Historic Places. The Great Northern Railway buildings include the Belton Chalets, the Granite Park Chalet, Many Glacier Hotel, the Sperry Chalet, and Two Medicine General Store. Some of these structures are only accessible via hikes, and sometimes fairly long ones. Be sure to read up on all of them when you visit the park visitor center — and make a plan to see at least one or two!
Things to do near the Great Northern Railway Buildings: Need a slightly bigger city after spending some time in Glacier? The nearby town of Kalispell has resources like a Walmart and a movie theater, but is still only an hour away from this incredible wilderness. Here are the nearby campgrounds and RVshare rentals you need to know about.
3. Lake McDonald Lodge
We promise this is the last of the Glacier National Park items on our list… but what can we say, it really is an incredibly significant place, both naturally and historically. Lake McDonald Lodge was originally built in 1913 as a rugged-yet-opulent option for park guest accommodations — and it's still in service as a hotel today. Thematically decorated with furs and taxidermied moose and deer, with a piano in the main lobby for everyone to gather around and enjoy some tunes, the Lodge is a great stop to add to your Glacier itinerary even if you don't plan on staying the night. The onsite dining opportunities are also excellent — and, of course, there's a gift shop so you can get something for the folks you left at home! And did we mention that its location along the eastern shore of Lake McDonald means it has one of the best views not just in the park, but the state?
Things to do near Lake McDonald Lodge: Located close to the western entrance of the park at West Glacier, Lake McDonald Lodge makes for an easy day trip even if you don't have more in-depth adventures inside the park planned. The nearby city of Kalispell has you covered for any urban needs you might have, as well as the following nearby campgrounds and RVshare rentals.
4. First Peoples Buffalo Jump
Today ensconced in First Peoples Buffalo Jump State Park, this important natural and archeological site is the largest known buffalo jump in the United States — and perhaps the largest in the whole world. A buffalo jump is a cliff formation that Native Americans used in order to hunt buffalo en masse. It's a little grim, but here's how it worked: the hunters would chase the buffalo over the edge of the cliff, which would cause them to break their legs and be unable to move. At the bottom of the cliff, other hunters would be standing by with weapons and would move in to finish off their now-immobilized prey. The 1,400+ acre park offers plenty more to see than this historically bloody cliff, which has been a National Historic Landmark since 2015. It is one of only three protected buffalo jumps in the state, which boasts more than 300 bison kill sites total.
Things to do near First Peoples Buffalo Jump: Located close to the town of Ulm, half an hour outside of Great Falls, First Peoples Buffalo Jump is convenient to other wildernesses, like Tower Rock State Park and Helena-Lewis and Clark National Forest, as well as some great RVshare rentals.
5. Lewis & Clark Pass
Resting along the Continental Divide at an altitude of 6,424 feet above sea level, Lewis & Clark Pass was heavily used well before the famous exploration team came to "discover" it. Historically used by Native American peoples to get from the plains of eastern Montana to the dynamic landscape of the Columbia River Valley, Lewis & Clark Pass has been an important place since time immemorial — and is still a stunning spot to visit. Uniquely, this is one of the only spots along the Lewis & Clark trail that is not directly accessible via road, but rathe requires visitors to hike up to the spot. A road will take you within 1.5 miles of the pass, approaching from the west, but those last few thousand feet are all you… or a horse, if you happen to have one.
Things to do near Lewis & Clark Pass: Located in the woods that lie triangulated between Great Falls, Helena and Missoula, Lewis & Clark Pass is certainly a wilderness exploration adventure… which makes sense, given its name. Smaller nearby towns include Licoln and Milford Colony; here are some nearby RVshare rentals to check out.
6. Grant-Kohrs Ranch National Historic Site
Today, the wide-open west is synonymous with cattle ranching to most Americans — but it wasn't always that way. It all started back in the 1850s, which is around the time when a Canadian fur trader by the name of Johnny Grant first set up a cattle ranch at this site. Completed in 1862, what is today known as the Grant-Kohrs Ranch National Historic Site commemorates this important part of American history and celebrates the growth and evolution of the cattle industry as it continues today. Today, this landmark is operated and managed by the National Park Service, and offers visitors many unique ways to get a first-hand experience of life on the ranch. Still home to many livestock and staffed by helpful rangers who offer guided tours and information, there's so much to see and do at this important historical site.
Things to do near the Grant-Kohrs Ranch National Historic Site: Located only about an hour west of Helena, this historic site is close to both urban and other rural adventures, including nearby Missouri Headwaters State Park, Lewis & Clark Cavern State Park and others. It's also only minutes away from the fascinating Old Montana Prison Museum. Here are some nearby RVshare rentals to help you navigate the area in style.
7. Brennan's Wave
Think of it like a treadmill, except with water! Missoula is well-known for being the setting of A River Runs Through It, and indeed one does. And perhaps the most iconic part of the Clark Fork River, at least in these parts, is the unique man-made wave tucked close to the Higgins traffic and footbridge: you can find brave kayakers, surfers, and even body surfers taking to its adventuresome crest almost year round. Even if you're not ready to get wet, you can while away an afternoon on the sidelines watching the folks who use this wave as their own personal training zone for future river adventures… or simply a fun thing to do, even if it does all happen in one place.
Things to do near Brennan's Wave: Missoula is chock full of incredible art galleries, bookstores, coffee shops, and all other manner of cultural attractions and nerdery. Plus, it's home to the University of Montana, which keeps an energetic vibe in the air. Here are some nearby campgrounds and RVshare rentals to check out if you're looking for somewhere other than an Airbnb to stay!
8. Virginia City
It's not often that a whole city lands on our list as a must-see landmark, but what can we say? Montana is full of surprises. Virginia City — the whole town and surrounding areas of which have been designated National Historic Landmark District — is like a ghost town… except it's still alive. Originally founded back in 1863 as part of the gold rush that brought prospectors out to the west in droves, Virginia City experienced a relatively short boom, also experiencing a rise in seriosu criminal activity including murder and theft along the region's roads. But by the 1940s, its quickly-slapped-up structures were failing. Charles and Sue Bovey purchased the town and set to reconstructing it as an open-air museum, and today, most of it's owned by the state of Montana. Regardless, it's an incredible opportunity to explore first-hand one of these unique communities… especially since almost 200 people still call it their permanent home.
Things to do near Virginia City: Located south and between the cities of Bozeman and Butte, close to the corner where Montana meets Idaho and Wyoming, it's fair to say that Virginia City is in the middle of nowhere… but it's only a little more than an hour from the West Yellowstone entrance to Yellowstone National Park. It's also close to other wildernesses like Beaverhead Rock State Park and Bannack State Park; here are some RVshare rentals to consider for your journeys.
9. Pictograph Cave
Actually referring to an area with not just one, but three, caves, Pictograph Cave State Park is an important archeological region near Billings that helped scientists and historians figure out how long human beings have dwelled in this area. More than 30,000 different artifacts have been recovered and identified, including the bones of large mammals like elk and bison that were hunted for prey. Pictograph Cave itself is the largest of the three, and ancient paintings — also known as pictographs — can still be seen decorating its walls. Some of these may be more than 2,100 years old, while others are from as recently as 200 years ago.
Things to do near Pictograph Cave: Located immediately outside the city of Billings, Pictograph Cave makes for a great day trip for those staying in town… and is also surrounded by other amazing wildernesses, not the least of which is Yellowstone National Park. Here are some nearby RV campgrounds and rental rigs to peruse.
10. Pompey's Pillar
At just over 50 acres, the national monument surrounding Pompey's Pillar — a striking rock formation in south central Montana — is one of the smallest in the States. But the history preserved by this area is huge. This sandstone tower looms more than 150 feet over the Yellowstone River below, and the base itself has a whopping one-acre footprint. Native American petroglyphs can be seen on the pillar, which was also considered an important navigational aid. Case in point, look closely and you'll also find William Clark of the Lewis & Clark expedition's signature on this magnificent hunk of rock.
Things to do near Pompey's Pillar: Tucked along the southern shore of the Yellowstone River just a short drive east of Billings (near a small town of the same name), Pompey's Pillar is within easy driving distance of both urban and rural attractions. Here are some nearby campgrounds and RV rentals to browse if you need a place to stay.
Planning an RV Trip to Montana
An RV trip is perhaps the most ideal way to see Montana: you'll travel in the comfort of your own home on wheels through these rugged expanses. We have everything you need to take on the journey, including the best Montana RV rentals, information about the best campgrounds in the state, and guides to all the best state parks Montana has to offer.
We've also penned guides to Glacier National Park to the north of Montana and Yellowstone National Park to the South. So get out there and enjoy that big blue sky!