Landmarks
March 4th, 2021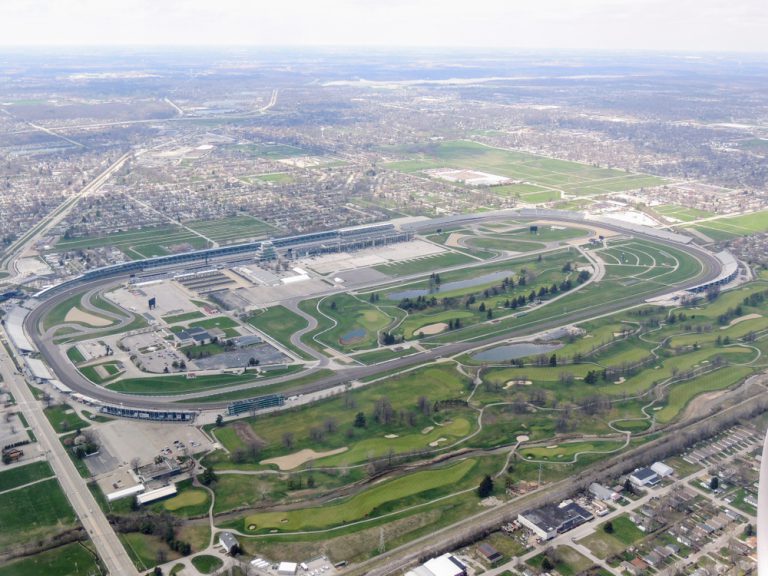 What is a Landmark?
Historically significant buildings, unmistakable landscapes, famous monuments and more: no matter what type of landmark you're looking for, Indiana's got 'em in spades. Anyone who's truly taken the time to explore this one-of-a-kind landscape knows it's anything but a flyover, and in this article, we'll dive into the very best landmarks to add to your itinerary in the U.S. state of Indiana.
What are Some Famous Landmarks in Indiana?
1. Indiana Sand Dunes National Park
2. Indiana Beach Boardwalk Resort
3. Indianapolis Motor Speedway
4. Conner Prairie
5. Soldiers & Sailors Monument
6. Mounds State Park
7. Clifty Falls State Park
8. Spring Mill State Park
9. Paoli Peaks
10. Hoosier National Forest
Indiana Landmarks
Here are the top 10 Indiana landmarks you don't want to miss as you make your way through the Hoosier State.
1. Indiana Sand Dunes National Park
One of the newest national parks in the registry, only designated as such in February of 2019, Indiana Sand Dunes National Park is a stunning stretch of 15 miles of Lake Michigan lakeshore, and it's well worth its new-and-improved category. Offering the kind of endless watery expanse normally reserved for oceanic coasts, not to mention the impressive sand dunes that are its namesake, this wilderness offers opportunities for hiking, biking, horseback riding, and other terrestrial outdoor recreation activities, not to mention the vast array of water-based sports you can also participate in upon the lake itself. Guided tours, ranger-led events and even a yearly outdoor adventure festival keep the park experience new no matter how many times you visit. (Be sure to check out nearby Indiana Dunes State Park, as well!)
Things to do near Indiana Sand Dunes National Park: Located close to lakeside communities like Gary and Michigan City, there are plenty of adventures to be had in the areas adjacent to Indiana Sand Dunes National Park. An RV is a great way to see it all; here are some nearby rentals!
2. Indiana Beach Boardwalk Resort
Tucked into the northeastern section of the state along the shores of where the Tippecanoe River becomes Lake Shafer, the Indiana Beach Boardwalk Resort offers a truly summery getaway, complete with a classic boardwalk feel, water park attractions, and more. Take a spin atop the iconic Ferris wheel or get your thrills on one of the many high-speed rides such as the Steel Hawg or the Hoosier Hurricane. For those looking for a slightly less shoulder-tensing experience, there are plenty of kid-friendly rides, not to mention games, eats, and other to-dos along the midway.
Things to do near the Indiana Beach Boardwalk Resort: Located in the small town of Monticello, the Indiana Beach Boardwalk Resort is within easy driving distance of a variety of beautiful Indiana wildernesses, many of which also offer camping accommodations. Check out Prophetstown State Park, Tippecanoe River State Park, or the Miami State Recreation Area, which is along the 24 on the way to Fort Wayne. Here are some RVshare rentals in the area.
3. Indianapolis Motor Speedway
There's a reason they call it the Indy 500 — it's short for the Indianapolis 500, and this famous race is far from the only one that takes place here at the Indianapolis Motor Speedway. Home of the IndyCar Series as well as the NASCAR Cup Series and others, this impressive racetrack is the largest sports venue of any kind in the entire world. Dating back to 1909 (though it's certainly undergone more than a few revisions over the century-and-change that's elapsed since), this track is an incredible feat of engineering to marvel at even if you're not into the races themselves… and if you are, it's an absolutely unmissable U.S. landmark. On-site camping is also available, as are guided track tours to give you an insider view.
Things to do near the Indianapolis Motor Speedway: Located just outside the bustling Indiana capital city of Indianapolis, the Motor Speedway is just minutes away from attractions like the Children's Museum of Indianapolis, the James Whitcomb Riley Museum and Historical Marker and more. Fort Harrison State Park, White River State Park and other natural areas are also within an easy driving distance; here are some great campgrounds and RVshare rentals in the area.
4. Conner Prairie
A unique living history museum that recreates and preserves 1836 prairie life along the banks of the White River, Conner Prairie is both a historical landmark and a fun destination for the whole family. Dedicated historical reenactors bring to life a variety of old time experiences, including the journey of the Civil War, the way of life at a Lenape Indian Camp, an 1859 hot air balloon voyage, and more. Visitors can also get up close and personal with a variety of farm animals and participate in a wide variety of educational programs such as Preschool on the Prairie, homeschooling programs and more.
Things to do near Conner Prairie: Another Indianapolis-area attraction, Conner Prairie is located in the northeastern fringes of town, close to wildernesses like Summit Lake State Park and Mounds State Park (this latter of which we'll get into in just a moment). Here are some local RV campgrounds that come highly recommended, as well as RVshare rentals to consider for your trip.
5. Soldiers & Sailors Monument
Nestled right into the heart of downtown Indianapolis, Soldiers & Sailors Monument is an iconic U.S. landmark that serves as the state's official memorial to the Indianans who served in many American wars, such as the Revolutionary War, the War of 1812, the Mexican War, the Civil War, the Frontier Wars and the Spanish-American War. This unique obelisk is composed of gray oolitic limestone and stands nearly 285 feet tall, which means it's just a scant 15 feet shorter than the Statue of Liberty. When it was built back in 1902, it cost more than half a million dollars, which translates to more than $13 million of today's dollars. A well-known city gathering spot and a must-have photo opp, this landmark is a great one to add to your itinerary.
Things to do near Soldiers & Sailors Monument: With its central Indianapolis location, the Soldiers & Sailors Monument is within walking distance of many museums, restaurants, shops, and attractions, not to mention the White River. Enjoy the city skyline and then make your getaway back to one of these excellent area RV parks in your RVshare rental.
6. Mounds State Park
The midwest is known for its fascinating and rich history of Native American culture, and Indiana is no different. Mounds State Park, located just off I-69, is the site of an ancient civilization populated by the Adena-Hopewell people, and is today home to 10 earthworks, including the characteristic mounds, that these people built. A variety of walking trails guide guests through this unique landscape, which offers both cultural history and natural beauty, and fun educational events are also held on the premises to help visitors gain even more understanding about the legacy of the place they're standing in today. There is also a nature center, swimming pool, and on-site campground which accommodates RVs and offers electrical hookups.
Things to do near Mounds State Park: Just less than an hour outside of Indianapolis, close to the town of Muncie, Mounds State Park is a wonderful place to enjoy an RV getaway. There are also other wildernesses in the area to explore, such as Summit Lake State Park to the south and Ouabache State Park to the north. Here are some area RVshare rentals to consider.
7. Clifty Falls State Park
Indiana might not be especially well-known for its waterfall-studded landscape, but make no mistake about it: there are falls here, and Clifty Falls State Park is one of the prime examples. Close to the town of Madison with entrances on both state road 56 and state road 62, this park offers access to beautiful and iconic cascades that are as stunning in the winter as they are in the summer, though the surroundings (and clothing requirements) certainly change. Even more intriguingly, the creek bed beneath these waters is loaded with ancient fossils that tell the story of a much different time, when this part of the country was submerged under the sea. Ancient corals, squid, and other creatures flourished here, in an area now known for its beautiful and rugged terrestrial greenery.
Things to do near Clifty Falls State Park: Located just off the Ohio River where the state of Indianapolis meets the state of Kentucky, Clifty Falls State Park is located less than an hour from Louisville, and is also close to the Big Oaks National Wildlife Refuge and other outdoor oases. Here are some RVshare rentals in the area to browse through.
8. Spring Mill State Park
Another unmissable Indiana state park, Spring Mill State Park is known for its unique caves and sink holes, and is also home to a quaint settlers' village and many structures built by the CCC back in the 1930s. The onsite Gus Grissom Memorial commemorates a local native resident of the town of Mitchell who was also one of the Mercury Seven astronauts who died in the failed Apollo 1 mission. The Spring Mill State Park Nature Center allows visitors an up-close look at live snakes and also features a bird-watching window as well as offering lots of informational and educational content about the park itself.
Things to do near Spring Mill State Park: About equidistant from Louisville and Bloomington, Spring Mill State Park is surrounded by smaller midwestern towns that dot this part of the state, and is also close to other area wildernesses like the Yellowwood State Forest and Brown County State Park. Click here to browse RVshare rentals in the area.
9. Paoli Peaks
Think you have to travel to the mountain west — or even the northeast — to get in a great ski sesh? Think again. Paoli Peaks is Indiana's own ski bowl, tucked into the southern part of the state at the outskirts of Hoosier National Forest, and is open to snowboarders, snowbladers, and tubers as well as those who tackle the slops traditionally. Built into a natural hill that stands just under 1,000 feet in elevation and offering 300 feet of vertical drop, this spot is very beginner friendly and offers onsite dining, lodging, and retail. Equipment rentals and lessons are also available for those starting absolutely from scratch.
Things to do near Paoli Peaks: Situated in the Indiana countryside close to communities like French Lick and Prospect, Paoli Peaks (and the town itself) are small, quaint, and sufficient. Louisville is only a short drive away if you're in search of something larger, and there are plenty of nearby RVshare rentals to make into your home-away-from-home on wheels.
10. Hoosier National Forest
This is the Hoosier State, after all, so you have to pay a visit to Hoosier National Forest, a sprawling wilderness of more than 200,000 acres that takes up a broad swath of the southern end of the state. Filled to the brim with outdoor recreation opportunities and criss-crossed with hiking trails, this unique forest is an incredible treasure trove for the adventurous, no matter what time of year you visit.
Things to do near Hoosier National Forest: Given the size of this national forest, it might be easier to talk about what's not nearby than what is — but suffice to say it's possible to get very thoroughly into the backwoods in this area if you want to. An RVshare rental makes it even easier to wave goodbye to the work-a-day world. Enjoy your getaway!
Planning an RV Trip to Indiana
As you can see, there's nearly no end to the incredible landmarks and other worthy to-dos in the state of Indiana — and an RV is a great way to get around and see them all. When it comes to planning your Indiana RV trip, we've got you covered.
Here are the best rental RVs in the state, along with the top 10 Indiana campgrounds and guides to the many state parks you might also call home. We've also written guides to the cities of Fort Wayne, Indianapolis, and the wilderness of Indiana Sand Dunes National Park.
Happy Hoosier-ing!