Landmarks
April 15th, 2021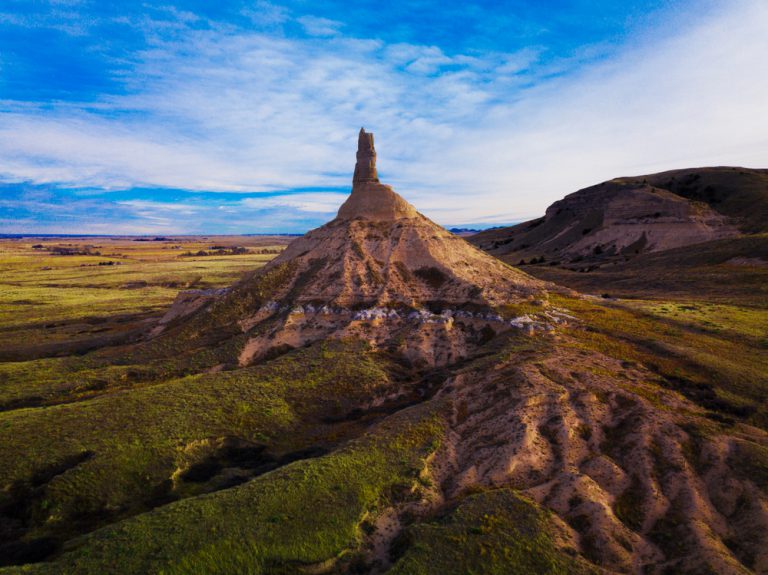 What is a Landmark?
From fascinating geological formations to important cultural sites, landmarks are places that let you know you're exactly where you are and nowhere else — and Nebraska has tons of them.
What are Some Famous Landmarks in Nebraska?
1. Carhenge
2. Scotts Bluff National Monument
3. Chimney Rock
4. Ash Hollow Cave
5. Willa Cather House
6. William Jennings Bryan House
7. Nebraska State Capitol
8. The Durham Museum
9. Fort Atkinson
10. Picotte Memorial Hospital
Nebraska Landmarks
From breathtaking landscapes to important historical sites, here are the top ten Nebraska landmarks you don't want to miss out on.
1. Carhenge
Just as its name implies, Carhenge, located just outside the city of Alliance in the northwestern portion of the state, is kind of like Stonehenge… but made of cars. Think of it like Stonehenge and the Cadillac Ranch had a baby. A weird, sculptural, roadside baby. Open year-round from dawn to dusk and free to the thousands of visitors who flock to this uniquely Nebraskan landmark, Carhenge has been named a Top 10 Attraction not just nationally, but worldwide by TripAdvisor users. And yes, it makes for a great Instagram pic!
Things to do near Carhenge: With population hovering just below 10,000, nearby Alliance is definitely a small town — but one that boasts several other must-see attractions. Stop by the Alliance Knight Museum and Dobby's Frontier Town to get a sense of what life was like in these Great Plains years ago. Plus, here are some nearby RVshare rentals to consider.
2. Scotts Bluff National Monument
Some places are so majestic and iconic, they serve as landmarks throughout historic — and Scotts Bluff National Monument is just such a place. Although today it's preserved and set aside by the U.S. government, this expansive and beautiful landscape, characterized as it is by towering rock formations, have provided a waypoint and inspired awe since the time when only Native Americans lived on these grounds. Then, as pioneers and Mormon travelers made their ways west, the bluff continued to serve as a navigational aid and also a sign that the journey was paying off. Today, visitors can get a better view of the bluff by either hiking or driving, and can also participate in educational and entertaining ranger-led events.
Things to do near Scotts Bluff National Monument: Just west of the tri-city area of Scottsbluff, Terrytown and Gering, this national monument is within easy reach of all the resources you need, from dining to shopping and more. It's also close to other attractions like Oregon Trail Park and the Wildcat Hills State Recreation Area. Here are some nearby RVshare rentals.
3. Chimney Rock
Yes, this landmark is actually located within another landmark on this list — Chimney Rock is a specific geological formation that can be found inside Scotts Bluff National Monument. But hear us out, because this unique rock spire is well worth its own place on our list, and certainly serves as a landmark in its own right. With a summit rising 4,225 feet above sea level (and 470 feet above the flowing Platte River below), Chimney Rock cuts a striking profile along the Nebraskan skyline, and like other parts of the monument has also been used as a waypoint since time immemorial. Fun fact: because of Chimney Rock's unique composition of clay, volcanic ash, and sandstone, it's susceptible to erosion… and has indeed lost 30 feet of height just in the last 150 years!
Things to do near Chimney Rock: The area surrounding Scotts Bluff offers several world-class golf courses as well as city parks and other local attractions. Whether you're wandering along the river or hitting the city streets, you can't go wrong — and there are plenty of RVshare rentals in the area to choose from!
4. Ash Hollow Cave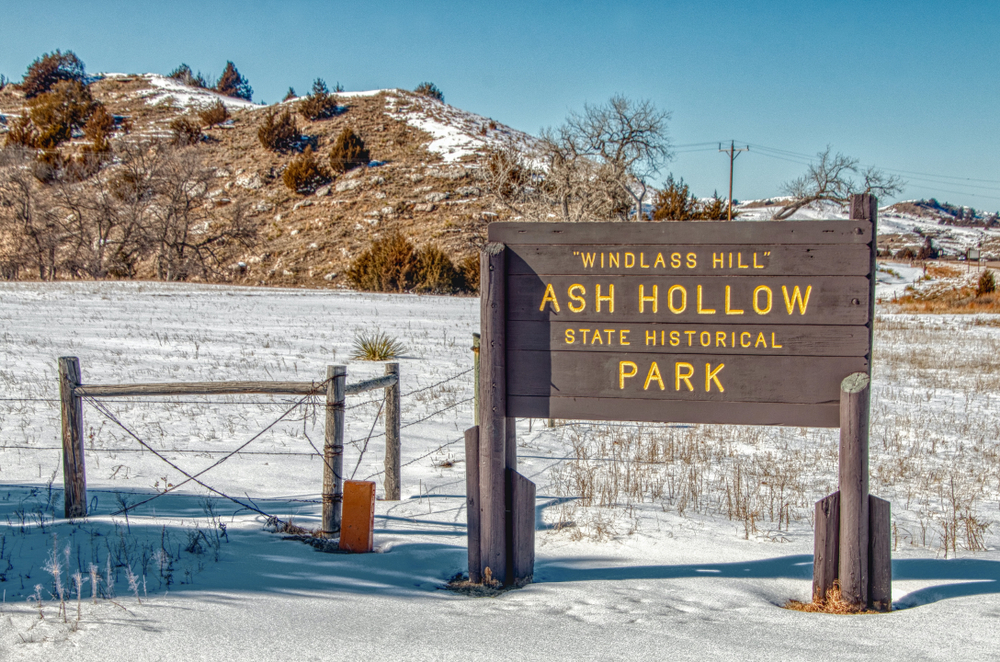 If you follow the Platte River southeast from Scotts Bluff, you'll find yourself close to the place where the Nebraska and Colorado borders meet — and you may also find your way to Ash Hollow Cave, which today is preserved and presented as part of Ash Hollow State Historical Park. Again, this landmark is one that's historical, cultural and geographical all at the same time, having served as a waypoint for covered wagon travelers during the days of the Oregon-California Trail. But the same benefits that tempted the pioneers to come here also drew in Native Americans, who used this space as a campsite for ages before white settlers ever stepped foot on the place. Speaking of stepping foot: be sure to look down as you explore these lands; in many places, you can still see the ruts from the covered wagons that made their way west here all those years ago.
Things to do near Ash Hollow Cave: Just five miles south of the town of Lewellin, Ash Hollow Cave is within easy driving distance of other outdoor destinations like the Clear Creek State Waterfowl Management Area and the Lake Mcconaughy State Recreation Area And Wildlife Management Area. There are also some wonderful RVshare rentals in the area!
5. Willa Cather House
Only a short distance from the Kansas border in the small town of Red Cloud, the Willa Cather House stands testament to the childhood and life of this well-known author. Although she was born in Gore, Virginia in the year 1873, Cather lived along with her siblings and parents in this house from 1885 until she turned 17 and went off to college. Cather continued to return to Red Cloud to visit throughout her life, and the structure was purchased by the Willa Cather Memorial and Educational Foundation in 1960, and then restored to its original condition. The house has been considered a National Historic Landmark since 1971 and is only one part of the larger Willa Cather State Historic Site.
Things to do near the Willa Cather House: A town of only a thousand or so residents, Red Cloud is undeniably small but sweet, with plenty of cute houses and a few dining options. It's also immediately adjacent to the Indian Creek State Wildlife Management Area and home to some great RVshare rentals.
6. William Jennings Bryan House
Tucked onto a lovely street in Lincoln is the William Jennings Bryan House, known also as Fairview — and indeed, it's a lovely sight to behold. This 1-1/2 story brick building with its combination of Classical Revival and Queen Anne Victorian styling was originally constructed back in 1902 as a home for — you guessed it — William Jennings Bryan, a Democratic politician who ran for President three times unsuccessfully. Although he couldn't attain the Oval Office, Bryan did enjoy a lovely study inside this structure, along with the many other rooms it has to offer. Bryan donated the house, along with 10 acres of land, to the Nebraska Methodist Conference to be used as a hospital back in 1921, and today, the hospital has grown up around the house, which is still under its ownership.
Things to do near the William Jennings Bryan House: Lincoln is so much more than Nebraska's capital city: it's a shimmering metropolis set into the idyllic scenery of the Great Plains. Enjoy iconic destinations like the International Quilt Museum or the Lincoln Children's Zoo, or head out to a nearby wilderness like Platte River State Park or Branched Oak State Recreation Area. Here are some nearby RVshare rentals to consider — and campgrounds to stay in!
7. Nebraska State Capitol
Perhaps the handsomest building in downtown Lincoln, the Nebraska State Capitol is a landmark both for its architectural impressiveness and its important cultural role. Constructed of Indiana limestone between 1922 and 1932, the building Nebraskans know and love today is actually the third state capitol building that's been constructed — which were preceded by two territorial capitals before that. This one is known for its striking silhouette; it's actually the first state capitol building to incorporate a working tower structure. This was an intention design choice by Bertram Grosvenor Goodhue, meant to set the landscape in contrast: "Nebraska is a level country and its capitol should have some altitude or beacon effect," he said. Take a guided tour to learn more information about this special building.
Things to do near the Nebraska State Capitol: Smack in the heart of downtown Lincoln, the Nebraska State Capitol is surrounded by must-sees, like the Nebraska History Museum and the Nebraska Statehood Memorial Historical Marker. And, of course, there are many great RVshare rentals in the area — and great campgrounds to park them in!
8. The Durham Museum
Tucked into the historical Union Station, once one of the most important transit sites in all of Omaha, The Durham Museum offers a stunning collection of artifacts and exhibits that both preserve and interpret the unique cultural history of this, the heart of our country. (Plus, it's just plain cool to walk around in an old train station and enjoy a sundae from an old-school soda fountain.) Along with its permanent and rotating exhibits, the museum also offers daily events and specially organized programs including a summer camp for the kiddos. It's truly fun for the whole family!
Things to do near the Durham Museum: The Durham Museum is enough of a destination that you probably won't be hurting for other things to do… but if you are, all of Omaha beckons. You're just steps from some of the hippest spots in town, replete with art galleries and restaurants. Enjoy!
9. Fort Atkinson
Dating all the way back to 1820, when it was established upon recommendation from no less than the Lewis & Clark expedition, Fort Atkinson was the first United States army outpost established on the west side of the Missouri River in what was then known as the Louisiana Purchase. It was built here because of its location atop a high bluff overlooking the river below, giving those who gathered and patrolled here some leverage against and advanced warning about approaching visitors. Fort Atkinson didn't operate for tolong, and was abandoned in 1827. But today, the entire area is a National Historic Landmark known as Fort Atkinson State Historical Park, and includes replica buildings constructed in the 1980s and 90s.
Things to do near Fort Atkinson: Less than half an hour outside of Omaha, Fort Atkinson is within easy reach of plenty of fun to-dos both urban and rural. If you need a break from the hustle and bustle of town, head to Summit Lake State Recreation Area — and check out these RVshare rentals and nearby campgrounds.
10. Picotte Memorial Hospital
There's a good chance you've never heard of Walthill, Nebraska… but you probably still owe it a debt of gratitude. It was here that Dr. Susan LaFlesche Picotte developed this unique hospital, also making a name for herself as the first female Native American medical doctor. The hospital continued to serve the community until the 1940s, and since then has served a variety of other purposes, including as a museum. Declared a National Historic Landmark in 1993, this hospital is a great stop for anybody who's fascinated by — or grateful for — the evolution of medical history.
Things to do near Picotte Memorial Hospital: Walthill may not be big, but it's got a cute main street area and is located only a short distance from Sioux City. Danish Alps State Recreation Area and other wildernesses abound in this area; here are some nearby RVshare rentals to consider.
Planning an RV Trip to Nebraska
An RV trip is the perfect way to see all the landmarks (and other goodness) Nebraska has to offer, and we've got everything you need to make it the trip of a lifetime. Check out our Nebraska RV rentals and our guides to the best state parks and campgrounds in the state, as well as our comprehensive guides to Omaha and Lincoln!