Landmarks
March 1st, 2021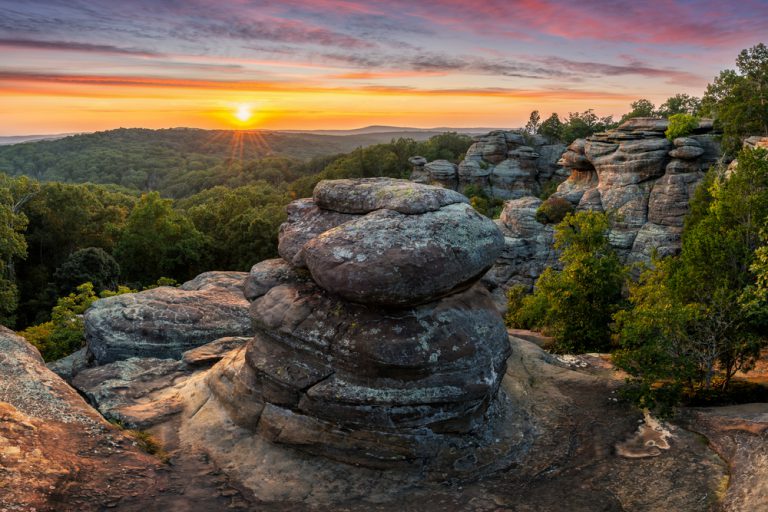 What is a Landmark?
From ancient Native American mounds to the most contemporary, high-tech buildings, Illinois has all manner of incredible U.S. landmarks to visit. From landscapes to man-made feats of engineering and everything in between, below, we dive into some of the best Illinois landmarks to put on the map for your next trip.
What are Some Famous Landmarks in Illinois?
1. Willis Tower
2. Millenium Park
3. Navy Pier
4. Mississippi Palisades State Park
5. Starved Rock State Park
6. Wildlife Prairie Park
7. Dana Thomas House
8. Rend Lake
9. Cahokia Mounds State Historic Site
10. Garden of the Gods
Illinois Landmarks
Here are just a few of the incredible landmarks worth exploring in the state of Illinois!
1. Willis Tower
One of the most recognizable landmarks in any U.S. state, Willis Tower is a stately building that stands 1,729 feet over the landscape of Chicago below at its tip (and 1,450 feet high if you're only measuring the building itself). With 108 stories along with a rooftop, this stunning skyscraper has been an iconic part of the Windy City's skyline since it was first erected in 1973, when it was then known as the Sears Tower. It also spent a good tenure as the tallest building in the world, reigning supreme in this superlative between the years of 1973 and 1988, when it was surpassed by the Petronas Twin Towers in Kuala Lumpur, Malaysia. For visitors, one of its most exciting attractions is the Skydeck, which allows the brave to stare straight down through a glass floor.
Things to do near Willis Tower: The city of Chicago abounds with incredible urban adventures to be had, from museums and art galleries to restaurants and more. It's also only a short drive to some incredible local natural spaces, such as James Pate Philip State Park and Indiana Sand Dunes National Park. Here are some area RV rentals and campgrounds to look into.
2. Millenium Park
Consider it Chicago's version of Central Park, if you will — though this 24.5-acre greenspace doesn't require any sort of comparison. Meritorious of a visit all on its own, Millenium Park is itself a landmark while also being home to yet another important U.S. landmark; it's a case of landmark-ception, if you will. (The secondary landmark in question: Cloud Gate, that iconic metallic sculpture locally known lovingly as "The Bean" and in front of which you must absolutely get an Instagrammable snap.) Originally opened in 2004, Millenium Park was four years behind schedule… which is why its name doesn't line up with its actual opening date. However, this park has been a cultural icon and must-see landmark for coming up on 20 full years now, so make sure you don't miss it.
Things to do near Millenium Park: Millenium Park is located right in the heart of downtown Chicago, where it's surrounded by other important attractions such as the Art Institute. Meanwhile, some great state parks are just a quick drive away — here are some rentable RVs in the area to consider for your vacation.
3. Navy Pier
Located within easy walking distance of Millenium Park, Navy Pier is both a landmark and a well-appointed tourist destination, filled to the brim with fun to-dos for the whole family. The pier itself has a long and storied history, having first been constructed and opened more than 100 years ago for military purposes. Today, though, the pier is teeming with green spaces, gardens, restaurants, and even carnival attractions; its beautiful Ferris wheel is a well-known sight, especially at night when it's lit up in colorful, shining lights. Have a bite to eat or a sip to drink on one of its rooftops and enjoy the sunset: the perfect end to a perfect day of people-watching and family fun.
Things to do near the Navy Pier: Another Illinois landmark that calls the city of Chicago home, the Navy Pier is both surrounded by and full of fun things to do… but there are also some great area getaways to consider. Check out these RVshare rentals and Chicago-area campgrounds to do some brainstorming!
4. Mississippi Palisades State Park
Traveling away from the hustle and bustle of Chicago, those who head west toward the big river will be rewarded when they arrive at Mississippi Palisades State Park. Close to the confluence of the Mississippi with the smaller Apple River, this 2,500-acre park is full of exciting outdoor recreational opportunities and also offers a well-developed RV campground with electrical hookups at over 100 sites. This park is a particularly good spot to witness the change of leaves come autumn, though it's got plenty of recreational opportunities all year round. It's also a quick trip across the border to check out some of the cities and wilderness areas to explore inside Iowa.
Things to do near Mississippi Palisades State Park: Located amongst a clutch of small towns right along the Illinois/Iowa border, Mississippi Palisades State Park is surrounded by other wildernesses such as Morrison Rockwood State Park or Iowa's Bellevue State Park, which offers another view of the river. Here are some RVshare rentals in the area to help make your vacation perfect!
5. Starved Rock State Park
Another one-of-a-kind wilderness Illinois residents are lucky to have in their own backyard, Starved Rock State Park offers a set of views that will make you feel like you've traveled much further afield. Characterized by carved sandstone canyons and serenely cascading waterfalls, this 2,300-acre wilderness is well worth the drive, no matter where you're starting from. (Plus, it's only a hundred miles from Chicago and there's RV camping right on-site, with spaces generous enough for big rigs that require hookups.)
Things to do near Starved Rock State Park: Surrounded by small but friendly midwestern towns like Hitt and Oglesby, there's plenty to explore in the area — but again, if you're in need of some brighter lights and bigger buildings, Chicago is only an hour and a half away. There are also other state parks in this area to explore and camp at, such as Matthiessen State Park, Buffalo Rock State Park, and Illini State Park, all of which trace the Illinois River. Here are some RVshare rentals in the area to consider.
6. Wildlife Prairie Park
Think of it like a zoo — except there are no cages to be spoken of. Located just outside of Peoria, Wildlife Prairie Park is an expanse of 1,800 acres that more than 150 animals representing some 60 species call home. All either are currently or once were native to this part of the midwestern United States, and visitors can stroll, hike, and even mountain bike through the areas to get more familiar with these creatures. Both private and organized community events take place on the premises, and educational programs are also available.
Things to do near Wildlife Prairie Park: Just minutes from Peoria, Wildlife Prairie Park is also conveniently located near Jubilee College State Park and all the worthy adventures the city of Bloomington has to offer. Here are some RVshare rentals in the area.
7. Dana Thomas House
Designed by Frank Lloyd Wright and constructed between 1902-1904 for Susan Lawrence Dana, who was heiress to a Rocky Mountain silver fortune, the Dana Thomas House is a stunning example of organic architecture, also including Japanese influence. Located in the town of Springfield, this landmark is open to the public with tours available, and also contains the largest collection of site-specific, original Wright objects.
Things to do near the Dana Thomas House: Springfield is awash with fun to-dos, such as the Henson Robinson Zoo and the Abraham Lincoln Presidential Library and Museum, Plus, don't miss area state parks such as Sangchris Lake State Park, Edward R Madigan State Park and others. Here are some area RVshare rentals to browse through.
8. Rend Lake
Fully 13 miles long and three miles wide, Rend Lake is a stunning, shimmering body of water that offers plenty of outdoor recreation activities no matter what time of year you visit. With more than 18,900 acres of water surface, Rend Lake is the perfect spot for those eager to fish, boat, paddleboard, swim, and more during the summer months, and is also a great spot for cross-country skiing and snowshoeing in the winter. Nearby bike trails, museums, and small communities offer lodging and dining opportunities, making the entire area into a perfect getaway location.
Things to do near Rend Lake: Tucked into the vast greenway west of St. Louis, Rend Lake is close to some other excellent outdoor spaces such as Wayne Fitzgerrell State Park and the Rend Lake State Waterfowl Management Area. Here are some area RVshare rentals to consider.
9. Cahokia Mounds State Historic Site
Just across the Mississippi from the big city of St. Louis, the Cahokia Mounds State Historic Site houses something truly unique and special: the remains of a pre-Columbian Native American city characterized most recognizably today by the earthen mounds these ancient inhabitants erected. Cahokia was no small town in its day; it was bigger than London was in 1250 CE. Along with simply walking the grounds, visitors can also check the on-site museum which displays artifacts and offers educational information about these, the original residents of Illinois.
Things to do near the Cahokia Mounds State Historic Site: Just outside of St. Louis and close to the mighty Mississippi and its confluence with the Missouri, there's a reason this spot has been an attractive place to live for eons. Today, there are plenty of things to see, do, and eat in this area, as well as some wonderful RV campgrounds and rentable RVs to explore with.
10. Garden of the Gods
Move over, Colorado: the east-side version of the Garden of the Gods is just as stunning as its more famous name cousin, with an incredible collection of rock formations sprawled across its 3,300-acre wilderness. Tucked away in the Shawnee National Forest, the Illinois Garden of the Gods natural area is home to a wide variety of hiking opportunities, from short and easy observation trails to longer and more challenging ventures. Equestrian trails and campsites are also available, and picnicking along the way is a popular option.
Things to do near the Garden of the Gods: Located in the southern tip of Illinois, Garden of the Gods isn't excessively close to any large communities, though there are plenty of small towns nearby for food and gas. Here are some RVshare rentals in the area to consider — they're the perfect way to experience this wild area.
Planning an RV Trip to Illinois
We hope this in-depth guide has helped you see just how much beauty Illinois has to offer — and we hope you're inspired to get out there and see that beauty with your own two eyes.
An RV trip is an excellent way to tour Illinois, and we've got all the details you need to make your vacation perfect.
First of all, we've written guides to the many amazing state parks in Illinois, as well as Indiana Sand Dunes National Park, which isn't technically in the state but is quite close by. We also have guides to the various Illinois cities for those after some urban adventure, as well as guides to the best 10 campgrounds in the state.
As always, we hope to provide the perfect RV rental for your Illinois trip, and if you rent from us, our customer service team will be standing by to help you every step of the way. Now what are you waiting for? Get planning — and then get going!