Landmarks
March 1st, 2021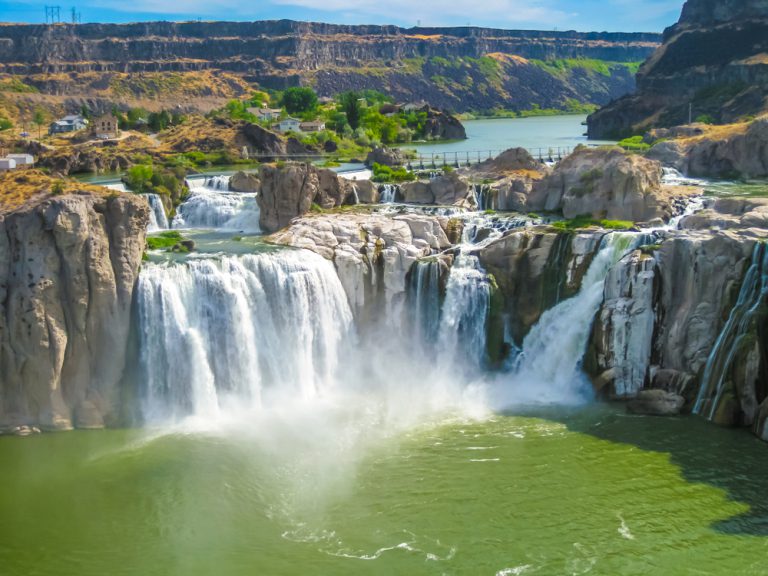 What is a Landmark?
Historical buildings, unique geological formations, lakes, waterfalls, and more — plenty of destinations can be considered landmarks, and Idaho has some of all of them. Whether you're in search of outdoor adventure, high-flying theme park fun, or a taste of history, there are some incredible U.S. landmarks worth visiting in the aptly-nicknamed Gem State.
What are Some Famous Landmarks in Idaho?
1. Oregon Trail
2. Old Idaho Penetentiary Site
3. Zoo Boise
4. Bogus Basin
5. Shoshone Falls Park
6. City of Rocks National Preserve
7. Craters of the Moon National Monument and Preserve
8. Redfish Lake
9. Borah Peak
10. Silverwood Theme Park
Idaho Landmarks
From historical buildings and footpaths to modern theme parks and more, here are some landmarks worth putting on your Idaho to-do list.
1. Oregon Trail
Yes, it may be named after a different state… but the Oregon Trail did travel through Idaho (about 500 miles of Idaho, to be exact!). Today, you can visit and even walk in those pioneers' footprints just southeast of the city of Boise. Several trail markers and interpretive centers are available along the way to help orient and educate visitors about this unique historical phenomenon — and, of course, you'll enjoy some incredible and unmistakably Idaho views along the way.
Things to do near the Oregon Trail: In need of a little bit of modern civilization after the simulated pioneer experience? Head to Boise for all manner of restaurants, shopping opportunities and museums to explore, or travel in your very own rental RV to take the covered wagon experience to the next level. Here are some great area campgrounds to consider!
2. Old Idaho Penetentiary Site
A functional prison between 1872 and 1973 — which is to say, fairly recently — the Old Idaho Penetentiary Site gives visitors a unique look into the history of prison and what prison life was like in the 19th and 20th centuries here in America. Along with the regular cell block, guests can take a peek into solitary confinement and even see the old gallows. Special exhibits offer the opportunity to see artifacts and also learn more in-depth historical information, and events such as cemetery tours and paranormal investigations are also held. Either way, this is truly a landmark building worth putting onto your Idaho itinerary, fascinating both inside and out.
Things to do near the Old Idaho Penitentiary Site: Located on the outskirts of Boise, it's only a short drive from the Old Idaho Penitentiary Site to beautiful wilderness destinations like Lucky Peak State Park and the Sawtooth National Forest. Here are some nearby RV campgrounds and rental rigs worth looking into.
3. Zoo Boise
Home to a wide variety of animals both common and endangered, Zoo Boise is a unique option for those looking to get wild without ever leaving the city. Get up, close and personal with giraffes, tigers, and red pandas, just to name a few, and consider participating in one of the zoo's many yearly events or educational programs. The zoo even hosts international travel programs that can allow you to see what these animals' lives are like in their native environments. For instance, recent excursions have gone as far afield as Mozambique, Africa!
Things to do near Zoo Boise: Located right in the heart of Boise itself, Zoo Boise is close by to other attractions like the Idaho Black History Museum and the Idaho State Capitol Building. There are also some great RV parks in the Boise area to check out, not to mention RVshare rentals to browse!
4. Bogus Basin
Idaho may not be as well-known as, say, Colorado as a skiing destination… but make no mistake about it, there is some incredible skiing to be done here. Bogus Basin, located just outside of Boise, is one of the most popular ski bowls in the area, offering 2,600 skiable acres of freshly groomed powder dotted with beautiful pine trees. Even if you're not about to take to the slopes on skis, there are plenty of activities you can check out and participate in, such as snowshoeing or winter tubing when the snow is falling, or scenic chairlift rides, hiking, and horseback riding in the summer. Lessons and rental equipment are also offered for those looking to get themselves going for the first time.
Things to do near Bogus Basin: Only 40 minutes outside of Boise, Bogus Basin is eminently accessible, while also tucked into the beautiful outdoor oasis that stands just outside of the city. Head a couple of hours further north to check out Lake Cascade State Park, and consider using an RVshare rental to compose your perfect vacation!
5. Shoshone Falls Park
A stunning waterfall located along the Snake River, Shoshone Falls is a must-see for anyone who finds themselves within an hour or two of the area — and they even offer some pull-thru RV spaces for those traveling in motorhomes and trailers. These landmark cascades stand 212 feet high and crash over a rim nearly 1,000 feet wide, meaning they've certainly earned their reputation as the Niagara of the West.
Things to do near Shoshone Falls Park: Located just outside of Twin Falls, Shoshone Falls State Park is close to all manner of restaurants, museums and other city attractions, as well as some great outdoor spaces. Niagara Springs State Park is one nearby option not to miss, and there are some excellent RVshare campers to browse in the area.
6. City of Rocks National Preserve
Only a short way off from the Utah border, City of Rocks National Preserve is a one-of-a-kind landscape characterized by towering granite rock formations — which makes it a very popular destination for rock climbers. However, even those with a fear of heights should put this landmark landscape onto their list, as the area is also prime for hiking, horseback riding, bird-watching, and other outdoor activities. It also holds a rich human history, originally inhabited by Shoshone and Paiute peoples before European settlers moved in and took the land. It was also part of the Applegate Trail, which travelers in covered wagons used on their way west to Oregon.
Things to do near the City of Rocks National Preserve: Located in the expanses approximately an hour and a half southeast of Twin Falls, this national preserve is also close to Idaho's Castle Rocks State Park, which does offer campsites. Here are some RVshare rentals in the area to consider.
7. Craters of the Moon National Monument and Preserve
We'll be frank: yes, Craters of the Moon National Monument and Preserve is kind of in the middle of nowhere. But once you arrive, you'll feel as though you've traveled much further. A surreal and alien landscape carved by ancient lava flows and marked by cinder cones and sage brush, this unique attraction can truly make a visitor feel as though they've shuttled off into space. A variety of above-ground hiking trails make for a great daytime adventure, and there are also cave tours available for those brave enough to venture underground into the network of lava tubes. In the winter, cross-country skiing and snowshoeing are popular, which means it's never a bad time to visit!
Things to do near the Craters of the Moon National Monument and Preserve: Located in the wilderness approximately equidistant from Twin Falls and Idaho Falls, this national monument is remote without being out of reach. Lake Walcott and Massacre Rocks State Parks aren't far off, and there are plenty of great RVshare rentals in the area to choose from.
8. Redfish Lake
A lake of almost 4.5 miles in length nestled into the Sawtooth National Recreation Area, Redfish Lake is an alpine body of water that exists at an elevation of about 6,500 feet — and it's an incredible recreational opportunity for folks from across the state of Idaho and beyond. Popular among boaters and anglers as well as folks simply hoping to camp, dine, or even get married along its scenic shore, this lake is certainly an Idaho landmark and a great choice for those in search of a summer getaway. Plus, if you get sick of being wet, there are some incredible hiking trails criss-crossing the surrounding forest areas!
Things to do near Redfish Lake: The nearest town to the lake is a small one called Stanley, which is full of lodging options, eateries and more. If you're looking for a bigger city, Boise is about three hours southwest, and Lake Cascade State Park is another area lake worth checking into.
9. Borah Peak
The tallest mountain in the state of Idaho, Borah Peak is tucked into the broad expanse of the Salmon National Forest and stands 12,667 feet above sea level with more than 5,000 feet of prominence. (This actually makes it the most prominent mountain in all of the contiguous U.S.!) While this landmark peak is stunning to look at from ground level, many adventurers find themselves inexorably drawn to the promise of "standing on the roof of Idaho," though doing so is no minor feat. Accomplished by a trail that climbs more than 5,000 feet in just about four miles of distance — and which also necessitates ice axes and mountaineering skills, depending on the season — only the most experienced outdoorspeople should attempt this lofty summit.
Things to do near Borah Peak: Located just about two hours outside of Idaho Falls, Borah Peak is close to other central Idaho wilderness attractions including Land of Yankee State Park, Ponderosa State Park, and others. Here are some RVshare rentals in the area worth considering.
10. Silverwood Theme Park
Considered the largest theme park in the Pacific Northwest, Silverwood Theme Park offers more than 70 rides and attractions, ranging from family-friendly options like the steam engine train to more high-intensity features like the Aftershock roller coaster, which features high-speed loops, inversions, and vertical drops, the longest of which is a full 177 feet. There are also waterslides and attractions including a toddler splashing zone, as well as plenty of fun fair food and shopping opportunities. Season passes are available for those who want to keep the fun going all year long.
Things to do near Silverwood Theme Park: Tucked into the Idaho panhandle just north of Coeur d'Alene, Silverwood Theme Park is close to Heyburn State Park as well as Mount Spokane State park just over the border in Washington. Click here for nearby RVshare rentals to check out.
Planning an RV Trip to Idaho
Traveling by RV is a great way to experience all the richness Idaho has to offer, and we've whipped up some great content to help you take it on! Here are our suggestions for the best RV trips to take in Idaho, and we've also written guides to the best state parks in Idaho as well as many of its major cities. Oh, and the best campgrounds in the state, too.
And as always, don't forget we've got you covered on the RV rental front. Now get out there and enjoy that Idaho sun!