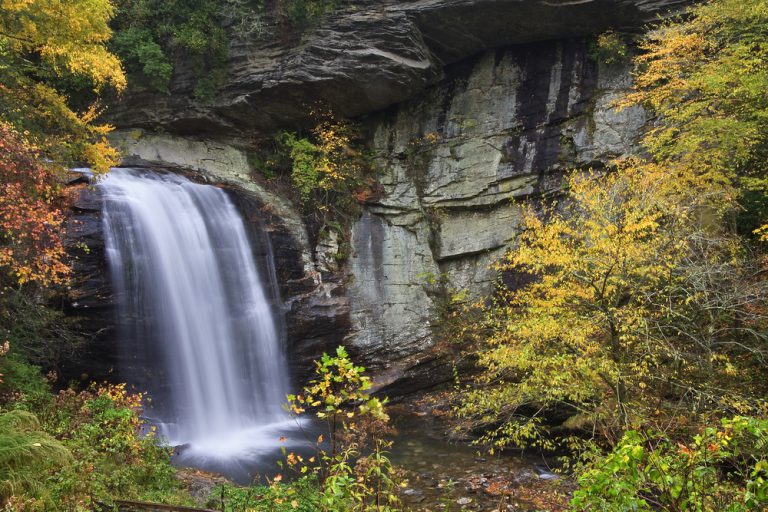 What is a Landmark?
From the shimmering oceanside in the east to the rugged hills and mountains that call visitors toward western North Carolina, the Tar Heel state has a veritable plethora of landmarks to discover, whether you're talking natural, cultural, historical, or all three. Here are the top 10 landmarks you don't want to miss on your next trip through North Carolina.
What are Some Famous Landmarks in North Carolina?
1. Clingmans Dome
2. The Biltmore Estate
3. Mount Mitchell
4. Looking Glass Falls
5. Sliding Rock
6. Reed Gold Mine
7. St. Peter Catholic Church
8. Wright Brothers National Memorial
9. Cape Hatteras Lighthouse
10. Battleship North Carolina
North Carolina Landmarks
From mountain overlooks and waterfalls to important historical memorials, here are the must-see landmarks in North Carolina.
1. Clingmans Dome
Tucked ever so slightly this side of the Tennessee border at the place where Great Smoky Mountains National Park straddles the state line, Clingmans Dome is a unique mountain observatory path that gives you a little extra boost up to better see the incredible sights that characterize this part of the country. Standing 6,643 feet tall with a prominence of 4,505 feet, this peak is the highest in all of the national park — and on a clear day, your view can extend for more than 100 miles. Trust us, it makes for an absolutely epic sunrise or sunset!
Things to do near Clingmans Dome: At well over half million acres, you could easily spend a lifetime exploring Great Smoky Mountains National Park — and we're not exaggerating. There are also plenty of excellent campgrounds in and around the park, as well as local RVshare vehicles to explore with.
2. The Biltmore Estate
Make no mistake about it, Asheville is chock-full of incredible attractions and destinations — easily worthy of a list all its own. But for those who make a point of knocking must-see landmarks off their list, we'd be remiss not to mention the Biltmore Estate, a sprawling 8,000-acre property known as America's largest home and built by none other than, you guessed it, George Vanderbilt. Today, the estate offers a historic house museum as well as a wide variety of other fun features, like on-site shopping and dining options, lodging, and more. But even if you limit your visit to the house itself — which is still quite a day, given it measures 178,926 square feet — you're in for a sumptuous treat for the senses. It's also been officially considered a National Historic Landmark since 1963.
Things to do near the Biltmore Estate: Ashville is well known for its unique combination of urban and outdoorsy adventure opportunities, and makes a great home base for those eager to explore the western North Carolina mountains. While you're in town, we recommend checking out Malaprop's Bookstore or catching a flick at Grail Moviehouse. Meanwhile, here are some local RVshare rentals and campgrounds to peruse.
3. Mount Mitchell
Clingmans Dome might bear the title for highest point in Great Smoky Mountains National Park — but when it comes to the highest point in the state of North Carolina, it's Mount Mitchell. In fact, Mount Mitchell is the highest point east of the Mississippi River, standing 6,684 feet tall and protected by the surrounding state park of the same name. Although can drive, hiking to the top of Mount Mitchell is also a possibility — although at more than 11 miles round trip and almost 4,000 feet of elevation gain, it certainly is an undertaking. No matter how you get there, at the top you can enjoy views from the observation deck and learn more about the mountain's cultural and natural history at the museum you'll find there.
Things to do near Mount Mitchell: Located only an hour or so northeast of Asheville in the gorgeous wooded areas that surround the city on all sides, Mount Mitchell is near many other exploration-worthy wildernesses, including Lake James State Park, South Mountains State Park and others. Here are some nearby campgrounds and RVshare rentals to sweeten the deal!
4. Looking Glass Falls
Another well-known Asheville-area attraction, Looking Glass Falls is less than an hour from the center of the city — but it would be worth the drive even if it were double that distance. One of its best features? Unlike many of the other waterfalls in this area (and there are plenty), Looking Glass Falls is a roadside cascade that's easily accessible to a wide variety of viewers; there's no need to take a long hike into the woods to enjoy the view. That said, plenty of visitors get out of their cars to go and sit at the foot of the falls and bask in its spray and negative ions… or simply to enjoy a scenic picnic.
Things to do near Looking Glass Falls: The Pisgah National Forest, which is where you'll find Looking Glass Falls, has plenty of other worthwhile natural attractions — more than a few of which are other waterfalls. Looking for a great way to get around and see 'em all? Here are some nearby RVshare vehicles that can help!
5. Sliding Rock
Okay, we promise not every item on this list is going to be in the Asheville area, but what can we say? Western North Carolina has a lot to offer. We had to add this beloved, family-friendly woodland destination to our list: it's essentially a giant, natural waterslide! Just be sure to brace yourself, because even during North Carolina's balmy summers, those mountain swimming holes can be COLD. You'll quickly forget about it as you're zipping down the 60-foot rock slide, though!
Things to do near Sliding Rock: Yet another outdoor wonderland attraction that's only an hour from the heart of Asheville, at this point, you know the drill: enjoy the breweries and boutiques in town and then get out there and enjoy the great outdoors! Here are the local RVshare vehicles that can make it affordable and cozy.
6. Reed Gold Mine
When you think of the history of gold mining in America, your mind might first wander toward California, not North Carolina. But the Reed Gold Mine, located in the south-central part of the state just a short ways east of Charlotte, was actually the first place gold was ever discovered in the U.S. — or at least the first place the discovery was documented. That was back in the 1800s. Today, the gold mine is a preserved historical site, offering guided tours and interpretive information to help shed more light on this unique and often-overlooked part of North Carolinian history — and the history of the South as a whole. Reed Gold Mine is on both the National Register of Historic Places and the list of National Historic Landmarks, and is certainly an important part of this area's past.
Things to do near Reed Gold Mine: The mine is only 45 minutes or so from Charlotte, which offers a bevy of world-class museums, restaurants and other attractions. There are also some beautiful and well-equipped campgrounds in the area to choose from — as well as RVshare vehicles to take to them!
7. St. Peter Catholic Church
The oldest Catholic church in the city of Charlotte — and the only Jesuit parish here — the beautiful St. Peter Catholic Church first opened its doors in 1893, and continues to offer masses and services on a weekly basis for its faithful congregation and any who wish to join. Both youth and adult-oriented education and spiritual formation classes are available for those looking to deepen their experience of worship, and even if you're merely popping by to take a look at the building, you won't be disappointed; its simple but stunning Victorian Gothic architecture has been done in dark brick, making for a very cunning profile against the more modern surrounding buildings that surround the church along the Charlotte skyline.
Things to do near St. Peter Catholic Church: Located close to the heart of the city of Charlotte, this church is close to many other attractions like the NASCAR Hall of Fame, the Harvey B. Gantt Center for African-American Arts + Culture, and the Mint Museum UPTOWN. And, of course, if you need to get out of town, there are some great area campgrounds to check into, as well as wildernesses like Chowders Mountain State Park, Morrow Mountain State Park, and others. Here are some local RVshare rentals to explore with!
8. Wright Brothers National Memorial
Whether or not you regularly participate in the miracle of human flight, you probably know how much we owe as a species to the brave Wright Brothers, who were the first to successfully pilot a heavier-than-air flying machine. That historic moment took place at none other than Kitty Hawk, North Carolina in the year 1903 — not all that long ago, when you think about it. Today, the Wright Brothers National Memorial offers visitors the opportunity to reflect on this stunning achievement of ingenuity as well as giving them the opportunity to learn more about this important part of our human history. Plus, given its location along the scenic Outer Banks of North Carolina, it makes for a great stop while exploring other must-see destinations in this area.
Things to do near the Wright Brothers National Memorial: Located on the more northerly end of the chain of barrier islands known as the Outer Banks, Kitty Hawk is surrounded by beautiful wildernesses with watery vistas on both sides — ocean and sound. Be sure to check out the Currituck National Wildlife Refuge, where you can see wild ponies frolick along the shoreline; here are some nearby RVshare rentals to consider!
9. Cape Hatteras Lighthouse
Another must-see in the Outer Banks, the 210-foot-tall Cape Hatteras Lighthouse bears the distinction of being the tallest brick lighthouse structure in the United States, and the second-tallest such structure in the world. And although it's the 15th tallest lighthouse in the U.S., that's due in large part to the fact that the first 14 in the list were built onto higher ground, whereas Hatteras's base is essentially at sea level. Like many lighthouses that dot the eastern seaboard, this tower has actually had a number of predecessors, the first tower having undergone damage in the Civil War. Thereafter, the encroaching sea forced operators to up and move the lighthouse, which given its size was no small feat. Visit for yourself to climb the historic building, see its sights, and learn even more about its history!
Things to do near the Cape Hatteras Lighthouse: Tucked into the crook of the elbow between Hatteras and Avon in the south part of the Outer Banks, this is another destination absolutely surrounded with stunning seaside vistas. nearby Ocracoke is home to a cemetery where WWII soldiers rest, and all of the shoreline offers plenty of great seafood dining opportunities. Here are some local RVshare rentals!
10. Battleship North Carolina
Moored in the eerie-sounding Cape Fear River in the town of Wilmington, Battleship North Carolina both memorializes and educates the public about the ship preserved here, which served in World War II. This ship is the lead ship of the North Carolina class of battleships, and was also the very first vessel of its type commissioned and built for the United States Navy. Today, you and your family can climb aboard to imagine what life was like behind her hull and to learn more about the important role she served in our nation's history.
Things to do near Battleship North Carolina: The city of Wilmington offers plenty of fun to-dos, and tucked into the southeastern part of the state, there are plenty of great beaches to discover in the area. Here are some nearby RVshare rentals to consider for your journey!
Planning an RV Trip to North Carolina
Ready to experience North Carolina's landmarks for yourself? We've got everything you need to plan an epic RV trip to the state! For one thing, we've got your back when it comes to the RV rental itself… but we've also helped find the very best campgrounds to stay at while you're making your journey.
Additionally, we've penned guides to the best state parks in North Carolina as well as Great Smoky Mountains National Park, many of whose acres lie within the state's borders. Oh, and we covered the to-dos in major North Carolina cities, too; it's all about balancing the urban and the natural, don't you agree?
Enjoy your trip!