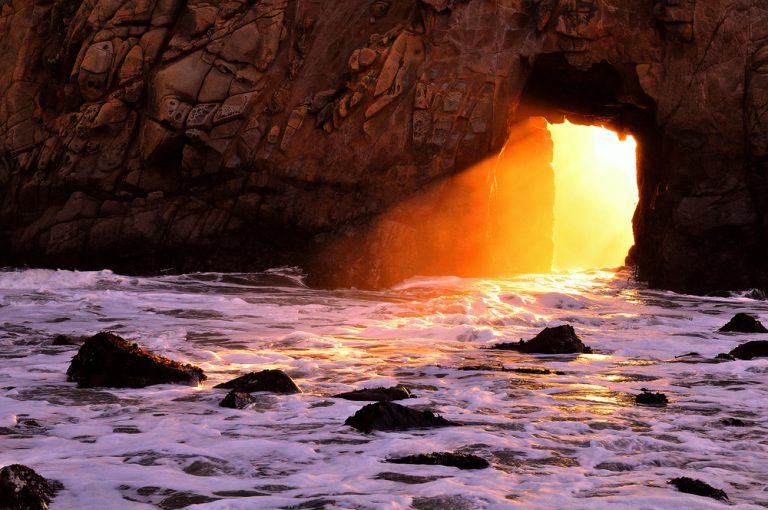 What are the Most Popular Beaches in California?
In some states, just naming ten beaches is a bit of a challenge — but in California, travelers face the opposite problem. With so many sea-and-sunswept miles of coastline to explore, how can you ensure you're catching all the best waves and sunsets?
Fortunately, we've done the research to ensure you won't miss any of the absolute best beaches in California… though there are surely many more worthy destinations that won't make a place on this list. Still, let's dive into the top 10!
Top Beaches in California
1. Coronado Dog Beach
2. La Jolla Shores Beach
3. Main Beach of Laguna Beach
4. Zuma Beach
5. East Beach of Santa Barbara
6. Sand Dollar Beach
7. Pfeiffer Beach
8. Carmel Beach
9. Seabright Beach
10. Pebble Beach of Crescent City
California Beaches
Without further ado, here are ten absolutely essential California beaches!
1. Coronado Dog Beach
Sure, the main Coronado Beach is stunning as well… but at RVshare, we're always going to have a soft spot for the places where we can bring the doggos, too! Set your pup free from their ever-present leash and sit back to enjoy the sunset on this lovely stretch of white sand, where you'll be within eyeshot of the rolling Point Loma headland and the famed Hotel del Coronado, not to mention everyone else's pups romping along with yours. This beach also offers easy access to restrooms for your comfort and convenience.
Things to do near Coronado Dog Beach: Coronado is one of the most famous zones in San Diego, close to all of the main downtown attractions like the San Diego Zoo and the Maritime Museum of San Diego. And, yes: even though this is a big city, there are great camping opportunities nearby! Here are the best local RVshare vehicles to get you there in comfort and style.
2. La Jolla Shores Beach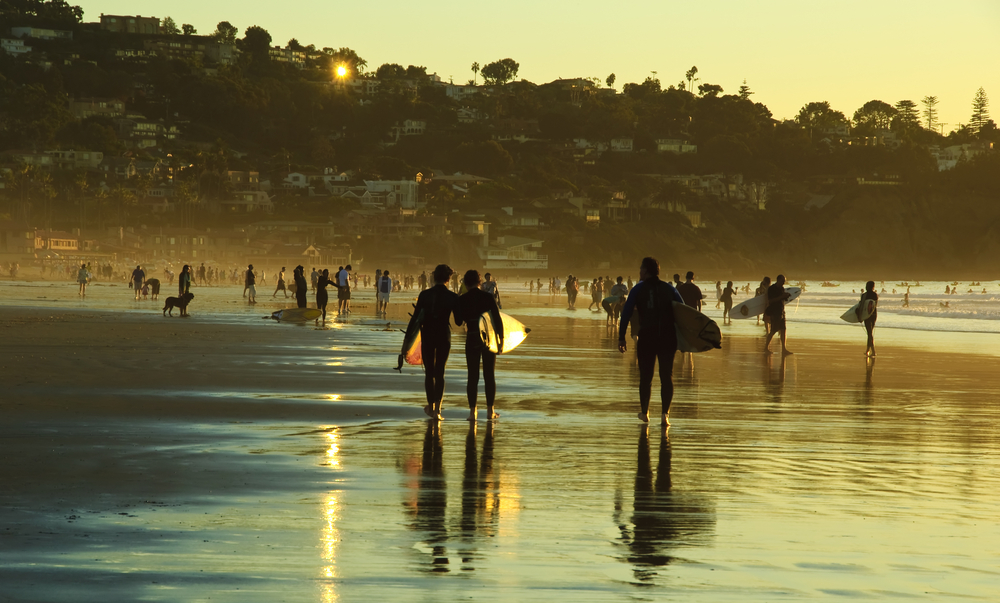 La Jolla has long been something of a legend amongst southern California beaches, and for good reason: although it's only a mile long, the waves that caress this stretch of shoreline are some of the gentlest in all of San Diego. So while it's not a great option for those attempting to hang ten, it is the perfect getaway for people looking for a calmer, more relaxing beach day. Plus, thanks to its proximity to the San Diego La Jolla Underwater Park Ecological Reserve, these waters are filled with some of the most diverse sea life you'll find anywhere… which is why this beach is also the site of many novice SCUBA classes and offer great opportunities for snorkelers, too.
Things to do near La Jolla Shores Beach: Located on the northern end of San Diego, La Jolla Shores Beach is close to attractions like the Birch Aquarium at Scripps Institution of Oceanography and the Mt. Soledad National Veterans Memorial. Here are some local RVshare rentals and campgrounds to consider for your journey!
3. Main Beach of Laguna Beach
Laguna Beach is a city so blessed with seasides that it has to name its various beaches — and this large, centrally located stretch of sand is considered by many to be the main attraction. Main Beach is known for its broad, sandy expanse, which invites visitors to stretch out and make themselves at home, as well as amenities like volleyball nets, playgrounds, and lifeguard stations. At low tide, when the surf recedes, you can walk amongst the tide pools that line the shore, offering an up-close glimpse into life beneath the waves. Do be aware that rip currents are common in this part of the state, so take caution if you're planning on swimming!
Things to do near Main Beach of Laguna Beach: Continue a bit further north to nearby Heisler Park, which offers more waterfront and tide pools to explore, as well as Picnic Cove's Recreation Point, which offers public art installations and even more sweeping Pacific views. Meanwhile, the large expanse of Crystal Cove State Park looms just above it all. Here are some local RVshare rentals and campgrounds to browse.
4. Zuma Beach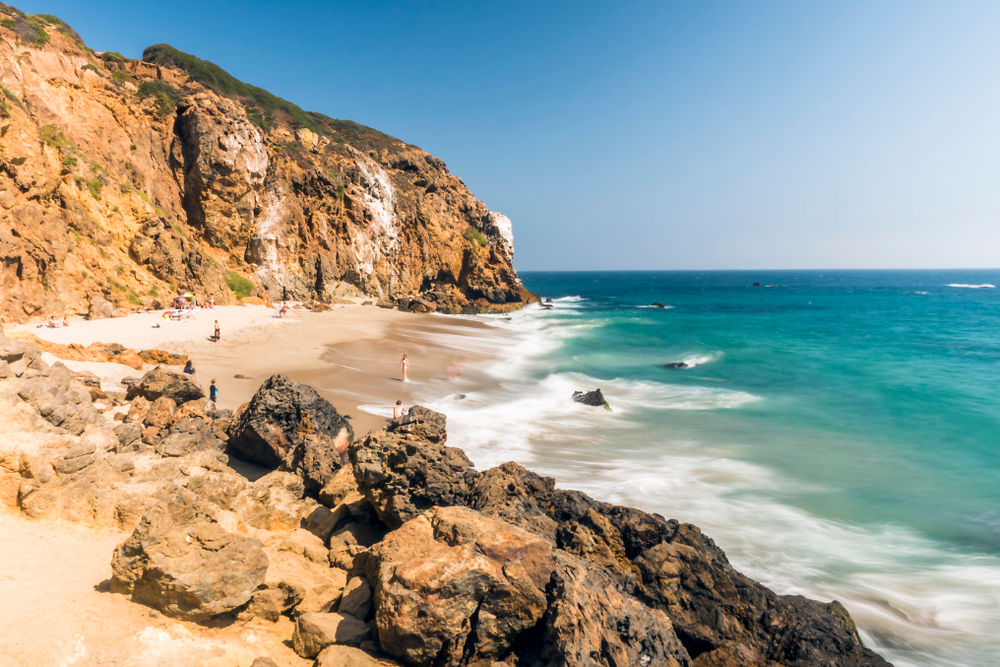 Malibu is another part of the southern California coast that's well-known for its many striking seafronts, but Zuma Beach lands on best-of lists time and again. Wide, covered in white sand, and offering miles of shorefront to stretch out on, Zuma Beach offers a bevy of amenities to make visits more comfortable, and although the waters are a bit colder than some other California beaches', people do enjoy swimming, windsurfing and body surfing along the shore. In the winter, lucky visitors to this beach may spot gray whales as they make their migration. There's even a bus stop at this beach — they've thought of everything!
Things to do near Zuma Beach: Located immediately north of Point Dume State Beach and close to other pristine wildernesses like Leo Carrillo State Park, Malibu Creek State Park and Point Mugu State Park (just to name a few), Zuma Beach is located in the midst of a rich and diverse natural landscape ripe for exploration. Here are the local RVshare vehicles that can help you do so comfortably.
5. East Beach of Santa Barbara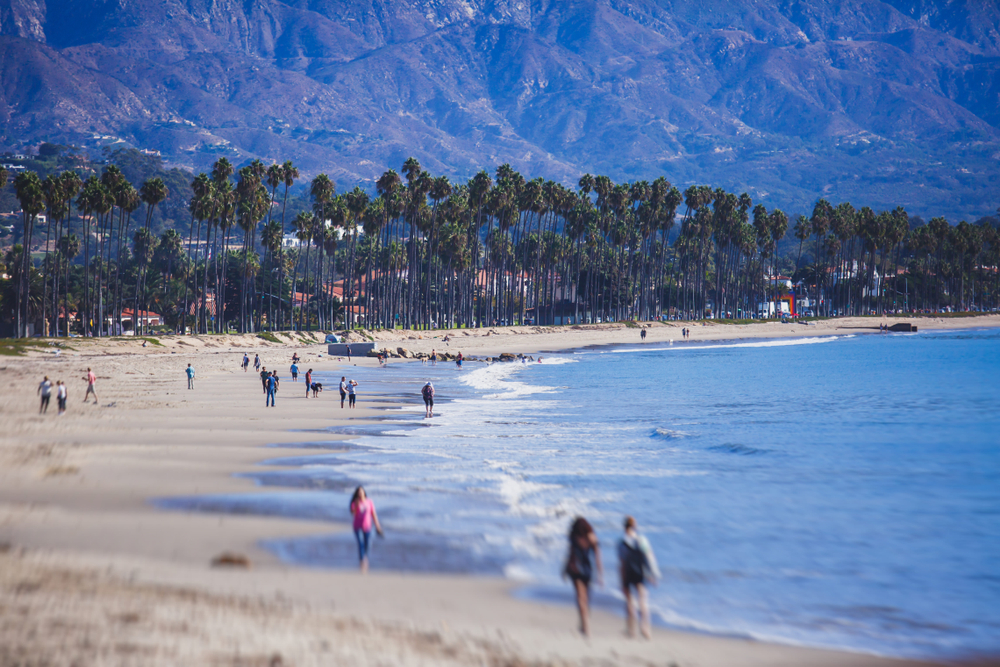 Considered by some to be the start of the central California coast, Santa Barbara is bejeweled with many beautiful beaches — but East Beach stands out from the crowd. Often the first that visitors set their sights on once entering city limits, East Beach is known for its broad swath of smooth sand and well-developed amenities, such as beach volleyball courts, a grassy picnic area with tables, an arts pavilion and even a restaurant. Tall palm trees offer an iconic skyline backdrop for the epic sunset photographs that are frequently taken here, and the area is lined by a greenway that contains iconic landmarks like Santa Barbara's Chromatic Gate.
Things to do near East Beach of Santa Barbara: Santa Barbara offers a tantalizing mix of urban and outdoorsy adventures, from cultural and historic landmarks like the Old Mission Santa Barbara to nearby preserved landscapes like Chumash Painted Cave State Historic Park and the Cachuma Lake Recreation Area. And, of course, from East Beach you'll be able to set eyes on Stearns Wharf, which is populated with restaurants, shops, and an aquarium — well worth a visit. Here are some local RVshare rentals and campgrounds!
6. Sand Dollar Beach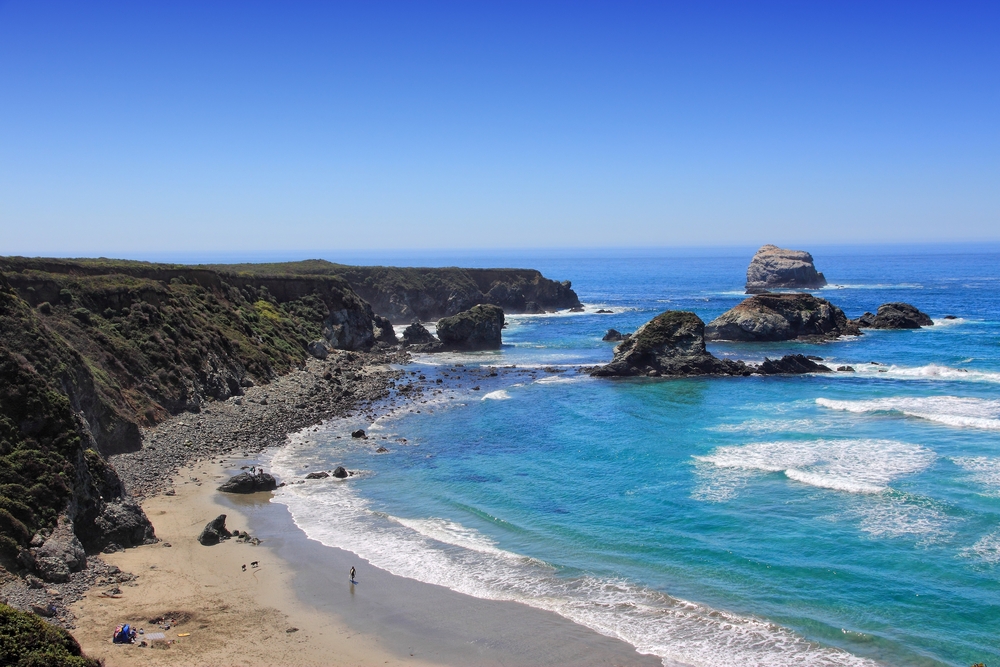 Essentially the definition of a hidden gem, Sand Dollar Beach is situated along California's epic Big Sur coast, and its views do not disappoint: crashing waves punctuated by large boulders in the midst of the sea, dramatic rock faces, the concentric white lines of the surf slowly but surely eating away at the coastline… you really have to see it to believe it. And since this one is a relatively small beach that's very easy to whip right past as you make your way up (or down) the Pacific Coast Highway, the even better news is that you're very likely to have the place to yourself to snap all the Instagram pics your followers can handle. The beach is undeveloped aside from a parking lot and primitive toilets.
Things to do near Sand Dollar Beach: Located along a mostly unpopulated part of the Big Sur coastline, there's really not much to do near Sand Dollar Beach… unless you count the other endless breathtaking viewpoints you're sure to encounter within miles of this stop. Limekiln State Park, which offers a limited but beautiful campground, is only a few more miles north — here are some local RVshare rentals to take there.
7. Pfeiffer Beach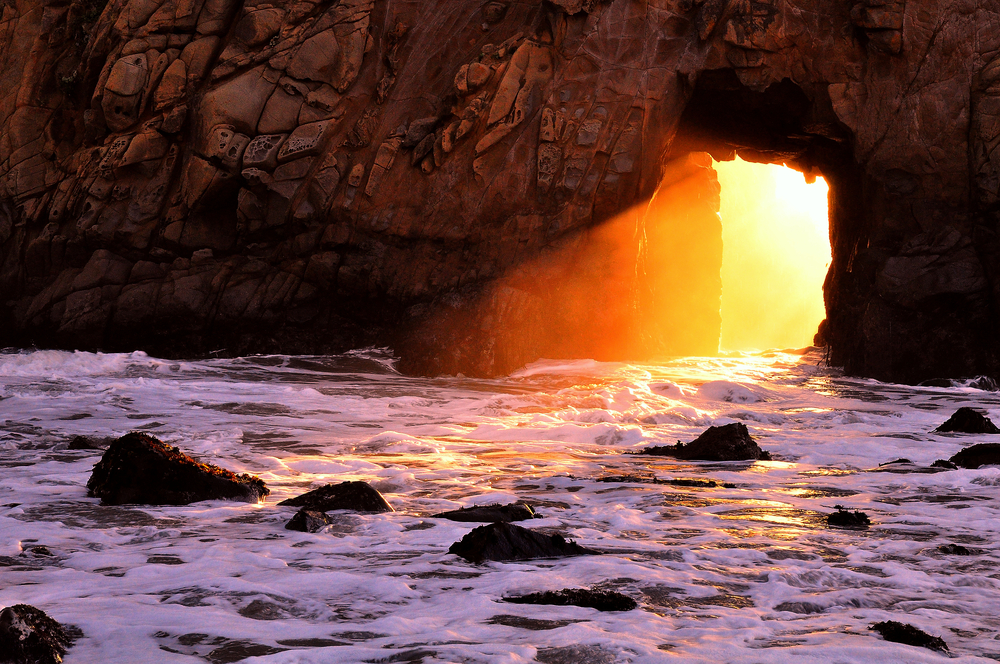 Although it's Big Sur's most popular waterfront, Pfeiffer Beach is still definitely off the beaten path — so much so that it can be a little tricky to find. But if you stay the course, you'll reap huge rewards, not least the opportunity to see the sun gleam through the iconic aperture in one of the area's dramatic rock formations, otherwise known as the sun portal. The beam is most prominent about 40 minutes before sunset, but many photographers recommend showing up as early as two hours beforehand to get set up and make sure you've got a great angle. And besides, it's not like any time you spend at this stunning stretch of coast will be wasted.
Things to do near Pfeiffer Beach: Just south of Andrew Molera State Park, and not far off from Pfeiffer Big Sur State Park, Pfeiffer Beach is another location situated in the midst of an eminently explorable set of wildernesses. From hiking to rock climbing to simply enjoying the scenery, there are few places in the world riper for an RV camping trip; here are some great rental vehicles to help you make it happen!
8. Carmel Beach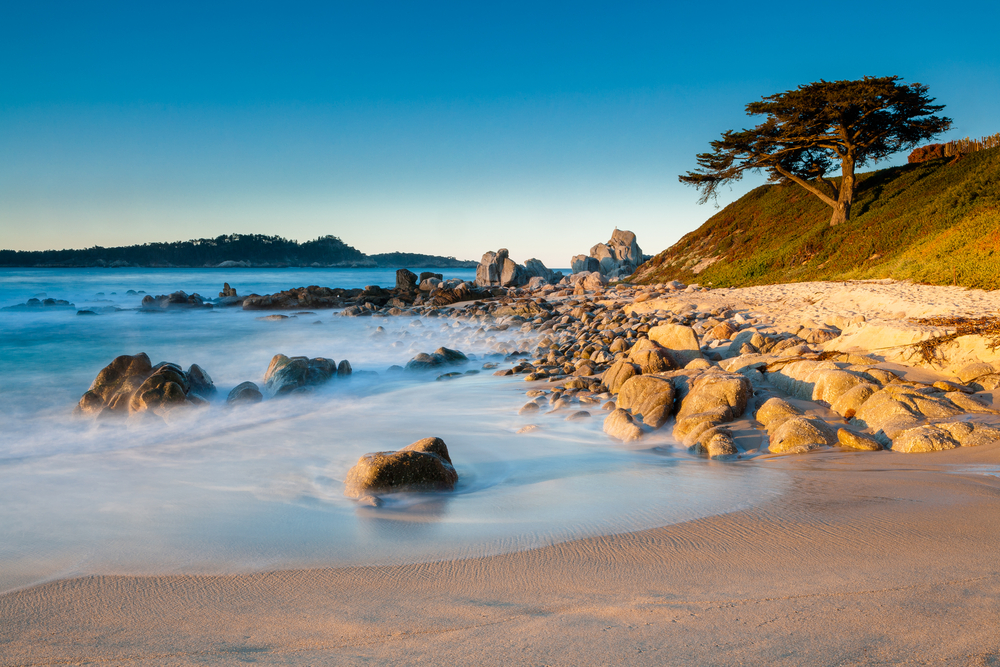 Denoting the northern terminus of the stunning Big Sur Drive, Carmel-by-the-Sea and its neighboring town of Monterey are lucky to have so many beautiful beaches in their backyard. The plainly named Carmel Beach may just be one of the prettiest in the entire state, not just the north-central coast area, and it's directly adjacent to yet another wonderful dog beach for those who want to let their pooch roam free. This area is popular among surfers and walking trails wind along the tree-strewn landscape alongside the coast, making for a perfect all-in-one beach day getaway, NorCal style.
Things to do near Carmel Beach: If you have yet to wander the cute shops and tasting rooms of Carmel-by-the-Sea, do take some time to acquaint yourself with this adorable seaside town — not to mention the world-class destination that is the Monterey Bay Aquarium. Here are some local RVshare vehicles and campgrounds to help you make the most of the experience.
9. Seabright Beach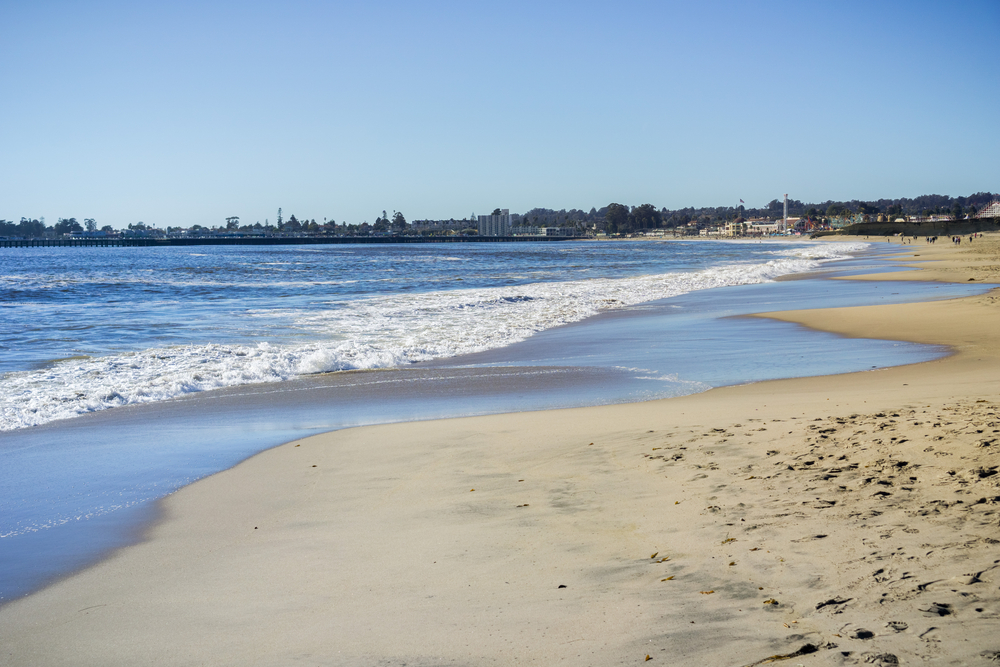 A quintessential California beach experience, Santa Cruz's Seabright Beach offers a stunning view of the local anchorage as well as the iconic Walton Lighthouse, making for the overall effect of having stepped into a storybook. Thanks to its rambunctious surf, this beach is also beloved by local surfers, and is populated by lifeguards during the busiest seasons to help keep everyone safe.
Things to do near Seabright Beach: One of the coolest things about Santa Cruz is its unique mix of hip, chilled-out beachside and more rural valley farmlands. We highly recommend giving yourself plenty of time to get acquainted. If you only have a few hours to spare, at least check out the Santa Cruz Museum of Natural History — it's right across the street from the beach, after all! Here are some local RVshare rentals and campgrounds to check out.
10. Pebble Beach of Crescent City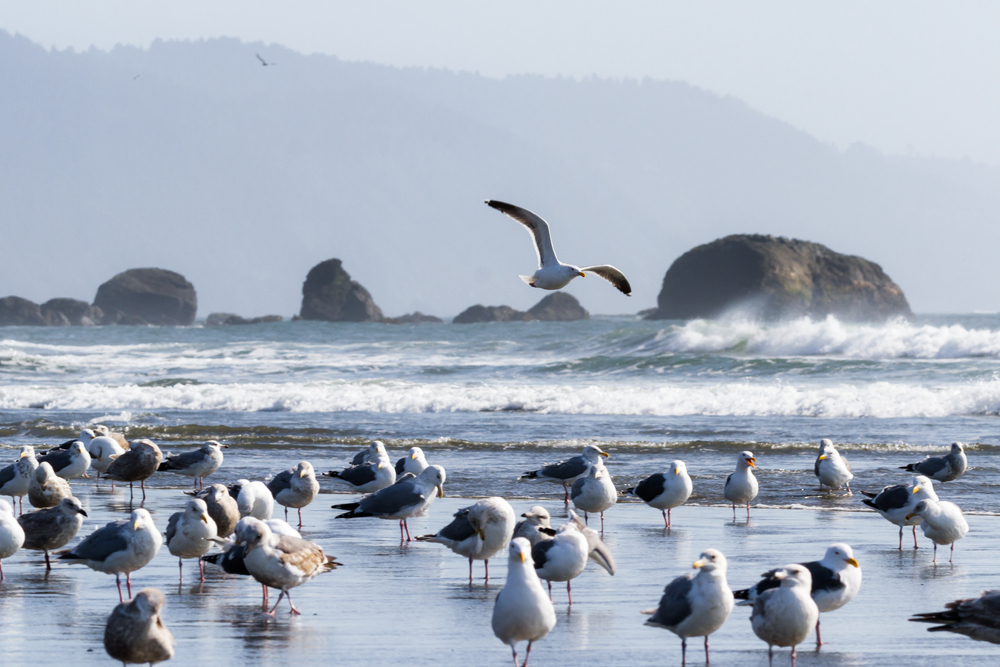 Don't get tripped up — there are a wide variety of seascapes called Pebble Beach in California, including an entire town in the Monterey Bay area. But head considerably further north, toward where the redwoods begin to creep right up alongside the ocean, and you'll find one of the best and most often overlooked: Pebble Beach of Crescent City, which is actually more like a collection of coves connected together like a glorious oceanside string of pearls. Multiple parking areas make for easy access, and there's dedicated fishing and picnicking areas as well. Along the north end, you may catch sight of sea lions frolicking at the Castle Rock National Wildlife Refuge — and no matter where you are on this beach, the views will knock your socks off.
Things to do near Pebble Beach of Crescent City: Crescent City is something of the gateway city to California on the north end, and is within a stone's throw of Jedediah Smith Redwoods State Park, widely considered one the best places in the world to see these massive trees — and for good reason. Redwood National Park lies considerably further south, but may just be worth the drive; here are some local RVshare vehicles so you can make the trip in comfort and style.
Planning an RV Trip to California
As you know, beaches are just one part of the draw to California, a state characterized by many different beautiful ecosystems and landscapes. We've put together the resources you need to make for a one-of-a-kind California RV trip.
We've got you covered on the RV rental front itself, of course. Then there are the many state parks and campgrounds in the state — we've documented the best ones to stay in and explore. We've covered all the national parks in America, including the nine in California. And, of course, we've also penned guides to many of the urban centers that also draw tourists to California.
We're always waiting to hear about how your trip is going on our social media channels — so tag us in your pics while you're out there enjoying the sand and sun!