How Tom and Marcie Make Money Renting Their RV
RV Owners
July 11th, 2017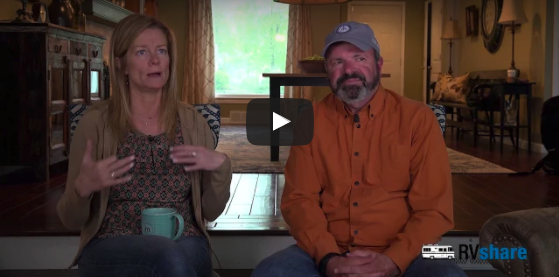 It wasn't long ago, in the summer of 2016, that Tom and Marcie even began considering the idea of traveling via RV. By October, they were owners of a beautiful Class C RV. Within four months of their purchase and after making a few payments on their new motor home, they were giving RVshare a go. By April of 2017, Tom and Marcie had $21,000 of reservations in the books.
While their introduction to the RV world was fast and furious, Tom and Marcie wouldn't have done it any other way. Here, they generously offer tips, advice and insight into RVing and listing on RVshare from which novices and experts alike can gain.
Why did you begin considering RV travel and how did you decide on the type of RV to buy?
Tom: Last summer, we came up with the idea that we wanted to start traveling in an RV versus flying in planes. In the fall, we went to a local RV dealership, both of us with different ideas as to what we wanted – tow-behind, fifth wheel, Class C or Class A. We decided against the tow-behind because we'd have to purchase a truck, too.
Marcie: We talked about how we wanted to spend the rest of our lives together, retirement and that we love to travel. And when I think about the traveling I've done, I really haven't seen a lot of the United States. I really want to explore my country a little more, and I thought the best way to do that is in an RV. I shared that one night with him, and he was like, "I'd love that!"
One day, on a whim, we decided we'd go to a local dealership. He wanted a Class A; I wanted a Class C. The Class A has the big open front, which is nice when you're looking out. But I liked the Class C, because that space is utilized with the bunks on top for sleeping space, plus the bedroom in the back.
We looked into the Class A, which was really nice. Then, when he stepped away, I said to the sales rep, "I really want to see a Class C." She said, "We have one, and it's my favorite on the lot." I stepped in it and that was the one for me.
Tom came back and found me in the Class C. Within 20 minutes, we were signing the paperwork for it.
How many trips have you taken in it?
Tom: We have taken three or four: to Florida for a week to visit my mother, to Columbus to see the state cross country meet; to Cook Forest in Pennsylvania, and just last weekend to West Branch in Ravenna [Ohio].
What ease of travel has an RV offered you?
Tom: Well it's tremendously easy to drive. And then, Marcie is a tremendous cook, and all of the conveniences are there with a full kitchen. We load it up completely [with food], so once we're at a campground, there's no reason to leave.
Marcie: We had a couple that rented from us a few weeks ago, and the sole reason they rented from us was to travel to Florida with their little kids. They felt like flying with little kids is horrendous and trying to cram them all into a car is just a lot of arguing and bickering for 12, 15 hours. They rented our RV simply for the comfort; everything is self-contained. If they stop, they could make lunch. Everyone could use the bathroom right there, instead of trying to cart three kids into a bathroom, get their hands washed up… This is why we love traveling in an RV. It's all right there. I go to the grocery store, load up the fridge and it's all self-contained.
Do you have any upcoming trips?
Tom: West Branch next month and we blocked a week in August in which we don't know where we're going. We just wanted to make sure the RV wasn't rented.
Marcie: When we were at West Branch last weekend, we realized that we are almost solidly booked through the summer with the exception of six days in May, so that's [when we planned] our next trip, because we thought, "Oh my gosh, we're not going to see our RV again for a few months. We better snag our RV while we can," – which is a good thing!
Can you talk about that – where your RV will be and how renting it is now part of owning an RV for you?
Marcie: We were just in the process of thinking about purchasing an RV, and I wanted to research what to bring on camping trips. While doing that, an RVshare ad popped up. I clicked on it and started reading that it is kind of like an Airbnb but for RVs, so I started thinking: I'm in a Master's program and don't have a lot of time for travel. Booking our RV [wouldn't be] a big deal to me right now, because I don't have that many weekends I can travel, so I said to Tom, "We can't really do our cross country trip for a year and a half or so, what do you think about renting our RV right now, so we aren't just paying for the RV, storage, and insurance?"
Of course, his initial reaction was probably like most: "I don't want someone taking our RV. What if they break or ruin something?" I said that you put that in the contract. He slept on it and woke up interested in RVshare. I showed him the site, and he did his own research.
Tom: I was talking to the mechanic that works on our cars about the RV and that we were thinking of renting it. He started telling me how he knew about RVshare and how it was great, and I heard some other success stories. Then, we got a few payments, and I realized how great this really is.
We listed it, with just a stock picture, and in two or three days we got a booking request. We responded, and thought, "This is cool." All of a sudden, the requests just started coming in, to the point we'd just laugh about it. With just one stock photo, and sometimes within five to 10 minutes, we send the quote and our comments, ask where they're going, and have half of their payment; it's gotten so crazy. We listed at the end of January and today is April 29 – four months later – we already have 16 bookings. We just looked at our net earnings after RVshare's fees, and we have around $21,000 in net rentals from it.
This pays for the RV for more than two years, and that includes insurance and everything else. We've turned this into a nice little separate business. We have a separate account; any RV expenses come from that and payments go into it. In three rentals, our net earnings are $4,700. That's kinda cool.
How fast did the first booking process take?
Marcie: We first listed it at the end of January on a Sunday, flew to Florida on Wednesday, and by that Friday we were getting booking requests – in less than a week! We were laughing, thinking we wouldn't even get one, and this is insane because we got $11,000 of requests within a week. We didn't book all of those – just a few, but the bottom line is that we were laughing and excited about how this whole RVshare thing was actually working. The market for it is so huge; we had no idea.
On the flip side, we were like, "Oh crap! What do we need: insurance, contracts? How do we show someone how to use the RV? Where do we meet them?" We had to work all of those things out, and we were forced to learn a lot more rapidly than if it was sitting in storage. Maybe we wouldn't have had as great of a trip the first time out without working these things out.
How is this experience from RVshare facilitating the purchase of another RV?
Tom: I'm at the point that I have another RV in mind to buy. I definitely want to purchase, because there is no reason not to because of the income we can generate from it. We actually believe the rental requests have slowed down because the one we have is rented so much, so a second RV would be nice.
What persuaded you to move toward using RVshare?
Tom: My hesitations were that I didn't want someone using and breaking it and all those things. But it didn't take me long to get over that, because the RV was sitting in storage all winter long, and we were making payments. The decision became much easier; let it pay for itself.
The apprehension is all gone now. We've had three renters, and all of the families were absolutely wonderful. We've found that they take care of the RV like it's their own when they're spending money like this. We haven't had any major issues, which is why I'd do another one.
Marcie: I didn't have any apprehensions. Maybe I was a little nervous because of what to do when it comes back and we needed to fix something – not like something will be ruined, but instead the hassle of fixing it. That has not been the case, though.
What other perks have come up from using RVshare?
Marcie: Being new RV owners, we actually spent our first three nights of having the RV in our driveway. We bought it off season and the warranty is only good for so long; we'll be out of that initial warranty period where they'll fix the little things. I felt like we should spend some time in it, so we lived in it. We found several things that needed a little minor adjustment. And having people use the RV helps us get all of the "bugs" worked out. It's forced us to get things taken care of that we may not have found out if it wasn't being used.
Also, it's forced us to learn it, like how to dump the tanks and hook up electric and cable. When renters are asking you questions, you need to have answers. We've learned the RV world a lot quicker by renting through RVshare, and same thing with contracts and insurance, and how to walk someone through an RV when they rent it.
How did you decide what to charge?
Tom: We ask $250 per night, $1500 per week, and $6,000 for the month. We looked at what others were asking. Ours is newer, but we wanted ours to be rented, not necessarily get the max dollar for it. We could ask more, but we laugh every night it's gone, thinking, "Well, we just netted over $200 tonight – and it's gone!"
What advice do you have for people new to listing their vehicle on RVshare?
Tom: Get to know your renters. Be a little selective and get into an email dialogue with them. Find out where they're going and who's traveling. We like to look where they're going. Someone suggested Googling to see if there is a concert or a similar event in the city to which they are going. We've been very fortunate, though. Everyone we've communicated or crossed paths with has been absolutely wonderful.
Marcie: Offer for them to call you. You want them to call you and start talking to you on the phone. You get a much better feel for someone who is taking your very expensive toy on a trip – and you want to get to know that person. Maybe this is the general way it works, but it seems that every person whose taken our RV so far knows more about it than we do. The renter who's taking it tomorrow is going to hook up our satellite TV so all we have to do is flip one switch and it comes on for all three TVs.
Tom: I said I'd pay him, and he said, "Oh no, you're already doing me a favor by renting me your RV."
Marcie: Don't think there's not a market for it. There's a huge market for [RV rentals]. We've had people come from Michigan for our RV, from Pennsylvania, from Southern Ohio, because there aren't that many out there being rented. People are looking for this option. And with all of the things going on with tiny homes and traveling on wheels, people want the experience of driving their house around. There's definitely a huge market for it.
Tom: There's obviously not enough inventory out there. Saginaw, Michigan is over three hours each way; Steubenville, Ohio is two hours away. The next renter is local, and the next is from Pittsburg. That's how far people are driving just to pick up an RV to go on a trip.
Overall, what has your RVshare experience been like?
Marcie: The clientele we're finding who are renting are really super knowledgeable and friendly. It's been a really good experience for us so far. Super easy to use. It was the simplest process in the world.
Tom: The service is incredible. It's a fabulous website.