RV Owners
Last updated on January 8th, 2023. Originally published on May 12th, 2018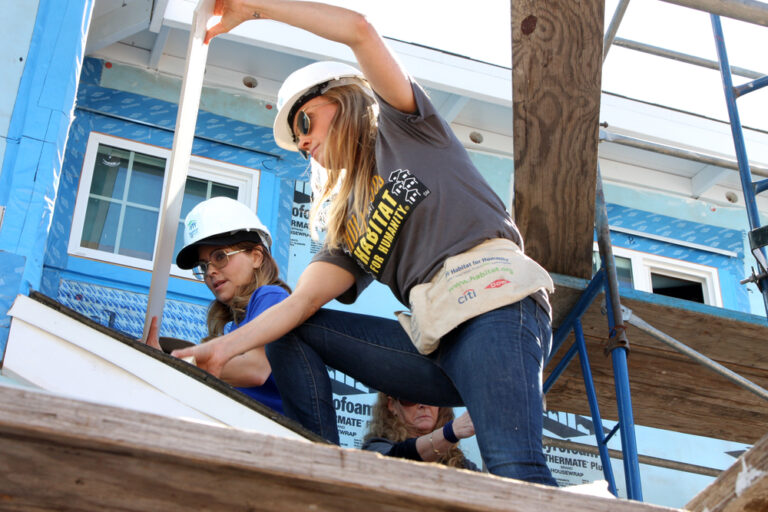 What's the only thing that feels better than road tripping in your RV?
Giving back in it, of course. There's nothing quite like the satisfaction of knowing you're doing good for the world, especially when you're doing it from your favorite place: the road!
Whether you're a full-time RVer or a weekend warrior, you may think RVing and charitable organizations don't exactly go together. After all, it's hard to get involved in a community effort when you're constantly poring over your RV GPS or road maps, planning your next big move. But there are plenty of people making a difference in their travel trailers and motorhomes, adding to the rich tapestry of thriving, nomadic camping communities.
(Psst — one travel community that's worth joining? Passport America, the discount camping club that gets you 50% off your campsite accommodation fees at almost 1900 campgrounds across the country. You'll spend less than $50 on a full year's membership, and since these are premium, full-hookup sites, that expense easily pays for itself the very first time you use it. Plus, it's a great way to meet new people and make friends on the road!)
So, ready to feel refreshed and inspired? Read on to learn about some of the amazing nonprofits and charitable organizations being run from the road — and even discover a few volunteer opportunities!
Charitable Causes
We can't get enough of these inspired stories. Here are a few to make your day shine a little bit brighter.
The Asher House
"The shelters are too full. Dogs are euthanized every single day and it needs to stop. The Asher House is an organization taking action to do just that."
So reads the mission statement for The Asher House, a one-of-a-kind mobile animal adoption agency we absolutely adore. The way this charitable organization works is simple, but brilliant. Lee and Luke, who successfully funded the idea with a Kickstarter campaign, purchased an RV they use to tour the country and help connect eager adopters to the numerous dogs waiting for forever homes in shelters. They want people to know that every breed can be found in shelters, and every breed can be — and is worthy of being — rescued. Way to go, guys!
Habitat for Humanity's RV Care-a-Vanners
Know how we kind of playfully make fun of "sticks and bricks" houses in the RVing community? Well, we all know those solid, foundation-built homes, schools, and other buildings are actually really important. And if you want to be part of building projects that can change lives — and have an RV of your own to travel in — listen up.
Habitat for Humanity offers the mother of all RV volunteer opportunities with its Care-a-Vanners incentive, which brings footloose RVers like you to build sites all across the country. Whether you go it alone or bring the whole tribe, whether you're a veteran builder or can't tell a lathe from a ladle, Habitat for Humanity will support you with all the tools and training you need to help you make a difference.
Traveling across the country to help people in need, all while engaging in a generous community spirit? Sounds too good to be true, right? It's not. Click here to learn more about Habitat for Humanity's RV Care-a-Vanners, and learn how you can get involved.
Non Profit Organizations
Here are some more RV-related charitable organizations and nonprofits that make our hearts sing.
Wheels for Wishes
On the market for a new rig? Want to make sure your trusty old vehicle goes on to live an amazing second life?
Consider donating it to Wheels for Wishes, one of our favorite children's charities out there. A subsection of the Car Donation Foundation, Wheels for Wishes benefits Make-a-Wish chapters in different areas across the United States, helping grant wishes for kids who have been diagnosed with terminal illnesses. An epic RV road trip ranks high on the list of common dreams… and is a pretty amazing gift to be a part of. As if that weren't enough, it's a 501(c)(3) non-profit organization, which means your donation is tax deductible. Click here to learn more about Wheels for Wishes and how you can help today!
Volunteer Opportunities
Even if you don't have an RV of your own, there are plenty of ways you can get involved with charitable organizations that benefit all sorts of different good causes, from helping veterans to protecting the environment to supporting the homeless. In fact, there are several charitable organizations out there that will actually pick up your donation, making it easier than ever to get involved and make a difference.
One common, painless way to help (that'll also benefit you as a traveler in the meantime): go on a cleaning spree and organize that crowded closet! Those old clothes you haven't worn in years could mean the world to someone who doesn't have access to them, and meanwhile you'll find yourself in a tidier, more organized space. (Plus, it won't be so hard to figure out which pieces to bring along on your next camping trip!)
If the thought of a cleaning spree is overwhelming, we recommend checking out The Life-Changing Magic of Tidying Up, the famous work by Marie Kondo that asks everyone to hold each item they own in their hands and ask themselves if it makes them truly happy. Kondo has followed up on that book with another volume, Spark Joy, which goes into more specific detail on the tidying process.
Make a Difference
Making a difference doesn't have to be difficult, and as this post shows, you can do it from anywhere in the world — even if your "anywhere" is constantly changing. In fact, the mobility of RV travel makes it even easier for you to touch more lives and help more people; when you're bringing your home with you, it's a whole lot easier to get to (and stay) where you're most needed!
We hope this post has inspired you to find your own ways to make a difference in the world. After all, even little things can make a big impact when we all work together.
This post may contain affiliate links.