RVshare Makes Taking an RV Trip Easy!
Renting an RV
April 27th, 2021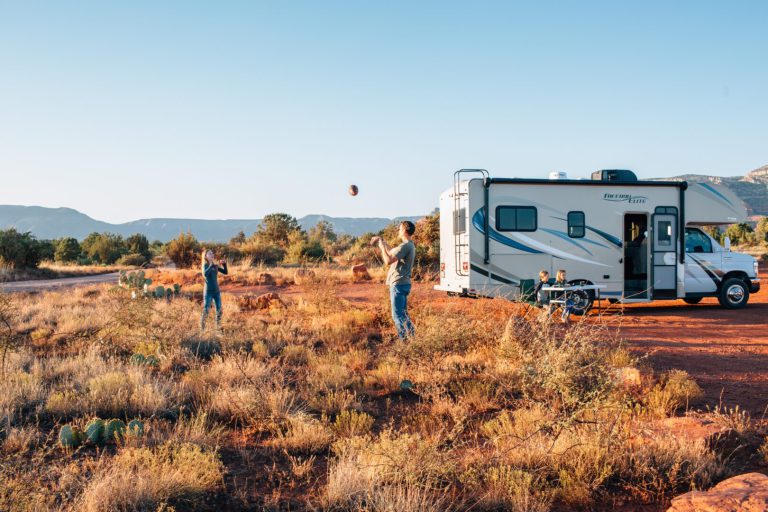 RVshare is the world's first and largest peer-to-peer RV rental marketplace, serving more than 60,000 RV owners across the US. With thousands of satisfied customers and a broad inventory ranging from travel trailers to luxury motorhomes, we have the perfect RV for your vacation, tailgate, or temporary lodging needs.
Trying to plan your next family trip? RVshare makes your planning easy, affordable and convenient. When you rent an RV, adventure follows you wherever you go. Your accommodations are settled and your transportation is covered. It's your vacation home on wheels. All you need are your travel companions, an adventurous spirit, and your chosen destination. Safety and security are of top priority for us, and we're sure it is for you as well. Find a wide selection of expertly serviced and thoroughly sanitized RVs and camper vans located near you.
Ready to book your next vacation? Reserve online now and get ready for the trip of a lifetime! You can also check out this video to learn more about RVshare works and subscribe to learn more about the entire RV experience! ​
From a simple online process to support systems in place to help with problems to useful tips on RVing and ideas on where to go, we have everything you need right at your fingertips. Here's how to get started:
The Rental Process
If you're interested in renting an RV, you'll want to start the process on our homepage. Here, you can indicate the city where you'd like to rent, the dates you want, and the size of motorhome you're interested in.
Once you hit the "search" button, you can see all the listings in your area and you can narrow your search even further.
Your first option is to narrow your search by price. Clicking "Driveable RV" gives you options for Class A, B, and C motorhomes and clicking "Towable RV" gives you options for the various kinds of trailers. If you need a breakdown of each class and all of your towing options, check out our post on "RV Motorhome Classes Explained" for detailed descriptions. Search using your own keywords including specific makes or models of RV, and use the "instant book" option to book your motorhome without waiting for the owner to respond. There are also additional filters if you want to narrow your search even more.
After you've found a vehicle you're interested in, click on the picture and listing for more details. You'll find a more detailed description of each motorhome, plus a breakdown of costs. Many owners give discounts the longer you rent, so scroll down to see the daily, weekly, and monthly price to rent. There will be a description of items that are included in the rental such as kitchen appliances and entertainment features. Under "rental options" you can see if the owner offers delivery and you can read the description to see whether your RV is pet-friendly. There's also an option to ask the owner a question, and a "Book" button if you're ready to make it official!
The Rental Protections
RVshare offers protections while you travel in your rental as well! We offer industry-first rental insurance, plus 24-hour roadside assistance if you have any trouble while you're on the road. From flat tires to answering questions about your rental, we're here to help.
Our standard rental cancellation policy gives renters the option of a full refund if you cancel more than 30 days before your rental period, a 50% refund if you cancel between 14-30 days of your booking, and no refund if you cancel within two weeks of your scheduled rental. Our Worry-Free Rental Guarantee also includes:
payment protection that protects rental payments against listing fraud
a Customer Solutions Team that answers any questions you have before or after your reservation
rental assistance if the RV you rent is significantly misrepresented or if you're denied access to it
rebooking assistance to find another RV if your booking is canceled last minute
security deposit protection to assist you in disputing any wrongful charges
Check out our step by step guide for renting an RV with RVshare! We can't wait for you to take a trip with us.