How Tos & Tips
Last updated on December 12th, 2022. Originally published on January 29th, 2018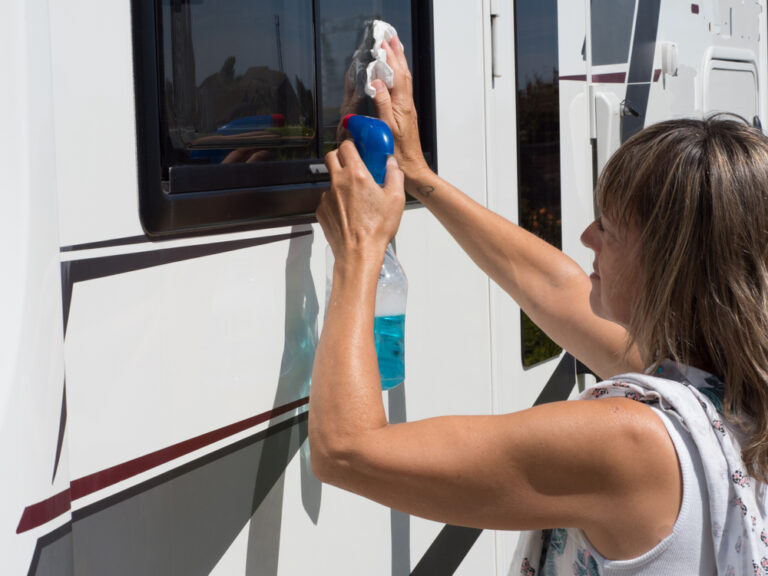 RV camping? Awesome, especially when you're saving 50% on your campsite accommodation fees with your Passport America membership.
Owning your own RV? Even more awesome — you never have to worry about taking the extra step to rent one out for your next trip, and you can even earn extra money by listing it on RVshare.
Cleaning an RV? Maybe not quite as awesome. In fact, for some of us, it's a downright chore.
But if you've got the right tools for the job — and a few clever tips, tricks, and helpful hints — you can get the job done in a jiffy. And getting your RV cleaning done in a few minutes as opposed to a few hours goes a long way toward making the whole thing a lot more tolerable, don't you agree?
Here are some of our best RV cleaning tips and hacks for people who absolutely hate applying ample amounts of elbow grease.
NOTE: In light of COVD-19 it's important to clean your RV in accordance with CDC guidelines if you will be renting it out to others. Additionally, RVshare has named an official cleaning partner, TaskRabbit. TaskRabbit will help match RV owners with local cleaning pros – individual contractors called Taskers – to effectively clean their RVs pre- and post-rental. The partnership comes at a time when disinfecting vehicles by following CDC guidelines is more important than ever in the midst of the Coronavirus pandemic.
Cleaning Your RV
Did you know that one of the biggest reasons your RV feels claustrophobic and cluttered might have nothing to do with the kind of cleaning that requires getting on your hands and knees and scrubbing?
If you keep your RV well-organized, you'll go a long way toward avoiding ever needing to do big, time-intensive cleanup projects. When everything has a place (and consistently is put back where it goes), your rig feels comfortable and spacious.
We've written about tons of clever storage hacks before, from hanging closet organizers to ways to rethink your RV's limited kitchen space. Check out our full post here for all the details!
But before you leave this tab, here's one of our easiest storage solutions. It doesn't cost much up-front, and it'll give you a fighting chance at keeping ahead of the clutter that creeps up on every camper.
It's the hanging closet organizer, which increases the space in your rig's teeny-tiny closet tenfold. It's especially helpful when you're camping with multiple family members, since it can help ensure everyone has a separate space for his or her outfits and accessories.
Oh, and did we mention it's less than $15 on Amazon? Total bargain, right?
Cleaning the Inside of Your RV
No matter how well-organized you are, though, there are some things that simply necessitate deep cleaning — whether it's keeping up with your RV's bathroom or getting the dust and grit off your RV's blinds.
One great trick when it comes to cleaning stains in RV upholstery or carpet: using an old toothbrush. No need to buy fancy, expensive scrubbers when you can use these cheap and readily-available stand-ins! And since it's always a good idea to buy a package of toothbrushes so you're always ready when replacement day comes, you likely already have one ready and waiting to be used.
When it comes to cleaning your RV's bathroom, there might not be any instant hacks to keep you from having to do the dirty work… aside from hiring professional help, that is. (And yes, that is totally an option!)
However, when you've got the right cleaning products, even these unavoidable jobs turn into simple, easy-to-check-off to-do items.
Best RV Cleaning Products
So, what items do you absolutely need to have you in your RV cleaning kit?
The answer may surprise you. Our can't-live-without-it cleaning product of choice: plain old distilled vinegar!
The best thing about cleaning your RV with vinegar is that it works on just about every surface, and its unique composition means it kills bacteria without being too harsh for your rig's upholstery or finishing. It's an all-natural way to sterilize and purify your RV's interior!
Vinegar can also be adapted into many different homemade RV cleaners and adaptations. For instance, if you have scratches in the wood on your dinette or kitchen cabinets, you can fix them quickly by mixing a quarter cup of vinegar with three-quarters of a cup of olive oil. Rubbing the mixture over the scratches should mask them well, if not fill them in entirely! It's like your very own homemade magic eraser.
Best of all, vinegar is, of course, incredibly cheap, and it means you don't have to worry about purchasing and storing a ton of different bottles of cleaning solutions. And if there's anything as good as (or even better than) saving time on cleaning your RV, it's saving money on the project, too! I mean, who wants to have a line item in their travel budget dedicated to Windex?
RV Cleaning Checklist
Another time-saving hack for cleaning your RV is to have a ready-made checklist of all the things that need to be cleaned before and after each camping trip, as well as smaller tasks that should be done every day. This way, you'll clean as you go and only do big projects once in a while, which will make cleaning feel like less of a hassle.
For instance, your "every day" list might include items like washing and putting away dirty dishes or taking out the trash. Somewhat more work-intensive chores, like sweeping, vacuuming, or mopping the floors, might be done once a week on longer camping trips, or simply after each RV venture. This is also a good time to give all the surfaces in your RV a good cleansing with a disinfecting solution, whether you use vinegar or a bleach-based product.
One of our favorite tips is to simply use Clorox wipes, which are dependable, easy to use, and can be used just about everywhere… and they kill up to 99.9% of germs! You can save some cash by purchasing the value pack — they don't take much room to store, and you'll definitely get the chance to use them all up.
For more information on how to clean the outside of a camper trailer, what cleaning products you might want to purchase, or how to clean your awning, check out our other posts below.
Cleaning your rig might not be the most exciting part of camping, but by doing so, you'll ensure your RV stays in good, working order for many fun camping trips to come.
This post may contain affiliate links.