RV Owners
March 11th, 2020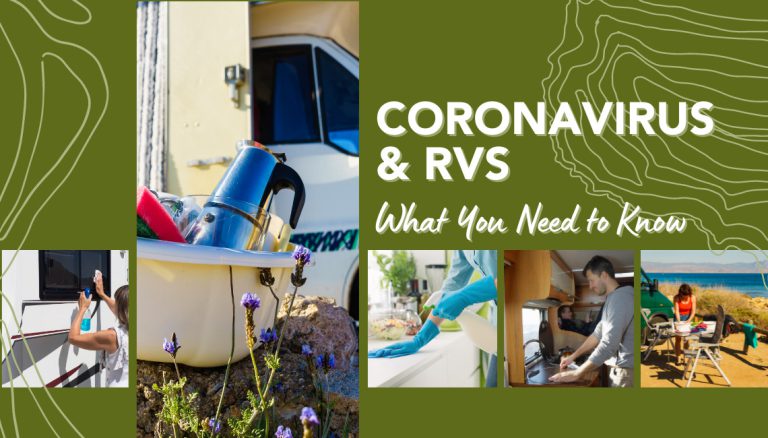 At RVshare, our goal is to provide memorable travel experiences, which cannot be achieved without having the safety of our renters and owners first in mind. Like all of you, we are closely monitoring the Coronavirus (COVID-19) situation. So today, we're sharing some guidelines from the CDC on keeping your RV clean and how to best avoid getting sick throughout your travels.
If you need to cancel your upcoming reservation, you can do so within your RVshare account.
If your upcoming reservation is directly impacted by COVID-19, please contact our support team here or 1-888-482-0234, and we will be happy to assist you!
Follow Credible Sources
We recommend consulting with the Centers for Disease Control and Prevention for the latest news and information relating to the Coronavirus.
How to Clean Your RV
Thoroughly cleaning your RV regularly is best practice always, but with easily spreadable viruses, you may want to take it up a notch. There is no way to over clean, after all! Using the CDC guidelines, we recommend the following cleaning and disinfecting guidelines:
Hard surfaces (countertops, sink, toilet, etc)
Clean dirty surfaces with soap and water prior to disinfecting.

To disinfect, use a CDC-approved disinfectant. If none are available, diluted bleach solutions or alcohol-based products with at least 70% alcohol, for hard surfaces. Read more about how to safely prepare and use a diluted bleach solution from the CDC.
It is recommended to put a wipeable cover on electronics when able and to follow the manufacturer's instructions for cleaning and disinfecting.

If no instructions are available, use alcohol-based wipes or sprays containing at least 70% alcohol. Dry surface thoroughly.
Porous surfaces (carpeting, furniture, rugs, drapes, etc)
Vacuum visible debris then clean the surface with soap and water or with what you use on these surfaces.

If possible, launder these items and/or disinfect using a CDC-approved disinfectant

. 
Laundered items (linens, clothing, etc)
Do not shake dirty laundry; this minimizes the possibility of dispersing the virus through the air.

Wash all items using the warmest water possible based on the care instructions.

Remember to clean and disinfect hampers as well, using the guidelines above for hard/porous surfaces.
How often do you need to clean?
It's recommended to clean and disinfect frequently touched surfaces daily. This includes tables, doorknobs, light switches, countertops, handles, desks, phones, keyboards, toilets, faucets, and sinks. Don't forget your RV's steering wheel, dash controls, and door handles, either!
Staying Safe While on the Road
In addition to the cleaning guidelines above, there are some easy ways to help prevent the spread of Coronavirus, in accordance with the CDC. (We'd venture to say, these are good practices to have in place anytime!) 
Thoroughly Wash Your Hands
Wash your hands frequently with soap and water for a minimum of 20 seconds. 
Other Precautions
Be sure to have hand sanitizer with you in case you don't have immediate access to soap and water. 

Avoid touching your face with unwashed hands.

Coughs and sneezes: Cover your mouth and nose with a tissue when you cough or sneeze or use the inside of your elbow.

Throw used tissues in the trash and immediately wash hands or use hand sanitizer.
For tips on navigating coronavirus and campgrounds, read this post.
As a reminder, if your upcoming reservation is directly impacted by COVID-19, reach out to our support team here or 1-888-482-0234, and we will be happy to assist you!
Looking for more tips to clean your RV? Check these posts out!