RV Owners
Last updated on January 14th, 2023. Originally published on January 4th, 2019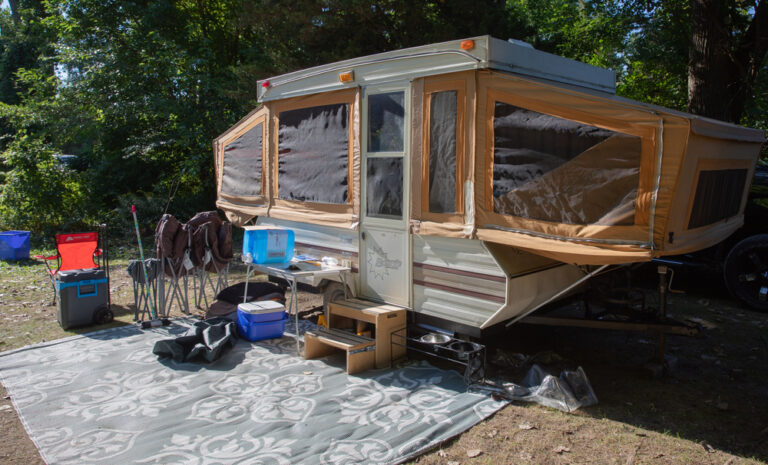 Pop-up campers are pretty unique in the wide world of RVs. Folding down small and compact into relatively tiny "boxes," these towable rigs offer many of the same amenities and comforts as their larger travel trailer cousins, but usually ringing in at a much lower weight and price point.
If you're used to car or tent camping, there's no question a pop-up camper is a serious upgrade. After all, folding furniture is a whole lot better than no furniture at all!
But if you're trying to compare the pop-up camper experience to one you've had in a larger travel trailer or motorhome, you may have lots of questions.
Do pop-up campers have electricity? What about bathrooms and showers? Are pop-up camper beds actually comfortable? Can you actually stand to be in such close quarters with your loved ones for more than a couple of days without going crazy?
Okay, that last one is on you — but for the answers to all the rest, keep on reading. In this post, we're going to dive into everything you need to know about lightweight pop-up campers, one of the most accessible and adventurous types of RV available on the market.
Pop-Up Trailers, 101
Let's start with the basics. Exactly how small are we talking with these small pop-up camper trailers? What kind of amenities can you expect — and which might be missing?
Although all of them are much more compact than regular travel trailers and motorhomes, pop-up campers actually represent a wide range of shapes and sizes. For example, there are both soft- and hard-sided pop-up campers, as well as A-frame pop-up campers, hard-top pop up campers, and more.
In general, pop-up campers range from as little as 700 to over 3,000 pounds, and from just 8 feet to 16 feet while packed up in their "boxes" — the in-transit mode when a pop-up camper looks like, well, a box. Once popped up, that length measurement roughly doubles, meaning pop-up campers offer between 16 and 32 feet of length in living space. They have soft canvas sides that allow for the pop-up and fold-down mechanisms to work, often with hard tops to support air conditioning units (and on which you can store adventure gear like kayaks and bicycles while underway). They're rugged and outdoorsy while still offering a significant upgrade from sleeping on the ground, even if you've got a killer tent and sleeping bag.
As you can probably guess, that range of sizes means that pop-up campers can come in a whole range of footprints, and may sleep as few as two or as many as eight adults. There are pop-up campers with bathrooms and without, pop-up campers with a single stove burner and pop-up campers with fully-functional kitchens. In fact, one of the best things about this class of RV is how diverse and versatile they are. There are even toy hauler pop-up campers, which can allow you to bring along your ATV or other auxiliary vehicle, as well as high-wall pop-up campers, featuring taller boxes that allow for more living and storage space. And best of all, because they're so small and lightweight, many of these pop-ups can be towed behind much smaller vehicles than traditional travel trailers. Some pop-ups can even be towed behind motorcycles!
Here are some pop-up camper stats, to recap:
Length: Between 8-16 feet packed, or 16-32 feet popped up
Weight: 700-3,000 pounds
Sleeping space: 2-8 adults
Amenities and features: Varies, but may include air conditioning, kitchenettes including stovetops and refrigerators, on-board plumbing systems and water tanks, bathrooms, showers (interior or exterior), propane furnaces, generators, and more
Cost: $10,000-$25,000 new, and less if purchasing pre-owned
Are Pop-Up Campers Worth It?
With so many different types and styles of RVs to choose from, many of which feel almost identical inside to a sticks-and-bricks home, you may wonder why a prospective buyer — or even renter — would go with one of these miniature movers. But there are plenty of reasons pop-up campers are totally worth their low cost — and in some ways, they actually outshine their bigger brethren.
Pop-up campers offer an easy driving experience, which may be attractive to those who like the idea of RV camping but are intimidated by the prospect of driving a large motorhome or towing a weighty travel trailer. Although pop-up camper are towed vehicles (and thus you'll have to deal with some parts of the learning curve if you've never had to haul something behind you before), they're much lighter than other types of travel trailers and can often be towed behind your regular vehicle, even if it's a mid-sized car. That's a whole lot less of a headache than powering a one-ton truck through city traffic!
Because of their compact size, pop-up campers can handle increased navigability, including ventures down narrow, dirt roads that might pose hazards to those driving larger recreational vehicles. If you're in the market for some serious off-grid adventuring, pop-up campers are an excellent way to get out there — literally — without having to worry about whether or not your vehicle can handle the journey.
Pop-up campers come at a relatively low cost amongst options in the RV world, which means they can be an accessible way to take on an RV camping adventure without breaking the bank. (Travel trailers and towable rigs are already more affordable than their self-powered motorcoach cousins, but given their small size, pop-up campers are even more economical — and you probably won't have to invest in a large, tow-capable vehicle in order to haul them, which you might if you chose a larger style of camper.)
Of course, what these little RVs offer in the way of flexibility, affordability, and rugged readiness, they do lack in living space and some of the more premium creature comforts you can find in high-end luxury RVs. But for many campers, those aren't problems at all — in fact, they may even be benefits! After all, you're on your trip to get away from feeling stuck inside four walls, right? Of course, if you're traveling with a large, rambunctious family (or lots of adventure gear), you may feel a little bit squeezed for space, and if you're looking for a resort-style, kick-your-feet-up getaway with all the extras, pop-up camping may feel a little bit like roughing it.
But if "roughing it" is exactly what you're after, these powerful little vehicles can be a great way to get out there and start your adventure.
Pop-Up Camper Brands
When you're freshly on the market for an RV, the array of camper brands and manufacturers available can feel daunting, to say the least. And when you've got your eye set specifically on a small, foldable RV with many moving parts, it makes sense that you want to make sure you're looking at the best-built pop-up campers available. Even insane affordability is no deal if your new rig breaks almost instantly!
But in today's market, it's hard to find a product that isn't of fairly good quality, thanks to the extensive upgrades and improvements brought along by technology. Even cheap pop-up campers have many more amenities than they did ten years ago, with all the flexibility, accessibility, and convenience we've already been talking about. Below, we'll list a few of the most popular manufacturers and makers of new pop-up campers, many of whom are also well-known for their motorhomes and full-sized travel trailers as well.
Dutchmen/Coleman
Renowned for its well-built, well-priced range of travel trailers, including fifth wheels and toy haulers as well as "expandables" (i.e. pop-ups), Dutchmen has been in the RV-making business for decades now — which means they've had a lot of time to learn how to make the best trailer possible.
Coleman pop-up campers are a particularly popular model, and are often found available used through listings on RV Trader and other classifieds. The newest Coleman footprints are a little more complex than traditional fold-outs, featuring hard sides, slide-outs, and an array of amenities closer to what you'd expect of a traditional travel trailer.
Jayco
Jayco is another well-known name in RV manufacturing, and they craft a wide range of travel trailers as well as motorcoaches including Class A and Class C RVs. Their pop-up campers, also known as "camping trailers," are some of the most luxurious available, featuring modern, chic amenities and high-quality, custom-built components. Plus, many of these parts are backed by a 2-year warranty, which is regarded as one of the best in the business. When you buy one new, you can choose from a number of different floor plans and configurations, ranging in price from as little as $13,000 to as much as $17,000.
Starcraft
Specializing specifically in trailers, Starcraft makes pop-up campers as well as traditional travel trailers, toy haulers, and fifth wheels. They pride themselves on making their products lightweight across the board, which means their smaller models are doubly agile. As they say on their website, when you travel in a Starcraft rig, "you're sure to find big fun in a little footprint."
What's more, Starcraft was actually an industry leader in the world of pop-up campers when it invented the first crank lifter system to help make the "popping up" part of the experience a whole lot easier. That was all the way back in 1964… so if you're looking for long-standing expertise, you can rest assured you'll find it with this manufacturer!
All Terrain Pop-Up Campers
This company's tagline is "built to survive" — so if you're looking for a rough and ready pop-up camper, this is a good place to start. All Terrain specializes in small, expandable camper tops that fit in standard truck beds, making them even MORE rugged and convenient than some of the other options listed above.
You'll want to make sure your potential camper will actually fit in your truck bed, however, and you can choose from a wide range of features and options when you scroll through the All Terrain Campers website. Prices start around $13,000 and go up to over $15,000, not counting additional options like additional windows, vents, and camping toilets.
For a more complete listing of RV manufacturers and the different types and styles of travel trailers and motorhomes they produce, click here.
Traveling in a Pop-Up Camper: Guide for Beginners
Make no mistake about it, traveling in a pop-up camper is a totally different experience than taking to the highway in a great, big Class A motorhome — or even a modestly-sized trailer. These rigs are made specifically for those looking to get out and have an adventure without worrying so much about taking care of every last creature comfort. (In other words, they're built for exploring, not lounging, which we're totally into!)
If you're traveling with a large family, however, or are simply new to the experience of living in such a small space, you may find pop-up trailers a little challenging at first. Fortunately, we've written lots of great content to help you figure out how to exist in such close quarters without going crazy… or drowning in all the stuff you bring along with you!
First things first, let's talk about storage. The ability to travel with more, well, stuff is one of the things that brings people to the RVing world in the first place. Whether it's bringing along your epic camping wardrobe or making sure you have access to all the adventure gear you need to take to the outdoors however you prefer, you've got a whole lot more storage space to bring it all with you when you're traveling by RV rather than tent camping.
However, that's not quite as true if you go the pop-up camper route. Because these little rigs fold down into super-portable boxes — which is exactly what makes them so affordable and adventure-ready, by the way — you won't get the benefit of having tons of extra room to stow your stuff while you're in transit.
But there is one serious saving grace: your pop-up campers hard top, which can be used as a flat surface to store adventure gear like bicycles, kayaks, or skis. You'll often see pop-ups cruising down the road topped with all sorts of goodies to help their drivers go exploring once they reach their destinations.
Once you set up camp, you'll have access to a bit more storage, like under-bed cabinets and kitchen drawers. But even still, staying organized is important if you want to avoid crowding yourself out with your own stuff! Check out these clever ways to get your camper organized (which you probably haven't already thought about), as well as these space-saving kitchen accessories that'll keep your tiny camper's interior much more livable. We've also written about items you should not add to your to-bring list. Avoiding overpacking is the best way to get ahead of a claustrophobic, crowded camping scenario!
Alright, now that we've got storage covered… what about personal space? Whether you're bringing along a whole heap of happy young campers and wonder how to keep mom and dad sane, or taking a long-awaited girls' trip on which you'd like to avoid drama, planning ahead can really help preserve the peace. Here are some easy ways to make your kids feel like they've got a little bit of personal space all their own, even in a teeny-tiny RV footprint, and here are some tactics for keeping fights from breaking out if you're traveling with friends.
By the way, traveling with kids has its whole own set of challenges — it's well worth it, but it can become a nightmare if you're not ready! Here are a few more posts to help you tackle the open road as a family without making yourself even crazier than you already are:
Pop-Up Camper Accessories
It may seem a little bit counter-intuitive at first. But when you're camping in such a small vehicle, having the right stuff along with you can actually help you save space and maximize the comfort and ease of your experience. Consider it addition by subtraction!
For instance, one of our very favorite pop-up camper accessories is the Instant Pot, especially since many of these very small campers lack the kitchen amenities of their larger cousins. If your pop-up doesn't have an oven or stove, you might think you'll be stuck eating peanut butter sandwiches. But with an Instant Pot, you can make fresh, fluffy rice, succulent stews, and more — all for under $100 and a super-stowable, pop-up friendly footprint! (Yes, regular readers will point out that we're big fans of the Instant Pot no matter which kind of RV you're traveling in… which is why we've written an entire post about how they work, what you can make with them, and why you totally need one!)
For more information on pop-up camper parts and accessories that'll make your trip a whole lot easier, check out the following posts. (Warning: reading them will almost definitely inspire you to spend a little bit of money on these awesome gadgets!)
How to Find Pop-Up Camper Rentals Near You
Whether you're getting ready to buy your own pop-up camper and you want to experience as many different brands and manufacturers as possible before you make a purchase decision, or you're simply looking to dip your toe into the wide world of RVing and think starting small makes sense, the very best way to get a real sense of what camping in a pop-up camper is like… is to do it! And thanks to peer-to-peer RV rental marketplaces like RVshare, that experience is accessible no matter where in the country you call home (or what destination you're headed to).
If you've searched for rental rigs before, you may have noticed that most of the large, commercial rental agencies deal exclusively with self-driving motorhomes, usually large-ish Class A and Class C models. Not only are these expensive and possibly bigger than you'd like for your rugged, off-grid adventure, they're also usually pretty boring on the inside — fresh-from-the-factory models that are never used as anything more than totally vanilla rental vehicles.
But when you rent through RVshare, a whole new world of camper rental possibilities opens up to you. Because private RV owners aren't limited to just one or two vehicle types or models… they're renting whichever vehicles they, themselves fell in love with. Not only will you have a whole lot more options to choose from, but you'll also get the upgraded experience of camping in a rig that's actually been vacationed in and loved by a real family, which means it's much more likely to have those little touches that turn a mobile home into just a plain old "home."
If you've never rented on the peer-to-peer market before, it's normal to be a little skeptical. Taking the keys from a private individual can feel a whole lot less official than signing a stack of paperwork in an office lit by fluorescents. But RVshare makes your transaction safe, easy, and totally stress-free thanks to a variety of features built into its user-friendly platform.
Every single communication and transaction takes place through RVshare's secure website, which keeps your sensitive information — including payment details — totally safe and sound.
The RV you rent will be covered under a comprehensive insurance policy at no additional cost to you, so in the unlikely situation that things get rough on the road, you know you'll be covered.
Before you rent your pop-up camper, you'll be able to read user reviews, which will help you get a good understanding not only of the vehicle but also of its owners. And once you've completed your own rental period, you'll be able to leave reviews, too.
Best of all, renting on the peer-to-peer market is a great way to save money. After all, RV owners are regular people; they don't have to worry about footing the expensive overhead cost of keeping the lights on at a dealership floor — or hiring a large team of customer service reps, who may or may not even be available when you need them. Along with avoiding the large dealership experience, which can be… subpar, you'll get to take advantage of the savings the owners can afford to pass onto you. RVshare rentals are often listed at a fraction of the price you'd get from the national franchises, and that goes double for smaller rigs like pop-up campers!
Since pop-up campers are so small and lightweight, chances are you'll even be able to tow one behind your existing vehicle — but even if not, many RVshare owners are willing to tow your rental to the destination and set it up for you for a marginal additional fee. That means all you have to do is unpack and relax… and find yourself falling in love with this unique style of camping.
Psst: if you are on the market for a pop-up of your own, RV shows and events are another great resource to take advantage of. In very few other scenarios can you walk through and explore so many rigs in such a short period of time, all under one roof, not to mention taking advantage of the competitive pricing environment! For a full listing of all the best RV shows to see by state, click here. And before you go, don't forget to give a quick read to the following posts, which will help you get started off on the right foot in your RV-buying experience:
Shopping for an RV can be a big project and an even bigger investment — but it's also a great excuse to take as many camping trips as possible in different kinds of rigs. You know… for research. 😉
If you're just starting the search for your dream vacation vehicle, be sure to check out our other deep dive posts and explainers on the different styles and types of RVs commonly available on the market:
No matter which kind of rig you decide is right for you, we wish you happy camping! And we'll be right here waiting to hear all the details about your adventure… and help you make it even better, every step of the way.
This post may contain affiliate links.