Travel Inspiration
October 10th, 2019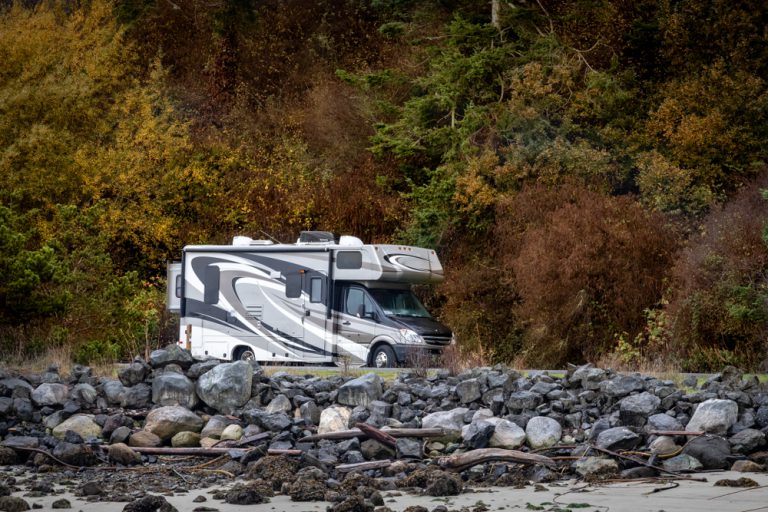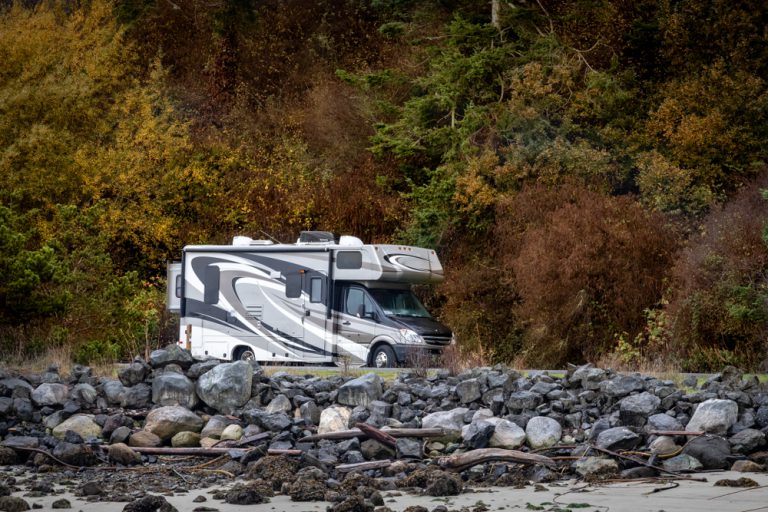 RVing is awesome pretty much any time. But if you're looking for a way to decrease your crowds and increase the amount of bang you get for your travel budget dollar, low season RV travel might be right up your alley.
Traveling in the off-season unlocks discounts and access it's hard to find when you're traveling during the peak season… and one of the good things this particular type of travel is that seasonal RVs make for amazing home bases, even if you're traveling when it's cold or rainy.
When is Peak Travel Season?
While the answer to this question really depends on where, exactly, you're going, there are a few parts of the year that are clearly peak vacation times, particularly in the United States. For example, road trippers know that taking to the highways during the summer months means more traffic and crowded destinations, and you can also expect delays and long lines when you travel during the winter holidays and select busy travel weekends like Memorial Day.
But with that flow of tourism comes the inevitable ebb, which can provide a great opportunity for you and your family to see a place without a huge crowd blocking your views of keeping you from getting your hands on the attraction tickets or dinner reservations you want. And while the weather might not be as pristine and it may be a little tougher to get the kids out of school if you're bringing them, there are plenty of reasons why low season travel has its own kind of magic.
Why Off-Season Travel is So Awesome
Here's the thing: popular destinations tend to be popular for a reason. And just because you're sure to have a stranger or five in your Instagram posts is no reason to forego classic American road trip stops.
That said, traveling during the low season will give you a better chance of having an experience that isn't quite so inundated by strangers. And even if you don't mind sharing your photo frames or standing in line, the off-season often comes with another serious incentive: hospitality professionals often lower their prices to encourage visitors to come and patronize their businesses when they're otherwise in a rut.
This is true of hotels and inns, as well as of general travel services; for instance, off-peak cruise season gives would-be sailors a chance to get out on the ocean blue for a fraction of full cost. But it's also true of RV parks, which often list a lower "off-season" price alongside their peak season nightly rates. You may also find that commodities like gas are lower in cost since they're not under as much demand, although the machinations that undergird oil prices are pretty complicated, so no promises on that one!
Where to Go During the Off-Season
Convinced that off-season travel is right for you? We don't blame you! Here are some of the best cities and sites to visit by RV during the off-season.
1. San Francisco, California
San Francisco is well known for its "reverse summer" phenomenon, wherein the actual peak travel months are misty and cool, but the fall brings clear days and consistently mild temperatures hovering in the low 70s. As a result, the city leaves its suite of outdoor festivals and seasonal events for autumn, including must-visits like the Ghirardelli Chocolate Festival in September and the Castro Street Fair in October.
Another cool thing about the city by the bay: as far as metropolitan areas go, this one's one of the RV-friendliest, at least in the United States. There are a number of privately-owned campground options available not far at all from the heart of downtown, including Candlestick RV Park, Treasure Island RV Park, and San Francisco RV Resort, all of which are less than half an hour from Haight-Ashbury. (Well, barring traffic, anyway.)
If you pack a few extra layers, you might consider visiting between December and April, when it will be colder and wetter, but also even less crowded than it is in fall. And no matter what time of year, don't forget: if you're going to San Francisco, be sure to wear some flowers in your hair!
Click here to see RVshare rentals near San Francisco, California.
2. Flagstaff, Arizona
As often as tourists flock to northern Arizona during the summertime — mostly drawn by Grand Canyon National Park, of course — we really think they're missing out on a serious opportunity: namely, to see and explore this uniquely rugged countryside during the less-intense, less-crowded fall season.
The National Park is one thing, of course, and you should definitely include it on your itinerary. And while it'll literally always be fairly crowded, you'll do much better in September than you would have done in June. That said, don't forget to save some time to meander around Flagstaff itself, a college town where old west aesthetics meet vibrant, new cultural movements, and where you can enjoy some delicious Tex-Mex as well.
Click here to see RVshare rentals near Flagstaff, Arizona
3. Savannah, Georgia
If you want a well and truly charming southern experience, we recommend you skip Savannah during your summer outing and instead return in the fall. Between September and November, the peak travel season's boiling-hot temperatures fall to a relatively comfortable mix of the 70s and 80s, and better yet, the summer crowds trickle out, leaving you to meander through the Spanish-moss-strewn squares at your leisure.
Locals take the drop in temperature to heart, hosting a wide array of seasonal events and activities that are rewarding for out-of-staters and Georgians alike. The Savannah Jazz fest is in September, the Savannah Film Festival is at the end of October, and the Savannah Food & Wine Festival takes place in November, so there really is something wonderful to discover no matter when you make the trek. (Oh, and did we mention that Savannah is widely considered to be one of the most haunted cities in the country? So if you're looking for something both scenic and spooky to do this Halloween, look no further.)
Click here to see RVshare rentals near Savannah, Georgia.
4. Santa Fe, New Mexico
The only people who aren't in love with the New Mexico high desert, it seems, are those who haven't been lucky enough yet to discover it. And if you fall into that camp, you're in for a treat, particularly if you make the trek in the fall. Because, to be sure, June, July, and August in Santa Fe are just as hot as you might imagine, not to mention the powerful storms that sweep through during the seasonal afternoon monsoons. But if you wait until September or October, the stars align: the temperatures drop, the aspen begin to turn gold, and the ample hiking trails are that much more inviting. And depending on your timing, you might even catch the tail end of Hatch green chile season!
Click here to see RVshare rentals near Santa Fe, New Mexico.
5. Seattle, Washington
With its ever-increasing tech presence and overall beauty and charm, Seattle will be crowded (and full of traffic) no matter when you visit.
But at least if you go in the fall, you'll have a chance at finding a campsite. And with the temperatures hovering between the 40s at night and the high 60s during the day and the worst of the winter rain still a ways off on the horizon, visiting this Pacific Northwest mecca in fall gives you the best chance of enjoying both the urban and countryside adventures the area has to offer. Our best tip: park your rig just over the sound on the Olympic peninsula and commute into the hustle-bustle on the ferry. Then, you can retreat to your quiet, tree-lined paradise when you've had enough of the honking horns and high-priced snacks, and it'll be an easy day's drive to must-see sights like Cape Flattery and the Hoh Rainforest.
Click here to see RVshare rentals near Seattle, Washington.
Cold Weather Travel Trailer
This list is just the tip of the iceberg when it comes to scouting prime spots for seasonal RV travel. But speaking of icebergs, you may find that pursuing off-season travel does make for some cold weather camping in some scenarios!
Fortunately, it is totally possible to RV camp in chilly, or even frigid, temperatures, so long as you're prepared. If you need some help, check out the following RVshare blog posts.
Happy travels, no matter where — or when — you find yourself adventuring!
This post may contain affiliate links.