Travel Inspiration
Last updated on June 20th, 2023. Originally published on May 26th, 2020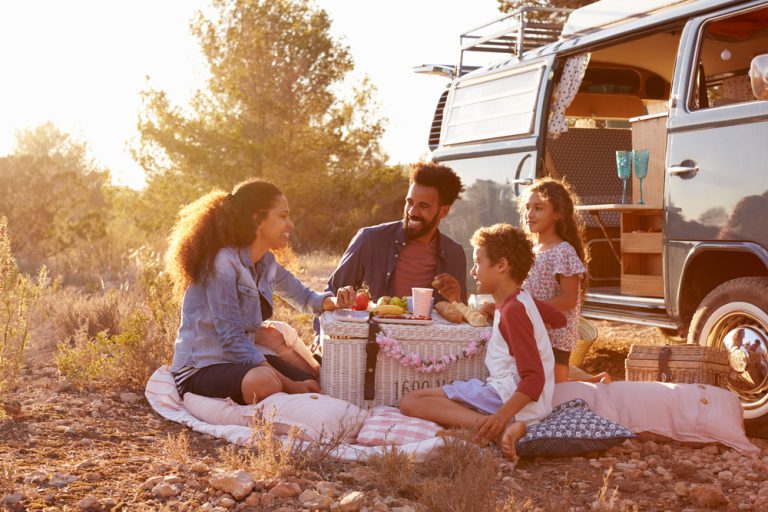 Family vacation season is officially here. If you haven't already, it's high time you found a fun getaway for you and your loved ones to enjoy together. After all, family vacation time is quality bonding time, and a fun trip is sure to help you and your kids create memories that'll last a lifetime. 
There are several family vacation options available to you. You might stay in a condo on the beach or a hotel in the mountains. Our favorite option? An RV trip.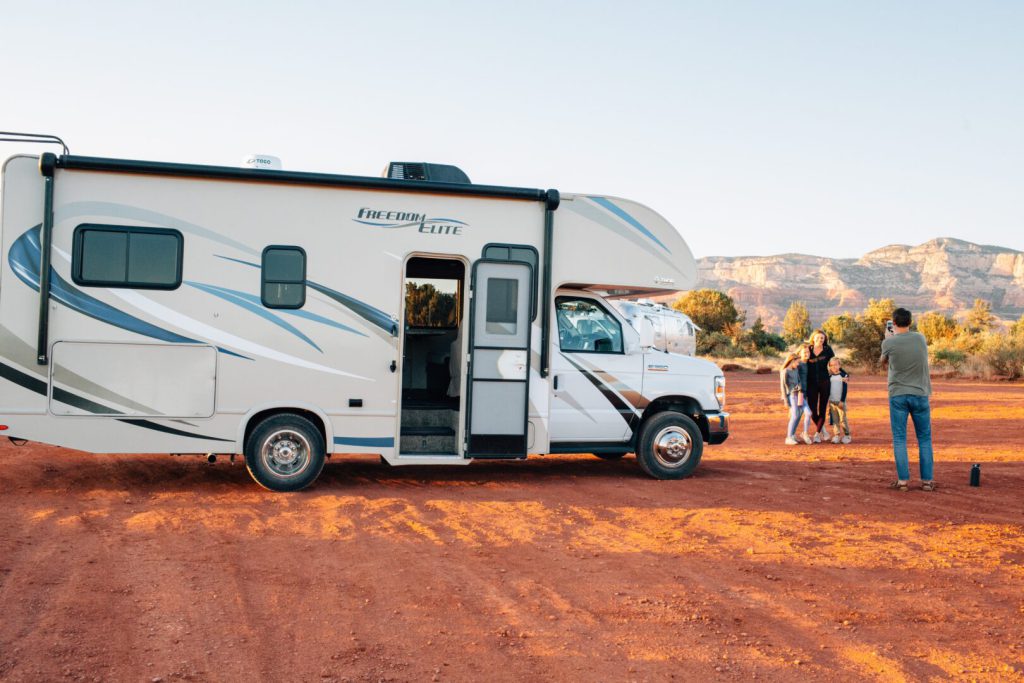 Why take an RV vacation in 2021?
In our opinion, RVing is the absolute best way to take your family on vacation. In a post-pandemic world, health remains a priority for most families.
You see, RVing allows you to have fun while remaining in your own space, helping prevent the spread of germs. It also encourages travelers to explore more remote outdoor areas, meaning they're less likely to pick up an illness while out exploring. Lastly, taking an RV vacation means you'll skip the airport and airplane entirely, removing yet another risky place where germs could be caught.
Yes, RVing is a fabulous option during this time. That said, we firmly believe RVing is a great way to travel as a family anytime. We aren't alone in this belief, either; a huge number of families agree with us.
So, why is RV camping so popular for families? 
Besides the need to vacation with caution right now, there are many reasons families love RV camping. Whether you're a young family with small children or you have teenage kids, RV vacations have something to offer you. 
Some of the biggest benefits include:
Save Money
It's no secret that raising a family is expensive, and family vacations aren't exactly cheap either. Fortunately, there are ways to make traveling more affordable, and RVing is one of the best ways to go about this. Campsites are much less expensive than hotel rooms, and in many cases they are completely free. Additionally, the ability to cook your own meals can be a huge budget saver. 
Carry an Entire Home with You 
Traveling with kids is stressful for a number of reasons, but carrying an entire home everywhere you go helps remove some of this stress. No more needing to worry about bugging the people on the other side of the hotel wall, because there aren't any. Have picky kids? You can prepare all their favorite meals in your kitchen-on-wheels. Potty training? A toilet is always at your fingertips. 
Long Distance Travel is More Fun
Driving long distances with kids can be less than fun. On the other hand, flying with young children is also overwhelming. Taking the kids on a road trip in an RV, however, is a bit different. With an RV, you have the freedom to stop for snacks and potty breaks wherever you are. Kids can buckle in at the kitchen table (if you have a motorhome) and draw or play board games, and making multiple stops to sleep along the way is a cinch. 
…But There's No Need to Travel Far
All that said, there's actually no reason you have to travel far when going on an RV vacation. In fact, even just parking the rig in a local campground and making a point of visiting all the fun spots in your hometown can be a nice change of pace, and many kids will think this is just as fun as an epic trip across the country. 
Connect with Nature
No matter what state you park the RV in, try to find a campsite surrounded by nature. Go hiking, do some bird watching, and spend time in or on a body of water. RV camping presents the perfect opportunity to reconnect with nature, and we highly suggest you take it. 
…and Connect with Each Other 
All of those camping activities that help you connect with nature are also perfect for family bonding. Going for a long and strenuous hike gives your family a chance to accomplish something difficult together. Sitting around the campfire after a long day is an excellent time to tell stories and share thoughts. And finally, seeing amazing natural wonders together allows you to share something special that you'll never forget. 
Take the Pets
Your dogs and cats are just as much family as your human loved ones, and we think they deserve to go on vacation too. RVing makes it super easy for Fluffy or Fido to tag along in comfort. Just make sure you choose a pet-friendly RV if you happen to be traveling in a rental. 
Learn New Things
Finally, we love that RVing gives families an opportunity to learn new things together. Plan some stops at national parks, historic sites, and museums along the way. You might be surprised just how much you and your kids will have gaining knowledge together.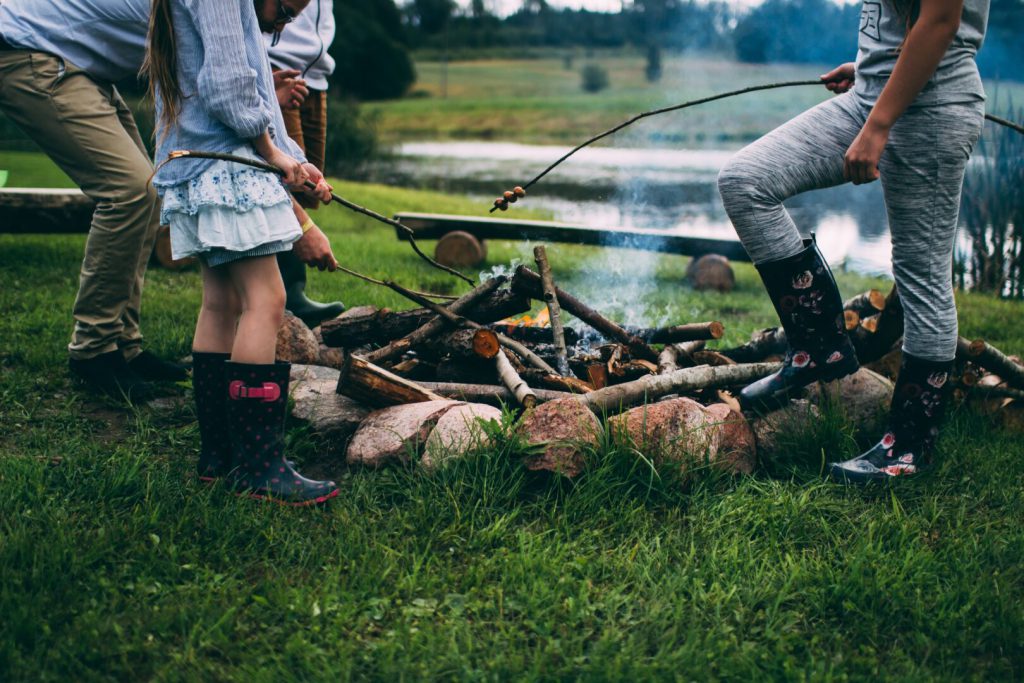 Which RV is best for a family?
The first step to having an awesome RV trip with your family? Finding the right rig. An RV that perfectly accommodates your family size, travel style, and other needs will help make everything go smoothly so you can focus on having fun.
If you aren't sure where to begin the research process, you've come to the right place. The information below should help you get started. If this isn't enough, head over to our deep dive guide on the subject for more information. 
Class A:

Length: 21–40+ feet | Sleeping capacity: 4–10+ passengers

Class B:

Length: 8–20+ feet | Sleeping capacity: 2–3 adults

Class C:

Length: 20–38 feet | Sleeping capacity: 4–8 passengers

Fifth Wheel:

Length: 22–40 feet | Sleeping capacity: 4–8+ passengers

Toy Hauler:

Length: 20–40 feet | Sleeping capacity: 4–6+ passengers

Pop Up Camper:

Length: 8–16 feet closed; 16–32 feet extended | Sleeping capacity: 2–4 adults
Once you have a better idea which type of RV you're looking for, head to the RVshare search page and start the hunt for the perfect RV rental. Filter your search by things like family size, whether pets are allowed, driveable vs towable rigs, certain amenities, and more. 
Not sure you want to drive an RV? That's totally understandable. As long as you aren't making a road trip with multiple stops, having the RV delivered to your final destination is an excellent choice. Just be sure to use the "Delivery" filter when searching for a rig!
What to Pack on a Family RV Trip?
You've settled on taking an RV trip and have even found the perfect RV. All that's left to do is pack!
Unfortunately, this is often easier said than done. 
As you might imagine, RVs often have a very limited amount of storage space. This means it's important that you pack only what you need. That said, you definitely don't want to head out without important items. 
Our top tip is to check with the owners of the RV you're renting before packing anything. Find out what they include in the rental and what you will need to provide. In some cases, linens and dishes will be provided, reducing the amount of packing you need to do. 
Other things you may need include: 
First aid kit (again, the owner may have this on hand)

Lounge chairs for around the campfire

Toiletries

Shoes (from flip-flops to hiking boots, you don't want to be stranded without one or the other!)

Food and beverages (a well-stocked RV makes cooking easy and requires fewer stops at restaurants)

Cell phone or other safety communication device (such as a satellite tracker if you're going off-grid)

Books

Games
Of course, this is far from everything you'll want on board. Find a more comprehensive list here.
As you can see, RVing is an excellent way to take your family on some exciting summer adventures. Now that you have a better idea of why you'd want to consider RVing this year and in the future, and how you might go about planning such a trip, why not dive in? The sooner you finish planning, the sooner you can start making wonderful memories!