Travel Inspiration
May 20th, 2020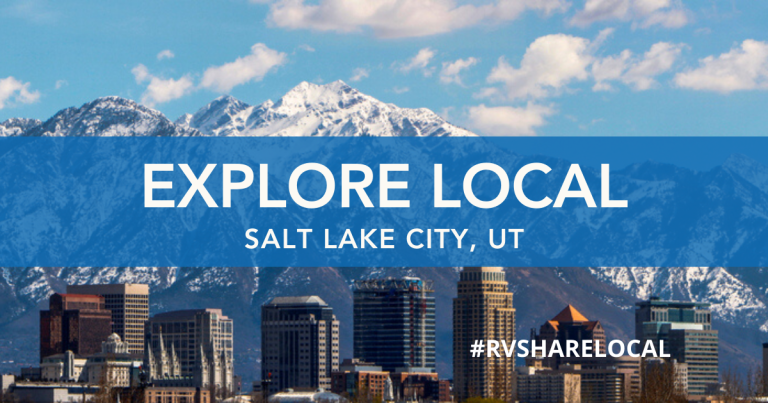 You know what we love about traveling? The beauty of travel is seeing new places, experiencing new things, meeting new people… That feeling of wanderlust is buried deep in our souls! But here's the thing – you don't have to go far to fill your cup. Sometimes the best adventures are the ones close to home.
So join us as we Explore Local: Salt Lake City, Utah.
Why We Love to Travel
So why do we love to travel in the first place? Well, we've already said that a huge appeal is the new-ness a place has to offer. Getting to experience cultures that are different from our own or eating cuisine that is not what we're used to are amazing ways to grow as individuals and learn about others. Seeing how other people live helps us keep an open mind and even gather inspiration to bring back into our daily lives.
Travel is also a great way to get away from the day-to-day. Breaking up our routines with a fun trip definitely recharges the batteries and helps prevent us from getting burnt out.
But again – you don't have to go far from home to get this perspective!
Benefits of Traveling Locally
While the culture an hour away from your home might not be drastically different from what you're used to, you can still gain a deepened sense of appreciation for where you've laid your roots. Plus, traveling locally has a lot of benefits:
More cost-effective. Local travel is certainly a budget-friendly way to explore! Many activities and parks are free or have a low cost of entry. For day trips, you can also pack your own meals to save.
Eco-friendly way to travel. Travel is hard on the environment, but putzing around your area is more sustainable than air travel.
Quick trips. Getting out locally means you can do it more often! Long weekend trips are a lot easier to take when the destination is a short drive away.
Easy to plan. Preparing your itinerary for a local getaway will likely save you some time and stress.
More convenient. Especially if you have little ones, sticking close to home may be much more convenient than far-off destinations. If you forget something, have an emergency, or need to cut the trip short, being close by definitely has its benefits.
Explore Local: Salt Lake City, Utah
Today, we're digging into Salt Lake City, Utah. This guide is perfect for those living in or near Salt Lake City who want to get to know the city even more. If you're looking for fun things to do in Salt Lake City, this is the guide for you!
*Note: Some of the suggestions may not be doable due to coronavirus closures, but keep this list handy for when things start opening back up more! Be sure to check individual pages for specific operation details.
Salt Lake City Parks
There are so many great parks right in the city! Perfect for taking extended lunch breaks, letting the kids get out some energy, or having a relaxing afternoon.
Liberty Park
Located in the heart of Salt Lake City, Liberty Park offers 80 acres to hike, picnic, swim, and more. Be sure to visit Tracy Aviary (a rare and exotic bird sanctuary), take the kids to the splash pad or amusement park, and get on a paddle board!
Memory Grove Park
Another park right in town is Memory Grove. You possibly have celebrated a wedding or party at the beautiful Memorial House. But more than weddings, you can enjoy this quaint party every day of the week. It's great for taking a stroll and also offers an off-leash area for your pup to run free.

State Parks in Salt Lake City, Utah
Great Salt Lake State Park
Just 20 minutes outside of Salt Lake City is Great Salt Lake State Park. This park is well known for sailing in its salty waters and is home to the Great Salt Lake Yacht Club.
Antelope Island State Park is located just outside the city but is worth the drive. While you're here, take a swim in the Bridger Bay Day-Use Area, go on a guided tour of The Fielding Garr Ranch (the first residence in the area), and keep an eye out for bison! (Though be sure to use caution around the wildlife!)
Antelope Island State Park is also home to some of the best hiking trails in Salt Lake City. The Fray Peak trail is the most popular of the many trails to choose from. This trail is long (7 miles roundtrip), but worth it. Fray Peak Trail gets you to the highest point on Antelope Island, providing breathtaking views of the island, Great Salt Lake, and the Wasatch Mountains.
Wildlife in Salt Lake City, UT
In addition to spotting bison in at Antelope State Park, there are lots of other opportunities to see wildlife in Salt Lake City. Bird watching is a fun way to pass the time, whether you're casually looking for them in your bike yard or heading out to the trail.
City of Salt Lake City Plant Guide
While out and about, take a moment to notice the plants that call Salt Lake City home, too. How impressed your friends will be when you go on a hike and can point out plants by name! Okay, we would be impressed at least if you pointed out a Copper Spine Pricklypear or Showy Goldeneye bloom. Check out our regional plant guide for more.
Salt Lake City Restaurants
These Salt Lake City hot spots have great food and atmosphere, but there are so many we could add with these favorites. They make for great takeout options during coronavirus limitations, too!
If you're in the mood for a sandwich, head to Feldman's Deli for the best in the city. This New York-style deli has amazing half-pound sandwiches. Can't decide which one to try? We'll just say, the Sloppy Joe is the most popular for a reason!
For the best sushi in the city – and country – Takashi is a must. Expect a wait, but oh will it be worth it! Not only will the sushi absolutely blow you away, but Takashi also has incredible ramen, hibachi, and more.
Settebello was created to recreate Pizza Napoletana as it has been made in Napoli, Italy (the birthplace of pizza!) for more than 200 years. Any of these pies will make your mouth water, but their specialty is definitely the classic Margherita.
While we have Italian on the brain, Caffé Molise is one of the best in the city. On the menu, you'll find loads of classic Italian dishes and an amazing wine list to pair.
If you're a frequent visitor of the SLC farmer's market, you've probably stopped by for a fresh limeade at the Sweet Lake stand. Be sure to check out their brick and mortar restaurant for amazing brunch all year round!
Local Insider Tips From Caroline Hargraves:
Centered on Salt Lake's Main Street and open until midnight, Eva has been a Salt Lake favorite for years now. For those skeptical of yet another small-plates recommendation, Eva does it right. Even better: If you're in the mood for something heartier, their larger dishes and baker's pies have never let me down (the Fig and Pig – it just breaks my heart with its salty-sweet beauty). Go with your girlfriends, go for date night, go enjoy an amazing meal all by yourself – just go. (And go prepared for a brief wait during peak hours. Fortunately, Cheers to You next door has your back with a beer while you wait.)
On the border of Salt Lake's soon-to-be-bustling Central 9th District and 9th and 9th neighborhoods is Manoli's. Taking much-deserved pride in serving a modern spin on Greek cuisine, Manoli's is the place to be for sharing a bottle of wine and half the menu with people you love. The spanakopita croquettes, paidakia (lamb riblets with caper chimicurri and sea salt), and arni psito (lamb belly sliders with smoked feta spread, Greek coffee barbecue, and pickled cucumbers) are all practically impossible not to order each time.
HSL has been Salt Lake's darling from the moment it opened. Led by Briar Handly of Park City's Handle, HSL runs a veritable dream team of skilled, talented, and highly driven people. It's both intimate and inviting (and if you make it Monday-Thursday, they may be running some outrageous bar specials). Do not skip: the simply-named bourbon cocktail! The General Tso's-style cauliflower! The chicories and broccoli! The beef cheek burger with duck fat fries! The pork shank! (Oh, that pork shank!) And plan to order one of each dessert on the menu (I've done it more than once). You won't regret it.
Food & Drink Activities in Salt Lake City
So maybe you're not only looking for great food but to do something out of the ordinary while you eat and drink, too! We bet these fun food activities will pique your interest.
Can you picture a more perfect day than to bike around the city and sample some of SLC's best microbreweries? We can't, either! Gather some of your pals and check out this bike and brew tour.
Change up date night and take a baking class! At The Baking Hive, you can order delicious custom desserts or learn how to make it yourself. They also offer classes for kids, too.
Fun Things to Do in Salt Lake City, Utah
If you're looking for more fun things to do in Salt Lake City this weekend – or anytime – there is no shortage. From educational opportunities to getting active to finding the perfect places to shop, we have you covered!
Cultural Activities in Salt Lake City
The Utah State Capitol has many exhibits to experience – many you can explore online while it's temporarily closed to visitors. When you can visit in person, be sure to take a tour of the Capitol and spend time in the surrounding grounds as well. It's the perfect spot for a picnic or to curl up with a book for the day.
Temple Square has beautiful gardens across its 35-acre plaza. Catch a free performance of the Tabernacle Choir, take a tour of the historic home of Brigham Young, or enjoy a meal at one of its four restaurants.
For a fun date night or family night out, head to Vivint Smart Home Arena. Here you can see the Utah Jazz play or catch other concerts and shows throughout the year.
Salt Lake City Skiing and Snowboarding
One of the very best parks about Salt Lake City is the amazing snow. Here are some of our favorite spots to ski and snowboard around SLC.
Brighton is very well known for its ski school, as well as kids-ski-free policy. Children 10 years and younger and ski with a paying adult. These slopes are perfect for all levels, though, from brand new beginners to those more experienced. Brighton also offers kids summer programs for year-round learning and fun. This resort also has great dining, lodging, and shopping.
Snowbird is one of Utah's snowiest resorts and is perfect for both skiing and snowboarding. When deciding which trail to hit, err on the side of caution, as the difficulty ratings on Snowbird's runs tend to be underestimated. We also love Snowbird for its unique helicopter skiing and tours. There's also a great spa on site, in addition to restaurants and lodging.
Solitude is a quiet area that is appealing to both beginners and more experienced skiers and snowboarders. The slopes are great, but what's also nice about Solitude is the Nordic Center. The center has both classic and skate styles of Nordic skiing and has about 12.5 miles of trails to explore. If you've never cross-country skied or snowshoed before, there are plenty of opportunities to learn!

Day Trips Near Salt Lake City
As much as there is to do in Salt Lake City, there's so much to do within just a couple hours of the city.
Park City
Park City is about 45 minutes outside of Salt Lake City and makes a great place for a day-trip or long weekend. Favorite activities here are the annual Sundance Film Festival, amazing restaurants, or, of course, great skiing.
National Parks in Utah Near Salt Lake City
Utah is home to a handful of the nation's National Parks. All five hours drive or under, each park will make a perfect destination for a quick getaway.
As a final reminder, some of these activities may need to wait until businesses fully reopen from coronavirus closures. However, there is still much to see and experience in Salt Lake City that you can enjoy today! What are your favorite spots in SLC? Send them our way to [email protected] or by tagging us on Instagram @rvshare and using the hashtag #rvsharelocal.