How Tos & Tips
June 1st, 2020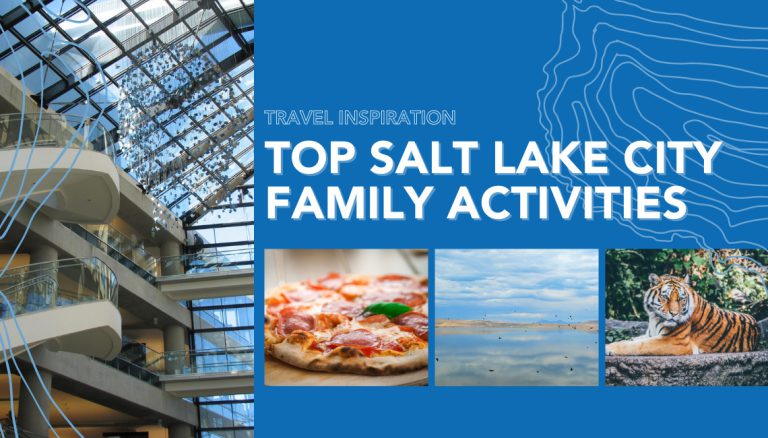 Utah is a fantastic place to go on an RV adventure. The many amazing national parks in this state offer incredible views, amazing hiking, and some of the best outdoor experiences in the entire country.
That said, many people like to mix up their RV getaways with some time spent in the city. When in Utah, the very best option in terms of cities to visit is Salt Lake City. This lovely city offers all the sights and sounds of a bigger city while still maintaining the charm of the American west. It is steeped in the unique culture of the area, and best of all, the city is 100% family friendly.
Salt Lake City family attractions are pretty easy to find, but just in case you're having trouble planning your vacation, we've compiled the ultimate list of things to do with kids in Salt Lake City.
Top 11 Salt Lake City Family Activities/Attractions
Let's begin by discussing the best family things to do in Salt Lake City. These are the places you hit if you want to make sure you experience the top-of-the-line family activities in Salt Lake City. Make sure you fit a few of these in, even if you only have a few days in the city.
Utah's Hogel Zoo
A zoo day is always a good day. This is especially true if you happen to be visiting Utah's Hogel Zoo. This 42-acre zoo is well maintained and features an enormous variety of animals, including polar bears, rhinos, and giraffes.
Plenty of shopping and dining options are also available, as are a splash zone and rides for the kids. These things come together to ensure an amazing day out with your family.
Red Butte Garden
Another great way to enjoy the weather and learn something new while visiting Salt Lake City is to spend a day at Red Butte Garden. This gorgeous attraction features an incredible botanical garden filled with a large number of lovely plants. For an extra special experience, consider attending one of the garden's outdoor concerts!
Natural History Museum of Utah
Looking for indoor fun family activities in Salt Lake City? The Natural History Museum of Utah fits the bill perfectly. This museum focuses on the natural history of the area, with exhibits on weather, native peoples, gems and minerals, and animals (both extinct and still living).
You won't leave here without learning something new, and the kids are sure to be fascinated by all they are introduced to.
Clark Planetarium
Have a space-lover on your hands? If so, the Clark Planetarium is a must-see.
This is an entire museum focused on space, the stars, and the planets, and we love it. You will want to make sure to give yourself plenty of time to explore all three floors of exhibits, along with a show or two.
Admission to the museum is free, but you will need to pay for shows.
Discovery Gateway
An awesome children's museum, Discovery Gateway is the perfect place for younger children. The museum uses hands-on exhibits to introduce young visitors to new ideas and offers opportunities to explore the world in their own unique way. We especially love the Sensory Room, STEAM Studio, and Honey Climber found in this museum.
The Leonardo
Slightly older kids and teens might appreciate The Leonardo. This is a science and art museum that showcases the connections between science and creativity in fun and innovative ways. "Make" spaces, art installations, and rotating exhibits come together to create an incredibly interesting place that might just be one of the best family activities in Salt Lake City, UT.
The Tracy Aviary
In the next section further down, we'll be mentioning a visit to Liberty Park. It's a park well worth visiting, and one of the best things to do there is visit the Tracy Aviary.
Tracy Aviary features an enormous variety of birds, including pelicans, cranes, owls, vultures, swans, and more. The exhibits are well-thought-out, and thanks to the bird shows, cafe, and shopping opportunities, one can easily spend several hours in the park.
Great Salt Lake State Park
No visit to Salt Lake City is complete without checking out the Great Salt Lake itself, located west of town.
For this, we recommend one of our favorite day trips from Salt Lake City with kids: a visit to the Great Salt Lake State Park. Here you can see a small museum on the lake, go for some fun hikes, take in some amazing views, and even dip a hand or foot into the water to see the salt crystals they collect.
"This Is The Place" Heritage Park
History buffs will love This Is The Place Heritage Park. This park features a recreated pioneer village where guests can wander and learn about the past from knowledgeable interpreters.
Horseback trail rides are available for those who wish to venture out onto the trails the way our ancestors might have. Additionally, various events happen throughout the year to help bring history to life.
Snowbasin Ski Resort
Those who visit Salt Lake City during the winter might consider a visit to a nearby ski resort. Snowbasin Ski Resort is one of the best options for families with kids.
This place is consistently recognized as one of the best family ski resorts in the country, and once you visit you'll understand why. From beginner-level practice areas to advanced trails, there is something for the youngest beginner all the way to the adult who grew up skiing.
Utah Olympic Oval
Back in 2002, the Winter Olympics were held in Salt Lake City. After the event ended, the city was left with an incredible skating rink that holds more Olympic World Records than any other location in the world.
These days the rink is open for public skating, offering Salt Lake City visitors an experience not to be missed. The skate sessions are surprisingly affordable, and skate and helmet rentals are available, making things easy for mom and dad.
4 Fun Things to Do in the Salt Lake City Area with Kids for Free
Hoping to save some money? Fortunately, there are plenty of fun things to do in Salt Lake City with kids that don't cost a single penny. These options are entertaining and memorable, and some are even educational.
Here are our top picks for things to do with kids in the Salt Lake City area for free.
The Gateway
This large, open-air shopping and dining district is a great place to go window shopping and enjoy the hustle and bustle of the city. You truly don't have to spend a cent to have a good time here. That said, if you do have a little to spend, you might consider grabbing a meal from one of the many awesome dining locations.
Salt Lake City Main Library
A fabulous place to go when looking for free family activities in Utah, Salt Lake City Main Library is much more than your average library. The architecture of this building is incredible and the light that pours in through the dozens for windows makes the place feel magical.
There are performances and programs for people of all ages, a cafe serving yummy food and drinks, and the rooftop garden offers some beautiful views. Of course, there are also plenty of books to be enjoyed.
The Salt Lake Temple and Tabernacle
Yes, it is true that only those of the Mormon faith may enter the temple. That said, the gorgeous grounds, beautiful building exterior and free concerts and rehearsals by the Tabernacle choir can be enjoyed by absolutely anyone. We highly recommend visiting during one of these musical performances in order to fully experience this aspect of the Salt Lake City culture.
Liberty Park
A visit to the park is a fun experience for any kid. That said, Liberty Park is more than your average city park. Here you'll find the usual walking and running paths, beautiful green spaces, and playground. However, you'll also discover the aforementioned Tracy Aviary, a swimming pool, and even a children's amusement park.
While some of the attractions in the park do cost money, a visit to the park itself is always free and a great way to spend an afternoon.
Awesome Events: What Fun Things Can You Do with Your Family in the Salt Lake City Area?
Just like most other major cities, Salt Lake City has its own fair share of awesome events. While some of these events are better suited to the more mature crowd, there are plenty that cater to families. In fact, we'd even go so far as to say events are some of the best things to do in Salt Lake City with family.
The events below are our favorites, but you can also run a search to find Salt Lake City events today.
Utah Arts Festival
One of our favorite family-friendly events is the Utah Arts Festival. This enormous festival features artists from around the state, and even some from outside Utah. You can check out paintings and sculptures, listen to good music, watch local dance groups, see some fantastic films, and of course, eat delicious food.
This is an event you won't want to miss if you happen to be in Salt Lake City in June.
Living Traditions Festival
If you've ever attended a festival that focused on a single culture and had a good time you're going to love the Living Traditions Festival. This fantastic event celebrates all cultures through performances and food.
During the three-day event, guests of all ages can hear music from around the world, taste snacks and beverages from various countries, and learn all about the traditions of various cultures.
Luminaria
Do you love the winter holidays? If so, you're going to adore Luminaria. This is a spectacular light show unlike anything you've ever seen before. Rather than a mere few lights hung on trees, or even some lights creating designs along the path, you'll see thousands of lights used as pixels to create a blanket of moving pictures.
A visit to this incredible event is the perfect way to get into the holiday spirit and is something your family won't soon forget.
Utah State Fair
There's nothing quite like a state fair, and Utah's state fair is about as good as they come. Just as you might expect, this fair consists of animal shows, arts-and-crafts competitions, vendors galore, plenty of rides and games, and lots and lots of fried foods on a stick. You will want to bring plenty of cash to splurge on all the fun, but we guarantee your crew will go home happy and well fed.
Utah's Pioneer Day Celebrations
July 24th is a big day in Utah. This is the day Brigham Young decided that he and his fellow Mormon pioneers would settle down in what is now Utah. Many pioneers followed after him and created the great state we know now, and this is why the people of Utah go big when celebrating this anniversary.
Salt Lake City is home to some pretty awesome Pioneer Day celebrations. Among these are the Pioneer Day Fireworks at Liberty Park, the Days of '47 Rodeo, and the Days of '47 Parade. All are worthwhile events that you won't want to miss!
Where Can I Take My Kids in Salt Lake City to Eat?
As you can see, there are plenty of things to do in Salt Lake City with kids. One of the very best fun things to do with family in Salt Lake City, UT is go out to eat. There are unique, delicious, family-friendly restaurants around every corner, meaning you'll never be without something tasty to munch on as you explore the city.
Bruges Waffles and Frites
Who doesn't love waffles topped with delicious things? What sane person doesn't enjoy a good french fry? If you like both—and we're guessing you do—why not put them together to create the ultimate restaurant? That's what the folks at Bruges Waffles and Frites have done, and it's amazing.
Whether you're looking for a sweet chocolate waffle or a sandwich topped with fries, there is something delicious here for you. Best of all, waffles and fries are two foods you know the kids won't argue about eating!
Settebello Pizzeria
Another kids favorite is pizza, and Settebello Pizzeria is an excellent place to grab a few pies. This place is awesome because they take pizza and make it into a more "grown up" affair while still offering simple options for the kids in your party.
On top of that, one of the things we love best about Settebello Pizzeria is the fact that they serve individual sized pies. This means everyone can choose the toppings they love without any argument.
Ruth's Diner
When it comes to kid-friendly foods, diner foods are some of the best out there, and Ruth's Diner has those. Ruth's Diner is your classic, all-American diner that has been a Utah tradition since 1930. Additionally, the waitstaff here loves kids, meaning you can count on getting excellent, family-friendly service.
Whether you're craving pancakes or a burger, and if you want good food, great service, and a laid-back environment, this is the place for you!
Penny Ann's Cafe
"Home of the Heavenly Hot Cakes", Penny Ann's Cafe is another fabulous place to get those home cooked meals you crave.
The people here are as welcoming as your aunt or grandma might be, and the foods are familiar and comforting, making this the ideal place for kids, as well as those looking for a bit of familiar comfort after a long day of sightseeing.
The pancakes here are just as delicious as advertised, and the soups and salads are also wonderful.
Red Iguana
Looking for Mexican fare? Red Iguana is a fun place to grab a taco or two while enjoying a casual dining experience that the kids are sure to love. This place is one of Utah's most decorated restaurants, and once you give it a try you'll understand why.
From the simple tacos and burritos to the signature mole dishes, there is something for everyone at this yummy food stop.
RubySnap
Finally, you will want some dessert, and RubySnap is just the place for that. Sure, you can get RubySnap cookies at the grocery store, but they are much better fresh, and that's what you'll get when you visit their Salt Lake City location. Nut-filled cookies, decadent chocolate flavors, and more yummy options grace the menu at this superb cookie spot.
Clearly, Salt Lake City is a fantastic vacation destination for anyone traveling with kids. Grab an RV, check out a few of Utah's amazing national parks, pick some of these fun family activities in Salt Lake City, and enjoy the family vacation of a lifetime!