Travel Inspiration
May 7th, 2020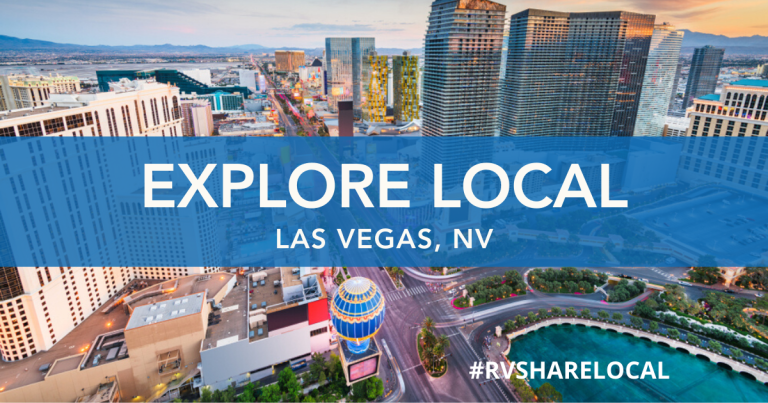 We love traveling – that feeling of wanderlust is buried deep in our souls! Seeing new places, experiencing new things, meeting new people… But here's the thing – you don't have to go far to fill your adventure cup. Sometimes the best adventures are the ones close to home. And if you live in Sin City, there is loads of adventure to discover right in your own backyard.
Join us as we Explore Local: Las Vegas, Nevada.
Why We Love to Travel
So why do we love to travel in the first place? Well, we've already said that a huge appeal is the new-ness a place has to offer. Getting to experience cultures that are different from our own or eating cuisine that is not what we're used to are amazing ways to grow as individuals and learn about others. Seeing how other people live helps us keep an open mind and even gather inspiration to bring back into our daily lives.
Travel is also a great way to get away from the day-to-day. Breaking up our routines with a fun trip definitely recharges the batteries and helps prevent us from getting burnt out. 
But again – you don't have to go far from home to get this perspective! 
Benefits of Traveling Locally
While the culture an hour away from your home might not be drastically different from what you're used to, you can still gain a deepened sense of appreciation for where you've laid your roots. Plus, traveling locally has a lot of benefits:
More cost-effective. Local travel is certainly a budget-friendly way to explore! Many activities and parks are free or have a low cost of entry. For day trips, you can also pack your own meals to save.
Eco-friendly way to travel. Travel is hard on the environment, but putzing around your area is more sustainable than air travel. 
Quick trips. Getting out locally means you can do it more often! Long weekend trips are a lot easier to take when the destination is a short drive away.
Easy to plan. Preparing your itinerary for a local getaway will likely save you some time and stress.
More convenient. Especially if you have little ones, sticking close to home may be much more convenient than far-off destinations. If you forget something, have an emergency, or need to cut the trip short, being close by definitely has its benefits.

Explore Local: Las Vegas, Nevada
This guide is perfect for those living in or near Las Vegas who want to get to know the city even more. If you're looking for fun things to do in Las Vegas, this is the guide for you!
*Note: Some of the suggestions may not be doable due to coronavirus closures, but keep this list handy for when things start opening back up more! Be sure to check individual pages for specific operation details.
State Parks in Las Vegas
Las Vegas is smack-dab in the middle of some of the most stunning red-rock-strewn desert landscapes in the country. Here are our guides to some of the state parks and national parks in and around Las Vegas, NV.
Death Valley National Park is located nearby in California and is known for being both the hottest and driest place in the continental United States. It's also got both the lowest and highest elevation, making it a land of extremes for sure.
Joshua Tree National Park is known for its unique flora, though the "trees" it's named after are actually just large succulents! It's a great place to go hiking, but given its desert location, it's important to bring plenty of water and wear appropriate clothing. We also recommend getting an early start!
Valley of Fire State Park is right outside of Las Vegas, and is a great place to view some local wildlife like lizards, snakes, coyotes, kit foxes, spotted skunks, black-tailed jackrabbits, and antelope ground squirrels. It's also got some great hiking trails to explore, but again, be prepared! The desert is no joke.
Best Hiking Trails
Hiking is one of the most fun things to do in Las Vegas and is a great idea for solo travelers, couples, families – just about anyone! Here are a few of the best hiking trails in the Las Vegas area.
Red Rock Canyon National Conservation Area
Located just outside of the city itself, Red Rock Canyon is a great place to go hiking, even if you just have a few hours to spend. It's got trails for every fitness level, from easy, flat rambles to more strenuous, hilly grades.
Some of our favorite trails in this conservation area include Calico Tanks Trail, a moderate-rated 2-mile out-and-back trail. It moves past an agave roasting pit and features some stunning views, and is open to leashed dogs. Pine Creek Canyon is another option, which is longer, but easier: it's a 3.4-mile, heavily trafficked trek that doesn't see much elevation gain at all but also has some bouldering opportunities for climbers.
There are dozens of other hiking trails in the 195,000+ acre boundaries of Red Rock Canyon, but there are other outdoor recreational opportunities in the area, too.
Other Hiking Options
While Red Rock Canyon is a great go-to, there are other hiking trails in and around Las Vegas, too.
Las Vegas Overlook Trail gives visitors a sweeping view of the entire city, though it's a strenuous journey of 9 miles round trip and more than 1,700 feet in elevation gain. Although it's very close to Red Rock Canyon, it's technically outside of the park, and thus often doesn't have the same amount of crowds that the park trails do.
If you're looking for a relaxing diversion after a long, hot day of exploring the strip, Arizona Hot Springs is a great place to kick back in a natural hot tub. There are several different ways to get to the springs, but all of them require some effort: if you don't hike in, you could choose to paddle or float the river to your destination.
Frenchman Mountain is the option for hikers looking for a more strenuous adventure that ends with a summit. Pets are allowed, but if you tackle this one, be sure everyone in your party is ready for a serious undertaking — this hike is no joke!
Best Restaurants In Las Vegas
Chances are all that hiking worked up an appetite! Here are some o the very best restaurants in Las Vegas, whether you're after Mexican, sushi, a vegan meal, or something else entirely.
Searching for the best Italian restaurants in Las Vegas will reveal a wide variety of options, but we like this one, which is far off the Strip and known for its combination of delicious, traditional eats and a casual atmosphere.
There's no shortage of Asian restaurants in Las Vegas, but this sushi hot spot stands out from the rest with its hand-picked selections.
If you want your meal with some intrigue, find your way to Secret Pizza. It's tucked away on the third floor of The Cosmopolitan hotel and features a New-York-style walk-up counter.
Violette's Vegan Cafe & Organic Juice Bar
Known as one of the best vegetarian restaurants in Las Vegas, Violette's is a great place to grab a salad, wrap, or smoothie.
Local Insider Tips From Sami Cimino:
Just slightly off the Strip is a coffee shop downtown called PublicUs serving coffee, food, and alcoholic beverages. Go for breakfast and order a macadamia nut latte with homemade macadamia nut paste and The Brekkie sandwich (with two farm-fresh eggs scrambled or sunny side-up, bacon or Portuguese sausage, cheddar cheese, and a brioche bun), or go for lunch and order their vegan burger with an iced tea. Anything you get at PublicUs is sure to win you over and leave you feeling light yet satisfied.
One of the best Mexican restaurants in Las Vegas, El Dorado is an all-organic and non-GMO restaurant with tons of gluten-free and vegan options! Sit in the heart of Vegas and enjoy the best carne asada tacos or delicious chicken enchiladas you've ever had, and be sure to leave room for churros and dipping sauce to top off the night right.
Craving an açaí bowl? Yeah, me too – and Fruits & Roots is my favorite place to get one! They serve the most delicious and healthiest options you could imagine – get their açaí Earth Bowl if you're in need of some extra greens, or their chicken quinoa wrap if you're craving protein. You won't even notice that everything you eat here is gluten-free! I often stop here for lunch to relax in the quaint space with view of the Strip to glance from afar.
Fun Things to Do in Las Vegas
Wondering what other things there are to do in Vegas this weekend — or anytime you may visit? Here are some of our favorite options whether you're traveling with kids, your partner, or just yourself.
Cheap Things to Do in Vegas
It's really easy to spend way too much money in Las Vegas — but there are affordable things to do, too! Here are some suggestions.
Eiffel Tower Viewing Deck
Paris Las Vegas is a sight to behold almost on par with the real thing over on the Continent. You and your sweetheart can take in the view at the top at prices starting under $20 per person, and there are regular specials that drop that price even lower.
Fremont Street Experience
Basically, an ongoing downtown block party, the Freelance Street Experience is a section of town that's got tons of live entertainment, dining, and other activities no matter what time of day you go. You can walk through totally for free, though some of the diversions will obviously cost you for entry.
The High Roller
Okay, hear us out, because, in the context of a Ferris wheel, the High Roller is anything but cheap… but considering this very special Ferris wheel takes you soaring more than 500 feet over the Vegas strip (in one case with an in-cabin open bar!), its sub-$50 price of entry is actually a bargain.
Prices are even lower during the day, or for youths who can get on for as little as $8.50.
Things to Do for Families and Kids
It's considered an adult playground, but Vegas has a lot to offer the kiddos, too. If you're traveling with the family, here are some options to consider adding to the to-do list.
SlotZilla Zipline
While you're meandering down Fremont Street, look up! See those people zipping by on the zipline? You could be one of them! The SlotZilla Zipline is a thrilling adventure only for the bravest visitors, flying you up to 11 stories over the bustle of Vegas below. Fly seated or "super-hero style" for less than $50 (or $30 for the shorter adventure), and save $5 if you fly before 5 p.m.
Siegfried & Roy's Secret Garden and Dolphin Habitat
In operation since 1990, Siegfried & Roy's Secret Garden and Dolphin Habitat offers visitors of all ages the chance to come face-to-face with some exotic new friends. You'll meet bottlenose dolphins, white tigers, lions, and leopards, and get the opportunity to interact with trainers and experts who can answer all of your questions.
Adventuredome at Circus Circus
Widely regarded as one of the best things to do in Las Vegas, Adventuredome is a great option for kids or for rainy day fun! From mini-golf and mini-bowling to indoor rock climbing and bungee jumping, there are tons of cool things to do at this attraction.
Hoover Dam
One of the most popular family things to do in Las Vegas off the strip is to visit the Hoover Dam. It was constructed between 1931 and 1936 during the Great Depression and is used to generate power, control floods, store water and regulate the area's water system. It also impounds Lake Mead, which is the largest reservoir in the United States and also another great option for visitors looking for an outdoor recreation opportunity.
Day Trips in Las Vegas
Rhyolite Ghost Town
En route to Death Valley, you'll drive by this little ghost town, which was once a thriving mining town at the turn of the 20th century. It came crashing down during 1907… but it still stands today as an excellent photo opp.
Area 51
If you're a believer — or even if you're not — be sure to add this stop to your list. It's just over an hour outside of Vegas… but be forewarned it *is* an active U.S. Air Force Facility with extremely classified goings-on, so you won't actually be getting very close to the buildings.
Local National Parks
Thanks to its desert location, Las Vegas is within easy driving distance of a lot of great national parks. (After all, they call this area the Grand Circle for a reason!)
It might be worthwhile to turn the day trip into a weekend getaway, however, as most of these parks have a lot to offer and much more to see than you'll be able to get to in an afternoon.
Joshua Tree is located in southern California and is only about a three-hour drive from Las Vegas and gives you the opportunity to get some photos with its iconic plants.
Death Valley is less than two hours away, though you could certainly spend an equivalent time or longer attempting to drive across it and get the overview.
Finally, even the Grand Canyon isn't too far from Vegas. This four-hour drive is perfect for a weekend getaway from the city! We recommend staying (or at least stopping) in Flagstaff, a small college town filled with fun coffee shops, eateries, shops and more.
Spas in Las Vegas
Sahra Spa, Salon and Hammam
Tucked inside the Cosmopolitan hotel, this spa offers a wide range of services from massages and skincare to hot baths and other body services, all in a relaxing and chic atmosphere. The Sahra Spa, Salon and Hammam also offers immersive, full-body experiences including body buffing, mud masques, and more.
South Point Spa
Located close to, but not directly on, the Las Vegas strip, the South Point Hotel offers its own proprietary casino and spa along with its own 16-screen movie theater, 64-lane bowling alley, and more. The spa is a standout, with more than 40,000 square feet of treatment rooms, couples' suites, saunas, steam rooms, and more.
Best Gyms & Yoga Studios
Las Vegas Athletic Clubs
With several locations strewn throughout the city, Las Vegas Athletic Clubs might be the best-known gym option in town — and for good reason. Offering a full suite of athletic equipment as well as group classes, personal training, and more, this gym has you covered no matter what your preferred way to move may be.
Sin City Yoga
Balance out the "sin" of Sin City at Sin City Yoga studio, which offers a wide variety of yoga classes as well as Reiki, teacher training, and more.
Free Things to Do in Las Vegas
Bellagio Fountain Show and Botanical Gardens
While you're walking down the Strip, you'll doubtless see the majestic Bellagio hotel — and the equally majestic fountains in front of them. Running every half hour during the daytime and every fifteen minutes at night, the pools come alive with a water and light show… and once you've sat through that, be sure to venture inside and take a gander at the indoor gardens and the roof covered in Chihuly glasswork.
Seven Magic Mountains
This outdoor installation is on public lands near Jean Dry Lake and Interstate 15, only ten miles or so outside of Las Vegas. If you're into weird and wacky roadside attractions, it's a worthwhile stop to add to your itinerary… and totally free!
As a final reminder, some of these activities may need to wait until businesses fully reopen from coronavirus closures. However, there is still much to see and experience in Las Vegas that you can enjoy today! What are your favorite spots in Las Vegas? Send them our way to [email protected] or by tagging us on Instagram @rvshare and using the hashtag #rvsharelocal.
This post may contain affiliate links.