Travel Inspiration
June 19th, 2020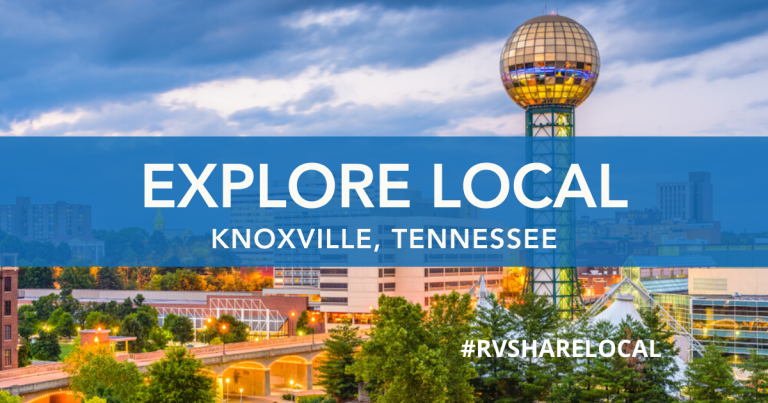 It may not be as top-of-mind as Nashville or even Memphis. But those who know, know that Knoxville, Tennessee is a very special corner of the state in its own right.
If you've called the town home for a long time, you probably already know that it's full of great restaurants, shops, and cultural exhibits to discover. But you might not be aware that it's also the smallest town in history to host the World's Far (back in 1982), and it's also the birthplace of the now-uber-popular soft drink, Mountain Dew.  It's also where none other than Elvis Presley's career took off, not to mention the native stomping grounds of Quentin Tarantino. Suffice to say, there's a whole lot of cool history in this small mountain city!

Why We Love to Travel
So why do we love to travel in the first place? Getting to experience cultures that are different from our own or eating cuisine that's different than what we're used to are amazing ways to grow as individuals and learn about others. Seeing how other people live helps us keep an open mind and even gather inspiration to bring back into our daily lives.
Travel is also a great way to get away from the day-to-day. Breaking up our routines with a fun trip definitely recharges the batteries and helps prevent us from getting burnt out.
But again – you don't have to go far from home to get this perspective! Sometimes the best adventures are just around the corner.
Benefits of Traveling Locally
While the culture an hour away from your home might not be drastically different from what you're used to, you can still gain a deepened sense of appreciation for where you've laid your roots. Plus, traveling locally has a lot of benefits:
More cost-effective. Local travel is certainly a budget-friendly way to explore! Many activities and local parks are free or have a low cost of entry. For day trips, you can also pack your own meals to save.
Eco-friendly way to travel. Travel is hard on the environment, but putzing around your area is more sustainable than air travel.
Quick trips. Getting out locally means you can do it more often! Long weekend trips are a lot easier to take when the destination is a short drive away.
Easy to plan. Preparing your itinerary for a local getaway will likely save you some time and stress.
More convenient. Especially if you have little ones, sticking close to home may be much more convenient than far-off destinations. If you forget something, have an emergency, or need to cut the trip short, being close by definitely has its benefits.
Explore Local: Knoxville, Tennessee
Fun facts aside, what's there to see, do, and experience in Knoxville now? We're glad you asked, because the answer is, "plenty!" Here are our favorite things to do and places to explore in Knoxville.
*Note: Some of the suggestions may not be doable due to coronavirus closures, but keep this list handy for when things start opening back up more! Be sure to check individual pages for specific operation details.
State Parks in Knoxville
Although there's tons to explore and do in the city itself, one of the best things about Knoxville is its proximity to a wide diversity of incredible wilderness spaces. Here are some of the best state and national parks near Knoxville, TN.
Big Ridge State Park consists of more than 3,600 beautiful acres preserved alongside the southern shore of the Norris Reservoir, which impounds the Clinch River. Heavily forested and with well-appointed campsites, this is a great destination whether you're looking to hike or relax on the water.
Cumberland Mountain State Park is another lakeside landscape frequented by outdoorspeople of all stripes. Whether you're there for hiking, paddling, or birding, it's the perfect spot to relax and get away from it all.
Frozen Head State Park is the place to go if you're one of those "the mountains are calling" types. At about 24,000 acres and containing more than 14 peaks above 3,000 feet, if you're looking for a climb that'll get you sweating (and swearing aloud at how beautiful the view is), this is the spot.
Norris Dam State Park is another spot worth visiting on the Norris Reservoir, giving visitors the opportunity to see exactly how this marvel of engineering works. Although the dam itself is certainly a worthy sight, this park also boasts over 4,000 acres of woods and waterfront.
Panther Creek State Park is tucked less than an hour away from Knoxville along the shores of the Cherokee Reservoir. Campsites are available, as are 17 demarcated hiking trails covering dozens of miles of terrain at all sorts of difficulty levels.
Great Smoky Mountains National Park is the most commonly visited national park in the American register, not least because there's no entry fee to get in (!). Straddling the Tennessee/North Carolina border, this sprawling park offers a stunning amount of diversity whether you're there to hike, paddle, float, or just meander.
Mammoth Cave State Park isn't actually in Tennessee — it requires a trip over the state border into Kentucky. But it's a venture that's well worth the drive, given that this cave system is actually the largest not only in America, but in the world… and they aren't even done excavating it yet! (Be sure to plan ahead if you want to take a trip down into the actual cave system, as guided tour reservations are required.)
Best Hiking Trails
Although there's no shortage of state parks to check out in the area, you don't even necessarily have to go that far to get a great hike in. Here are some of the best hiking trails in the Knoxville, Tennessee area.
Ijams Nature Center Trail
A nonprofit organization that offers educational programming, event hosting and — perhaps most importantly in this case — a wide network of hikeable trails, Ijams Nature Center is a must-visit for any Knoxville resident or visitor, and its main pedestrian trails is a great way to experience the flora and fauna without very much hassle. Measuring less than 1.5 miles all told, the Ijams Center Nature Trail is a heavily trafficked loop, so do be on the lookout for others. Enjoy the lakeside and the boardwalk area!
Tharp Trace at Mead's Quarry
A moderate adventure, Tharp Trace trail at Mead's Quarry measures just 1.3 miles and sees about 300 feet of elevation gain, which is to say you'll encounter a couple of inclines, but nothing too challenging. Along with the nature sights, take a peak at the abandoned stone quarry the area is named for, which was used to harvest marble from between 1880 and 1920.
Fort Dickerson Quarry Trail
Can't get enough of quarry trails? Fortunately, you don't have to — the Knoxville area has plenty! The Fort Dickerson Quarry Trail is about the same length as Tharp Trace, but considerably easier, seeing less than a hundred feet of elevation gain. Although it's short, make no mistake: it's worthwhile. The views of the quarry and the lake are to die for.
Sharps Ridge Loop Trail
If you're in the mood for a bit of a longer wander, Sharps Ridge Loop Trail might be the perfect spot. Measuring in at about 4 mile in length, this moderate hike requires a bit of climbing effort, but not too much, and lasts long enough to keep you occupied for more than just an hour or so. Bonus: it's known for its beautiful wildflowers if you visit in season!
Concord Park Trail
Another longer, moderately-rated hike, Concord Park Trail measures 4.3 miles and is an out-and-back trek. Watch out for the unique waterfowl the area's known for as you meander along the river, and keep an eye out for trail runners and mountain bikers, who might be taking things a bit more quickly than you are!
Best Restaurants in Knoxville
You've wandered and explored the forests, mountains, rivers, and lakesides around Knoxville. It's definitely time to feed yourself!
Whether you're looking for the best Italian, Asian, Mexican, or even vegan restaurants, Knoxville has you covered. Come see what a culinary variety there is in the city.
Savelli's Italian Restaurant
A family-owned affair offering up authentic eats in, let's just say, generous portions, Savelli's Italian Restaurant is beloved by locals across the county, not just the town. It's BYOB, though — so if you want a glass or two of wine to accompany your pasta, make sure to bring it along!
Tomo Japanese Restaurant
You may be miles away from an ocean, but take heart: it's possible to find amazing sushi, as well as other Japanese delights, in Knoxville. Tomo Japanese Restaurant may not be frilly; it's actually tucked into a strip mall. But the dishes you'll find inside are as fresh as they are authentic, not to mention reasonably priced.
Abuelo's Mexican Restaurant
Given the name, it's no surprise that Abuelo's Mexican Restaurant, you're treated like family. With an airy, inviting interior and fresh, classic Mexican dishes, this is the perfect place to enjoy some fajitas, a plate of nachos, or even a good old fashioned burrito.
Bombay Palace
The American South isn't exactly known for its focus on vegetarian or vegan eating — but if you're looking for a restaurant that fits your lifestyle choices while also offering an authentic, spicy take on Indian favorites, the Bombay Palace has your number. Portions are large, the location is convenient and unpretentious, and you can even order online.
Stock & Barrel
Looking for authentic, down-home, simple American eats with enough of a twist to keep it interesting? Stock & Barrel is considered one of the best restaurants in the city, particularly if what you're after is a gourmet burger. And if you need something delicious and a little bit spirited to wash down your meal, you're in luck; this joint is renowned for its wide selection of fine bourbon. Enjoy!
Fun Things to Do in Knoxville
You've feasted. You've frolicked in the wilderness. Now what? "Lots more" is the answer! Here are some of the top things to do in Knoxville, no matter who you're with or what you're hankering for.
With Kids and Families
Got the whole family looking forward to an adventure? That's good — because some of the very best things to do in Knoxville are things to do with kids.
The Girl Scout Museum
Got a Girl Scout — or even just a hopeful — amongst your clan? The Girl Scout Museum is located inside Knoxville's Service Center, and offers guided tours as well as browsable collections of vintage Girl Scout uniforms and other memorabilia. Oh, and did we mention admission is FREE?
Zoo Knoxville
You absolutely can't go wrong with a day at the zoo, no matter who's in your party. Zoo Knoxville hosts 800 animals across its 53-acre property, including a whole alphabet of wild new friends to make from African Elephants all the way to Yellow-backed Duikers.
Cheap Things to Do in Knoxville
Want to see the town without spending your entire discretionary budget? We hear you — and have some great suggestions for cheap things to do in Knoxville!
World's Fair Park
Remember how we told you Knoxville hosted the World's Fair back in 1982? Well, you can still explore the grounds where the event took place, now known as World's Fair Park. Much of the park is free to enter, including the famed Sunsphere observation deck, which will give you a great panorama of town and the surrounding mountains to boot. Of course, events do take place from time to time on the lawn, and may require paid admission.
Meander Old Gray Cemetery
Strolling through a cemetery may strike you as an odd way to pass the time when you first think about it.
But think again. Because Old Gray Cemetery, along with being the final resting place for hundreds of people, including many headstones dating back to the 1850s, is also a beautiful rolling 13-acre green space right in town that's totally free to enter. What's not to live?
Free Things to Do in Knoxville
Yep, you read it right — there are a few things you can do to get familiar with Knoxville that are 100%, absolutely, positively FREE. Here are some of our favorites.
Guide Yourself Through a Tour of the Cradle of Country Music
It seems like just about the entire south is in an argument about who gets to lay claim to the birth of country music. But make no mistake about it, Knoxville was definitely involved — and you can take yourself on a totally-free walking tour of some of the most important historical locations in town connected to the rise of the genre. Just check out the Cradle of Country Music Tour Walking Map as devised by the makers of Knoxville's travel website. As you meander through this walk down memory lane, you'll get a much clearer understanding of, and appreciation for, the rich legacy of country music.
Hunt for Murals
Knoxville has a rich history of public art, and many of its walls are festooned with gorgeous, larger-than-life murals. Spend a day meandering around town and see how many you can spot, and don't forget to grab a few selfies!
Things to Do in Knoxville at Night
Sure, there are plenty of things to do during the day in Knoxville. But don't worry, the fun doesn't stop once the sun goes down.
Here are some of our favorite things to get into in Knoxville after dark.
First Friday Art Walk
Many cities hold a monthly art walk event, but if you haven't been to Knoxville's First Friday, you're missing out. The city comes alive with displays and live music while residents and visitors alike circulate its venerable collection of galleries. Put it on your calendar so you don't forget!
Clarence Brown Theater
If you're looking for premier, world-class entertainment without paying the high prices you might at some other famous theaters in town (cough cough), we suggest you check out the Clarence Brown Theater, which is on campus at the university and offers a wide range of plays and events every season.
Spas in Knoxville
Who couldn't use some pampering from time to time? If you're in need of some indulgence, check out the following Knoxville-area spas.
Spa Visage
One of the top day spas in Knoxville, Spa Visage offers rejuvenating therapies like massage as well as beautifying treatments like manicures, pedicures, and waxing. In short, no matter what you need, you're going to walk out of this place looking and feeling better than you did when you walked in.
Belleza Salon and Spa
Sometimes, a new 'do really can make the difference between feeling meh and feeling marvelous. You can have your hair chopped, colored, or styled at Belleza Salon and Spa — not to mention classic spa treatments like massages and facials.
Best Gyms & Yoga Studios
Taking care of your body isn't just about how you look on the outside — it's about how you feel on the inside. Here are some spaces to get your sweat and smile on in Knoxville, TN.
Exclusive Fitness
No matter what your goals are, Exclusive Fitness offers the professional help, tools, and motivation you need to get there. Their team of personal trainers is standing by to meet you where you are, assess your objectives, and build a plan to help you move toward them.
Breezeway Yoga Studio
This intimate yoga studio offers a wide range of classes suited to meet your needs no matter what they might be. From gentle sessions to challenging flows, Breezeway Yoga Studio is the perfect place to get grounded.
Real Hot Yoga
Some like it hot — and if that's you, Real Hot Yoga is the perfect Knoxville yoga studio to consider. A challenging sequence that can help you gain flexibility, strength, and fitness, hot yoga is about way more than just stretching… but you'll surely figure that out about five minutes into your first class!
Day Trips in Knoxville
There's plenty to do in Knoxville — but not at the expense of all the great things to see in the surrounding area! Here are some suggestions for Knoxville-area day trips.
It may be a two-and-a-half hour drive to Nashville, but if you're looking for a big city experience with deep south sensibilities and a side helping of great live music to boot, it's hard to do better than the Tennessee state capital. We recommend making it into a whole weekend rather than just a day trip!
Chattanooga
You've certainly heard of the Chattanooga Choo Choo, haven't you? You can go see the real deal if you head a couple hours south of Knoxville, not to mention the wealth of other amazing to-dos in the area. Head over the border into Georgia to explore Lookout Mountain, and don't forget about Rock City and Ruby Falls, either!
Gatlinburg and Pigeon Forge
Known as the gateway towns for Great Smoky Mountains National Park, Gatlinburg and Pigeon Forge mean business when it comes to family fun and entertainment. From nightly live revues to a seemingly endless array of shops, bars, restaurants, and moonshine tasting rooms (yes, really), if you're headed toward the national park, we highly recommend making a detour into one of these two famous Tennessee mountain towns.
As a final reminder, some of these activities may need to wait until businesses fully reopen from coronavirus closures. However, there is still much to see and experience in Knoxville that you can enjoy today! What are your favorite spots in Knoxville? Send them our way to [email protected] or by tagging us on Instagram @rvshare and using the hashtag #rvsharelocal.