Travel Inspiration
June 8th, 2020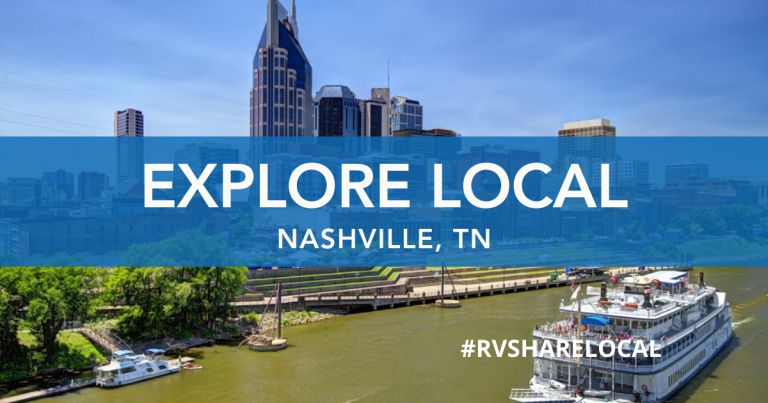 Ah, Nashville, Tennessee. The so-called birthplace of country music (though that's actually contested by nearby Bristol) — and a whole lot of other music besides.
Along with melodic sounds and the community atmosphere that tends to gather around them, Nashville is also home to some of the best eats in the country, not to mention surrounded by wilderness landscapes that are well worth getting lost in for a few hours… or a few days.
If you're looking for things to do in Nashville, we've definitely got you covered! In this post, we're going to talk about all of our favorite things to see, do, and consume in Nashville, Tennessee.
Why We Love to Travel
The beauty of travel is seeing new places, experiencing new things, meeting new people… That feeling of wanderlust is buried deep in our souls! Getting to experience cultures that are different from our own is an amazing way to grow as individuals and learn about others. Seeing how people all over the world live helps us keep an open mind and even gather inspiration to bring back into our daily lives.
Travel is also a great way to get away from the day-to-day. Breaking up our routines with a fun trip definitely recharges the batteries and helps prevent us from getting burnt out.
But here's the thing – you don't have to go far to fill your cup. Sometimes the best adventures are the ones close to home.
Benefits of Traveling Locally
While the culture an hour away from your home might not be drastically different from what you're used to, you can still gain a deepened sense of appreciation for where you've laid your roots. Plus, traveling locally has a lot of benefits:
More cost-effective. Local travel is certainly a budget-friendly way to explore! Many activities and local parks are free or have a low cost of entry. For day trips, you can also pack your own meals to save.
Eco-friendly way to travel. Travel is hard on the environment, but putzing around your area is more sustainable than air travel.
Quick trips. Getting out locally means you can do it more often! Long weekend trips are a lot easier to take when the destination is a short drive away.
Easy to plan. Preparing your itinerary for a local getaway will likely save you some time and stress.
More convenient. Especially if you have little ones, sticking close to home may be much more convenient than far-off destinations. If you forget something, have an emergency, or need to cut the trip short, being close by definitely has its benefits.
Explore Local: Nashville, Tennessee
Here's the thing. Even if you've been a Nashville resident for ages, chances are you haven't seen all it has to offer yet — or even a significant fraction thereof. Nashville is a city of just under 700,000 residents, which means it's certainly not the largest in the country… but it's big enough to be ever-evolving, changing, and offering fresh new adventures.
If you've called Nashville home for a while, now might be the perfect time to explore a new neighborhood, or hit the road to see up close and personal what the nearby state and national parks are like. You might also visit one of the grand plantations in the area, including Andrew Jackson's hermitage just half an hour outside of town.
No matter what you do in the Tennessee countryside, we know you're going to enjoy this area's unique combination of southern charm, cowboy swagger, and cosmopolitan sensibilities. Without further ado, here's what to do next time you find yourself with the urge to explore Nashville.
*Note: Some of the suggestions may not be doable due to coronavirus closures, but keep this list handy for when things start opening back up more! Be sure to check individual pages for specific operation details.
State Parks in Nashville
There are a bevvy of state and even national parks in the greater Nashville, TN area. Here are some to check out.
Cedars of Lebanon State Park is named for the eastern red cedar trees that populate the land, which reminded early American settlers of the cedar forests said to thrive on Mount Lebanon in the Bible. At 1,139 acres, the park isn't humongous, but it's well worth a visit, offering RV-friendly campsites as well as rental cabins.
Henry Horton State Park is just an hour south of Nashville, but once you arrive, you'll feel like you stepped onto a different planet. It was constructed in the 1960s on the site of an estate once held by a governor of Tennessee, and its riverside location makes it a great option for water lovers looking for a getaway.
Long Hunter State Park is a quick 30 minutes from the center of town, and offers visitors the chance to relax and recreate around waterfronts, hiking and biking trails — and also to visit a Native American archeological site.
Montgomery Bell State Park is a wilderness of more than 3,700 acres that also offers modern amenities like a conference center. The park hosts a wide range of organized events, including fun runs, night sky viewings, and golf cart safaris.
Radnor Lake State Park may just be a stone's throw from Nashville proper, but its beautiful lakefront views will take you right out of the hustle bustle. Swing by the Barbara J. Mapp Aviary Education Center for information about events, educational outings, hiking opportunities, and more.
Great Smoky Mountains National Park is one of the largest national parks in the register, and also the most popular to visit. Straddling the border between Tennessee and North Carolina, this unique wilderness is chock full of trails to hike on, wildflowers to admire, and winding country roads to relax on.
Mammoth Cave National Park may not be as famous as Carlsbad Caverns — but it's actually the largest cave system not only in the country but in the world (that we've discovered so far!). Keep in mind that excursions down into the caves themselves require a guided tour, which you should plan and book ahead of time before your visit.
Best Hiking Trails
Both inside and outside of the parks in the area, there are plenty of places to wander on foot. Here are some of the best hiking trails in Nashville.
Mossy Ridge Trail
Located in Percy Warner Park, Mossy Ridge Trail is a moderate adventure spanning a total of just under 5 miles, including a few steep (and a few gradual) inclines. It's got relaxing, woodsy vibes and will take you right out of your big city mentality if you let it!
Radnor Lake Ganier Ridge Trail
If you make the quick jaunt out to Radnor Lake State Park, you'll have several hiking options to choose from — but we recommend the Ganier Ridge Trail, which offers a lot of payoff in its short, 2.3-mile distance. Enjoy both the lakefront and the dense forest cover!
Beaman Park Loop
This 5.5-mile loop is known for its wildflowers and creekside views, and it's a good one for the dogs to join in on, too! Just make sure to keep them leashed, per the park guidelines, and remember that the trail might be crowded if you're visiting on the weekend.
Best Restaurants in Nashville
Once you've wandered the trails and explored the state and national parks, chances are you'll have drummed up something of an appetite. no worries! Here are some of the best restaurants in Nashville, from Italian to vegan to the must-have classics (we're looking at you, hot chicken).
Hattie B's
If there's one must-do experience in Nashville, it's getting a plate of hot chicken at Hattie B's. Yes, it's touristy, and yes, it's been offered on every single Nashville visitation guide ever created… but listen, some things are popular for a reason! Just be sure you know exactly how much spice you can handle before you get in line. (Or, heck, maybe you can figure it out while you're *in* the line since goodness knows you're probably going to be standing there a while.)
Graze Nashville
In a town known for hot chicken and barbecue, following a vegetarian or vegan lifestyle may not be the norm… but that doesn't mean you can't do it. Graze is a well-known eatery offering plant-based breakfast, lunch, and dinner options, as well as a delectable selection of cocktails from its full bar.
Pastaria
Italian is in no matter where in the world you find yourself, and Pastaria is a great place to head for some delicious, freshly-crafted carbohydrate treats. From a classic Pomodoro to pistachio ravioli, this is a joint where classic meets creative.
O-Ku Sushi
Nashville may be landlocked, but that doesn't mean you can't enjoy some delicious treats from the sea — and if you're into sushi of any variety, O-Ku is a must-visit. Per their own reportage, the restaurant "celebrates authentic Asian cuisine with a southern approach with a menu that focuses on unique ingredients and sophisticated presentations." Sounds like a winner, winner, sushi dinner to us!
Saint Añejo
You might be significantly north of the border, but there is a wide enough variety that it's hard to choose which is the best of the Mexican restaurants in Nashville. That said, Saint Añejo makes a pretty good case for itself — and you can wash down your nachos, tacos, and other Mexican favorites with one of its more than 120 varieties of mezcal or tequila.
Local Insider Tips From Caroline Acree:
Originally just a food truck, Mas Tacos in East Nashville boasts an easy-to-maneuver (but delicious) menu and quick service! It's a quirky little spot with a fun atmosphere. Be sure to try the flavorful tilapia, carne molida, or avocado tacos with an order of elote – and wash it all down with their homemade pineapple-cilantro agua fresca. You'll quickly see why they're called Mas Tacos because you'll want to come back for so many more!
Fun Things to Do in Nashville
Here are some of the best things to do in Nashville this weekend, whether you're with the kids, arm-in-arm with your sweetheart, or adventuring solo.
For Kids and Families
Bringing the kids along for an adventure? Here are some family-friendly attractions in Nashville.
Hatch Show Print
This historic print shop has churned out iconic artwork for local shows for the last 140 years — and you and your family can tour the guts of the space where it all happens! Learn about how letterpress works by actually experimenting with it yourself. Best of all, tickets for touring Hatch Show Print start at just $20 for adults and $15 for youth visitors.
Country Music Hall of Fame and Museum
You may think your family isn't interested in country music — but have you taken them to the Country Music Hall of Fame and Museum yet? Getting an up-close and personal look at this museum's extensive collection of exhibits may just change the game and get your kids crooning along to Johnny Cash.
Nashville Zoo
No kid's experience of a city is complete without a trip to the local zoo — and the Nashville Zoo is a great one. Home to over 6,200 individual animals representing 339 species, kids will love the opportunity to get familiar with some exotic friends, whether furred or feathered.
At Night
We've covered some of the best things to do in Nashville during the day — but what about once night falls? Here are some fun things to add to your to-do list — beyond the bars.
Grand Ole Opry
You've certainly heard of it, and if you're a Nashville local, you may have passed by it for years without ever giving it a second thought. But you can still see the live shows recorded for radio at the Grand Ole Opry, and if you're looking for something to do after hours besides hit one of Nashville's many bars, this is a pretty solid option.
Full Moon Pickin' Parties
Yes, it's pickin' with the "g" dropped. Full Moon Pickin' Parties happen in Nashville monthly (or more) on the full moon, and involve live music from a variety of different string instruments — but perhaps most importantly banjo. Full Moon Pickin' Parties are a fun, festival atmosphere that differs from the city's bars and clubs, and it's a great option for those looking for things to do for couples or families in Nashville.
Local Insider Tips From Caroline Acree:
As Nashville's first urban winery, City Winery is the perfect spot to pick up Nashville-centric wines that are locally made; wines like 615 Sauvignon Blanc, Music City Pinot Noir, Grand Ole Grenache, Rockabilly Red, and more await! Located right near downtown, this winery/live music venue/restaurant is the perfect pit stop for the wine lover looking to support local.
The Stardust is one of my favorite best-kept secrets. Located in a small town (read: tiny) right outside of Nashville called Watertown, $8.50/person gets you a double feature in the middle of nowhere on a beautifully groomed, old-school plot of land. Small concessions areas, picnic tables, fire pit, and a small crowd… it's the perfect date night without the loud music and bright lights of Nashville.
On the Cheap
You want to see the city, not spend every cent you've ever earned! Here are some cheap thrills in Nashville, TN.
Line Dancing Lessons at Wildhorse Saloon
If you can't do a proper line dance by the end of it, can you really say you've been to Nashville? Fortunately, Wildhorse Saloon offers complimentary line dancing lessons seven days a week on the largest dance floor in the city. Private line dancing lessons are also available… but you'll need to pay for those! (You might also want to grab a drink, in either case, to be polite — and to loosen up a bit!)
Free Things to Do in Nashville
It's true: there are some things to do in this city that won't cost you one red cent. Here are some free things to do to get an authentic taste of Nashville without even touching your wallet.
 John Seigenthaler Pedestrian Bridge
Whether you traipse across it in the daylight or wait for night's fall for a romantic wander, the John Seigenthaler Pedestrian Bridge offers a whole lot of payoff, especially considering it's totally free. Built in 1907-1909 and originally named the Sparkman Street Bridge, this pedestrian bridge offers beautiful skyline views, great sunsets, and also the chance to feel like a small part of the city's greater history.
The Parthenon
Think you have to jet set off to Greece to see the Parthenon? Well, if you want the 447 BC original, you do. But if you're in Nashville, you can check out America's version at Centennial Park for the low, low cost of free! That said, this one's got a bit of history to it, too; it was originally constructed in 1897 for Tennessee's Centennial Exposition.
Spas in Nashville
Looking for some R&R after a lot of exploration? Here are some spas and salons in Nashville to help you look and feel your best.
The Woodhouse Day Spa
Whether you're looking for a massage or a facial, The Woodhouse Day Spa is considered one of Nashville's best — and given its convenient midtown location, it's accessible to residents who live in a variety of Nashville neighborhoods!
Spa Haus Nashville
Skincare, waxing, massage, sauna, facials — you name it, Spa Haus Nashville offers it, including reiki energy healing. Renowned for its quality services and caring, knowledgeable staff, Spa Haus enjoys a high number of good reviews for very good reason.
Best Gyms & Yoga Studios
Staying strong and grounded is critical for any adventurer! Here are the best gyms and yoga studios in Nashville to help you keep up with your daily routine.
Takes 2 Fitness
Fitness isn't a destination, it's a journey — and bringing along the right team for the journey makes it a whole lot more possible, not to mention more fun. Takes 2 Fitness offers a comprehensive swath of gym and fitness equipment as well as access to the personal training you need to make your goals a reality.
Gym 5
Located in East Nashville and locally owned, Gym 5 offers all the equipment and motivation you need to meet your goals and grow stronger, faster, and better. Along with an extensive open gym, this fitness club also hosts a wide range of classes, including boxing, spin, TRX training, and more.
Inner Light Yoga Nashville
Want your yoga to be a little bit more… well… fun? Inner Light Yoga is all about raising your heartbeat, getting you aligned, and doing so to the backdrop of great music and a friendly atmosphere. In short, it's fun. (Yes, actually.) And it's a great studio to put on your list if you're in the market for yoga in Nashville.
Hot Yoga Plus
Some like it hot — and if that's you, and you're in Nashville, Hot Yoga Plus has got you covered. Offering several different flavors of flow, most of which are heated, you can find something here for whatever your body happens to need… even if it's a bit more gentle.
Day Trips in Nashville
You could easily keep busy in Nashville itself for a lifetime… but there are also some incredible opportunities to take advantage of within an easy day's drive! Here are some day trips to consider taking from Nashville.
Memphis
Although three hours isn't exactly a nothing drive, it's not too far… and if you have a long weekend to spend, Memphis is a great getaway option from Nashville. Explore Graceland and become an Elvis fan (even if you ain't nothin' but a hound dog), or just wander around Beale Street.
Andrew Jackson's Hermitage
A true day trip, Andrew Jackson's Hermitage is only half an hour outside of the city, but the pristine grounds will make you feel like you've stepped out of the modern-day entirely. From the mansion to the manicured land surrounding it, this is an idyllic trip into southern history — though it's critical to remember that the true source of Andrew Jackson's wealth was slavery, which is why the organizers have made sure to include ample information about the Black families who lived and worked on this plantation, too.
Chattanooga
Head a couple of hours southwest of Nashville and you'll find yourself in another famous Tennessee town: Chattanooga, home of the famous choo-choo. It's also home to the sprawling urban expanse known as Tennessee RiverPark, which allows you to wander more than 10 miles from the urban core to the Chickamauga Dam. Don't forget to visit Rock City and Ruby Falls!

As a final reminder, some of these activities may need to wait until businesses fully reopen from coronavirus closures. However, there is still much to see and experience in Nashville that you can enjoy today! What are your favorite spots in Nashville? Send them our way to [email protected] or by tagging us on Instagram @rvshare and using the hashtag #rvsharelocal.

We hope you enjoy the unique and exciting city of Nashville, Tennessee!

[similar_ai_related]