Awning
September 9th, 2019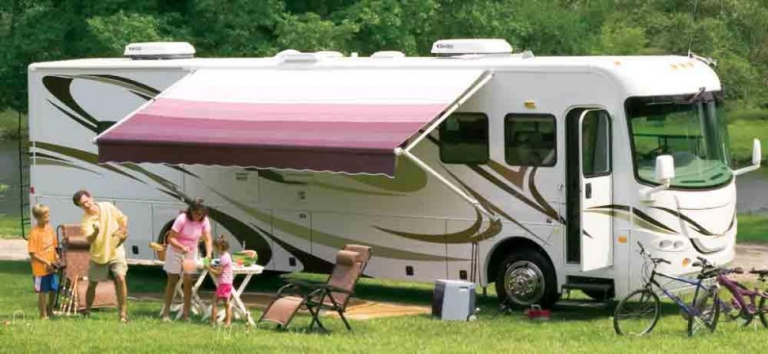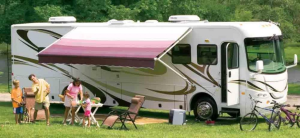 RV awnings are a great investment for your motorhome, especially as they offer many benefits for you and your family. One brand that is particularly popular is Dometic, as their awnings have provided customers with years and years of satisfaction.
Today, we're going to tell you everything you need to know about Dometic RV awnings, including must-know advice before you invest in one.
Why Dometic RV Awnings?
Aside from their excellent reputation, Dometic RV awnings are also popular for a number of other reasons. Firstly, their high-quality designs come in a variety of colors, plus they're made from a heavy-duty polyester reinforced vinyl fabric. They come in straight and curved styles, as well as many sizes, to ensure that every type of camper or RV can have an awning that's just right.
Additionally, Dometic RV awnings come in both manual or automatic, depending on your needs and reliance upon electricity. You can also purchase a supported or self-supported awning, but this will depend on your product, model of RV, and preferences. Customers also love the fact that awnings from Dometic are all tested to reliably function within a range of – 20˚C to 40˚C, helping to shelter them from harsh UV rays and rain.
Dometic RV Awning Parts
While the parts of your Dometic RV awning will largely depend on what specific product you opt for (i.e. automatic, electric, roof-mounted, wall-mounted, etc.), many of these models have three basic parts in common. These include:
Fabric roller tube
This is where the fabric rolls up or down, allowing the awning to be set-up or packed away.
Awning rail
This is the part that's screwed or riveted to your RV, allowing the awning to be mounted securely in place.
Awning arm
Your awning arms allow your Dometic RV awning to stand upright. You'll usually only require two of these and they are placed at the front sides of your awning.
How to Look After Your Dometic RV Awning
Like most RV accessories, a Dometic awning is an excellent investment. When looked after correctly, it can last for years on end, providing you and your fellow campers with comfort and convenience.
If your awning becomes dirty, simply hose it off and wait for it to fully dry before you roll it up. If you notice dirty spots are still present after you've hosed it, you can use a special soap designed specifically for RVs and treat them on a spot-by-spot basis. Just be sure to use a soft-bristled brush and avoid scrubbing too hard, as this can damage the fabric. You should also always pack-up your awning when it isn't in use, particularly if it's a sunny day (as those UV rays can damage the material).
Where Can You Buy a Dometic RV Awning?
You can source your perfect Dometic RV awning either through an online retailer or via a website such as eBay or Amazon. It also doesn't hurt to check out your local Dometic RV awning specialists. Just make sure you shop around to get the best deal!
There you have it – our guide to Dometic RV awnings! Once you invest in your own awning, you'll soon see just why these products are so popular. Happy RVing!
This post may contain affiliate links.