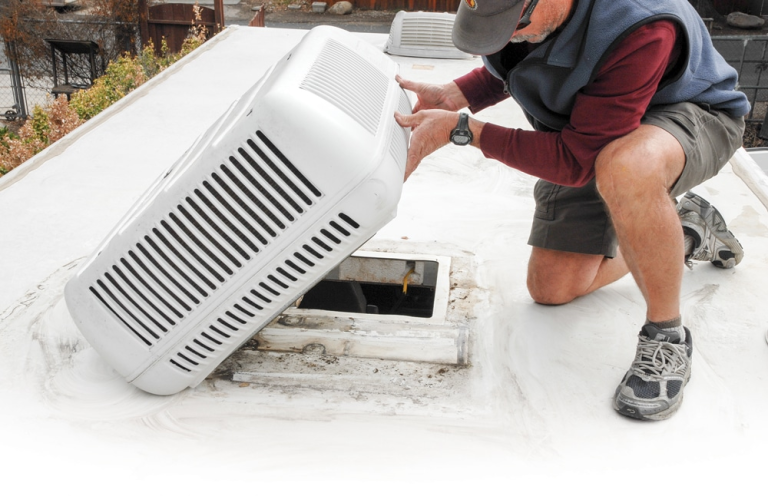 There are many air conditioning units on the market, but when it comes to an RV air conditioner you can trust, look no further than the reputable Coleman brand. Coleman certainly isn't new to the recreational vehicle industry. In fact, the brand was founded in 1900 and has released hundreds of outdoor recreational products since then.
Today, we're going to be focusing on the Coleman RV air conditioner, covering everything from where to buy one, installation, repair, and a lot more!
Types of RV Coleman Air Conditioner
There's a variety of Coleman RV roof air conditioners to suit your every need – not to mention the specific model of your motorhome! From folding camping trailers to big, custom buses and everything in between; this company has got you sorted. We've listed some of the most popular types below.
The Coleman 13500 BTU RV Air Conditioner
This is the standard type of RV air conditioner that's installed in many RVs. Although it's a large unit, it can easily be installed on the roof of your RV near the ceiling vent. Coleman RV air conditioner reviews state that it's long-lasting, durable, and easy to use, making it the ideal air conditioning unit for many models of RV.
The Mach Series
The Mach series is another type of popular RV Coleman air conditioner, featuring several different models with varying features. These include the Coleman Mach 15 RV air conditioner, the Coleman Mach 8 RV air conditioner, and the Coleman Mach 3 RV air conditioner (just to name a few).
The Mach 3 is one of the most popular and versatile RV Coleman air conditioners, also featuring a lower price. It even comes in a Power Saver (PS) version for those wishing to save on energy, without sacrificing results.
Mach 8, on the other hand, is a lot smaller than Mach 3, measuring just 8 inches tall. With an ultra-low profile shroud, this creates less drag, therefore providing better fuel efficiency than most other models of Coleman RV air conditioner.
Lastly, the Mach 15 is known to be one of the most powerful Coleman RV air conditioners on the market. While its higher price point reflects this, it is a worthy expense for those who travel in more extreme temperatures on their RV adventures.
Coleman RV Air Conditioners for Sale
Although you can't purchase a Coleman RV air conditioner directly from the company's website, there are plenty of third-party RV specialists who sell and install the units. Additionally, you can find them on sites such as Amazon for some great deals. (including whole units or certain Coleman RV air conditioner parts).
When buying your unit, be sure to check the Coleman RV air conditioner specifications first to see if it's compatible with the size or type of your RV.
Coleman RV Air Conditioner Parts
If you need to purchase Coleman RV air conditioner parts for your unit (whether it be assembly knobs, a gasket kit or the most common of all is a Coleman RV air conditioner shroud), you're in luck. Not only would your local RV air conditioner specialist stock most of these, but there are also numerous websites you can purchase them from online, with Amazon being at the top of this list. You can find both brand-new and used parts on the platform. Due to their size and popularity, Amazon can offer more competitive prices, as well as free delivery in some cases.
Coleman RV Air Conditioner Installation
Most Coleman RV air conditioner units are similarly structured, meaning your installation should be a similar experience no matter the model you buy. If in doubt, be sure to check your Coleman RV air conditioner manual, as it should provide easy-to-follow installation instructions to get you started.
There are also a number of YouTube tutorials to walk you through the process, or if you're really stuck, call your local RV air conditioner specialist and ask for assistance.
Coleman RV Air Conditioner Repair
If something goes wrong or your Coleman RV air conditioner stops working, then not all is lost. If undertaking Coleman RV air conditioner repair yourself, consult the unit's manual, check out online tutorials, or call a professional for advice first. After all, you don't want to make the issue worse!
If DIY repair isn't quite your thing, then your local RV air conditioning specialist is sure to be able to help.
Coleman RV Air Conditioner Troubleshooting
When you're looking to troubleshoot a particular problem with your Coleman RV air conditioner, first try searching for the problem online to see if others have had the same issue (and if so, how they fixed it). Forums are great for this kind of thing, as is the Coleman website FAQ.
We've provided some advice on common air conditioning unit problems below.
AC won't turn on or doesn't make any noise to indicate it's working
Make sure your unit and its controls are getting power first. Look in the 12-volt panel and check that the fuse has not blown or the breaker has not tripped.
AC doesn't blow any air, blows weakly, or stops after a while
It's possible the starting capacitor is malfunctioning. If you have a multimeter in your tool kit, you can use it to test the capacitor, then replace it if needed.
The system drips or overheats
The AC unit's evaporator and condenser coils may need cleaning. Try using ZEP Foaming Coil Cleaner (as opposed to household cleaners), as it will remove the grime build-up much more efficiently and not harm the coils themselves.
The unit is very noisy during operation
A part may have come loose in the system or something may be interfering with the motors. Remove the air conditioning unit's shroud and check for anything that may be out of place.
There you have it – our ultimate Coleman RV air conditioner guide! Armed with this new knowledge, you're sure to make a more informed decision regarding purchasing a Coleman RV air conditioner, installing it, repairing it, and more. Happy RVing!
This post may contain affiliate links.