The Top 25 Bucket List Destinations in Wyoming
Travel Inspiration
November 30th, 2021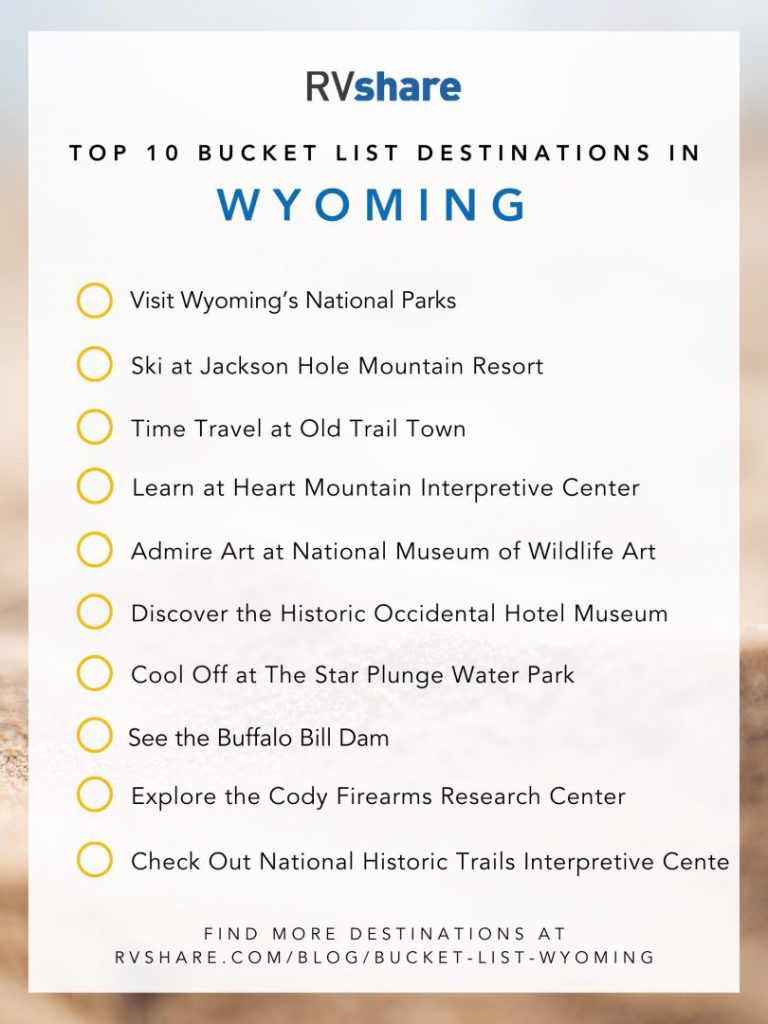 Wyoming is a wonderful place that definitely deserves to be explored. It's full of natural beauty, adventures, and incredibly interesting history. In fact, there's so much to discover that, depending on how long you're in the state, you might just feel a bit overwhelmed by it all. This is where the Wyoming bucket list comes into play.
A travel bucket list is a great tool because it allows you to easily narrow down your options. It also helps keep you organized by putting all of your must-dos in one place, making them easy to see as you plan.
Want to make a Wyoming bucket list of your own? Check out our list below to get some bucket list ideas of your own and then put together your own travel list that includes the places to visit that most interest you.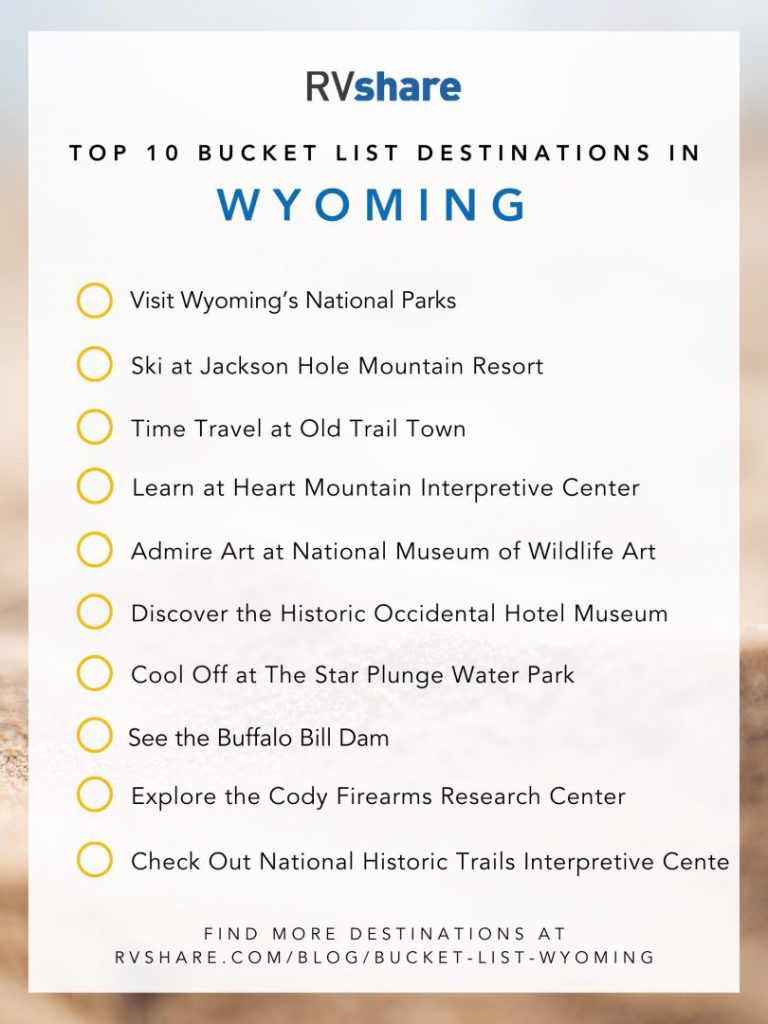 What is a Bucket List?
If you aren't sure what a bucket list is, it can be even harder to make one. Therefore, we're going to take a minute to explain the concept of a bucket list to those who may not have heard the term before.
Essentially, a bucket list is a collection of things you want to do before you "kick the bucket." It might include places to go, people to meet, foods to try, and experiences to have. Some people keep one long list, but we prefer several shorter travel lists, separated by location.
The Wyoming bucket list we've included in this post is a great example of a state-specific bucket list. Use it as inspiration for creating one for you and your family.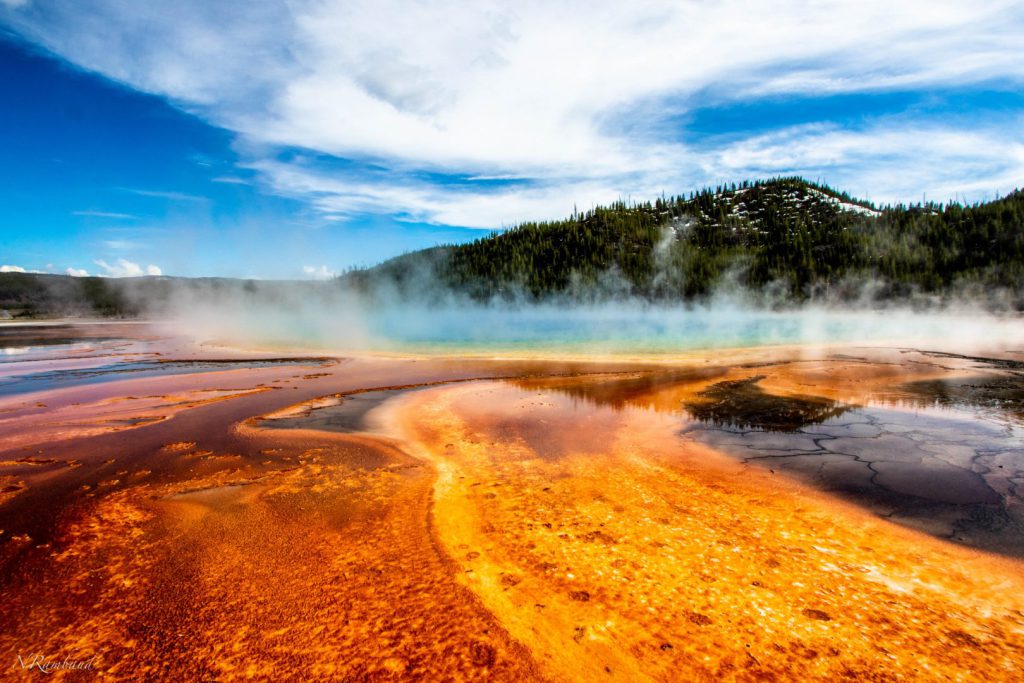 — Bucket List Vacations: Wyoming's National Parks —
Some of the best bucket list additions are our country's national parks. These places are well kept and do an excellent job of presenting the beauty and history of the land we call home. This is especially true in Wyoming.
Be sure to consider adding some of these national park sites to your Wyoming bucket list.
#1. Bighorn Canyon National Recreation Area
Want to immerse yourself in Wyoming nature? Bighorn Canyon National Recreation Area is one of the very best places to do just that. This amazing park features over 120,000 acres of diverse ecosystems, wildlife, history, and outdoor fun.
#2. Devils Tower National Monument
A strange and awe-inspiring geologic feature, Devils Tower is definitely a memorable sight to see. For some it is a sacred place; for others, an incredible crack climbing area. No matter who you are, you're sure to enjoy checking out this amazing natural wonder.
#3. Fort Laramie National Historic Site
In 1834, Fort Laramie was built as a private fur trading fort. It evolved, however, into the largest and most well known military fort in the area. By the time it was abandoned in 1890, the fort had gathered a huge number of stories about western expansion and Native American resistance. Visit Fort Laramie today to hear those stories.
#4. Fossil Butte National Monument
Fossils are amazing things. They tell the stories of things that occurred long before history was being recorded by humans. Some of the best preserved fossils can be found at Fossil Butte in Wyoming. Visit this NPS site to see the fossils and learn what stories they have to tell.
#5. Grand Teton National Park
An absolutely gorgeous set of mountains, the Teton Range stands tall and proud against the blue skies of Wyoming. Visit Grand Teton National Park to explore these mountains via 200 miles of trails. While you're there, you can also take the time to enjoy the Snake River and bask in the peace the park has to offer. 
#6. Yellowstone National Park
Yellowstone National Park is one of the most well known national parks for a reason. This amazing place is chock-full of natural beauty and hydrothermal and geologic wonders are around every corner. Visit the park for an unforgettable and awe-inspiring experience.
#7. National Trails
Wyoming is also home to a handful of awesome national trails. Visit these trails to take a stroll back in time and learn about some of the most important parts of Wyoming's history.
These trails include:
Pony Express National Historic Trail
Oregon National Historic Trail
Mormon Pioneer National Historic Trail
California National Historic Trail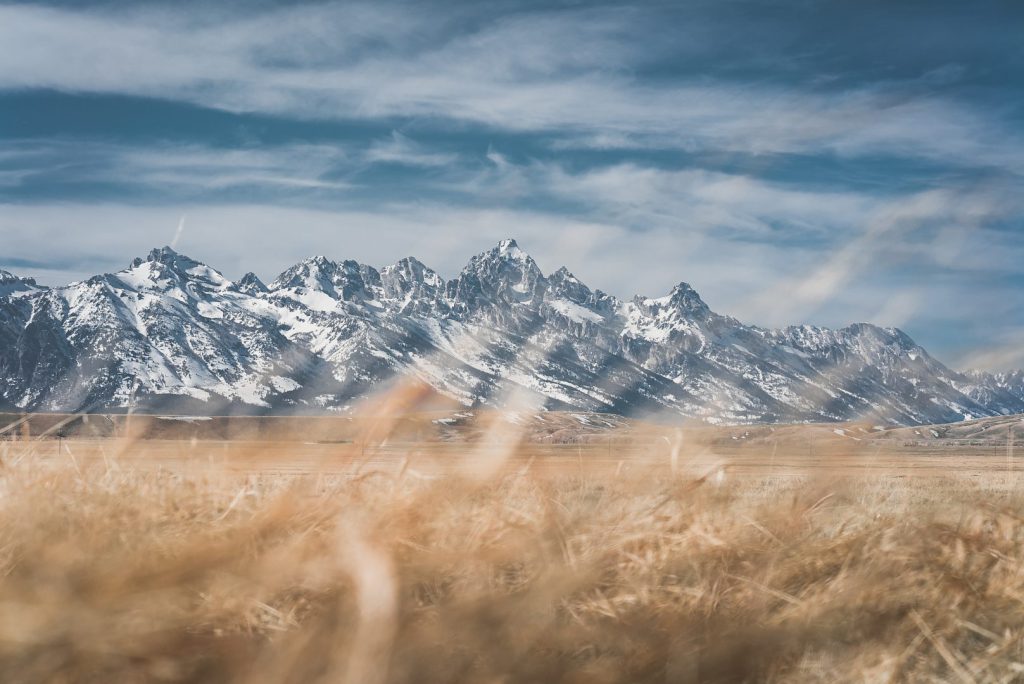 — More Wyoming Bucket List Experiences —
Looking for more great bucket list ideas? Not to worry, there are plenty of amazing things to see and do in the state. The options below are our favorites and would make great additions to your Wyoming bucket list.
#8. Ski at Jackson Hole Mountain Resort
Considered by many to be the best ski resort in North America, Jackson Hole Mountain Resort offers beautiful views of the Teton Range. It's known for having extreme terrain, including a 4,139-foot vertical drop that takes some guts and skill to ski. That said, there are options for beginner and intermediate skiers, so don't skip it just because you aren't a pro.
#9. Time Travel at Old Trail Town
If you've ever wanted to step back in time to the Old West, then Old Trail Town is the place for you. This open-air museum features a number of historical buildings, some of which date all the way back to 1879. The town is based on the town that Buffalo Bill established in 1895, and presents the perfect immersive learning experience for people of all ages.
#10. Learn at the Heart Mountain Interpretive Center
During World War II, Japanese-Americans were made to drop their jobs and lives and move into camps. This was a horrible time for these individuals, and is a part of history that should not be forgotten. Learn more about these camps and the people in them at the Heart Mountain Interpretive Center.
#11. Admire Art at the National Museum of Wildlife Art
In Wyoming, it isn't uncommon to see wildlife wandering around wherever you look. Therefore, it should come as no surprise that the state is home to the National Museum of Wildlife Art. This museum overlooks the National Elk Refuge and is home to over 5,000 pieces of wildlife art. It's the perfect place for both animal-lovers and art enthusiasts.
#12. Discover the Historic Occidental Hotel Museum
Another fantastic place to time travel to the Old West, the Historic Occidental Hotel Museum is set in the Occidental Hotel building. This hotel was first opened in 1880 and played hosts to such guests as Buffalo Bill, Ernest Hemingway, and even Theodore Roosevelt. These days, guests can get a drink in the famous saloon or even stay in an authentically decorated Old West-style room.
#13. Cool Off at the Star Plunge Water Park
Looking for a place to take a dip? The Star Plunge Water Park in Hot Springs State Park is just the place. This place features a variety of indoor and outdoor pools. Some are hot, others are cold, and some even have jets. While you're there, be sure to visit the Vapor Cave natural sauna and ride the water slides.
#14. See the Buffalo Bill Dam
Listed on the official National Register of Historic Places, Buffalo Bill Dam is a cool thing to see. Construction on the dam was started in 1905 and finished in 1910. When it was built, it was the highest in the world, and even today it is impressive from an engineering perspective. While at the dam, be sure to catch a short film, see the exhibits, and walk to the top of the dam for some awesome views.
#15. Explore the Cody Firearms Research Center
The Cody Firearms Research Center is home to the most complete collection of American firearms out there. The museum features over 7,000 different firearms. Not only that, there are also around 30,000 firearms-related items on display in the attraction. Believe it or not, every single gun manufacturer in the world is represented in this place.
#16. Check Out National Historic Trails Interpretive Center
Those national trails we mentioned earlier? Visiting them on their own is great, but a visit to any one of them would be made better by spending some time in the National Historic Trails Interpretive Center Forest. Here, you can learn the history behind Wyoming's four national historic trails, helping you understand why the trails are significant.
#17. Find Fossils at The Wyoming Dinosaur Center
Created after dinosaur fossils were found at the nearby Warm Springs Ranch, the Wyoming Dinosaur Center is one of the few dinosaur museums that has a real excavation site so close by. This museum is home to more than 30 dinosaur skeletons, including the only publicly displayed archaeopteryx skeleton in the US, as well as a T-rex, a triceratops, and a supersaurus.
#18. Wander the Buffalo Bill Center of the West
With five different museum buildings and a research library, you can bet you'll find something of interest at the Buffalo Bill Center of the West. This attraction is focused on educating visitors about the Old West. It features artwork, natural history exhibits, Native American artifacts, and more.
#19. Stroll the Cheyenne Frontier Days Old West Museum
Another museum created to educate people about the old west, the Cheyenne Frontier Days Old West Museum features more than 60,000 artifacts. These include clothing from the mid-1800s, folk art pieces, and a huge collection of horse-drawn carriages. Additionally, the museum has an interactive children's section.
#20. Relax at Cheyenne Botanic Gardens
Want a place for a peaceful afternoon stroll? The Cheyenne Botanic Gardens is just the place. The gardens cover nine acres that include 27 different landscapes where you can find a wide variety of plants and flowers. Get lost in the garden labyrinth, explore the wetland area, check out the solar-powered greenhouse, and play in the interactive children's garden.
#21. Gather Info at the University of Wyoming Geological Museum
Dedicated to scientific research and educating the public, the University of Wyoming Geological Museum is a great place to spend an afternoon. The museum features several great exhibits that show visitors what the landscapes of Wyoming were once like. Additionally, you'll see dinosaur skeletons and view a working fossil preparation lab. Best of all, this museum is free.
#22. Step Back in Time at Trails End
An historic 1913 Flemish Revival-style mansion, Trails End once functioned as former Governor John B. Kendrick's summer home. Beginning in 1933, after Kendrick's passing, the mansion was the full-time home of the man's wife and son. In 1982, the building was bought and became a state museum, and today it is fully furnished with period pieces and open for tours.
#23. Experience the Tate Geological Museum
Another fantastic geological museum, the Tate Geological Museum is well worth a visit. Here you can check out a Columbian mammoth skeleton, a Tyrannosaurus rex skeleton, a working fossil preparation lab, an interactive area for children, and much more. You're sure to learn something new during your visit, and to make a good thing even better, admission to the museum is free!
#24. Have Fun at the Museum of the Mountain Man
Named after the men who dedicated their lives to exploring the American west while working the fur trade, the Museum of the Mountain Man is a unique attraction for sure. This place is home to permanent exhibits all about the Old West and has many artifacts on display. These include Jim Bridger's rifle, an authentic Shoshone sheep horn bow, and more.
#25. Ride Horses at the A-OK Corral
No visit to Wyoming is complete without at least one horseback riding experience. That's why we recommend a visit to the A-OK Corral. From here, you can take a scenic horseback ride through the gorgeous natural landscape, fully immersing yourself in the beauty of the state.
It's pretty plain to see that nobody is going to get bored while visiting Wyoming. That said, they might have trouble seeing all of the items on their Wyoming bucket list. This is particularly true for those who choose to stay in hotels during their trip. For this reason, we recommend visiting the state in an RV.
RV travel gives you the freedom to move around the state quickly and easily. Not only that, it allows you to make those moves in complete comfort. This makes checking items off your bucket list much easier, as you'll be able to reach new parts of the state with ease.
Of course, not everyone has an RV. If that's the case for you, we recommend checking out our Wyoming RV rentals and booking one for your Wyoming bucket list adventure. You'll be glad you did!