Bucket List Trips
May 11th, 2021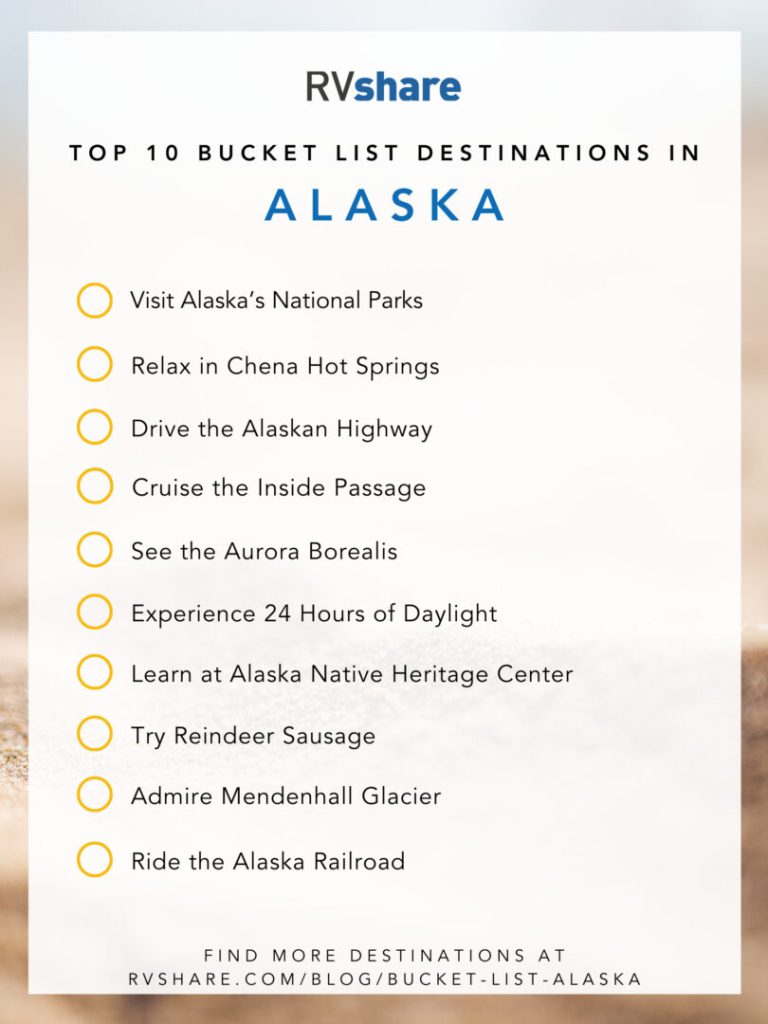 Alaska is easily one of the most magical states in the entire country. The animals around every corner are absolutely incredible, and the spectacular views presented everywhere you look are nothing short of spectacular. This makes an Alaska bucket list something everyone should create.
In fact, Alaska is so incredible that many will spend an entire summer exploring the place and still feel like they didn't do enough. The answer to this problem? Well, you could of course visit time and time again, and really, this is what we recommend. However, if that isn't possible, what you need is a list of things you absolutely must experience while there—enter the aforementioned Alaska bucket list.
What is a Bucket List?
Not sure what a bucket list is? It's a term that many use to refer to a list of things they wish to do before they die, i.e. "kick the bucket." For some, a single bucket list to cover everything they hope to do and see is sufficient. However, travelers and those who suffer from wanderlust will often keep multiple bucket lists, one for each location they plan to visit. If you can't help but explore, this is what we recommend doing. 
Not sure where to begin with your bucket list building? Why not start with Alaska? Below, we've compiled a list of the things we think are "travel bucket list" worthy in this absolutely amazing state. 
Bucket List Vacations: Alaska's National Parks
First, let's discuss Alaska's 8 amazing national parks. All 8 of these deserve a place on your bucket list, as each one is a wild and wonderful place full of the kind of magic only Alaska holds. 
#1. Denali National Park
A 6 million-acre wilderness area, Denali National Park features the gorgeous 20,310-foot-tall Denali, which is North America's highest peak. In this park, you're likely to spot grizzly bears, moose, and a variety of other animals while biking and hiking. 
#2. Glacier Bay National Park
Glacier Bay National Park is a 3.3 million-acre natural area that is home to beautiful mountains and exquisite glaciers. It also happens to be a humpback whale sanctuary, meaning you might just get a glimpse of one of these incredible creatures. 
#3. Kenai Fjords National Park
Home to the Harding Icefield, Kenai Fjords National Park is the perfect place to see the fjords and glaciers Alaska is so famous for. It is also home to a wide variety of animals including sea lions, sea otters, bears, beavers, and many more. 
#4. Katmai National Park
Located on a peninsula in southern Alaska, Katmai National Park encompasses tundra, forests, lakes, and mountains. Huge numbers of brown bears gather in this park, thanks to the salmon that make themselves at home in the park's Brooks Falls.
#5. Wrangell-St. Elias National Park & Preserve
The largest national park in the United States, Wrangell-St. Elias National Park and Preserve is a gorgeous place everyone should make a point of visiting. It houses Hubbard Glacier, which is one of the largest and most active tidewater glaciers in North America. 
#6. Gates of the Arctic National Park and Preserve
Heading up to northern Alaska, Gates of the Arctic National Park and Preserve is yet another beautiful park. Located entirely within the Arctic Circle, this is the northernmost national park in the US, and protects parts of the Brooks Range. 
#7. Kobuk Valley National Park
Also situated in the Arctic Circle, Kobuk Valley National Park has a lot to offer visitors. As many as half a million caribou migrate through the park each year, creating a stunning sight indeed. Additionally, the sand dunes found here are absolutely lovely. 
#8. Sitka National Historical Park
Lastly, we must mention Sitka National Historical Park. This is an excellent place to dive into Alaska's rich history. Here you can stand next to authentic totem poles, gather information on the Tlingit culture, learn about Russian colonialism in the state, and more. 
More Bucket List Experiences
Looking for even more awesome bucket list ideas for your trip to Alaska? The travel list below should give you plenty of choices to fill out your plans and ensure you have plenty of ideas for future trips as well. 
#9. Relax in Chena Hot Springs
Those who want to kick back and relax during their time in Alaska simply must visit Chena Hot Springs. Here you can spend time in the natural hot springs as you unwind while surrounded by the beauty of the Last Frontier. 
#10. Drive the Alaskan Highway
The sights found along the Alaskan highway are nothing short of spectacular. For this reason, we highly recommend planning some of your route along this well-known road. Be sure to watch for bears and moose along the way!
#11. Cruise the Inside Passage
Alaska's inside passage is the water route between the Gulf of Alaska and Puget Sound. Seeing the passage is an Alaskan experience unlike any other, and gives you a chance to see fjords, glaciers, mountains, and plenty of wildlife. While you certainly can view the passage from the land, the best way to experience this wonder is from a boat. Fortunately, there are plenty of ways to cruise the passage. 
#12. See the Aurora Borealis
No visit to Alaska is complete without seeing the Aurora Borealis. Unfortunately, this natural phenomenon is not visible during the warmest summer months, but if you plan right, you might be able to catch the first sightings of the fall season at the tail end of your trip. 
#13. Experience 24 Hours of Daylight
If you go to northern Alaska during the summer, you'll experience something totally bizarre: 24 hours of daylight! While this is definitely disorienting, it's something we totally recommend planning around. 
#14. Learn at Alaska Native Heritage Center
Like Sitka National Historical Park, the Alaska Native Heritage Center is another excellent place to learn about Alaska's amazing history. Here, you'll dive into a wealth of information on the 11 major tribal groups of the state, with beautiful and immersive exhibits including authentic Native dwellings, Alaska Native craft activities, performances, and more. 
#15. Try Reindeer Sausage
In order to truly immerse yourself in the culture of a place, you need to eat as the locals do. One local favorite in Alaska is reindeer sausage. Make sure to find some of this yummy treat at some point during your trek. 
#16. Admire Mendenhall Glacier
Glaciers are an iconic and important Alaskan feature that we've mentioned several times in this article already. Mendenhall Glacier is one of the most visited of these glaciers. 
From the Mendenhall Glacier Visitor Center, guests can take in beautiful views of this natural feature. If you're willing to go for a little hike, it's also possible to see the amazing Nugget Falls, and some people even choose to kayak among the icebergs. 
#17. Ride the Alaska Railroad
Sometimes referred to as the "backbone of the Last Frontier," the Alaska Railroad played a big role in the history of this amazing state. In fact, the railroad is still an important form of transportation to this day. It transports over 500,000 passengers each year, delivering them to stops along its route between Seward and Fairbanks.
We highly recommend making yourself one of these passengers, even if only for a short special event ride. 
#18. Take a Polar Plunge
There are few things as invigorating as jumping into icy cold water for a quick dip. Alaska presents plenty of wonderful opportunities for doing just that, and it's something we recommend doing at least once. You might find that you like the refreshing feeling and the burst of energy it gives. 
#19. Fly in a Seaplane
Seaplanes are all over the place in Alaska. Find a company that offers tours in these seaplanes so you can see the state from above. This bird's eye view is absolutely spectacular. 
#20. Eat Alaskan Crab Legs
Another Alaskan food that you absolutely must try are the crab legs. The crab legs caught in Alaska and served up fresh are phenomenal and you likely won't have to look far to find a restaurant that serves them. 
#21. Catch a Fish of Your Own
Speaking of fish, be sure to try your hand at fishing while in this state full of amazing fishing opportunities. Even if you aren't usually a fisher, this is something we recommend trying. After all, how often will you get the opportunity to catch and eat an Alaskan fish of your own?
#22. Have a Drink Made with Glacial Ice
Any kind of iced beverage is refreshing. However, there's something about glacial ice that makes a cold drink even better. Like crab legs, drinks made with glacial ice are pretty easy to find in Alaska and are well worth trying. 
#23. Check Out an Ice Cave
Okay, so this last item on our list is actually a little bit dangerous and definitely shouldn't be attempted without a guide. That said, if you're relatively physically fit and a moderately experienced hiker, you might want to seek out an ice cave tour. Walking through an ice cave is an otherworldly experience you won't forget anytime soon. 
As you can see, there are plenty of places to visit and things to do in the wild and beautiful state of Alaska. Ready to head out on an Alaska adventure of your own? We highly recommend exploring the state via RV. Fortunately, we have plenty of Alaska RV rentals available, meaning you shouldn't have any trouble at all finding a rig that suits your needs.