Travel Inspiration
June 21st, 2019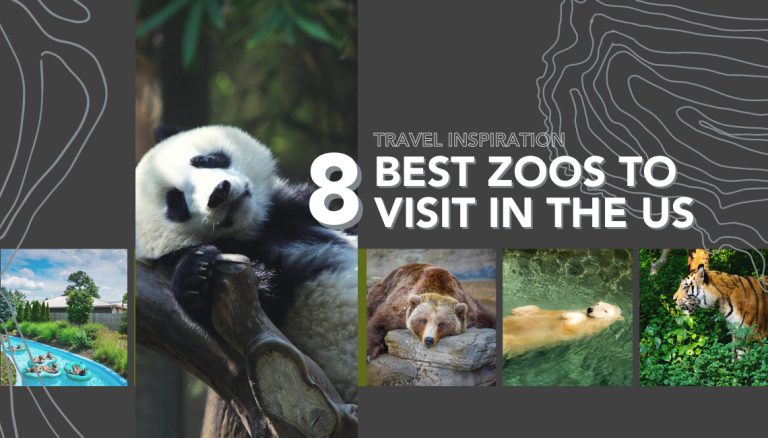 There's nothing quite like a day at the zoo, whether it's one near your hometown or one you visit as part of a fun-filled vacation. And particularly if you've got kids along (or just a special interest in animals), there are some zoos that are absolutely worth traveling to all on their own — though they're often nestled in already-attractive destination cities.
Whether you're planning an upcoming urban camping trip and looking for some fun things to do or you're trying to figure out how to choose your next destination, prepare to get wild! Here are some of the best zoos in the U.S., all of which are worth visiting on your next RV adventure.
Best Zoos in America
No matter what part of the country you call home — or which corner you're headed to on vacation — chances are there's a world-class zoo in your area! Here are a few of the best zoos in the country to add to your itinerary.
1. The Cincinnati Zoo and Botanical Garden
Easily one of the top 10 zoos in the U.S. and arguably one of the most famous in the world, the Cincinnati Zoo and Botanical Garden is a sprawling 74-acre property populated by almost 2,000 animals, and it's the perfect spot to head for a wild midwestern afternoon of fun. You'll visit animal exhibits featuring big cats, elephants, giraffes, and more, not to mention the live, interactive animal encounters and experiences offered on the zoo schedule. There's also shopping, dining, and amusement park rides to choose from, as well as delicious bites and fun souvenirs to take home and remember later.
Click here to see RVshare rentals near the Cincinnati Zoo and Botanical Garden.
2. The Denver Zoo
Denver's already high on the list of must-sees for most campers, considering it's the seat for a wide range of outdoor opportunities. From plain-old hiking to technical mountaineering and more, Denver is the perfect city to set up base camp while you go out exploring the Rockies.
And while you're there, do be sure to swing by the Denver Zoo, which is remarkable in its own right. Its 80 acres house more than 4,000 animals, and it was the first zoo in the country to use a more naturalistic approach, with cage-free enclosures making for more attractive and friendly habitats.
Along with up-close encounters and animal exhibits, visitors can also enjoy educational programs designed for kids, teens, and adults. There's also a wide variety of on-site shopping and dining opportunities, as well as an informational welcome center.
Click here to see RVshare rentals near the Denver Zoo.
The Audubon Zoo and Other Famous Favorites
Some zoos are famous for a reason. Here are a few of them!
3. The Audubon Zoo
Along with the Aquarium of the Americas, the Louisiana Nature Center, Woldenberg Riverfront Park and more, the Audubon Society is also the operator of New Orleans's favorite zoo, a 58-acre property housing more than 2,000 animals. Along with classic animals like gorillas and orangutans, the Audubon Zoo is also home to — what else? — a Louisiana swamp exhibit, which houses a rare white alligator with blue eyes. The zoo is open year-round with the exception of major holidays and Mardi Gras, and an Audubon Zoo Membership starts at $125 for individuals or $200 for families — and gets you into the host of other Audubon properties, as well.
Click here to see RVshare rentals near the Audubon Zoo.
4. The San Diego Zoo
As if there weren't already enough reasons to visit the beautiful, sunny shores of southern California, the San Diego Zoo makes for a great argument in its own right. From playful pandas to bonobos and boas, you'll encounter more than 3,700 animals in this 100-acre property, all just minutes from the golden Pacific coastline.
If you're looking for an even more exciting adventure, check out the "upgraded experiences" on offer, including a VIP tour with your own personal guide, interactive encounters, and early-morning photo expeditions. And hey, if you can't make it to San Diego anytime soon, don't worry — they also maintain a variety of live webcams and videos so you can get in on the action no matter where in the world you are!
Click here to see RVshare rentals near the San Diego Zoo.
5. The Smithsonian National Zoological Park
There are many reasons Washington D.C. has featured on more than one of our "to-travel" list posts. But the vast array of Smithsonian Institute museums and cultural exhibits is definitely up there. Few other American cities offer such a rich treasure trove of totally-free educational attractions.
The Smithsonian National Zoological Park is just one of the many properties you can get into gratis when you meander around our nation's capital. Its 163 acres are home to more than 2,000 animals, including dozens of endangered species.
Click here to see RVshare rentals near the Smithsonian National Zoological Park.
The Biggest Zoos in the U.S.
In many cases, good things come in small packages. But when it comes to zoos, having more room is obviously an asset. The more space you have, the more animals you can support — and the more fun features you can add to your zoo's roster of attractions!
Here are some of the biggest zoos in the country if you're looking for a super-sized wildlife experience you won't soon forget.
6. The Bronx Zoo
Yes, some people refer to New York City itself as a zoo — but it's also home to the largest urban wildlife sanctuary, a 265-acre property located just northeast of Yankee Stadium. With 4,000 animals representing over 650 species, it's no surprise that the Bronx Zoo sees more than two million visitors each year — and along with its main wildlife attractions, it also offers a children's section, monorail rides, cafes and shopping opportunities. (Not that there aren't plenty of things to eat, see, and do in the surrounding city as well!)
Click here to see RVshare rentals near the Bronx Zoo.
7. The Columbus Zoo and Aquarium
Widely known as one of the top zoos in the U.S., the Columbus Zoo and Aquarium is also easily one of the largest. With a total land area topping 580 acres and more than 10,000 animals, it's considered one of the best zoos not only in America, but in the entire world. Along with its wildlife exhibits, the complex is also home to an amusement park, a water park, and an 18-hole golf course, so it's seriously a destination all its own. There's also a schedule of live events and shows, as well as multiple shopping and dining options on-site.
Click here to see RVshare rentals near the Columbus Zoo and Aquarium.
8. The Henry Doorly Zoo and Aquarium
Omaha is a cool place to be for a whole host of reasons, not the least of which is its zoo, which is consistently rated the number one paid attraction in the whole state of Nebraska. It's not hard to see why: the Henry Doorly Zoo and Aquarium is home to 17,000 animals representing 962 species, and it also boasts the Desert Dome — the world's largest indoor desert, which is housed under the world's largest geodesic dome. As if it didn't already have enough superlatives, the Doorly is also home to the largest indoor swamp, which is known by the mysterious moniker of the Kingdom of the Night. And its attached aquarium is the largest within a zoo in the country, offering you the chance to wander through exhibits featuring everything from temperate ocean life and coral reefs to Antarctic penguins and polar bears.
At 170 acres, the Doorly is big enough that you might want to take advantage of the trams that shuttle visitors around between Memorial Day and Labor Day, or hop on board the Omaha Zoo Railroad. You can also get the kids excited by taking advantage of one of their "sleeping bag safaris," which offer the opportunity to overnight in the zoo. Wild!
Click here to see RVshare rentals near the Henry Doorly Zoo & Aquarium.
9. The North Carolina Zoo
The North Carolina Zoo is the World's Largest Zoo where you will find animals in spaces similar to their natural habitats, including a 40-acre African grasslands where the rhinos and elephants live. The animals have a choice where they spend their days – they can be out in the habitat area, or they can choose to stay in their inside quarters. The North Carolina Zoo has one of the largest chimpanzee troops in the country, including two chimpanzee babies born in the past year! And the zoo is 1 of 10 zoos with a breeding pair of polar bears. Visit their website at www.nczoo.org for details.
Click here to see RVshare rentals near The North Carolina Zoo.
Looking for even more animal-filled RV adventures? Check out these destinations near wilderness reserves, or consider taking an ecotrip that involves helping or hanging out with animals. The world is out there just waiting for you to discover it, and with an RVshare rental, you can do it in privacy, comfort, and style — not to mention saving boatloads of money.
So what are you waiting for? Check out the RV Rental listings available in your area today. And enjoy your trip, wild thing!
This post may contain affiliate links.